LITERATURE
»
Full Dark, No Stars
- Stephen King's new novella questions mankind's ability to trust others.
[02.21.2011 by Bridget Doyle]
MUSIC
»
The Top 30 Albums of 2010
- Fashionably, fabulously late, our favorite music (and believe me, there was a LOT) of 2010, the year that some have called the best year for music ever. And only some of those fools work here. Plenty of usual suspects, lots of ties and a few surprises that I won't spoil, including our unexpected #1.
[12.24.2010 by The LAS Staff]
LOSTATSEA.NET
>
FEATURES
>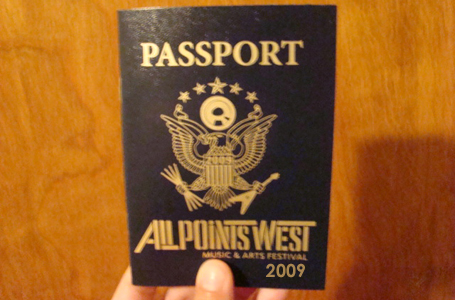 August 3, 2009
Until last year, music fans in New York's tri-state area resigned themselves to road tripping or hopping a flight out of town to catch big bill, hybridized festivals. Thankfully, we in the northeast now have our very own three-day music and art affair: All Points West. After a successful opening year in 2008 [LAS COVERAGE], APW is back and vying for a place among the top, large-scale summer festivals like Coachella, Bonnaroo, and Lollapalooza. Check out the play-by-play action--main stage, backstage, with the APW anti-rain brigade, and the performers they came to see--as documented by LAS correspondent, Lara Longo.
ALL POINTS WEST - DAY ONE
12pm:
Today, I will make zero attempts at staying cool. The weather, typical of a New York City summer, simply won't make any concessions. I won't drag my feet, nor will I make any further mention of just how swamp-like it is. For authenticity's sake, if you really want to feel like you're here, now, imagine this--a dank, overcast, sauna-style day--to be your backdrop for the festival.
12:25pm:
When all is said and done, I will have taken three trains to get from Brooklyn to Liberty State Park, the festival's site in scenic Jersey City. Crossing the Hudson River will take ninety minutes.
Spotted:
Chris Enriquez, percussionist of the now-defunct hardcore outfit
On The Might of Princes
, on the Jersey City Lightrail.
2:15pm:
Sweet relief! Stepping off my last train, it's much cooler, possibly on the brink of a tornado. I'll take that over the heat. Now for a healthy walk to the festival gates...
Overheard:
Drunk Girl Waiting on Ticket Line: Who are you most looking forward to seeing? Guy Behind Her: You.
5pm:
After some initial exploration, I've found myself at All Points West's main stage, Blue Comet, where I was able to watch the tail end of
Fleet Foxes
. A friend later tells me their set was "ethereal Americana." It's already raining a bit; art installations, tented beer gardens and the Twix misting station double as rain shields. Hey, it's either this or throwing down for one of the $10 ponchos being hawked at every corner.
Next, I catch
The National
. Lead singer Matt Berninger jumps off the stage and into the audience where he remains for longer than expected; he crowd surfs out, drenched from the downpour. Good music pairing with the weather. Berninger's baritone vocals are making me nostalgic for nothing in particular. Please play "Fake Empire."
5:50pm:
Buckets of rain. Great time to head to the Cinedigm tent where media folk are invited to watch the concert live, in 3D. I don't know what this means though I'm imagining a holographic version of
Q-Tip
sitting next to me, rapping his part of "Can I Kick It?" as I nosh on some cucumber sandwiches.
6pm:
In Cinedigm's 3D demo tent where a handful of relatively dry media types are watching a live feed of the main stage. I get my own pair of Wayfarer-style 3D specs and as per the 3D functionality, the feed shows a pretty good depth of field not unlike some trippy pop-up-book. It's a pretty interesting way of experiencing a live concert that's going on not 50 feet away. One of the Cinedigm guys tells me that this 3D technology, in the next few years, will be compatible with new lines of digital TVs. This, of course, begs the question: Daisy of Love in 3D? Really?
6:03pm:
A flash of lightning illuminates the tent and I'm wondering if they'll call off the show. Concert organizers are usually quick to do so in the event of lightning, but I'm not seeing any "Staff Member" shirted dudes approaching the mic. Either way, I fear for the wellbeing of
Carolina Liar
and those under the metal hangar of the Queen of the Valley stage.
6:08pm:
More like All Points WET. This rain is giving me flashbacks of Bonnaroo 2008, circa the My Morning Jacket set. Currently waiting for Vampire Weekend to take stage. Wouldn't want Ezra Koenig to get his top-siders soaked.
6:15pm:
Vampire Weekend
, my how you've grown. Not in their usual khaki college garb; props to bassist Chris Baio in a red leather jacket ala
Bad
-era Michael Jackson. The four-piece is in good spirits and the show goes on in spite of the impending monsoon. The ubiquitous festival beach ball is being tossed and somewhere in the crowd a Columbia undergrad is declaring, "I had Psych with Rostam Batmanglij."
Their program largely consists of last year's self-titled debut, including "Cape Cod Kwassa Kwassa," "Mansard Roof," and "Oxford Comma," which incite whoops of recognition. Koenig is careful to enunciate "Look outside at the raincoats coming" during "A-Punk" and "All the way to New Jersey/ All the way to the Garden State" from closer "Walcott." The references don't go unnoticed.
6:45pm:
The National's Matt Berninger enters the Cinedigm tent and grabs a pair of 3D glasses. With arms outstretched and a childlike smile, he watches the Vampire Weekend feed and proceeds to grope the air in front of him. "It's like I'm there," he says. Dude, you just were.
Overheard:
Stagehand Managing Flooding: "What we really need is a shamwow."
7pm:
I meander towards the food court and, much to my delight, yes, they have Chinese food. I've been craving moo-shoo pork since the PATH train.
Overheard:
Beer Drinking Guy: "All Points West stepped it up. Last year, the beer garden had this solid wall so you either were drinking or watching the show; couldn't do both. It was punishing for the beer drinkers. It was like Auschwitz."
7:15pm:
The
Pharcyde
is finishing up their program on the Bullet stage. Their turn out is pretty solid; it's about time they get some further recognition. This only becomes more apparent when they launch into "Passin' Me By" and a cover of "My Perogitive."
7:45pm:
I remember seeing the
Yeah Yeah Yeahs
in 2004 somewhere in rural Massachusetts. Despite their success with "Maps" and 2003's
Fever To Tell
, they essentially were unappreciated. Fortunately, five years later, it seems they have no problem getting a proper reception. The sky has opened up to purple and blue hues. Karen O., in her home state, is doing her usual art-punk styled acrobatics on stage. She screeches, "We love you so goddamn much!"
They plow through
It's Blitz!
single "Zero," "Gold Lion," "and "Y-Control." Before launching into a stripped down, acoustic version of "Maps," she dedicates it to the Yeah Yeah's friends and family, "lovers in the crowd," and MCA of the Beasite Boys, who had to pull out of APW in light of recent health issues. The Yeah Yeahs close with "Date with a Night" and I'm full-on dancing in the mud with APW Volunteer Kristin. Karen O. proceeds to literally destroy the mic and the monitors show it's defeated corpse on the floor of the stage. They leave the stage and I am renewed.
Dark now. The day's rain has bestowed us with mud like quicksand. Is this Woodstock '94? Actually, in the dark, the masses trudging through the sludge look like they're running in slow motion. This is what I imagine a more celebratory 'Nam to be like.
9:30pm:
There is a ten-minute countdown clock projected on the Blue Comet stage. Had this been in preparation for a Kanye entrance, we would find this arrogant and self-important. But this is
Jay-Z
, Young Hov, and it is completely warranted. When the seconds tick down to zero, the thousands in the crowd lose it. It's the opening lick of the Beastie Boys' "No Sleep Til Brooklyn." Jay appears on stage, free styling over the beat and shouting out to MCA and his NYC hometown. I, myself, a Brooklyn native, am losing it. Only a few hours ago, I passed Jay's first home: the storied Marcy Houses in Bed-Sty.
Every song seems to be a sing-along: "99 Problems," "Public Service Announcement," "Beware of the Boys," and his latest, "D.O.A." In front of a Barack Obama montage, he goes into Young Jeezy's, "My President" and later, he pays tribute to MJ, free styling over Jackson 5 classic beats. I've never seen such a commanding stage presence as Hov's and apparently, it's rubbing off; my friends are shocked to hear my confidence in rapping word for word over his, "Money Ain't a Thang." All night I hope for "Can I Get a What What," one of his first big singles, and it happens. I'm suddenly nostalgic for the year 1998, listening to album in my basement with my brother.
11pm:
I'm spent. Sorry
MSTRKRFT
. Have a long day tomorrow and MSTGTHM.
ALL POINTS WEST - DAY TWO
In stark comparison to yesterday, Day Two of APW proves to be a beautiful, cloudless day. Though mud now covers the once grassy festival grounds. Hope you wore galoshes because it's about to get a little Woodstocky in here.
1:15pm:
A tedious commute home last night from day one of APW (and a subsequent 30-minute shower) made my 11:30 a.m. wake-up call seem unreasonably early. Thanks to today's more appealing weather, I don't mind slipping on my newly de-mudded shoes and preparing myself for another ninety minutes of train time.
2:45pm:
Once inside the gates, I have some decision-making to do: haul it to the last 20 minutes of
Cage the Elephant
or hang out at Judah Friedlander's comedy set. I just narrowly miss
…And You Will Know Us By the Trail of Dead
. After last week's canceled performance in Brooklyn--the outdoor show was called as a result of a lightning storm--I'm even more miffed at this situation. My gut tells me to start my day with some laughs, so I get a good spot under the shady Queen of the Valley tent. In his usual trucker hat, Friedlander riffs with the audience about living in Tuscon and martial arts.
3:15pm:
Seeking some refreshment, I approach a lemonade stand, Just Squeezed, which boasts a sign "Help us through the recession!" on its tip jar. I go with the $10 water bottle, which entitles me to 10 free refills of lemonade. Next to the $3 Aquafina stands, I am most grateful for this deal. Thank you, Just Squeezed, you've made my day.
3:45pm:
I make it back to the comedy tent in time for
Tim and Eric
of Cartoon Network's
Tim and Eric Awesome Show, Great Job!
. As a fan of their 15-minute show, I'm wondering how it will translate into a live performance. They show some pre-recorded skits on the projection screens, a few Cinco infomercials and even a Dr. Steve Brule "For Your Health" PSA (arguably John C. Reilly's best role). Tim and Eric perform several ten-minute installments, leaving a few minutes in between for the costume changes required for their numerous song-and-dance numbers. Topics include inappropriate displays of affection between siblings and a pick-up line, "That's a nice dress. It would look better buried in the desert." Later in the evening, I'll see a random festivalgoer carrying around a balloon Eric used as a prop. While their set is generally funny and they earn every cardio-intensive dance routine, I find myself preferring the seizure-inducing pace of their late night Adult Swim broadcast.
Overheard:
Friendly Dude: "Free happiness! Get your free happiness here!"
4:15pm:
There are obviously lots more people here today and better opportunities for exploration. I wander around backstage, partially in search of Conrad Keely. I come across five or six women painted gold. There are random skinny-jeaned journalists and bloggers making their commentary from the press tent. Backstage is pretty maze-like so I do what comes naturally: I find the bar. At the risk of becoming "that girl," I'm strict in self-policing. One drink only at the Grey Goose tent, then it's back to the lemonade refills. I watch
The Cool Kids
on a feed of the main stage and enjoy my unnecessary afternoon vodka tonic.
5pm:
On my way back to the main stage, I pass Neko Case's trailer and look out for redheads. No such luck.
5:10pm:
Two pixieish girls approach me and my friend. They politely ask to take our picture for Converse's trend report. We oblige and are left dumbfounded as to why muddy, sweat-soaked attire is deemed stylish.
(Lame) Mud Humor:
As per me and festivalgoer Dominic of Quincy, MA: "...And You Will Know Us By The Trail of Mud"
"Echo and the Muddymen"
"We Are Wet and Pissed" (Presumably We Are Scientists)
"My Muddy Valentine"
5:15pm:
Kool Keith brings out seminal gangsta rap icon/part-time Law & Order regular Ice-T, who calls himself "the world's most expensive hype man" before treating the audience to two a cappella freestyle raps. Cross that off my list. A publicist later tells me what close proximity he was in to Ice, wife Coco, and her always-interesting choice of clothing.
5:30pm:
Bratty Brits
The Arctic Monkeys
find their way to the now hazy Blue Comet stage as the sun is almost ready to start its decent. A toddler is twirling like mad with a balloon in hand; she also has got some serious dance moves that make it to the jumbo-tron. Lead vocalist Alex Turner appears to have grown his mop-top to greater lengths and I'm trying to remember when the Monkeys adopted this ominous sounding edge (whatevs, it's working for them). They smoke through "Fluorescent Adolescent" and their hit, "I Bet You Look Good On the Dance Floor." Turner, his accent so thick, is incomprehensible to me. I better lay off the lemonade.
7pm:
Eugene Hütz, guitarist and vocalist of
Gogol Bordello
, bookends his gypsy punk collective's program by taking swigs from a bottle of wine. They exude raw energy, each member pacing the stage, pumping their fists, and recklessly wheeling about in chaotic, unchoreographed display. "Wanderlust King" provokes the hyped crowd to start a mud pit dance party. It becomes clear: if you're moving, you probably have a nerve condition. "Thank you fucking New Jersey," Hütz says. "We are your friends fucking Gogol Bordello."
8:15pm:
It was a tough call, missing
St. Vincent
and
Neko Case
, but there is no doubt in my mind that I am planting myself at the Blue Comet stage to see
My Bloody Valentine
. In true MBV fashion, there are equal parts spectators in the immediate audience as there are in the beer garden. Unceremoniously taking their positions, the four-piece, notorious for being one of the loudest live acts in history, open with "I Only Said." I must confirm just how incredible the ear-shattering drone is. Every current lo-fi, noise-rock band needs to write a thank you note to Kevin Sheilds tomorrow. "When You Sleep" kills despite the low vocal levels (or is it just the reverb that's obscuring any trace of voice?). At one point, I rest against a fence that is vibrating uncontrollably. Debbie Googe is in a red dress, red heels, and red guitar, which she's whammy barring while strumming. Each player seems to be in their own world, kind of apropos to their history as a band.
For close to ten minutes, MBV grind on a single chord; it sounds like yesterday's thunder. A friend turns to me and mouths, "My face is melting!" Apparently, I'm screaming. If Sheilds isn't trying to puncture our eardrums, the lighting designer is surely messing with us; the display of lights can best be described as set to Epileptic Mode. As suddenly and stoically as they appeared, they are gone. My mind is completely fucked.
10pm:
After MBV, much of the crowd is offended. Aggressive
Tool
fans are at fever pitch, ready for Maynard. The band finally arrives after a bit of a delay and do their prog-metal thing. Visuals that accompany the music are stunningly vibrant for their moody repertoire. Mid-set, I realize I've got a long commute home. I buy a ferry ticket--a cool $15 got me on the Miss New York--and I depart a bit prematurely though I can still hear Tool from over yonder. With the skyline in front of us, it is the first time I hear quiet in two days.
ALL POINTS WEST - DAY THREE
It's Sunday, day three of All Points West, and I wake up to 1) a heinous sore throat/fever combo and 2) several text messages and tweets claiming the present rain is causing a delayed opening of the gates. A friend of mine, volunteering on the inside, tells me it will be at least another hour before the doors open. I opt to stay in bed, down some NyQuil, and keep my ear to the Internets for further festival information.
2pm:
I'm hearing cancellations of
Steel Train
,
Gaslight Anthem
(shucks! I wanted to hear
The '59 Sound
live!) and
Kitty, Daisy & Lewis
who came from the UK for this bloody fest.
Kudos, by the way, to the organizers of All Points West; they've taken the weather mishaps in stride and have offered Friday ticket holders reentry for Saturday or today. Also, there haven't been many delays in the days' programming. Good job, APW, you deserve a lemonade refill.
4:50pm:
Leaving Brooklyn now, via car. I feel like garbage, which I tend to attribute to festival fatigue. What's that old adage? Oh, right: the show must go on. Whatever.
Interview:
On Friday, I caught up with
Akron/Family
's Seth Olinsky. The band has gained well-deserved momentum in 2009 [you know you're on your way when Kevin Alfoldy gives your album an
8/10 rating
and in the process drops rhymes like "too erratic to cohere into anything thematic"] and is the first non-canceled performance of the day on the Bullet stage. Here's what he has to say about All Points West and the art of live performance...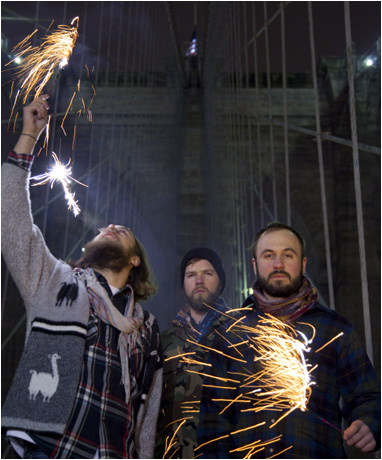 Akron/Family photographed by Sebastian Mlynarski.



LAS: It seems when you were living in New York, Akron/Family developed a connection to the music venues. Your shows tended to be intimate and called-on audience for participation. Now, you'll be playing the All Points West festival on Saturday.

Seth Olinsky: Jay-Z's tomorrow. We get often confused with Jay-Z. We're on Sunday.

LAS: [laughing] Of course. And this is one of the only large-scale festivals in the northeast. How will you deal with a festival setting as opposed to the typical Akron show?

SO: We started doing these residencies at Pete's Candy Store [in New York City] in the back room and if you have 30 or 40 people in there it feels packed to capacity. We used to play these really intimate shows in there and we used to do these scaled down, kind of delicate performances with these really tiny sounds. The little sound could be heard in such a room. Then, when we went on tour after our first record, we started playing more rock clubs. We couldn't do the same thing so naturally, our music developed as this rambunctious, louder, rocking kind of sound. It was a good way to communicate and grab people's attention. We went into bigger stages, around 300-400 people, and even festivals, where we might play for a thousand or more. It's not like we've changed because of where we've played. More recently, we've gotten more focused on the rhythmic aspect of our music. When you're in a festival setting, when you do all these shifts, loud-soft-loud-soft, it can be hard to reach the back of the audience, it can be hard to convey that. I think that having there be a pulse that can be danced to or just felt, it can connect with more people on more levels. It can become a door that people can access.

LAS: Those auxiliary elements of your music, the intricate sounds and arrangements, do they translate well in live performance?

SO: The arrangements are complicated and we've mainly been touring as a trio. Ultimately the live show is a bit different, more challenging than the record. Working as a trio, we started to incorporate people just to broaden the spectrum of sound we create. As far as the orchestration, there's more of an emphasis on us performing the song. For All Points West, we're actually going to have a horn section. We can't afford to bring the orchestra on tour yet.

LAS: And improvisation? Akron is known for it's live improv jams.

SO: That kind of changes night to night. We don't necessary plan that we're going to improv this much or that much for the night. It's more a combination of the spontaneity and the energy, if there's a good interaction with the crowd, we might go this way or that way. Playing for a large crowd, it can definitely be a bit more complicated to improvise, to feel like you're bringing everyone along with you. And generally, at a festival, you have shorter time for experimentation and opening up.

LAS: So, at All Points West Akron is playing a broad-ranging bill. Is this a case where you play to your differences, to differentiate yourselves?

SO: I actually haven't thought about it so much. We don't really think about accentuating our differences. We just more or less try to do what we do. The breadth of the festival doesn't seem that odd. We just played the Folk festival in Calgary and there was everything from smooth-jazz Celtic music to like, old blues, to singer/songwriters, and workshops. These workshops are where you get on stage with these other groups and perform their songs. We played with another group from Belize, these women singers and percussionists, and a bluegrass group. Ultimately all of our tastes in music are so wide ranging. I mean, what we like about music is not necessarily genre-based but more fundamental, so it's nice for us to play with all sorts of music.

The first show of this tour we're on now, we played at the Rock n' Roll Hall of Fame in Cleveland, the museum, so we were looking at Funkadelic costumes, paraphernalia of Allman Brothers, Sly and the Family Stone gear, The Beatles stuff, all this memorabilia from bands we love. And when we were performing later that night, all of that music is inside of what language the three of us share. We would play certain sections of songs and I became hyperaware of the classic rock influences in our music that we reference. Perhaps All Points West will provide that kind of atmosphere where we're playing the same music but we try to bring together the things we've been influenced by and leave the door open for all those colors to be involved. So, when we're playing next to MGMT or Jay-Z, it can bring out those colors.

LAS: Right, a different lens or filter to hear your songs through.

SO: Yeah, exactly. And this is through the prospective of me performing and being aware of these influences. I'm not sure how that affects the casual listener.

LAS: Off of that point, we've talked about the performance side of things. Let's talk about the audience side. Do you feel these festivals are effective in reaching them organically, or do you view them as a smattering of bands and art, festival activities, product marketing? Does it necessarily promote the art more so than the festival culture?

SO: All Points West seems like a really huge festival. For me, playing in them and trying to listen to other bands, it can be kind of overwhelming. Coachella, for example, there's so much going on, so many bands and stages. It's not so much about the individuality of each band. That can get a little swallowed by the overall, overwhelming quality of the festival. For the most part, unless it's Prince or Paul McCartney at Coachella or whatever, things blend together and it becomes sort of one festival experience which is actually what these festival promoters are after. One giant party with all these colors involved.

LAS: Sure. The American music festival model, generally speaking, is really ambitious. "Let's see how much we can do in three days" kind of thing.

SO: There's different levels. We've definitely played some that are a little more homegrown, a little more approachable from the audience point of view.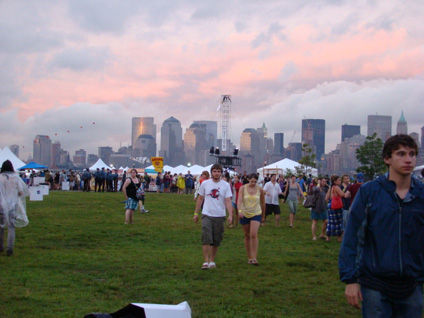 7:30pm:
I might as well be on some recreational drug that's surely being used somewhere on festival grounds because I'm, more or less, in zombie mode.
Lykke Li
is helping me through with a rousing version of "I'm Good, I'm Gone" and I'm about to follow her lead, on to
Echo & The Bunnymen
at Blue Comet.
7:50pm:
The H&M corporate kiosk looks like a futuristic, Epcot Center with it's globular dome and strange lights. I'm suspicious of what's going on inside.
8pm:
Tomorrow I'm going to punch myself in the face for missing
Mogwai
and
Silversun Pickups
. Being sick at a commuting festival is downright miserable. At least at Bonnaroo I could meander to my tent and throw up in the privacy of my own campsite.
8:15pm:
I'm calling it a day, APW. It's been really real. The weekend is finally catching up with me and my body is shutting down. I'm sorry, Echo and your precious Bunnymen. I'm sorry,
MGMT
, you sassy male duo. Forgive me,
Ghostland Observatory
, for I might be the most zonked out person in your tent.
Coldplay
, ugh, break a leg.
8:47pm:
My APW volunteer friend texts me, "ton more peeps here tonight." I reply, "I know, Chris Martin's still got it." He responds, "Who?"
Tweet:
From a friend at the show: "Coldplay covered the Beastie Boys and Michael Jackson. Very cool surprisingly."
11:10pm:
Bed, sweet, bed. I'll be dreaming of a mud-less world, where "The Killing Moon" and "Time To Pretend" play on loop and a 3D Q-Tip freestyles over Tribe Called Quest standards.
Best of All Points West:
Art Installation/Design Element:
Possibly one of the more cheesy elements, which went on to becoming my favorite, was the arch of balloons and lights nearest to the main stage. On Saturday night, the string on one side was let loose, causing the arch to become a ghastly, diagonal strip, floating skyward.
Place to Cool Down:
Since the sun wasn't too brutal, little time was spent hunting for shade. Though for those few instances, mostly on day two, the minor stage proved to be the best spot to cool down while watching the entertainment.
Live Act:
My Bloody Valentine. My ears have still not adjusted since. Life goal fulfilled.
Food:
I avoided the $8 pint of teriyaki chicken and $6 slice of pizza (recession? hello?) and tended to go for the essentials: hydration. The Just Squeezed kiosk and their $10 deal (a large water-bottled lemonade with 10 free refills) was ever so satisfying.
Sustainable Practice:
It seems festival organizers, in attempt to cut spending, had scrapped their green initiatives this year. Apparently in 2008, there was a water bottle refill program and a more present green awareness campaign. At the end of the night, this year, the festival grounds looked more like a plastic cup graveyard. Shame, shame.
Sponsor Giveaway:
Of the Toyota "cooling bandanas" and paper fans widely seen around the festival, I'd have to go with the Metro PCS Mardi Gras beads, not for the product but for the pitch: "Want to hear about Metro PCS? No? How bout some beeeeeads!" SEE ALSO:
www.apwfestival.com
SEE ALSO:
www.justsqueezedjuice.com
--
Lara Longo
Lara Longo is a writer and photographer from Brooklyn, NY. In 1989, Lara received her first CD player and album, Appetite for Destruction; ever since, music is something she has fawned over, hated on, and played loudly. Her work has also appeared in Relix and New York Cool. Lara's interests include sharks, European television, and the Hammond B3 organ.

See other articles by Lara Longo.
If you'd like to help spread the word about LAS, or simply want to outfit yourself with some adhesive coolness, our 4" circle LAS stickers are sure to hit the spot, and here is how to get them:
-->
Send an with $2 in PayPal funds to cover postage. Don't worry, we'll load you up with enough to cover your town. Then just be patient. They will arrive soon.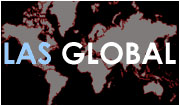 LAS has staff and freelance writers spread across North and South America, Europe, and a few in Southeast Asia as well. As such, we have no central mailing adress for unsolicited promotional material. If you are interested in having your project considered for coverage, please contact us before sending any promotional materials - save yourself time and postage!