LITERATURE
»
Full Dark, No Stars
- Stephen King's new novella questions mankind's ability to trust others.
[02.21.2011 by Bridget Doyle]
MUSIC
»
The Top 30 Albums of 2010
- Fashionably, fabulously late, our favorite music (and believe me, there was a LOT) of 2010, the year that some have called the best year for music ever. And only some of those fools work here. Plenty of usual suspects, lots of ties and a few surprises that I won't spoil, including our unexpected #1.
[12.24.2010 by The LAS Staff]
LOSTATSEA.NET
>
FEATURES
>
December 19, 2008
Staff Lists A-M
|
Garin Pirnia
|
Eric Schneider
|
Ari Shapiro
|
Mike Shea
|
Daniel Svanberg
|
Mark Taylor
|
Cory Tendering
|
Dave Toropov
|
Dan Weiss
|
Mike Wright
|
Josh Zanger
|
2008 Composite Top 20
---
Garin Pirnia
1 - Cut Copy /
In Ghost Colours
/ Modular
I really can't gush enough about this Aussie group. Bright Like Neon Love put the trio on the map, but they've really outdone it with this one. Released a while back in March, I haven't come close to getting sick of the record yet. Songs like "Hearts on Fire" and "Feel the Love" have become dance floor anthems. "Strangers in the Wind" and "Unforgettable Season" evoke nostalgia, especially in the summertime. With each listen, I'm reminded of the brilliance and majesty of these guys. That's what a great album should do.
2 - Wolf Parade /
At Mount Zoomer
/ Sub Pop
It's getting difficult to keep track of all of these Wolf side projects-Handsome-Frog-Rubdown--but Dan Boeckner and Spencer Krug are at their best as Wolf Parade. 2005's debut, Apologies to the Queen Mary demonstrated the band's ability to rock.With the peppiness of "Language City" and "Soldier's Grin," to the catchy riffs on "Fine Young Cannibals" and the epic prog-esque final track, "Kissing the Beehive" clocking in at almost 11 minutes, Zoomer is best appreciated after several repeated listens.
3 - M83 /
Saturdays = Youth
/ Mute
The cover displays a red-headed doppelganger of a teenaged Molly Ringwald. M83, a.k.a
Anthony Gonzalez, has been upfront about this record being influenced by 1980s John Hughes films. "Kim and Jessie" and "Graveyard Girl" touch upon pop-angst while "Coleurs" and "Highway of Endless Dreams" focus on Gonzales' ambient themes. It's too bad the band has gotten so big it's opening for Killers, but we still love them.
4 - TV On the Radio /
Dear Science
/ Interscope
TV on the Radio is a band that's consistently released solid records.
Dear Science
builds upon the foundation their previous endeavor, Return to Cookie Mountain laid. "Halfway Home" bursts through the sound barrier with infectious "bah, bah, bahs." Lead singer Tunde Adebimpe channels his inner Prince on "Golden Age," gets sentimental on "Family Tree," and adds dizzying trumpets on "Dancing Choose." There may not be a "Wolf Like Me" caliber hit on this record, but there are enough other nuggets to relish.
5 - Moscow Olympics /
Cut the World
/ Lavender Records
Every year there's a hidden gem of an album that barely makes a blip on the music radar. Filipino group's Cut the World is that album. Best described as dreamy pop, the band also ventures into lush, shoegazey terrain. The lead singer's vocals contain the lilt of the Pet Shop Boy's lead singer evoking the '80s and at times early Cure. The songs take the listener to a somewhat but yet not quite familiar place, which is always a good thing.
---
Eric Schneider
1. Elbow -
The Seldom Seen Kid
(Geffen)
2. TV On The Radio -
Dear Science
(DGC/Interscope)
3. Portishead -
Third
(Mercury)
4. Sigur Rós -
Med Sud I Eyrum…
(XL)
5. Fleet Foxes -
Fleet Foxes
(Sub Pop)
6. Mogwai -
The Hawk Is Howling
(Matador)
7. Sun Kil Moon -
April
(Calo Verde)
8. Matthew Robert Cooper -
Miniatures
(Gaarden)
9. Nick Cave & the Bad Seeds -
Dig!!! Lazarus Dig!!!
(Anti)
10. Beck -
Modern Guilt
(Interscope)
Also Really Good
:
Bon Iver -
For Emma, Forever Ago
(Jagjaguwar)
Cut Copy -
In Ghost Colours
(Modular)
Robert Forster -
The Evangelist
(Yep Roc)
Goldfrapp -
Seventh Tree
(Mute)
The Raveonettes -
Lust Lust Lust
(Vice)
Sons & Daughters -
This Gift
(Domino)
Tindersticks -
The Hungry Saw
(Southern)
Shugo Tokumaru -
Exit
(Almost Gold)
The Walkmen -
You & Me
(Gigantic Music)
Wire -
Object 47
(Pink Flag)
Disappointingly Weak
:
Bloc Party -
Intimacy
(Atlantic)
My Morning Jacket -
Evil Urges
(ATO)
Peter, Bjorn & John -
Seaside Rock
(Almost Gold)
---
Ari Shapiro
10 - Fucked Up,
The Chemistry of Common Life
: When's the last time you spun an album that starts with a solo flute, and within a minute explodes into a whiteout of raw vocals, both male and female, stringently backed by the most workingman-like lines since Fugazi's 13 Songs? If you can't recall, perhaps this is your year. Getting past the monstrous vocals of one Pink Eyes, he who makes Henry Rollins sound like James Taylor, is half the battle here. More melodic than metal, more dynamic than pure punk, this Canadian shit will make your head spin for over fifty minutes. When it's over the golden silence feels welcome, a testament to the power within.
9 - Stephen Malkmus,
Real Emotional Trash
: There should be a monument to this man in Stockton and Portland. Truly one of the most consistently excellent musicians of our time, he seems incapable of recording anything less than a top 10 record of any year. Real Emotional Trash extends the hitting streak; it brims with bluesy jams, words that make you say "wha?," and angular guitar that pierces the veil of mainstream banality. Basically, the same thing he's been doing since the heady days of heading Pavement.
8 - Oneida,
Preteen Weaponry
: One of the more beguiling bands out there, Oneida nudge their limits with each release. This one finds the band exploring a self-imposed vision of a "new age in music;" Preteen is simply the first release in a planned triptych. Save for a few half-baked lyrics this instrumental suite is propelled by free-form jazz drumming, basslines that walk all over the place, and lick upon lick of psychedelia tinged fretwork. Imagine Comets on Fire's amazing Blue Cathedral on ludes (the album, not you), and you'll get close to this spiraling spire.
7 - TV on the Radio,
Dear Science
: I have always liked this band for it's groovy approach to mathy music, but their detachment was a roadblock to the kool-aid; akin to a talented jazz ensemble that refuses to damn the modal noodling and let it fly.
Dear Science
is finally the record that does the trick: track to track, chock full of more funk, soul and balladry since Little Stevie Wonder.
6 - Titus Andronicus,
The Airing of Grievances
: This is who you will hear in this diamond in the very rough: The Sex Pistols, The Clash, The Boss (they're from Jersey, guess it's in the water), The Thermals, and every young raucous bar band bursting at the seams to break on out. Whatever they lack in musicianship, which is not much actually, Titus A makes up for with sheer force of will. Anthems unwind at such a frenzied pace in the hands of these 20-something punks led by Patrick Stickles, the nine tracks feel like one long sonnet to youth, played with the exuberance of being there. That they named the band after a little known Shakespeare tragedy is a dubious nod to maturity, plus it sounds tres rad.
5 - Fleet Foxes,
Fleet Foxes
: This band's debut may not be on this-here list were it not for a simple fact: I've seen them live, and they are the real deal. Like alt-Americana brethren Band of Horses, the Foxes run wild with gorgeously crafted songs, heavy on melody, light on arrangement. Of course, none of it would matter much if it were not for the bono vox of lead singer Robin Pecknold, who has one of the best in this genre. The fact that he played an entire summer set in a sweltering Tucson club, with no A/C, never removing his Pac Northwest wool cap (with effen earflaps no less) is even more endearing.
4 - The Walkmen,
You and Me
: This is a band that's hard not to love, they always dot their indie i's and cross their traditional t's. They may not record in their Harlem studio anymore, but they still cherish the retro equipment and lo-fidelity. Like TVOTR, these New Yorkers also changed gears in 2008: gone is Hamilton Leithauser & Co.'s angsty energy. The replacement is crackly songs, toned down several notches, that sound as well worn as grooves in vinyl.
3 - The Music Tapes,
Music Tapes for Clouds and Tornadoes
: One of the more unique sounding records of the year, but that's not a surprise for a crew that played with the infamous and brilliant Neutral Milk Hotel. Led by Julian Koster, the album was recorded with equipment that make the Walkmen look like digerati. To wit: a 1930's RCA ribbon microphone is just one of several devices from that timeframe. Songs are sung with a personal lament that echoes Bon Iver, with Koster's vocals teetering on the edge of his broken down banjo.
2 - Parts and Labor,
Receivers
: These art-punks from Brooklyn have relished making noise pretty, getting pretty damn noisy in the process. They are regulars on my year-end lists for a reason: they're one of the few acts who truly bridge the increasingly narrow gap between cacophony and melody. This year they ditched the wall o' sound assault, replaced their behemoth drummer, and added a femme fatale guitarist. The result is a less laborious album that still retains their hulking, firing parts.
1 - Bon Iver,
For Emma, Forever Ago
: A hidden gem when first released, this album grows in beauty as surely as the trees in the Wisconsin woods where it was recorded. Deceptively subtle, refreshingly simple, it's about as lonely and universal a sequence of songs since before Jackson Browne went political. Justin Vernon, he of the nom de plume "Good Winter" did just that: holed himself up in a cabin in the northern state's cold winter, vanquished some demons, and unwittingly made a minor masterwork.
---
Mike Shea
1 - why?/
Alopecia
(anticon) - if you ever find yourself in a 6 month period of unemployment during which time you lose your girlfriend and a portion of your sanity, this record is guaranteed to leech the remaining tears from your face and get you back on the horse (farm horse, not cocaine horse)
2 - diplo & santogold/
top ranking
(mad decent) - 100% top to bottom bangers and the happiest record of my year. carter 3 would have ranked here if it wasn't for busta rhymes talking about his down syndrome money.
3 - lil' wayne/
tha carter 3
(cash money) - busta's verse aside, this album is perfect. if carter 1 was space camp and carter 2 was liftoff, carter 3 is some wormhole parrallel universe spelunking shit.
4 - beach house/
devotion
(carpark) - best record to make eggs to on a sunday morning. complete fuzzy euphoria.
5 - the dodos/
Visiter
(frenchkiss) - probably also my favorite show of the year. dudes rule.
6 - bon iver/
For Emma, Forever Ago
(jagjaguwar) - audible representation of a gigantic blanket of the year.
7 - sigur rós/
med sud i eyrum vid spilum endalaust
(XL) - the only sigur rós record that i don't have to be in a completely devastated mood to listen to. the end of track 2 when the whole thing explodes into horns and bells is my favorite piece of recorded music this year.
8 - no age/
nouns
(sub pop) - perfect formula of riffs/melody/ambient sounds, which comprise just about everything i want in an album. things i did when i was dead = song-that-should-repeat-for-about-2-hours of the year.
9 - the walkmen/
you & me
(gigantic) - totally makes their last record worth it. i'll die in dreams of you.
10 - passion pit/
chunk of change EP
(frenchkiss) - these are really the only 6 songs you need for your party.
honorable mentions
: lord dog bird/
lord dog bird
(jagjaguwar), tokyo police club/
elephant shell
(saddle creek), black milk/
tronic
(fatbeats), diplo/
fear and loathing in hunts vegas
(mad decent), lucky dragons/
dream island laughing language
(marriage)
---
Daniel Svanberg
1 - M-83/
Saturdays = Youth
- Electronic shoegaze that would make Kate Bush blush.
2 - Elsiane/
Hybrid
- The best sounding Canadians this year.
3 - DiskJokke/
Staying In
- The Norwegians keep proving that electronica is what they do best.
4 - Hanne Hukkelberg/
Rykestrasse 68
- And that they do jazzy pop equally well.
5 - Einstuerzende Neubauten/
Alles Wieder Offen
- The German industry pioneers proved once and for all that they're back, and with beautiful melodies to back it up.
6 - El Perro Del Mar/
From The Valley To the Stars
- The Swedes prove that cute pop is what they do best.
7 - Sally Shapiro/
Remix Romance 1 & 2
-Cute Swedish pop strikes again, this time after a make over from some of the best producers and artists out there today.
8 - Ladytron/
Velocifero
- Ladytron can make no mistakes, they will always release good stuff.
9 - Hilde-Marie Kjersem/
A Killer For That Ache
- Teflon-pop at it's best.
10 - Renfro/
Mathematics
- Found sound have never sounded so found.
---
Mark Taylor
1 - Frightened Rabbit /
The Midnight Organ Fight
(Fat Cat) - I found myself belting lines like "You can't find love in a hole/it takes more than fucking someone to keep yourself warm" as innocently as I would "I got my first real six string/bought it at the five and dime". That's what kind of records this is. Although there are tinges of folk and anthemic rock, this is pop music at its finest. Brutally honest, incredibly catchy and one of the finest albums I've heard this decade.
2 - M83 /
Saturdays = Youth
(Mute) - Unabashed and easy on the tongue-in-cheek clichés, Anthony Gonzales's homage to all things 80's hits the nail on the head by resurrecting the awkwardness that was my youth. The misdirected, weirdo girl who constantly wore black and seeps of death, school year flings that you swore would last forever and their inevitable break-ups, teen angst, over the top dramatics and embarrassingly syrupy lyrics are all there. M83 may be winking at their audience but the nostalgia outshines any schtict.
3 - Parts and Labor /
Receivers
(Jagjaguwar) - No where near as immediate or catchy as last years brilliant Mapmaker, Receives encompasses the inevitable maturation that comes with half a decade of recording and constant touring. Although I question some of the production choices, Parts and Labor have produced a more focused album that shows a heightened sense of pop sensibility the band has only hinted at on past albums. Parts and Labor have kept their trademark wall of sound but traded in noisy faire for depth and a more patient punch.
4 - Sigur Rós /
Sud I Eyrum Vid Spilum Endalaust
(XL Recordings) - Every year that Sigr Ros puts out an album it ends up on my list. Look no further than last years
Heima
DVD to know why this is one of the worlds most watched and talked about acts and their latest offering only supports their significance. Even as album opener "Gobbledigook" grates on my nerves more than The Flaming Lips' "The Yeah Yeah Yeah Song," tracks like "Gódan daginn" and "Festival" sound as warm and as they are ambitious. Album highlight, Ára bátur, shows how unrepentant the bands sound can be. Some people call it arrogance. I call it feeding my glutton for overbearing music since 2001.
5 - Pivot /
O Soundtrack My Heart
(Warp) -Equal parts progressive, glitch rock and electronic knob turning, Pivot pulls the best moments of instrumental post everything that blends sounds as complex as Battles, epic as The Cancer Conspiracy, quirky as The Octopus Project, retro as Trans Am and rhythmic as Turing Machine. Name-dropping is a skill that I am perfecting.
6 - Dananananaykroyd /
Sissy Hits
(Holy Roar) - Much blogged about UK pop, post-punks remind me why I miss Q and Not U. Heavy on the DC dynamics but more memorable hooks than most trying to conjure the same sound, Sissy Hits is an onslaught from the get go and doesn't let up its steamy pile of angular art rock that I am told is better lived on stage than experienced on tape. Either Way, the band pulls of all the right moves which make it prime material for bopping, pop-locking and maybe a little moshing.
7 - British Sea Power /
Do You Like Rock Music
(Rough Trade) - One of the very few bands that can do no wrong. Probably the most straight forward listening experience I've had all year, there's enough vicarious guitar workouts on this album that puts it notches above other notable, however lackluster, guitar rock albums that came out this year. Maybe it's the grandeur of their songs or the way they sound so sure of themselves. Whatever the pull, the band are post punk torch carries passed on to them from their forefathers that weave a delicate balance of new wave and alt rock that range form Joy Davison and Magazine to The Church and, at times, the fist pumping anthems of Cheap Trick.
8 - Torche /
Meanderhtal
(Hydra Head) - You can keep you Mastadon's and your Sword's and go ahead and pass me the Torche cause this shit rocks. Meanderhtal is the sound the Melvin's sped up and before they decided to go all classic rock on us earlier this year. Listening to this album is the closest I've been to hitting a hobo.
9 - Constantines /
Kensington Heights
- Just when I thought the band couldn't get any worse (see 2005's Tournament of Hearts) they go and put out Kensington Heights….and totally redeem themselves. The album is miles away from their landmark sophomore album, Shine A Light, but oh how I welcome the bands return to form. Steve Lambke's scruffy vocals and blue collar dialect, combined with their angular E Street sound that made them a mouth piece for those of us working full-time just does it for me.
10 - Maybeshewill /
Not For Want Of Trying
(Phantom Sound & Vision) - Maybeshewill is plucked from the same electronic post-rock approach as 65 Daysofstatic and is every bit as crushing in execution, adding metal, ambience as well as post and math-rock on top of sweeping electronics all plugged into huge Marshall guitar stacks. An over the top, everything but the kitchen sink ascetic that is every bit as ambitious as I've described, and as solid as anything I've heard form the over saturated post-rock cannon in the last few years.
Other Notables
:
Charlottefield /
What Are Friends For
(Phantom Vision and Sound) - More sharp post punk from the UK.
Mogwai /
The Hawk is Howling
(Matador Records) - Although much better than 2006's Mr. Beast, the band better come up with something new before I really start to get bored.
We vs. The Shark /
Dirty Versions
(Hello Sir) - Much more of a live band than recording artists, I'm not sure I've seen a more jaw dropping show all year and their new album is a nice departure from their first record, Ruin Everything.
Young Widows /
Old Wounds
(Temporary Residence) - Before word of a Jesus Lizard reunion we heard from their bastard sons Young Widows. Abrasive.
Radiohead /
In Rainbows
(ATO) - yada yada yada.
---
Cory Tendering
This year I've decided to do this alphabetically, because in the last three or four years I've regretted my number one, but not the list. I don't want to emphasize any one particular artist or release, only to show the albums I foresee holding up to time's wilt. I'll say that I'm just as surprised as anyone at the jammy, guitar oriented nature of a lot of these picks.
1 - Blitzen Trapper/
Furr
(Sub Pop)- There is certainly as much trash as treasure here, but when the treasure makes up some of my favorite songs of the year by anyone ("Black River Killer," "Furr," "Not Your Lover," and "Lady on the Water," to name a few), the trash is so much more forgivable. Unevenness isn't always a bad thing.
2 - Bon Iver/
For Emma, Forever Ago
(no idea)- This is probably technically last year's, but it's official to-the-masses release was '08 and that's when I heard it. The whole record floors me, but the title track especially hits me in the soft-spot, the way its horns graciously accompany the sadness that comes with Justin Vernon's double-tracked falsetto.
3 - Bound Stems/
The Family Afloat
(flameshovel)- I just find myself coming back to this one over and over and find new things to enjoy. It's rare that a record gets better and better, and while the best moments here are heavily in debt to the indie-pop past, this type of music is seldom done with such intelligent abandon
4 - Death Cab for Cutie/
Narrow Stairs
(Atlantic)- Ben Gibbard's songwriting seems to build with each record: sure Narrow Stairs has it has some skip-able tracks (um, "Bixby Canyon Bridge" anyone?) but the memorable ones outshine even some previous career high points. "Your New Twin Sized Bed" certainly uses Gibbard's well-documented attention to detail in a more productive manner than ever before, and the gorgeous studio construct of "You Could Do Better Than Me" sit nicely alongside songs like "No Sunlight" and "Cath…" whose big guitars try so hard to hide the great song underneath, but fail. Thankfully.
5 - Fleet Foxes/
Sun Giant EP
/
Fleet Foxes
(Sub Pop)- I admit it was mostly the mystique of a 21 year-old songwriter writing these types of songs that kept me coming back. But from the first moment of "Sun Giant" up through the perfect vocal pop of "White Winter Hymnal" and through "Oliver James," this one-two punch certainly helped the Foxes gain a lot of ground very quickly; I'm definitely in the converted.
6 - The M's/
Real Close Ones
(Polyvinyl)- Every M's album strikes me as better than the last. Future Women added much needed vigor and imagination to the band's Brit-pop flavored indie-rock, and seemed to expanded the sound. Now Real Close Ones (which uses lead track "Big Sound" as a sort of jumping off point), expounds on its predecessor and shows the M's growing into the role of experienced elder-statesmen of Chicago's diverse music scene.
7 - Stephen Malkmus and the Jicks/
Real Emotional Trash
(matador)- I just fucking love SM. Really. I'll go anywhere he wants to take me, and Real Emotional Trash may be the best place he's gone since Pavement broke-up. It balances the imaginative noodlings of Face the Truth with the proggy guitars of Pig Lib and that makes for one of my personal favorites of the year.
8 - Titus Andronicus/
The Airing of Grievances
(XL)- That this band just got picked up and is starting to be groomed for prime time doesn't really surprise me much: this record hit me over the head like a ton of bricks. There are men who spend thousands of dollars upping their stereo equipment and buying the newest equalizers and receivers all in vain attempts for their music to sound as exciting as it did when they were kids. That's how I felt when I first heard this: the urgency and rush propel these songs forward, but that's not to say they are crafted with meticulous care. I think of them as Broken Social Scene, but instead of being a wide open, inclusive group, they're drunken anarchists spitting in everyone's faces.
9 - TV on the Radio/
Dear Science
(Interscope)- This didn't register to me at first. I mean, I never disliked it, but after the extreme theatrics of Return to Cookie Mt, the fact that
Dear Science
, didn't jump out at me was something I first mistook for mediocrity. It was unfair of me, as this is perhaps the most accomplished and mature album by TVOTR yet: all subtle joys- this will their Low or Station to Station to Cookie Mt's Rise and Fall of Ziggy Stardust and the Spiders from Mars.
10 - The Walkmen/
You and Me
(no idea)- This record was, simply, the record I've been waiting for the Walkmen to make since their first album. I'll even admit that I gave up after their third album A Hundred Miles Off, but I'm happy to admit I was too early to judge, and I enjoy the subdued basement garage calypso of this album in a way that surprises me every time I listen to it.
---
Dave Toropov
1.
All is Well
- Sam Amidon
Of all the records I heard this year, All is Well stood alone as, in the rarest and most sacred sense of the word, truly timeless. Sam Amidon found in a selection of traditional American folk songs the core of the human experience - all the longing, sorrow, and joy that flowed through the lives of men and women who died a very long time ago, and who now exist without an ego. This album is singularly devastating and gorgeous, and in a frightening year where both the world and my self were in an identity crisis, All is Well was a rock to cling to. It very well may have changed my life.
2.
Microcastle
/Weird Era Cont. - Deerhunter
I have an irrational grudge against records I feel are too hip for their own good. That said, I thank the stars I bit the bullet and spent some green on
Microcastle
- it's the ember of the post punk revolution, a brilliant forty minutes, and holds a Loveless-esque cohesion that I believed had been a Kevin Shields pop anomaly. The whole record flows as if a sixties Surf guitar hero knew what it felt like to lose something and start all over again, wave after wave.
3.
Dear Science
- TV on the Radio
Dear Science
ripples with the feeling that something huge is about to happen. Thus it might be appropriate to say it's the album that will come to define what 2008 was - scared but knowing that what's to come can and will be beautiful. We all knew that we expected big things from the group following Cookie Mountain, and with
Dear Science
TV on the Radio have established themselves, along with Radiohead and Arcade Fire, as one of the two or three most important bands putting out records today. Some albums take decades to grow -
Dear Science
was instantly mammoth. You should have seen my double take when my roommate put "Halfway Home" on the hi-fi for the first time. I must have looked like a cartoon character.
4.
The Chemistry of Common Life
- Fucked Up
A few months ago, I met a member of the punk brethern at a show in upstate New York. When we started to talk about bands we both enjoyed, I brought up Fucked Up as my favorite current hardcore band, and he just smirked and shook his head. "They're just around to fuck shit up, man," he said. To an extent, my friend's right - Fucked Up probably get a charge out of sticking their ass out of the van window in gridlock traffic, but they're also hungry, driven, and more often than not brilliant. I was nervous of a sophomore slump, but Chemistry not only matches the intensity of the group's first record, Hidden World, but expands the canvas. You've got more left-field world music interludes, more celebrity guest appearances, more inspiring, larger than life screaming choruses. They are the rallying point of punk today, and I'm pretty sure this is their London Calling.
5.
Uproot
- DJ/rupture
So Gold Teeth Thief was a pretty big deal. It put Missy Elliott up against some hot world beats, everyone bragged about having it on their iPods, and five years later DJ /rupture put out an album that's as peacefully confident and awe inspiring as a zen master. This record absolutely blew me away, containing probably the most beautiful two minute instrumental I've ever heard almost exactly halfway through its running time. It will probably be an even bigger deal to me when I'm not a restless young whipper-snapper, but for the time being, Uproot is always a cleansing.
6.
Tha Carter III
- Lil Wayne
This was the big, technicolor blockbuster in 3-D. For a little while there it would never actually come out, but when it did, sweet Jesus-in-a-basket did it deliver. "A Milli" may well have been the song of the year, "Lollipop" took over the clubs, for better or for worse, and I bumped "Let the Beat Build" until my speakers croaked. And then I bumped it some more. And a few more times after that I just started bumping the whole damn thing. And so did everyone else in America.
7.
Feed the Animals
- Girl Talk
Could there be a more perfect snapshot of the new modern music culture? Released for free and composed borderline illegally of the myriad bits and pieces of every moment of every song that ever set off your pleasure sensors, guilty or not, Feed the Animals will always be a quintessential college record. What we needed this year wasn't an OK Computer reflection of how jaded and disconnected we all are, but to find a way to put a dumb smile on our faces again and forget problems. If you didn't have fun listening to this record, you're probably the enemy, or at the very least someone who doesn't understand us.
8.
The 3rd World
- Immortal Technique
This album had nowhere near the right to be as good as it was. Wasn't it supposed to be a mixtape? A street album or something? As my grandmother would say, this is a man who takes advantage of his advantages, and The 3rd World proved to all of his that Immortal Technique was still a major force in the business despite his relative silence since Revolutionary Vol. 2. The passion is not only still there, it's amplified. If you haven't heard "Golpe De Estado" yet, I can't recommend grabbing a hold of it more. Nothing was more badass this year.
9.
Alopecia
- Why?
Well, I guess hindsight really is 20/20. When I originally reviewed this album eight months ago, I mentioned that even though I thought
Alopecia
was good, I was still waiting for the great Subtle/Why? Record that synthesized abstract hip-hop, alternative song structures, and stream of consciousness imagery to a perfect, digestible but ambitious whole. The problem is that the more I listened to this record, and I listened to it an awful lot, I started to become sure that this is that record.
Alopecia
is a confessional for Yoni Wolf, with scores of terrific songs, and it's an honest snapshot of how the back of a young man's mind works.
10.
Adage of Known
- JDSY
This one crept up on me. I first heard it on a beach in South Carolina and almost nothing rang true for me, but as it found a way to my headphones during my more private moments, it started to become an intensely personal and affecting record. The electronics jitter face to face with simple echoing melodies, and it turns out to be full of depth and meaning. This is my nominee for the brilliant album that's most likely to slip under the radar, when in reality it deserves so much better.
Top labels
:
1. Bedroom Community
2. Kranky
3. Interscope
4. Matador
5. The Agriculture
6. Cash Money
7. Illegal Art
8. Viper Records
9. Anticon
10. Ghostly International
---
Dan Weiss
1 - Be Your Own Pet /
Get Awkward
/
Get Damaged
(Universal/XL) - The best album of 2008 suffered multiple setbacks: major label censorship, mismatched touring with She Wants Revenge, breaking up. But it's still standing; the epochal Descendents descendant "Food Fight" ("Crash a six-year-old's birthday party/Smash the cake in her face and make her grab for mommy/You gotta stand your fuckin' ground!"), immaturity proclamation "Super Soaked," the love-after-death plea "Zombie Graveyard Party!" and the subtler alienation growl "Creepy Crawl." Toss another dollar or two for
Get Damaged
, an indie single comprising the too-hot-for-MTV outtakes "Black Hole" and "Blow Yr Mind," and the classic "Becky," a first-person account of ephemeral high school cliqueship gone murderous that sounds like "The Loco-Motion." In four years, this heartfelt bunch of brats singlehandedly kept three-chord aesthetic and grrrl-punk alive with real riffs, howl and burn in an era when indie means Sufjan Stevens fronting a sixteen-piece glock-n'-spiel. The album inlay comes with trading cards of each (ex-)band member. Do as the kids do: collect 'em all.
2 - Girl Talk /
Feed the Animals
(Illegal Art) - Gregg Gillis is one of the few who understands pop in the post-major label era. Dude's a walking playlist who understands his generation are addicted to their iPods, but more importantly that they're addicted to
choice
. He's an ice cream man at pleasing crowds of Soulseekers; You want Jay-Z over Radiohead, you got it. Admittedly crude in execution, Gillis jams round pegs through square holes unapologetically, but his secret in his surprises. If you never knew you wanted to hear "Whoomp! There It Is" over the pennywhistle-like guitar solos from "In a Big Country," one (crude) listen will change your mind.
3 - Portishead /
Third
(Mercury) - Who would've thought? And who now knows? Apparently everyone: the most difficult album of 2008 by far appears to be its most celebrated. Opposing everything they know and love (loathe?) about themselves, Beth Gibbons flings herself even further into the Sylvia Plath horror where she left off on 1997's
Portishead
only now without a gentle break like "Wandering Star" or "Only You" to calm the madness. Her band contorted themselves like taffy into horrible shapes from the screeching one-two of "Silence" and "Hunter" to sleek industrial meltdowns like "Machine Gun" and "We Carry On." One of the best hooks was supplied via helicopter. Another: out-of-tune ukelele. I'd tell you to just go with it, but you're already way ahead of me.
4 - Lil' Wayne /
Tha Carter III
(Cash Money) - Weezy makes it look so easy because it is for him. He worked his ass off on the mixtapes and used up his pyrotechnics, so this is about how lax he can be and still rock. On the three hit singles ("A Milli," "Got Money" and the divisive auto-tune special "Lollipop"), he juxtaposes fire and brimstone against laziness that coalesces into droning, near avant garde hooks. On the weird ones ("La La," "Phone Home"), he makes certain to put heart in his wit. And on the true concepts (the MC surgeon general "Dr. Carter," the Katrina lament "Tie My Hands"), he's a young money millionaire. Tougher than Nigerian hair.
5 - Conor Oberst /
Conor Oberst
(Merge) - Infamous scenemaker Ultragrrrl's blog is headed by the non-sequitur "Sarah's so boring ever since she stopped drinking." Replace "Sarah" with "Conor" and you have a possible explanation for the indifference towards Oberst's new sobriety/legitimacy. Drunk on melody, his current agenda is polishing off tune after tune of swear-I've-heard-this-before folkisms. Between the gatecrashing "I Don't Want to Die in a Hospital" and the easy-boogieing "Sausalito," the Pledge of Allegiance-ready "NYC - Gone, Gone" and the sick-bed drawl of "Milk Thistle," how anyone could prefer "Lover I Don't Have to Love" is beyond me. Sure he's less intense. Because he's warm as the sun melting winter fog and almost as universal.
6 - No Age /
Nouns
(Sub Pop) - For unapologetic nostalgics and lovers of miniature, the feedback-loving L.A. duo rock, squeal, cram and loop as much white noise as they can into nuggets so poppy that one even recalls Elvis Presley's "Return to Sender." The bristlingly pleasant result doesn't evoke
Kid A
,
Ramones
, or
Bakesale
altogether blatantly, but you'll settle for reluctant agreement. The addictive series of two-chord vignettes is just so hard to pin down (and yet seems so easy), that by the time you think you have the jist, it's over. And then we play it again.
7 - Stereolab /
Chemical Chords
(Duophonic) - The beautiful band that settled into their burbling groove long ago when they turned to lounge-and-drillbit techno for inspiration has finally turned a corner. After a mostly immobile decade of quietly losing their bearings and depressingly, core member Mary Hansen, here's where they honor her memory with unprecedented soul, horns and hooks. So what if every song clipclops identically into place? With settled bands, it's about the one-after-another that counts. And "Daisy Click Clack" is a hell of a beauty from a band we thought had settled.
8 - Raphael Saadiq /
The Way I See It
(Sony BMG) - It's so simple, why did no one think of it before? This was the year urban radio spent incognito. Kanye dressed up as a lovesick robot, and this Tony! Toni! Tone! alum played come-as-you-aren't by pretending he was recording for Motown in the late 1960s. Every string stab, dusty drum hit or gooey harmony is crafted from diamond-sharp songwriting and an ear for juice. Maybe he won't really "100 Yard Dash" to get in your pants, but that guitar line will. And maybe "Big Easy"'s too late to mourn New Orleans so it just says fuck it and celebrates.
9 - TV on the Radio /
Dear Science
(4AD) - Still have no idea what this band is trying to do. No longer care is the big news. Kool-Aid's kicking in...feeling faint...andddddd poof, euphoria.
10 - The Breeders /
Mountain Battles
(4AD) - More indie miniaturists, this time exploring their sentimental side. This is like sampling a percaset addict's mental karaoke machine. Sloppy Spanish and German bounce around. A couple catchy rockers. One oddball cheerleader chant for Istanbul. Hazy, folkloric ballads grounding it all. And a big gravity-defying, hang-glide opener that launches the whole mess into aerospace, the title and sole lyric of which are self-explanatory. That's respectively, "Overglazed," and "I can feel it!"
---
Mike Wright
1. Flying Lotus -
Los Angeles
(Warp)
Stephen Ellison has really nailed it with Los Angeles. Distorted drums that shake the rest of the production, beats that drop ever-so-slightly out of time every now and then, static interference - and yet some call it hip-hop. The wave of copyists this album has already sparked is testament to its brilliance.
2. Alva Noto -
Unitxt
(Raster-Noton)
Carsten Nicolai has a deep respect for precision, and never before has it been so palpable. Unitxt is a simple machine, with buzzes, clips and flashes of white noise working as cogs that fall back into the grooves. Must be played loud.
3. Aidan Baker & Tim Hecker -
Fantasma Parastasie
(Alien8)
More distorted noise-clouds from Tim Hecker, this time with a new collaborator, guitarist Aidan Baker. The drones are deep, the scapes are panoramic, the distortion is unpredictable. Definitely one of Hecker's darker offerings, but one drenched in beauty nonetheless.
4. Kangding Ray -
Automne Fold
(Raster-Noton)
2008 was a great year for German label Raster-Noton. Kangding Ray pushes the boundaries of the label a bit, moving towards hazy electronics at times, but Automne Fold retains the label's stark aesthetic. The filtered drums on "The Distance" are simply mesmerising.
5. Lone -
Lemurian
(Dealmaker)
"Imagine leaving your favourite Boards of Canada LP out in the sun for too long," was how Lemurian was sold to me. The BOC nods are undeniable, but Lone plays around with them enough to remain fresh.
6. Deerhoof -
Offend Maggie
(Kill Rock Stars)
This band can do no wrong.
7. Byetone -
Death of a Typographer
(Raster-Noton)
More RN awesomeness from label co-owner Byetone. His sound is more substantial than most of the label roster, with pummelling drums that drive synths into melodies here and there. Accessible enough to be a good starting point for RN newbies.
8. Jack Marchment -
Corydon & Manjrekar
(Benbecula)
Deep, dance-floor-compatible electronica from this young fella, who really knows how to polish a production. The synths are soulful and evocative and the drums are punchy. Can't wait to hear more.
9. Yoshio Machida -
Hypernatural #3
(Baskaru)
Machida is all about processed steel drums, interspersed with field recordings from around the world. Far from just a vanity project, Hypernatural #3 emerges as sprightly, uplifting and diverse - a real hit for abstract electronic music.
10. Jasper Leyland -
Wake
(12x50)
Wake oozes charm, comprising worn instruments, found sounds and dashes of computer processing. Subtle but incredibly rewarding.
---
Josh Zanger
1 - Why? /
Alopecia
(Anticon) - This Oakland, CA-based indie hip-hop trio blends a high level of musical talent with great creativity and wittiness. Leadman Yoni Wolf strings together some non-sequitur phrases that would make Frank Zappa scratch his head and then nod in approval. In 2008, there is no better live act than these guys - the drummer simultaneously sings backup vocals and plays vibraphone, the lead singer plays drums/percussion and keyboards while rapping, and the keyboard/electronics guy plays guitar and sings backup. These guys have effectively rocked my socks off.
2 - The Uglysuit /
The Uglysuit
(Quarterstick) - If my iPod could talk (and I'm sure that will be a feature in the next model), it would tell me to cool it on The Uglysuit. This young band came out of nowhere and made one of the best albums of the year, full of promise, positivity and intense instrumental buildups. The group puts together some very attractive indie pop melodies with lengthy crescendoed vamps and excellent songwriting.
3 - Osborne /
Osborne
(Spectral Sound) - For years it seemed as though the biggest things to come out of Ann Arbor's (MI) Ghostly International/Spectral Sound label stronghold were Dabrye and Matthew Dear. While always a musical contemporary and collaborator with the two, Todd Osborn has finally arrived at the full-length album party with a basher of his own. The album shows that Osborne (his moniker includes an added "e") knows his electronic - more specifically house and techno - history and knows when to blaze his own trail. For late night dance parties this album will provide nearly enough ammo to keep you up 'til dawn.
4 - Flying Lotus /
Los Angeles
(Warp) - While there is almost as much that has been said about Steven Ellison's back story as there is his music, it is still the groove of Los Angeles that provides the constant reminder that Flying Lotus is worth talking about. Ellison impressively rides some Dilla-like sagging, hip-hop beats track after track, while peppering in dark sampled hooks and a sense of humor (see Joker laughs). The music is raw but cultivated at the same time, and the groove is undeniable.
5 - Black Milk /
Tronic
(Fat Beats) - Since the killer "Sound The Alarm" (a track off a recent album Popular Demand featuring a personal favorite, Guilty Simpson), the Detroit soundmaker and MC has been on my radar. His recent mixtape Music From The Color Purple showed that he could carry the album format with a strictly hip-hop instrumental creation, and
Tronic
has officially taken his stock to another level. If there's still any doubt, go listen to "Losin Out" and "Bounce" on his Myspace page and be converted.
6 - Fleet Foxes /
Fleet Foxes
(Sub Pop) - These dudes look like a bunch of dirty hipsters but their music is oh-so-clean. They stack some amazing harmonies and this album has several tracks that will have you singing along on first listen (e.g. "White Winter Hymnal"). One of the few albums of late that you can listen to from beginning to finish without feeling like the effort or energy are tapering.
7 - 2562 /
Aerial
(Tectonic) - I don't know much about the whole dubstep subgenre, but I think that this is a really great album. While the album, artist, and label names are all kinda that ambiguous electronic format, the focus rides on the offbeat synth lines, moving sub-bass kicks, and sterile clean sound filtering. The music inherently elicits movement, so I often find myself head nodding in approval.
8 - A Light Sleeper /
No Sudden Movements
(self-released) - Although this is self-released and more of an EP than anything, I have listened to the three included tracks more than most songs in the last year, so I included this on my list. The somewhat obscure trio from Chicago is comprised of a brush-stick drummer, female vocalist/saxophonist, and a male lead vocalist/guitarist/electronics player [and former LAS contributor -ed]. The band composes music by juxtaposing looping patterns and the result, although nothing greatly technical, is completely infectious in an oft-avant dark indie rock sort of way.
9 - JDSY /
Adage of Known
(Ghostly International/Moodgadget) - JDSY is a young poppy electronic soundmaker/vocalist who has the ability to craft killer, bouncy beats; tinker with pop-sensible synth lines; and sing creatively through voice filters like he was Matthew Dear's twin. This is his first full-length album and I think it hints at further great things to come.
10 - Marnie Stern /
This Is It…
(Kill Rock Stars) - My decision was between this, the new Lindstrom, and Q-Tip. All of them good, but this stuck around a little longer for me. The combination of Stern and the frenetic drumming of Zach Hill is sick, and there were a couple tracks on this album that were on repeat for a couple weeks for me.
---
GO BACK TO THE
LAS COMPOSITE TOP 20
--
The LAS Staff
A number of the Lost At Sea staff have worked and continue to work for various publications, both independent and commercial. Often very stifling in their narrow focus, conventional media outlets left our writers hungry for something bigger, more diverse, more communal. More active, because this is the twenty-first century and it makes sense. During it's short life LAS has accomplished many of its goals (but not all) and has in turn set new ones. Everything that we accomplish is through teamwork and cooperation, both with our regular staff writers and with our contributing writers. LAS is nothing short of a collective. Another contrasting point to some of the magazines out there is that we've checked our egos and scene ethics at the door. We welcome anyone and everyone to contribute and cover a wide range of topics. LAS does not follow your guide lines.

See other articles by The LAS Staff.
If you'd like to help spread the word about LAS, or simply want to outfit yourself with some adhesive coolness, our 4" circle LAS stickers are sure to hit the spot, and here is how to get them:
-->
Send an with $2 in PayPal funds to cover postage. Don't worry, we'll load you up with enough to cover your town. Then just be patient. They will arrive soon.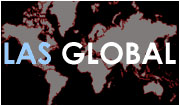 LAS has staff and freelance writers spread across North and South America, Europe, and a few in Southeast Asia as well. As such, we have no central mailing adress for unsolicited promotional material. If you are interested in having your project considered for coverage, please contact us before sending any promotional materials - save yourself time and postage!