LITERATURE
»
Full Dark, No Stars
- Stephen King's new novella questions mankind's ability to trust others.
[02.21.2011 by Bridget Doyle]
MUSIC
»
The Top 30 Albums of 2010
- Fashionably, fabulously late, our favorite music (and believe me, there was a LOT) of 2010, the year that some have called the best year for music ever. And only some of those fools work here. Plenty of usual suspects, lots of ties and a few surprises that I won't spoil, including our unexpected #1.
[12.24.2010 by The LAS Staff]
LOSTATSEA.NET
>
FEATURES
>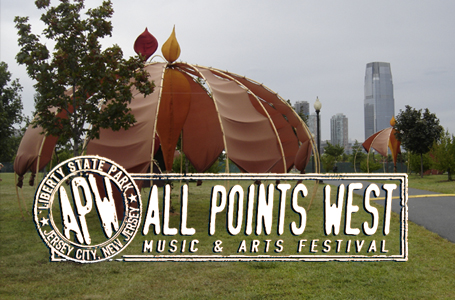 August 12, 2008
Radiohead or no Radiohead, All Points West is not the cream of this year's music festivals. How could it be, when in July Midwestern tastemakers were bringing Flavor Flav back from reality-show purgatory and pairing him with the likes of No Age and Ghostface Killah for $65 in three days with $1 water and delicious Chicago BBQ kiosks (pulled turkey!), and this fall they're putting Aesop Rock, Antibalas, and TV On the Radio on the same bill on an island in the middle of San Francisco Bay? Coming into it, All Points West, billed as the East Coast Coachella, looked less problematic on paper, if somewhat pandering and uneven (all the NPR softies on the same day, for instance). Being a Jerseyian turned Brooklynite, I'd at least save on transportation.
After the line for light-rail passes and the muscle-building walk to the Fest area in Liberty State Park (future fest organizers take note: PNC Arts Center has shuttles) cost me
The Go! Team
on Friday, my +1 and I looked sideways at $7-and-rising food and sloughed-off the laughable horrors of the festivals beer policy, which are enumerated in the following Instructions For Getting Blitzed at All Points West:
1)
Wait in four lines. First, the ID check to get your wristband, then onto the beer line, where patrons were limited to two beers per transaction.
2)
Wait - why four lines? Because the festival's Drinking Age wristbands are outfitted with five tabs each, and for every drink purchased the server tears off a tab; after five beers, you're done. To obtain those five beers, because of the buying limit, you would have to get in line three times, not counting the ID check. Each day.
3)
Bring $35 to spend not getting drunk. Beers are $7 apiece, not counting tips.
4)
Miss the bands you're there to see in the first place while waiting in said line. Once you've dropped your $35, you have all day to drink these things... inside the designated beer gardens, which are all located far from the three stages (excluding the VIP area, where drinks weren't free either, as I checked).
It didn't take us long to say Fuck That Shit, especially when considering the plight of those who actually paid $250 to get into the festival. Instead, we headed over to see
Michael Franti & Spearhead
, who had surprising crowd pull for being essentially a soapbox reggae act. Franti's mellowed with age, and could be far worse, but if anyone remembers his old agit-rap duo, the Disposable Heroes of Hiphoprosy, no number of fists he got in the air with his hegemonic new ballas of hope and change will ever amount to one "Television, the Drug of the Nation." That's right, I called the preachier stuff more fun.
The New Pornographers
were much tighter, and led with an opening bonanza of the best track from each of their previous three albums, in ascending order: "My Rights Versus Yours," "Use It," and "The Laws Have Changed." Filling in for Neko Case on the latter, keyboardist Kathryn Calder actually managed to unlock new doors of harmonic precision in one of the century's great pop tunes. A.C. Newman led a humbly pumped ensemble through mostly highlights ("Sing Me Spanish Techno," "A Testament to Youth in Verse"), but the troupe sank on a couple overwrought ballads from
Challengers
, their latest and least engaging record, and only acknowledged 2000's shining
Mass Romantic
once, on the rousing title tune. Along with Case, celebrated songwriter in his own right Dan Bejar was absent as well, leaving out hope for a possible "Streets of Fire" encore, but so be it. Expert players all of them, I only wanted to tie Newman's shoelaces together when he made overlong poop jokes. Violinist Sarah Martin made up for the blathering with her exuberant, isn't-this-fun dancing in the shadows of stage left.
Cansei de Ser Sexy
My +1 was psyched for
Cansei de Ser Sexy
, the kinetic Brazilian class-clown act I don't quite drink the Kool Aid on yet. Frontwoman Lovefoxxx was indeed a cute, engaging presence in her Cirque de Soleil costume and over-applied makeup, flanked by spandex-clad dancer chicks. A couple of classics-by-acclamation numbers ("Music is My Hot, Hot Sex," "Let's Reggae All Night") hit their mark, but CSS were above-average floorleaders at best; their grooves are just too slight and irony-reliant, even if their one true "serious" song, "Rat is Dead," hints that growing up might let them float by for another few diminishing follow-ups. For now, I'm just not bowled over by name-checking Paris Hilton without extending it to further satire. That means "fun" with a lowercase "f."
Surprisingly,
Andrew Bird
kicked the shit out of the Brazilians. I had been expecting to hang for "Fake Palindromes" and then promptly bolt for the mythical Girl Talk, but instead found myself transfixed for the Bowl of Fire-less wizard's entire set, from "Fiery Crash" to "Tables and Chairs," with a special acknowledgment for "Imitosis" and "Skin is, My," songs which gained complexity as Bird stretched them out without ever leaving them shapeless. Self-assured behind his aviator glasses and with his tastefully wacky phonograph-filled stage set, Bird's repertoire is built around an attempt at downplaying the fact he's essentially a great novelty artist. By weaving his deft instrument-switching in so quietly, a quick turn of the head can mean that the violin he was bowing has magically been replaced by a guitar, or his own uxorious whistling, several times per song. With the help of his unseen looping devices, Bird never has to leave the studio behind on tour, and comes across as infinitely more of a control freak than Britt Daniel, yet more alive and gummy than any Spoon performance. "Fake Palindromes" was a blast, too, although the overtly classicist new songs could have been done without.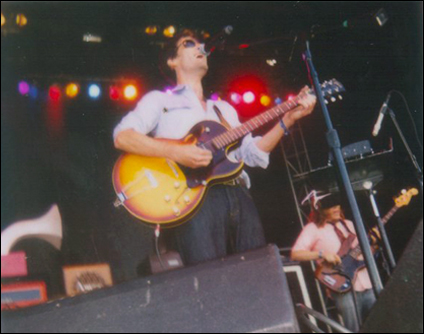 Andrew Bird
Bird's surprisingly enrapturing set left only five minutes for Greg Gillis, known to your favorite oversized-sunglasses-wearer as
Girl Talk
, but five minutes were all that was needed to make a person want to cry for missing the rest of it. It was that fun. Considering how much I loathed Gillis' breakthrough album and benchmark for the "mash-up" movement,
Night Ripper
, in 2006, I became an official convert to Girl Talk when his new album,
Feed the Animals
, proved to be an irresistible collection with actual favorite moments I longed to hear more than once, sometimes immediately after they just ended. And I recognized those tracks instantly live too, from Kelly Clarkson spiked with Trent Reznor to "Whoomp! There It is" over Big Country. For the crowd's sake, Gillis made less of the ADD factor and focused on the singularity of the audience, a great joke he acknowledged by having his troupe of dancers (crowd members) fling larger and more absurd inflatable objects from the stage, culminating with an enormous "GT" balloon at the finish that covered nearly a third of the onlookers. Best party of the weekend, easy. I just wish I 'd showed Andrew Bird less goodwill and caught more of Gillis' set.
Radiohead
was... I won't try and describe what you can already imagine. They encompass a lot. They're kind of a big deal. They did "Paranoid Android" and the world went up in smoke. Seriously, though: the light show was neat, I got to hear "Dollars and Cents," and
In Rainbows
is worth hearing twice in two days. Their secret leader of late is Phil Selway, who maneuvers just fine around the polyrhythmic Aphex Twin nightmares "15 Step" and "Idioteque." His willingness to be the silent spine of a hardly showy but self-consciously important band makes him the new Charlie Watts or something. Has anyone brought up how funky these guys have gotten lately? If "How to Disappear Completely" is some kind of blues number and "Pyramid Song" is jazz, then "House of Cards" and "All I Need" are nearly soul ballads. Of course those songs are not actually any of those things, but rather manifestations of a great band using their peak powers for good, and to sell enough albums to buy a fucking sweet light show. I hadn't played any the band's albums in months, but on the ride home all I wanted to hear was
Kid A
and
Amnesiac
.
And so it was that Radiohead's stylistically divergent early-millennium albums were the last things I ever played on my iPod. You see, I live in East Flatbush, which isn't the safest part of Brooklyn, though before Friday I would have been one to argue otherwise. I was wrong.
Walking into my building at nearly 1am on the dot, I walked past my first-floor apartment to collect my mail and noticed three guys coming in my direction. With only a second to process the situation, I assumed they were going upstairs. Then, suddenly an arm was around my neck, and I felt as though my head was being torn off. Even then it didn't occur to me that I was being robbed, although I remember wanting to open my mouth, to implore them not to beat me up, but the choke hold blocked all thoughts, words and air. One of them went for my stomach, and I blacked out. When I came to I was below the mailboxes, on my knees with my mail strewn everywhere and my wallet open. There was no gasping for air; I was simply awake again. Jittery, I made a few sounds that a three-year-old might utter and then, after collecting a strange pile of mail, sobbed my way into the apartment. Waking up a friend of my roommate's, I knew I was missing my phone and iPod. A $20 was missing from my wallet, but a single was left, along with my debit card and Metrocard. Borrowing a phone I called my ex-girlfriend, my parents, and 911 in that order. Then I realized my camera was missing from its case as well, and shortly thereafter I stopped freaking out considered that, in the scheme of things, I was lucky to be relatively unscathed. My wrist bore a large red mark, my throat felt scraped and half-closed, and my voice was clipped. But I was alive. A few minutes later two officers arrived and I signed a police report, which I was oddly not given a copy of. As the adrenaline wore off I was left with the most overpowering feeling of vulnerability I'd felt in my entire life. I didn't know what to do next; the rest of the festival seemed completely inconsequential as I pondered if, and where, I should move.
The extent of the physical injuries. Psychological pain runs deeper.
The next morning, after futilely leafing through 80 pages of mugshots and viewing the footage of my own attack, which lasted under a minute and was caught by security cameras installed by my roommate, who is also the building super, I went into Manhattan to buy a new phone and told my friend from New Jersey to drive up anyway. We missed
K'Naan
, a Canadian-Somalian rapper I was excited to see, and
Animal Collective
, who I wanted to properly hear once for all, but arrived in time to hear
Kings of Leon
strut through "Taper Jean Girl" and "Molly's Chambers" like professionals. Less professional was the girl at the water kiosk who point-blank asked for a tip after charging me $4 for an Aquafina.
Unfortunately,
The Roots
, currently riding a five-album streak unlike anyone else in rap since Jay-Z in his prime, were the worst I've ever seen them. The indulgent, horrible mix drenched an ambivalent crowd in new showoff Tuba Gooding Jr.'s eponymous instrument, which is no replacement for a well-pocketed bass, even on an avant level. Of little help was Black Thought, who spent more time hype-manning than rapping, through a poor selection of sluggish non-bangers ("Long Time"? "Star"?) while his band noodled themselves unconscious. I think they thought they were at Bonnaroo. They skipped the new album too, including Mr. Tuba's only reason for being there, the white-hot "75 Bars (Black's Reconstruction)." And they went on forever; I counted seven actual tunes in sixty minutes. Turning the last two (of more than ten) minutes of "You Got Me" into "Immigrant Song" and tagging the horn chart from OutKast's "Spottieottiedopalicious," the flourish arrived too little too late after endless, aimless excursions on guitar, percussion and aaaugggh, tuba, tuba, tuba.
Once again,
Radiohead
outclassed their surroundings, dropping in more
Bends
/
Hail to the Thief
than
Amnesiac
/
OK Computer
on their second night. "Fake Plastic Trees"! "Planet Telex"! "Exit Music" and "Where I End You Begin" were a treat as well, not to mention a definitive, disco-laced "Everything in its Right Place," with its lyrics flashing in the stage lights.
My ex-girlfriend and her family were kind enough to let me crash at their Bayonne home Saturday and Sunday night so I wouldn't have to go home late again, in the event the Flatbush thugs were tempted to pull a repeat performance. It was immensely kind gesture, though I couldn't shake off the fear and vulnerability and overpowering need to be in control of the situation.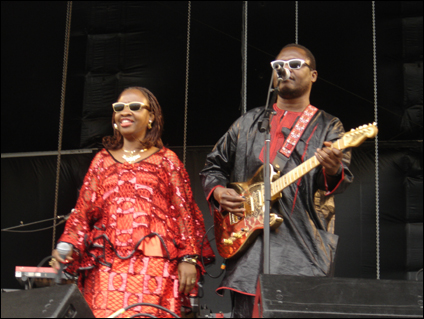 Amadour & Mariam
Sunday was a wash, as expected.
Amadour & Mariam
were a fantastic groove band (and their matching black-and-red traditional wear made me smile and tempted me to write some "White Stripes of Mali" bullshit).
Rodrigo y Gabriela
may as well have been Siegfried y Roy. The VIP tent we'd eschewed the first two days was charging $12 for a plate of four ribs. It should've just stayed eschewed. We took in some of the festival's pleasing art installations. And then I focused hard on Chan Marshall for a little while.
Cat Power
I still don't get
Cat Power
. Not that great a voice, no "soul band with horns" or whatever she's been billed as, and after six or seven songs that I'm pretty sure were from
The Greatest
and none of them being "Hate," I didn't stick around to see if she did "Cross Bones Style" or any others from my select handful. She didn't freak out though.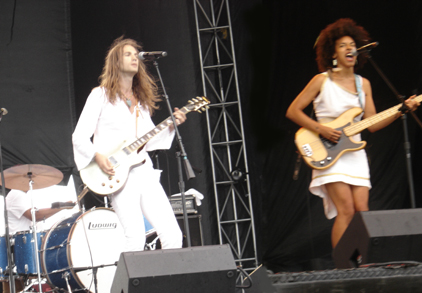 Earl Greyhound
We also caught some of
Earl Greyhound
, who are at least as smart as Black Mountain and who helped rinse the stale singer-songwriter taste from the air. I do wish we'd gotten to see more of
De Novo Dahl
, who wore matching striped outfits and sounded jumpy as we trotted in on Sunday but, too exhausted to come up with any theories about Jack Johnson's massive success and then sit them through, we left. It had been a long weekend.
[Photos gratefully provided by JZ's Polaroid and her brother's digital camera on Friday and Sunday. GS forgot to bring his girlfriend's camera on Saturday. The Flatbush thugs have some excellent images from Friday, hopefully they can at least use them.]
SEE ALSO:
www.apwfestival.com
--
Dan Weiss
Dan Weiss is the music editor for LAS. Formerly an editorial intern at CMJ and creator of the now defunct What was It Anyway?, his work has appeared in Village Voice, Pitchfork, Philadelphia Inquirer, Stylus and Crawdaddy among others. He resides in Brooklyn where he enjoys questionable lifestyle choices and loud guitars.

See other articles by Dan Weiss.
If you'd like to help spread the word about LAS, or simply want to outfit yourself with some adhesive coolness, our 4" circle LAS stickers are sure to hit the spot, and here is how to get them:
-->
Send an with $2 in PayPal funds to cover postage. Don't worry, we'll load you up with enough to cover your town. Then just be patient. They will arrive soon.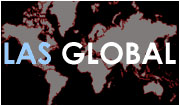 LAS has staff and freelance writers spread across North and South America, Europe, and a few in Southeast Asia as well. As such, we have no central mailing adress for unsolicited promotional material. If you are interested in having your project considered for coverage, please contact us before sending any promotional materials - save yourself time and postage!