LITERATURE
»
Full Dark, No Stars
- Stephen King's new novella questions mankind's ability to trust others.
[02.21.2011 by Bridget Doyle]
MUSIC
»
The Top 30 Albums of 2010
- Fashionably, fabulously late, our favorite music (and believe me, there was a LOT) of 2010, the year that some have called the best year for music ever. And only some of those fools work here. Plenty of usual suspects, lots of ties and a few surprises that I won't spoil, including our unexpected #1.
[12.24.2010 by The LAS Staff]
LOSTATSEA.NET
>
FEATURES
>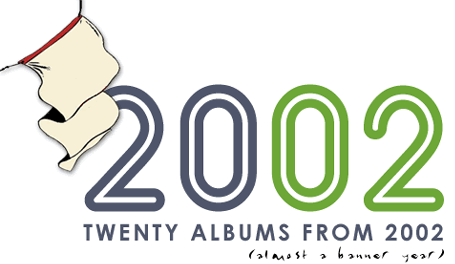 December 16, 2002
A PHOTO FINISH TO A BANNER YEAR
BY SARAH IDDINGS
What a close finish. Liars led the entire way until the final vote, when Mark Skipper pushed Spoon into the lead. Our inverted points scale is always a wild card game and this year was no exception. The Walkmen made the lists of only two panelists yet scored much higher overall than bands like Sonic Youth, who appeared on nearly everyone's list. The race was so tight this year that there were several ties within the top 20 scores, resulting in a total of 21 albums making the list this year.
All things considered, 2002 was a pretty good year for music. Sonic Youth is back, which is good, and the Rock and Roll Hall of Fame has a great list of inductees this year, many of whom are unfortunately missing members.
If you haven't already heard the albums on this list, we suggest you check them out. Also be sure to check out each staff member's individual lists and comments
here
. But enough of that - on with the list!
---
(something is being weird with the code, please scroll down for the list)
---



01)SpoonKill the Moonlight (Matador) - 45 points

If there is anything America still has to be proud of in its music scene it's these guys from Austin. This is why rock'n'roll was made and still exists today. Stripping their sound and laying their magnificent production skills bare, Spoon turned in a thoughtfully arranged and stunningly composed rock record. [Mark Skipper]
-
SEE ALSO: LAS review






-





02) Liars - They Threw Us All in a Trench and Stuck a Mountain on Top [reissue] (Mute/Blast First) - 44

I'm not a huge fan of including reissues when composing year-end lists, but the summer of '02 really belonged to the Liars (if you were riding around in my van, that is). With a sound that rumbles like the New York subway system beneath their feet, the Liars are the type of band that not only start a party, but put an end to it with one noisy, grinding, halt. [Ryan Allen]
-
SEE ALSO: LAS Review






-





03) Wilco - Yankee Hotel Foxtrot (Nonesuch) - 36

The songs of Yankee Hotel Foxtrot showcase yet another move in an interesting new direction for Wilco as they continue to push the boundaries of their genre by creating an album that is experimental yet very accessible and recommended for fans of The Beatles, Mercury Rev, Uncle Tupelo, and Jim O'Rourke. [Lyle Hodges]
-
SEE ALSO: LAS Review






-





04) ...And You Will Know Us by the Trail of Dead - Source Tags & Codes (Interscope) - 27

Major label money thrown at a band unwilling to disassociate their brains from their rock equals an instant classic. [Mark Skipper]
-
SEE ALSO: LAS Review






-





05) Notwist - Neon Golden (City Slang) - 24

Beautiful and amazingly intricate album of pre-ambient post-folk indie electrocoustica that I was really pulling hard for in the year-end poll. Similar to the also excellent Point by Cornelius, the German outfit Notwist combine baroque sentiments with bleeps, blips, strings and samples to create a complex piece of pop music that adheres to no boundaries. [Eric J Herboth]
-
SEE ALSO: LAS Review






-





06) Beck - Sea Change (Geffen) - 22

Sad Becky Beck makes a sad album of sad songs sung in a sad voice, that no matter how happy you might be, can manage to make you sad as hell. What might be truly sad, however, is not owning this brilliant recording of our generation's most creative mind taking one for himself. [Ryan Allen]
-
SEE ALSO:LAS Review






-





07) TIE The Walkmen - Everyone Who Pretended to Like Me Is Gone (Startime International) - 19

It's rare that an album challenges you to become a better listener. This year we were blessed with at least two - The Walkmen and Wilco. The Walkmen blend '60s garage rock with militant minimalism and one wicked-sounding piano on the way to creating a record that truly sounds like none of its peers. The best of the current crop of Brooklyn bands. [Doug Hoepker]
-
SEE ALSO:LAS Review






-





07) TIE Bright Eyes - Lifted or The Story Is in the Soil, Keep Your Ear to the Ground (Saddle Creek) - 19

This kid would be nothing more than a lyrically compelling but wholly average singer/songwriter if it weren't for the support of the community of musicians and production team that surrounds him. Still the fact remains, he has them and other singer/songwriters don't, therefore his record rises above the rest. [Mark Skipper]
-
SEE ALSO: LAS Review






-





09) TIE Sigur Ros - () (Fat Cat) - 18

Artsy and pretentious pandering, perhaps, but somehow it's okay. Somehow it makes sense. Would it really matter anyway, given that presumably the titles would be written in Hopelandish, the nonsensical, made-up language in which vocalist/guitarist Jonsi Thor Birgisson sings in his waiflike manner, high above the swirling e-bowed guitars and glacial paced brushed snares? [Jonah Flicker]
-
SEE ALSO: LAS Review






-





09) TIE Pedro the Lion - Control (Jade Tree) - 18

Like a great novelist, David Bazan exhibits great vision with Control, from the developed storyline behind the concept to the positioning if the key tracks. Control plays out from beginning to end, with a strenuous buildup, a satisfying climax, a few vicious last gasps, and an exit. This album is an opus, and anyone who doesn't sing Control's praises is either stupid or just plain mean, and more than likely both. [Eric J Herboth]
-
SEE ALSO: LAS Review






-





09) TIE Q And Not U - Different Damage (Dischord) - 18

Surviving a major member loss and one-upping your previous effort... priceless. [Ryan Allen]
-
SEE ALSO: LAS Review






-





12) TIE My Morning Jacket/Songs:Ohia - Split EP (Jade Tree) - 17

My Morning Jacket has finally mastered the art of production and written songs that are more emotionally complex than ever before, while Jason Molina belts out his best number. [Jonah Flicker]
-
SEE ALSO: LAS Review






-





12) TIE Doves - Last Broadcast (Heavenly) - 17

Epic rock songs bathed in digital melodicism. It's a testament to all that can be good about 21st century pop music. [Mark Skipper]
-
SEE ALSO:LAS Review






-





14) TIE Clinic - Walking With Thee (Domino) - 15

Possibly the coolest rock and roll band to come out of England in the past five years. The atmospheric qualities of Ennio Moriccone; the trance-inducing rhythms of Radiohead; the distorted organ of Suicide; the psychedelic guitar tone of 13th Floor Elevators; the ghostly, slightly detached vocals of Thom Yorke filtered through a mumbly punk rock tic; a decidedly garage-rock aesthetic; the subtleties of the Velvet Underground. It's all here. [Doug Hoepker]
-
SEE ALSO: LAS Review






-





14) TIE The Flaming Lips - Yoshimi Battles the Pink Robots (Warner Bros.) - 15

While not as instantly great as their masterful "The Soft Bulletin," the Flaming Lips keep on proving that there is a better life beyond one-hit-wonder land. Yoshimi can function on various levels, whether as the perfect soundtrack for a science project, or for the moments when one's mortality is truly realized. Do you realize? [Ryan Allen]
-
SEE ALSO: LAS Review






-





14) TIE Queens of the Stone Age - Songs For the Deaf (Interscope) - 15

Queens of the Stone Age make their rest of the stoner-rock crowd look like a bunch of blank-faced Cheech & Chongers holding a bong when the party is over. This new album time-warps the band from the days of their sophomore release R into a new world of sensational offbeat chugga-chugga riffs and overt drug references. Plus, Dave Grohl guests on drums, something worth enough nostalgia points to earn Songs For the Deaf gold on its own. [Eric J Herboth]
-
SEE ALSO: LAS Review






-





17) TIE Sparta - Wiretap Scars (Dreamworks) - 14

From the beginning of Wiretap Scars, Sparta make it clear that they aren't afraid to sound exactly how they want to sound. There is no watered down punk to claw through, just as Wiretap Scars is void of any overly cheesy lines about love lost and broken relationships. [Seth Fein]
-
SEE ALSO: LAS Review






-





17) TIE Aloha - Sugar (Polyvinyl) - 14

Ohio's Aloha combine voice, guitar, vibraphone, synthesizers, and varied percussion to establish a sub-genre with attributes that could be applied to many styles with good results. But Aloha didn't just throw in a vibraphone and claim to be the new thing - they've shown it. Their sound is a jazzy mix that is light, uplifting, and sometimes quite cathartic. [Lance Birch]
-
SEE ALSO: LAS Review




-





19) TIE Godspeed You Black Emperor! - Yanqui UXO (Constellation) - 13

I think Yanqui UXO is the best stuff they've done so far. The music seems set to some type of imagery such as Koyaanisqatsi or something. It would definitely be cool to hear Godspeed to a movie soundtrack for an IMAX film or something like that. I think the band's music alone creates its own imagery. Who would've thought instrumental music could pack such strong social commentary. [Matt Bendett]
-
SEE ALSO: LAS Review




-





19) TIE Interpol - Turn on the Bright Lights (Matador) - 13


The thin white dukes of Interpol prove that a band can simultaneously make a deliciously dark, daring, and dangerously catchy record of early R.E.M. like mood-pop AND dress like runway models. This band not only gets it, but they get away with it too. [Ryan Allen]
-
SEE ALSO: LAS Review






-





19) TIE Mountain Goats - Tallahassee (4AD) - 13

Darnielle pieces together a lurid portrait of a husband and wife in constant battle (with each other, with alcoholism, with the rest of the world) in Florida's savage, lush and bright capitol, the perfect location for his characters even though he relates their story not with harsh criticism but in a subtle and understanding manner, while still portraying their struggle with the violence and hatred of life which results in an oddly suitable clash between style and content. [Monique LeBreau]
-
SEE ALSO: LAS Review
---
THE BEST OF THE REST:
The remaining vote-getters and their scores.
Sonic Youth - 12
Matt Pond PA - 11
Enon - 11
In Flames - 10
Tom Waits - 10
Glifted - 10
Destroyer - 10
Dalek - 10
The Streets - 10
J. Vanderslice - 9
Solo Mono - 9
Quixotic - 9
City of Caterpillar - 9
DJ /rupture - 9
Johnny Cash - 9
Bruce Springsteen - 9
Deerhoof - 9
El P - 9
Paper Chase - 8
Simian - 8
Pretty Girls Make Graves - 8
Rilo Kiley - 8
Nappy Roots - 8
Yo La Tengo - 7
Audio Explorations - 7
Minus The Bear - 7
Bobby Bare Jr. - 7
V/A GTA - 7
Sleater-Kinney - 7
Flaming Sideburns - 7
Hayden - 7
Ugly Cassanova - 6
Jim Yoshi Pile Up - 6
Cornelius - 6
Black Heart Procession - 6
Denali - 6
The Failures - 6
Everybody Uh Oh - 6
Sinkcharmer - 6
Elvis Costello - 6
Hot Snakes - 5
Jurassic 5 - 5
Rancid/NOFX- 5
90 Day Men - 5
Paul Westerberg/Grandpaboy - 5
Yume Bitsu - 4
Radio 4 - 4
Satanic Surfers - 4
Centaur - 4
Rainywood - 4
Hot Hot Heat - 4
We Ragazzi - 4
Mighty Rime - 4
French Kicks - 3
The Slats - 3
The Roots - 3
Coldplay - 3
Oxes - 3
Thirdimension - 3
Kind of Like Spitting - 3
Mum - 3
Nortec Collective - 3
Do Make Say Think - 3
Rockets Red Glare - 2
Brendon Benson - 2
Milemarker - 2
Califone - 2
Little Joe Gould - 2
Satanstompingcaterpillars - 2
Legends of Rodeo - 2
Town and Country - 1
Breeders - 1
DJ Shadow - 1
DJ Spooky - 1
Chitlin' Fooks - 1
---
This was fun; we should do it again next year. In the meantime, be sure to check out the
individual writer lists
to see how we arrived at our composite Top 20 albums for the 2002 Year-End Music Report. See you again for another year-end list in December 2003!
--
The LAS Staff
A number of the Lost At Sea staff have worked and continue to work for various publications, both independent and commercial. Often very stifling in their narrow focus, conventional media outlets left our writers hungry for something bigger, more diverse, more communal. More active, because this is the twenty-first century and it makes sense. During it's short life LAS has accomplished many of its goals (but not all) and has in turn set new ones. Everything that we accomplish is through teamwork and cooperation, both with our regular staff writers and with our contributing writers. LAS is nothing short of a collective. Another contrasting point to some of the magazines out there is that we've checked our egos and scene ethics at the door. We welcome anyone and everyone to contribute and cover a wide range of topics. LAS does not follow your guide lines.

See other articles by The LAS Staff.
If you'd like to help spread the word about LAS, or simply want to outfit yourself with some adhesive coolness, our 4" circle LAS stickers are sure to hit the spot, and here is how to get them:
-->
Send an with $2 in PayPal funds to cover postage. Don't worry, we'll load you up with enough to cover your town. Then just be patient. They will arrive soon.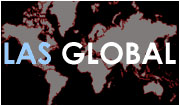 LAS has staff and freelance writers spread across North and South America, Europe, and a few in Southeast Asia as well. As such, we have no central mailing adress for unsolicited promotional material. If you are interested in having your project considered for coverage, please contact us before sending any promotional materials - save yourself time and postage!