LITERATURE
»
Full Dark, No Stars
- Stephen King's new novella questions mankind's ability to trust others.
[02.21.2011 by Bridget Doyle]
MUSIC
»
The Top 30 Albums of 2010
- Fashionably, fabulously late, our favorite music (and believe me, there was a LOT) of 2010, the year that some have called the best year for music ever. And only some of those fools work here. Plenty of usual suspects, lots of ties and a few surprises that I won't spoil, including our unexpected #1.
[12.24.2010 by The LAS Staff]
LOSTATSEA.NET
>
FEATURES
>
July 22, 2009
Going into Pitchfork's now annual Music Festival this year was an experience not that unlike years prior ([2006/2007/2008]). There was the feeling of excitement for reunited and legendary acts like The Jesus Lizard and Flaming Lips. There was preparatory work in researching many of the hyped bands that had made the cut but had never been heard of prior to appearing on Pitchfork Media's website to favorable review. And then there was the anticipation of a marathon weekend of music, sun, people, and booze. This was going to be interesting…it always is.
P4KMF - FRIDAY
My weekend started off by rushing out of work and driving over to Chicago's Union Park at around 5pm. The sky was slightly overcast and the air humid, but there was a palpable energy swirling around the pending 3-day event. Many, like myself, were most psyched for the Write the Night-conducted Day One lineup, which included (in order of performance) locals Tortoise, East Coast icons Yo La Tengo, beyond-legendary The Jesus Lizard, and Boise's Built To Spill. I arrived just in time for a sonically gorgeous yet visually unimpressive set from
Tortoise
, who featured seminal jams from albums
Standards
,
TNT
,
It's All Around You
, and
Tortoise
to a warm, favorable crowd reaction.
Yo La Tengo's Ira Kaplan
I've never really been a huge
Yo La Tengo
fan. I don't know why, I just never got into them. The trio seemed to have the crowd enraptured during some moments--like when singer Ira Kaplan belted out upbeat hitters on piano and manic guitar solos--and restless during others. This up/down nature was on best display during the 11-minute, repetitive fuzz jam "Pass The Hatchet, I Think I'm Goodkind": James McNew's sharp, groovy bass line got the crowd moving, but after the 50th time through the six-note melody it was just kinda boring. Well before the band had finished their set a larger crowd had taken significant shape around the opposite stage; it was pretty clear that most people were gearing up for something a bit more momentous.
The Jesus Lizard's David Yow.
The reunited
The Jesus Lizard
was certainly the most significant event of the entire weekend, and for some it was one of the more significant performances of their show-going life. It had been a decade since the band had performed last, and much longer since the band's original lineup (including drummer Mac McNeilly) had played together. Although an extensive tour had been announced and a couple of warm-up dates already performed, few in the vicinity knew what to expect. Some excited crowd members half-joked about seeing David Yow & Co. with gray hairs and canes, limping out onto stage. Then the band emerged, Yow with an Old Style in his hand and grin on his face, and the jokes and anticipation immediately turned to joyously fierce yells of admiration. All doubts about whether or not the band would be rusty or sound archaic were thrown aside as they tirelessly tore through a 45-minute set of all the classics--"Seasick," "Then Comes Dudley," "Mouthbreather," "Monkey Trick," "Puss," "Bloody Mary," and more. Yow mule-kicked his black boots on the stage, fearlessly dove into the crowd a handful of times, and told dirty jokes…in all ways showing the young Festival crowd how it was and should be done.
The Jesus Lizard.
Following the raucous performance of The Jesus Lizard was the relatively soft and poppy
Built To Spill
, who by all means have been greatly influential to current indie music, but who were almost an afterthought given their time slot. As it turned out the atmospheric conditions were near perfect for the night's final performance, though: lukewarm air temperature, sky nearing black, and a sea of people meandering about enjoying the end of their long work weeks. Although I'm a fan of
Keep It Like A Secret
and other assorted BTS jams, I closed the night out by joining friends and former coworkers with drinks and laughs in the expansive record sale tent. Night One over, it was time to get my rest and do it all over again the next day.
Hipsters get weirder all the time.
P4KMF - SATURDAY
I woke up tired and headachy from the previous night of hanging out and drinking, but found myself surprisingly ready to go. I was mostly powered by the fact that I really wanted to catch local reverby fuzz rock band
Disappears
at 1pm on the side stage. If you haven't seen or even heard of these guys, do yourself a favor and visit their
website
. Leading the band is longtime/former 90 Day Men singer/guitarist, and Ponys member, Brian Case. Although I've seen them before a couple times, it is always a treat to catch the band once more, as they craft a tight set of songs that sound as if they're floating in an aural river of 1960s echoes and distortion.
Me and Disappears, one of my favorite PFork moments.
On the same side stage directly following the brief opening 30-minute set was the much-hyped
The Dutchess and the Duke
. The group took far too long to set up what appeared to be a couple amps, mics, keyboard and one-piece drumset. As basic as their instrumentation was, the band creativity sounded just as limited. Jangly guitars, tambourines, and folk male-female vocal harmonies are not enough in a live setting to keep me watching, especially when your band looks like Humble Pie (but without the cool retro irony going for them). I moved on.
A friend and I head over to the arts fair/poster/records/activities area to kill some time and proceed to see a teenage kid sitting on a small stage stretching more than 40 Saucony sweatbands around his head. The shoe company was promoting a Set A New World Record event and some of the categories were obviously pretty interesting and entertaining (e.g. How Many Different People Can You Kiss in 10 Seconds, Most Bass Drum Hits in 1 Minute). We grabbed water guns and bolted.
Pink Eyes of Fucked Up.
As I had never seen
Fucked Up
firsthand, but had heard plenty about their "awesome" live performance, we ventured toward one of the main stages as the band was nearing the end of their sound check. For those that have also never seen the band perform, lead singer and general rouser, Pink Eyes, is a large, bald, bearded, generally body-hairy polar bear type of guy. He takes things and destroys them (smashed a can against his head, bit into numerous bouncing beach balls) and growls into the mic as one might expect a man of his stature to do. But I really gotta give it to the band and Pink Eyes as a whole - they sounded like an awesome old, tight hardcore punk rock band from my favorite 1980s-'90s era of underground music. Although their onstage antics might be falsely construed as a cover up, I feel like these guys deserve every inch of the live critical praise that they get.
Fucked Up and an unfortunate sunflower.
The rest of the day was hit or miss. I skipped out on or was completely underwhelmed by
Wavves
,
Ponytail
,
The Black Lips
, and The Pains of Being Pure At Heart, the latter of which had a male-female duo of lead singers who could not match pitches. While waiting in agonizingly long lines for either food (which was excellent), beer tickets, beer (312, awesome), or a Port-a-Potty, I missed parts of acts that sounded exceptional and warranted further inspection into their material post-Fest: I waited to get into
Yeasayer
's photo pit as
Final Fantasy
freak-folked all over the place;
Plants & Animals
sounded heavy and great from a distance as I bailed on The Dutchess and The Duke.
Yeasayer.
The two main notables for me on Saturday were MF Doom and The National. Besides The Jesus Lizard, there was no other act that I anticipated as much as DOOM. Unlike TJL, though, the metal-masked rapper caused a stir around the performance that left many like myself with a pretty bad taste in their mouths. First off, word has it that
"DOOM"
(the quotes will reveal their meaning shortly) arrived late and treated a bunch of people backstage like shit, which, although nothing greatly out of the norm, is still a disappointment. After checking mics for a while, finally a large, dreadlocked man in camou's came out and hyped the arrival of an MC who is as elusive as he is creatively blessed. Soon thereafter, a figure that most resembled either the Predator or a deranged Greek paramilitary commando stepped out from backstage wearing leaf-covered camouflaged jacket and pants, a black doo rag, the aforementioned metal mask, and a white Chicago Bulls jersey peaking out from under his clothes. The outfit, while nothing less than amazing, cloaked the individual's every last physical detail besides his height and skin tone. [Now on to the "DOOM" part.] Following a few recent (and not so recent) performances where MF Doom (aka Duane Dumile) sent a "Doom Bot" imposter on stage to perform in his stead while a rap track provided the lyrics, people were justifiably skeptical of the ongoing performance's credibility. A couple tracks went by and everything seemed to be normal, except for the fact that "DOOM" was not saying anything but the lyrics - his hype man did ALL the talking between and during tracks - and that his pronunciation volume and word intonation was perfectly consistent throughout the entire set (meaning it sounded pre-recorded). Additionally, word has it that the character posing as Dumile had a full head of hair backstage while the real DOOM is completely bald. Fishy? Yes, indeed. If anyone has any additional info on this one, hit us back via email, music.editor/a-t/lostatsea.net.
DOOM? Didn't seem so.
The headlining slot of the evening belonged to
The National
. While I have a limited amount of contact with the band, I have always been curious to hear more and experience them beyond their recorded material. Again, the atmospheric conditions could not have been any more perfect for the musical accompaniment: warm temperatures mixed with serene and embracing melodies and lyrics; a dark sky to covet the dry vocal delivery of baritone singer Matt Berninger. The band definitely impressed me and much of the crowd, although I sensed that there was a faction of the semi-intoxicated audience that would've desired something a bit more upbeat and frenzied to continue their night with. After all, Pitchfork Festival has become a marathon of endurance, and Saturday's slate of post-Fest activities was staggering.
P4KMF - SUNDAY
If you made it this far, you are either some sort of superhuman or on something. [I guess my early coffee means I'm the latter.] In years past, certain Sundays of the Festival didn't hold up to the other two days, but this year I was just as excited, if not more, to get up and get out to see some of my favorite bands on Day Three.
Obviously there are some outliers - I think relatively few attendees cared anything about
Killer Whales
and
Michael Columbia
, who were both early performers. For me, though, 1:45pm side stage performers
Dianogah
were an unexpected treat. Unfortunately, as other work called, I was only able to catch the end of their set, when the typically three-piece band brought additional musicians on to play along. Another set I sorely missed was from Scotsmen
Frightened Rabbit
, whose passionate and drenching distorted strains were at a high point when I meandered into the festival grounds. I bit my lip and moved on.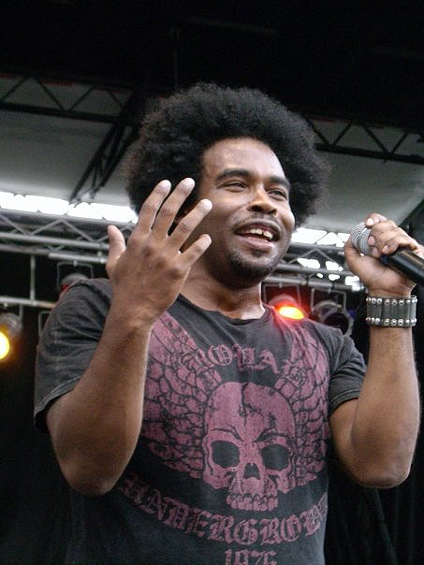 Pharoahe Monch.
There was plenty more awesome to go around, though. Soon one of my favorite performers of the weekend,
Pharoahe Monch
, took the main stage to little hype but provided much substance. The crowd waiting to see the hip-hop MC was relatively modest at best, but to their credit seemed very knowledgeable about the group's makeup, which included
DJ Boogie Blind
from the turntablist collective
The X-Ecutioners
. The DJ made the crowd feel welcome and helped them get through some early set up bugs by joking around, taking about how delicious his drink was, and playing some sick setup background tracks. When Monch finally took the stage with two backup singers, it was a pedal-to-the-metal sort of performance from the get go. The storied MC threw down fiercely poignant raps over sick beats and the group was clearly well polished and had their shit together. It wasn't before long that the audience rapidly swelled with passersby who couldn't help but enjoy the exceptional performance at hand. One of the coolest things about this set was when Monch asked for a crowd response and, receiving a subpar call in return, stopped and said, "Bustah Rhymes once said, 'The crowd will only give you back what you give them in return.'" He turned around and blew it out of the water. Great set!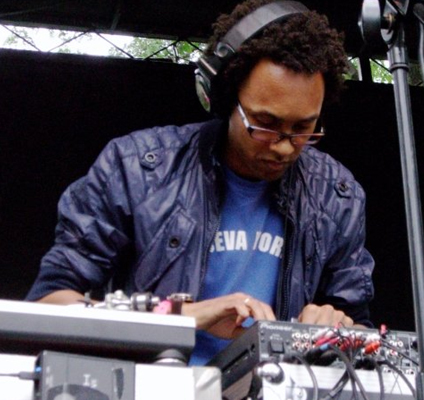 DJ Boogie Blind spinning with Pharoahe Monch.
I caught part of performances by
Women
(standard indie rock, kinda boring),
Vivian Girls
(why do people care about this band?),
The Thermals
(covers-a-go-go), and
Blitzen Trapper
. Groups like these are my only complaint about the Festival, but I also know you have to draw in as many generic indie rock fans as possible to have a successful event.
And then there was the home stretch. I met a friend over by the side stage to grab beers and check out a bit of
DJ/Rupture
who, although he didn't have a stage presence (I mean, c'mon, he's a friggin' DJ), buried some deep electronic grooves and rattled off a fantastic spree of obscure jams. That same friend was mostly attending the day's events because of his love for
The Walkmen
and I soon discovered for myself why he was so passionate. Visually, the band kind of gives you that
The National
feel - a very clean-cut, buttoned dress shirt, fashionable jeans sort of look. But The Walkmen are a far cry from The National. They do make indie rock-ish sort of ballads, only lead singer Hamilton Leithauser is more animated and the instrumentation far more edgy - utilizing a horn section to great results. It would probably be safe to consider me a fan of these guys now.
Remaining were M83, Grizzly Bear, and The Flaming Lips. After long breaks at the Port-a-Potty, we found a spot in the massive crowd and camped out. To get in or out of this sea of bodies was nearly impossible following this point.
M83
played a fantastic set, leaning heavily on the exceptional '80s-themed material of their recent album,
Saturdays = Youth
. The three-piece extended songs like "We Own The Sky" into more elaborate dance tracks, a development that only added to the enjoyment of an already stellar sonic sound.
M83.
Rather than attempting to rush back and forth to fight for decent spots for the last two main stage bands, a group of friends and I decided to set up shop at the mid-point between both audience groups. By all accounts
Grizzly Bear
played an excellent set, highlighted by the uber-catchy "Two Weeks." This band has really come on strong with the release of
Veckatimest
and live they feel like a more upright version of Fleet Foxes but without as much hook (not saying this as a bad thing). In all, these guys can flat out sing.
And finally, everyone's attention was directed on one stage for the weekend's final headlining act:
The Flaming Lips
. The stage setup for the band was very elaborate, with a large backing screen, lights, confetti cannons, and a ramp; wisely, the festival planners had assembled it all before the day's events began. When it was time for the performance to begin, the immense, arcing video screen showed a technicolored nude woman lying on her back with a bright light emanating from her private area. As the image zoomed in on the focal spot, a panel in the screen opened and one-by-one the band members were "birthed" down a ramp and onto their respective spots on the stage. Lead singer Wayne Coyne bypassed the ramp but instead literally came out into the crowd in a 15-foot tall, air-filled clear ball, the perfect start to what was to be an impressive show.
The Flaming Lips.
The band opted to be part of the Write The Night format, which allowed fans to pick the songs they wanted to hear, and Coyne counted down from a list of 25 songs that the band was to play. Classics like "She Don't Use Jelly," the closer "Do You Realize?," and "Fight Test" were interspersed within lesser known album gems that the crowd seemed just as responsive to. It was kind of funny that The Lips were playing the Festival, especially featuring much of the early '00s material that had made them indie guardians in the first place, but it was great to see so much energy and creativity on stage. The band was perhaps even more enthusiastic than the audience as Coyne kept calling for, "more more, c'mon c'mon!" Between dancing snow wolf ladies and green aliens, huge rubber bouncing balls (I actually caught one!), Wayne's personable banter, and some of my favorite songs of all time, I'd say this was the perfect way to close out a great Festival weekend.
As I left the Festival grounds I wondered, "How long can this keep up?" Between the economy, the growing stature of indie rock's biggest artists, the sustainability of the park area, and Pitchfork's general increasing music scene clout, I have no idea how much longer things will remain friendly and fun the way they are. But who cares, let's just enjoy it while we can! Until next year… SEE ALSO:
www.pitchforkmusicfestival.com
SEE ALSO:
www.gooseisland.com
--
Josh Zanger
Joshua Ian Zanger, a native of rural Chicago, rocks many a world with his writing, style, and generally sweet aroma.

See other articles by Josh Zanger.
If you'd like to help spread the word about LAS, or simply want to outfit yourself with some adhesive coolness, our 4" circle LAS stickers are sure to hit the spot, and here is how to get them:
-->
Send an with $2 in PayPal funds to cover postage. Don't worry, we'll load you up with enough to cover your town. Then just be patient. They will arrive soon.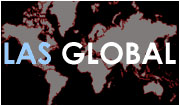 LAS has staff and freelance writers spread across North and South America, Europe, and a few in Southeast Asia as well. As such, we have no central mailing adress for unsolicited promotional material. If you are interested in having your project considered for coverage, please contact us before sending any promotional materials - save yourself time and postage!