LITERATURE
»
Full Dark, No Stars
- Stephen King's new novella questions mankind's ability to trust others.
[02.21.2011 by Bridget Doyle]
MUSIC
»
The Top 30 Albums of 2010
- Fashionably, fabulously late, our favorite music (and believe me, there was a LOT) of 2010, the year that some have called the best year for music ever. And only some of those fools work here. Plenty of usual suspects, lots of ties and a few surprises that I won't spoil, including our unexpected #1.
[12.24.2010 by The LAS Staff]
LOSTATSEA.NET
>
FEATURES
>
December 1, 2009
The new exhibition "For the Use of Those Who See," presented by the KW Institute for Contemporary Art in Berlin, assembles work from a diverse palette of artists from across Europe and the Americas, both young and established and even long deceased. Within the process of constructing such a scattered narrative while still maintaining a common perspective, the show also succeeds at shaping a dialogue on themes of perception and communication through contemporary art. Assembled by Susanne Pfeffer, who since 2007 has been permanent curator at the self-proclaimed "laboratory for communicating and advancing contemporary cultural developments," the show crosses cultural divides and presents a variety of perspectives, dissimilar yet unified, on the confluence of art and meaning.
Centered on "a firm belief in the image" and the idea of "revealing the boundaries of the visual" while "making visible the difference between representation and reality," the collection is quite simply about information: its creation and dissemination, but more importantly its reception.
The exhibition takes its name from the title of Venezuelan-born New York artist Javier Téllez's video installation,
Letter on the Blind, For the Use of Those Who See
, a 2007 conceptual piece documenting the sensations of six sightless New Yorkers upon encountering an elephant for the first time. Through the description of their experiences, a take on the famous Indian parable about blind men and elephants, the six participants bring into stark contrast the variation of perceptions (tactile, auditory and olfactory) from one person to the next. By removing the default medium of input--sight, which in this case is neutralized by blindness--the work emphasizes the gulf that opens between information and analysis on a solitary point when the perspective is taken into account as a variable. Reality is a product of individual experience rather than an absolute, and as an added bit of irony Téllez's entire work is a video document conveying a strictly non-visual experience.
Téllez's notion of sight not always being analogous to seeing dovetails nicely with the catalogue of 37-year-old American artist Sean Snyder, who last year published an image book titled
Optics. Compression. Propaganda.
, and routinely works with technology hardware and mixed media to foster dialogue on the intersection of commodities and mass culture. In the KW Institute exhibition Snyder's video piece
Exhibition
, also created last year, is, through the process of editing, a remix of
Noble Impulses of Soul
, a mid-1960s Soviet documentary film about a smalltown Ukrainian museum. Approaching
Exhibition
, questions peel away like the proverbial layers of an onion. In Berlin, the viewer of Snyder's work views a film showing viewers of art. We have sight, but what are we seeing? From our end perspective, what is the true object? Is it the whole of Snyder's finished work? Is it the people in the gallery in Ukraine forty years ago? Or are we examining the art, state-approved by the Soviets, that those in the film are in turn examining? Does it matter? To whom does it matter? To them? To us? To Snyder? The way the installation doubles back on itself is indicative of Snyder's long-lens examinations of consumerism, information, documentation, conflict and reality.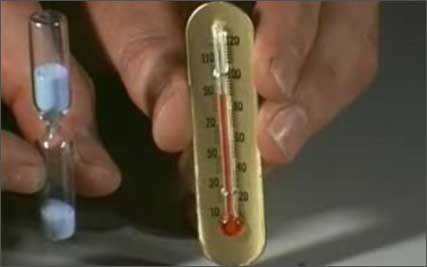 An image still from John Baldessari's Time/Temperature [Full Video].
Of the exhibition's list of contributors, the name that pops most loudly is that of John Baldessari, a man both literally and figuratively a Lion of the conceptual art world, having had a "Golden Lion" lifetime achievement award bestowed upon him at this year's Venice Biennale International Art Exhibition. A big name in the canon of contemporary conceptual art, Baldessari's early 1970s short film
Time/Temperature
pairs blue sand streaming through a small hourglass with the steady rise of red mercury in a standard thermometer. Created before the advent of video, the piece was shot on actual film, replete with dust and scratches. Interestingly, as a result of the actual visual quality of the clip, the details of individual grains or incremental changes in temperature are unseen; instead the featureless but continuous change over time serves as lo-fi symbolism for measurement, visibility, illusion, false illusion, gradation and perception. At 3:30 minutes in length,
Time/Temperature
is an interesting piece of work that shares a certain sensibility with Alfredo Jaar's premise that success in the conveyance of true meaning to a secondary viewer is a real crapshoot.
Jean-Luc Godard, the much heralded cinematic createur and founding member of
La Nouvelle Vague
, or "French New Wave," is most popularly known for the 1963 Brigitte Bardot vehicle
Le Mépris
(
Contempt
). Less known is the Godard backstory, in which he spent half a decade cutting his directorial teeth on short experimental films, including one assembled from footage scrapped by contemporary François Truffaut. An avowed Marxist, much of Godard's early work had a weighty political perspective that often questioned the colonial nature of politics and economics. Included in the KW Institute exhibit is the French master's massive
Histoire(s) Du Cinéma
, an eight segment high-art cinematic retrospective on not only the medium of film but the century of its proliferation as well. Created over the course of a decade and running nearly four and a half hours in length, the work is not a documentary piece. Instead, it is both an homage to cinema and a critique of the medium's place in the 20th Century as a whole, a monstrosity that is somber and funereal, with political and socio-economic tones alongside reverential ones, but which retains a poetic beauty through its artiness. For a taste of the density, in his own words Godard describes
Histoire(s) Du Cinéma
as the "saturation of magnificent signs indulging in the shine of their absent explications." If you expect to take in all of Godard's piece, plan on your brain doing some heavy lifting.
Though in an aesthetically much different way, the political and economic observations that shaped Godard's work also figure into the core of Chilean-born artist, architect, and filmmaker Alfredo Jaar's art. Jaar, who now lives in New York, has said that his work most commonly originates in tragedy, but is always borne of a true moment. His work usually focuses on humanitarian disasters, particularly genocide and civil war, and highlights the inverse relationship between quantity of information and fierceness of reaction, which any media or social scientist will tell you tend to diverge. The phenomenon can be distilled into a lone word, desensitization: the more we see of something horrific, the less shock value it holds.
Jaar has said that he strongly believes in the power of a single idea, which he attributes to his formal training as an architect. The utility of purpose at the heart of architecture deeply informs Jaar's film and installation work, which he develops with the utilitarian eye of someone schooled in maximizing the application of form to space. Jaar has developed an approach to his artistic work that mirrors the mechanics of architecture, in that in a hands-on capacity he is primarily concerned with the creative process of design and oversight, leaving the application of the ideas to materials in the hands of others. This conceptual approach is of course echoed in the history of Baldessari's work, which often employed artisans rather than artists for the execution of the conceptual ideas (exemplified by his
Commissioned Paintings
series). At the KW Institute is a piece that finds Jaar himself performing on film.
Jaar's overarching position, as related in the PBS video series "Art:21," is that there is a "huge gap between reality and its possible representations," one that can never be completely bridged, and his work
Opus 1981, Andante Desesperato
(exhibited in Berlin alongside the Susan Meiselas image of Nicaraguan Sandinista Revolutionaries that inspired it)--a conceptual, solo musical performance piece that futilely struggles to interpret the vulgarity of war--drives the point home.
Andante Desesperato
further echoes the point of Téllez's video and again directly parallels the work of Baldessari. While often employing far more mediums of composition, Jaar also links up in terms of motivation with Czech-born German filmmaker Harun Farocki, who has made a career of short films, most of which deal with the typical motifs of humanity's interaction with science, technology and information, but in distinctly atypical ways.
Farocki's work, though often favoring more of an objectively philosophical and artistic stance than Jaar's event-specific indictments, is most closely aligned with the idea of information overload. One of his signature methods is to pair video segments of dissimilar subjects (in a recent work, surveillance footage of a prison yard and computer simulations of shoppers in a supermarket) against each other to highlight the startling ambiguity of hard data when removed from contextual isolation and seen through the broader window of modern society. Another of Farocki's favorite themes is the application of civilian technologies by what some could consider the enforcers of a would-be police state. "For the Use of Those Who See" culls the depths of Farocki's archives for an early but direct antecedent to his more recent work, using the 16mm black-and-white short film
Nicht Löschbares Feuer
(
Inextinguishable Fire
). Created in 1968-69 at the height of leftist opposition to the American war in Vietnam, the work is a classic piece of Brechtian Agitprop; taking aim at the military-industrial complex, the footage also mocks the communicative limits of imagery itself. Though film and video have the power to provide accurate frame-by-frame transcripts of an event, to Farocki it is clear that they are utter failures when it comes to conveying the power of suffering and emotion.
A type of anthropological link between Jaar and Farocki, Peruvian multimedia artist David Zink Yi typically works in the medium of imagery to construct installations that examine the link between personal identities and national histories. Within this context the ideas of colonialism and immigration figure prominently, a take with an understandably personal resonance for the artist, who was born in Peru and was educated and works in Germany. "Hybrid history" is a term often used to contextualize his video and photography projects, which merge documentation and conceptualization to visit the idea of transition and evolution in human culture, but his work in "For the Use of Those Who See" deals specifically with translation. Officially untitled but denoted as
Deine Hände
(
Your Hands
), the 1:30 minute color film, through commands like "tapping your forehead," gives a series of auditory instructions for touching a body. But instead of physical contact with another person, hands are shown typing the instructions on a keyboard. Through this process Zink Yi translates oral commands not into physical action but into textual record, skipping the intended physical events for historical documentation. By means of this type of sensory sublimation the commands are inextricably altered. Rather than the strong but temporary action on a human body--the actual tapping of a finger on a forehead--the commands are committed to an ineffectual permanence in words. Words in text linger far longer than the sensation of touch, but in that translation do they have as much resonance as the contact of skin on skin? Does a historical record of action have real weight if the action itself never plays out?
Histories are also a point of prominence in the portfolio of Belgian painter Luc Tuymans (currently enjoying his first comprehensive retrospective at the Wexner Center for the Arts in Columbus, Ohio, his first in the United States), who was born and raised under the looming hammer of the Cold War. As an artist, Tuymans seeks to discover the hidden and highlight the subtext, and as a product of post-war Europe his experiences are greatly informed by the information age, globalization, commercialization, and the so-called "soft power" of Western nations. With so many technologies and formats available today with which to document history, there remains a serious disconnect between the information stored and the memories that people form from it. Like Farocki, Tuymans knows that video and photography can reproduce images exactly, but are they any more adept at reproducing meaning?
Easily the most traditional artist in the show in terms of format, Tuymans has worked diligently over the course of his 30-year career to develop figurative paintings that seek to update the form with a freshness that is often lost in the age of multimedia. The duality of his work in the context of historical record is not lost on Tuymans; though painting enjoyed importance as the premiere form of both art and social commentary for centuries, the advent of technology, specifically photography and video but also the development of new synthetic materials for mixed media installations, has for many rendered the canvas arcane. That distinction is especially noticeable within the context of "For the Use of Those Who See," which is almost exclusively populated by multimedia installation work. Ironically, Tuymans' painting is heavily influenced by a brief period in the 1980s when he abandoned the brush for filmmaking; after returning to the canvas he employed the mechanics of film to great effect, and his techniques of cropping, framing and close-up have been widely emulated. Like great filmmakers, Tuymans also studies the effect of shadow, the way it can alter an image and delay recognition, and his contribution to "For the Use of Those Who See" is a series of three various sized paintings,
Shadow I
,
Shadow II
and
Shadow III
, that address this topic.
Bulgarian artist Nedko Solakov, one of the most exciting, prolific and utterly uncategorizable contemporary artists working today, incorporates materials at will to compose statements that are often political but always humorous. Solakov is perhaps most known for his doodle-like ink drawings, such as the series
99 Fears
, pieces that are deceptively simple in their construction and read more as panels from a comic book than fine art. It is that simplicity, belying the potency of the craft itself, that gives his work it's power. In other forms, Solakov uses found objects and video, often garnished with entertaining captions and notations, to make occasionally self-incriminating commentary as a mirror for the viewer's own self-examination. Sometimes the method is subversive through utter obviousness, as in the case of his series of golden mirrors. At the KW Institute Solakov goes with another favorite method, treating the gallery as canvas, working on the walls themselves, a tactic used in totality during his recent
Emotions (Without Masks)
solo exhibition at the Mathildenhöhe museum in Darmstadt, Germany.
"It seems almost impossible for me to visually capture the dream I dreamt last night," Solakov writes to explain his piece in Berlin,
I Can't
, but then goes on attempting to capture it, sucked into the futility of rendering the ephemeral in concrete terms, seduced by the stalking of translative meaning. Though of course with Solakov it isn't that simple, as there is always a twist: favoring solid blocks of color, at the KW Institute he leaves the hue representing and translating his unrepresentable and untranslatable dream to the discretion of event curator Pfeffer.
Alphonse Allais, a little known 19th Century French humorist in the vein of American contemporary Mark Twain, would certainly have appreciated the wryness of Solakov's work. Rene Magritte, having honored his compatriot with a series of images representing 'a fish out of water,' famously exalted Allais as "a terrific guy," an interesting bit of trivia in the context of "For the Use of Those Who See" when considering that much of Baldessari's early work directly referenced Magritte. Allais was an associate of the Arts Incohérents, Jules Lévy's satirical anti-art movement of the 1880s that functioned as a bawdy commentary on the hubris of the art world. Primarily a poet and writer, Allais was afforded a crack at the art world by the parameters of spoofery that the Incohérents encouraged, though the occasional claims that he was a pioneer of conceptual art are a bit off the mark. Unlike other members of Lévy's circle who were actual painters or visual artists, Allais operated more with the gaiety of a tongue-in-cheek gag than as a deep intellectual statement. Like Twain, the artistic value of Allais' works are generally grounds for forgiving some otherwise insensitive statements; easily the most known of Allais' works is
First Communion of Anaemic Young Girls In The Snow
, a blank sheet of white paper (which coincidentally followed poet Paul Bilhaud's blacked-out canvas, called
Negroes Fighting in a Cellar at Night
, exhibited a year earlier in an Arts Incohérents exhibition and generally considered the first monochrome work). In the KW Institute show Allais is represented by his 1897 work
Composée pour les Funérailles d'un Grand Homme Sourd
, or
Funeral March for the Last Rites of a Deaf Man
, two dozen bars of blank sheet music accompanied only by instructions for a slow and jubilant cadence.
Alphonse Allais' Composée pour les Funérailles d'un Grand Homme Sourd.
Throughout the KW Institute exhibition there is an obvious thread of communication and its failures. The mechanics of each piece--measurement (Baldessari), reportage (Téllez), misdirection (Zink Yi), extermination (Godard), application (Allais), gradation (Farocki), translation (Jaar), perspective (Snyder), verbalization (Solakov) and manifestation (Tuymans)--fail to deliver in the way that one would presume they are designed to. These failures indict everything about human communication as woefully simple and inadequate, but while they call into question the essence of meaning they do not shatter the notion of it. Instead, they heighten the power of meaning by accenting its ambiguity. The true meaning of experience may be impossible to transfer from one mind to another, but just as often as one meaning is lost another develops through the process of transfer itself. And thus art is born.
Along with the subjectivity of what it means to see or hear or feel something, Pfeffer also cites the "risk of failing" inherent in any form of conceptual art as one of the show's themes. As the works themselves show, that potential for failure also infuses the transmission of information. Every piece of art, no matter how overtly simple or intricately masked the delivery, is the conveyance of an idea. Some artists issue their work as a direct statement of that idea, confronting their audience with the intent to inform. Others do their best at misdirection, misleading viewers away from the conceptual origin and toward their own conclusions.
But what is failure, in terms of art? The recent publication of Vladimir Nabokov's
Original of Laura
, controversial for going against the wishes of its creator, who had failed to complete it, is but a solitary instance in a creative history littered with aborted and discarded work. Being incomplete, Nabokov considered
Original of Laura
a failed manuscript and ordered it destroyed, which it now famously was not. Within the journey of artistic creation, from idea to finished work, is there not always a point of failure through which transformation passes? If a work is considered a failure by an artist but in some way finds resonance with a viewer, doesn't that resonance render the notion of failure at least subjective, if not an absurdity? And is the absurd necessarily a failure if it likewise makes communication of an idea possible? Alphonse Allais certainly didn't think so.
In many works there exists a profound shift, both in the development and also in the process of viewing, that comes with the transition from absurdity to art to absurdity and, in the most successful cases, back yet again to art. Nedko Solakov traffics in the art of the absurd on a regular basis, and the futility of dream translation is a tenet of psychological science. Is it absurd to think that where science fails art may prevail? Baldessari pairs a finite physical property (temperature) with something that exists in only relativistic terms (time). Jaar's piece--a work of video art that attempts to refocus a previous form of photographic art that in turn hoped to frame a human experience--reaches it's own meaning through the very absurdity of the task it undertakes. Allais frames the distinction between sound and silence, which is relative (think of a dog whistle), in a way that is logically absurd but somehow touchingly honorable (or insensitive and insulting, depending on one's approach) at the same time. Farocki's film points the finger inward, indicting itself as absurdly ineffective in translating human emotion; at the same time it is a commentary on the absurdity of science (a self-made instrument for human betterment) being an agent of human destruction and suffering.
The works compiled in "For the Use of Those Who See" can also be found to contain an understated correlation of paradoxes. Téllez's work, so simple yet so powerful in its dis-synchronization between the meanings of simultaneous experiences, is almost over the top in this regard. Baldessari's work examines measurement of units that are not real or tangible beyond the context of the devices measuring them. Jaar's installation--a video of a musical interpretation of a photo of an event of musical denial of a horrific human experience--is wrought with paradox. The blank Allais sheet music is interesting precisely because of the paradox, and Godard conjures the volatile relation between history as fact and history as fictional story with the very title of his hefty work. Zink Yi's film, through physical inaction, is a paradox in motion.
For those who look deeply enough, "For the Use of Those Who See" is thick with absurdity, paradox, and creativity. It is also full of exciting works that speak to the classic themes of perception and communication through contemporary art. The exhibition recently opened at the end of November and runs until the 24th of January, 2010. The KW Institute for Contemporary Art in Berlin is open Tuesday through Sunday, from noon to 7pm, with a two-hour evening extension on Thursdays. Admission is 6 Euros. SEE ALSO:
www.kw-berlin.de
--
Eric J Herboth
Eric J. Herboth is the founder, publisher and Managing Editor of LAS magazine. He is a magazine editor, freelance writer, bike mechanic, commercial pilot, graphic designer, International Scout enthusiast and giver of the benefit of the doubt. He currently lives in rural central Germany with his two best friends, dog Awahni and cat Scout.

See other articles by Eric J Herboth.
If you'd like to help spread the word about LAS, or simply want to outfit yourself with some adhesive coolness, our 4" circle LAS stickers are sure to hit the spot, and here is how to get them:
-->
Send an with $2 in PayPal funds to cover postage. Don't worry, we'll load you up with enough to cover your town. Then just be patient. They will arrive soon.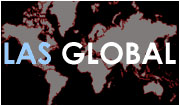 LAS has staff and freelance writers spread across North and South America, Europe, and a few in Southeast Asia as well. As such, we have no central mailing adress for unsolicited promotional material. If you are interested in having your project considered for coverage, please contact us before sending any promotional materials - save yourself time and postage!