LITERATURE
»
Full Dark, No Stars
- Stephen King's new novella questions mankind's ability to trust others.
[02.21.2011 by Bridget Doyle]
MUSIC
»
The Top 30 Albums of 2010
- Fashionably, fabulously late, our favorite music (and believe me, there was a LOT) of 2010, the year that some have called the best year for music ever. And only some of those fools work here. Plenty of usual suspects, lots of ties and a few surprises that I won't spoil, including our unexpected #1.
[12.24.2010 by The LAS Staff]
LOSTATSEA.NET
>
FEATURES
>
January 3, 2006
2005 was a strange year in the film industry. And by strange I mean relatively uneventful. Sure,
War of the Worlds
and
King Kong
both returned for high-gloss reproductions, but neither film has really seemed to blow much of a hole in cinematic history, especially when considering the amounts of money and marketing resources expended on each.
Star Wars: Episode III - Revenge of the Sith
also hit the screens this year in what is supposed to be (and hopefully will be) the end of the series, but a public with an ever-shortening attention span seems to have stopped caring after Jar Jar Binks.
Just last year there were two films,
The Aviator
and
Million Dollar Baby,
that had critics embroiled in a passionate squabble over which to name Movie of the Year. This year, however, no film has really emerged at the head of the pack, and reviewers from across the spectrum are listing everything from the tense and political
Syriana
to the claymated
Wallace & Grommet
on their year end Best Of lists. While the moviegoing public, and the Hollywood press for that matter, have always been a scattered and fickle bunch, the overwhelming lack of consensus on any single film (as illustrated by positive reviews for Rob Zombie's
House of 1,000 Corpses
) does say something about the state of cinema today. It is almost as if all the years of quality analysis and doomsday predictions from the Robert Redfords of the world are finally coming to a head. Perhaps it is just me, but I do get the feeling that Hollywood is on the verge of a major shake up. The decline of theater attendance has been well documented and, although films are making as much money as ever, it is hard to imagine that the upward spiral of ticket prices and the plummeting level of quality movies will fail to bring Tinseltown to its collective knees. And when that happens, maybe it will be the at-home directors and basement cinematographers who, along with the help of the Internet, will put a fresh spin on the big screen. Or maybe things will get worse. In an industry so dominated by money it is hard to tell what will happen, but one thing is for sure - It will be an interesting show, even if not a good one.
So, where exactly does that leave us, the film watchers, in 2005? A little frustrated, moderately bored and largely enamored by the few films of the year that did manage to make a statement, because with so much fodder hitting theaters these days, the good films seem to stand out that much more.
// Eric J Herboth
---
ANDY BROWN
2005: A Year in Films I Never Saw
I just didn't get out to the movies much in 2005. I saw a few, mostly political thrillers like The Constant Gardener and Syriana. From the previews/reviews I've seen, I missed quite a bit this year. Rather than put The 40 Year-Old Virgin as my #1 film, my list is a reflection of the movies I wanted to see most in 2005, but never did.
1.
Capote
Why I wanted to see it
: Phillip Seymour Hoffman is always great and the story seemed worth 2 hours of my time.
Why I never did
: I forgot, and by the time I remembered it wasn't in theaters anymore.
2.
King Kong
Why I wanted to see it
: To jump on the bandwagon/Jack Black.
Why I never did
: I decided I didn't care that much about the bandwagon, and I got a Jack Black fix from renting Orange County.
3.
The Squid and the Whale
Why I wanted to see it
: Director Noah Baumbach co-wrote last year's The Life Aquatic with Steve Zissou
Why I never did
: I've only heard this movie existed in the past 2 weeks.
4.
The Weather Man
Why I wanted to see it
: A good friend with the same taste in movies recommended it highly, even comparing it to The Big Lebowski.
Why I never did
: It was overhyped, so I figured it couldn't live up to my expectations.
5.
Munich
Why I wanted to see it
: A great true-life drama for a movie to portray.
Why I never did
: Is this movie even out yet? Does the commercial even say?
---
NATALIE B. DAVID
Best Movies of 2005 that I actually remember seeing:
01
Sin City
- Best movie of the year, hands down. The best movies show you a new world, and this one takes you to an alternate universe-a film-noir darkness only a wee percentage off from the one we see every day.
02
Chronicles of Narnia: The Lion, The Witch, and the Wardrobe
- I grew up attempting to find my own Narnia. Not-so-apparent religious overtones aside, Narnia creates the world as vividly as any childhood imagination. Aslan's voice may be all wrong (sorry, Liam) but everything else is dead on.
03
Mr. & Mrs. Smith
- Even ignoring the tabloid flutter, Mr. & Mrs. Smith is one of the fastest, hottest, and funniest films of the year. It's undeniable.
04
Walk the Line
- Reese Witherspoon steals the spotlight from the man in black in the most recent of Hollywood's biographical trend.
05
Wedding Crashers
- So good I can even get over an appearance from Will Farrel, and, coming from me, that means a lot.
06
Hitchikers Guide to the Galaxy
- Perfect casting and great filmmaking saves the not-so-perfect adaptation and creates a whole new Guide.
07
Charlie and the Chocolate Factory
- Johnny Depp is no Gene Wilder but Tim Burton's vision and focus sets Wonka, and his point, in a whole new light.
08
March of the Penguins
- Penguins are awesome.
09
Pride & Prejudice
- A movie about socially awkward people loved by a socially awkward person.
10
Crash
- Crash is the best movie of the year that I never want to see again. The acting is perfect. The themes are raw. It cuts to the bone.
11
Elizabethtown
- Cameron Crowe shuffles the best movie soundtracks, but faltering lead performances keep Elizabethtown from top-ten caliber.
12
Ice Harvest
- The 2005 John Cusack movie that didn't suck.
---
CLIFTON GATES
The Squid and the Whale
- "Joint Custody Blows" was this film's tag line.
Talkin'bout my generation...
Hustle & Flow
- I watched this movie and didn't hate it, but I was sort of creeped out by how much a skeezy Taryn Manning turned me on.
Tim Burton's Corpse Bride
- I wish Tim Burton was around when I was a kid.
Brokeback Mountain
- Not sure how many nominations Ang Lee is going to get for this film, but he should win them all.
A History of Violence
- Good show, chaps!
Transamerica
- I am surprised that this movie was even made, but I am glad it was. Felicity Huffman needs some kind of award.
---
RANDY GAUDREAU
Top 5 of '05 Film
01
Schultze Gets the Blues
- Cute little feel good / feel sad flick about some German dude, Schultze (Horst Krause) and all the places his passion accordion takes him. It's all about stepping out of your shell, and how happy the simplest things in life can make you. Nothing flashy here - a simple story, and not much dialogue, but the draw to the main character is incredible.
02
The Aristocrats
- Awesome idea it was to document the old time industry joke used by comedians as a mental warm up. Basically, the rules of the joke are simple, and the end result is the same punch line for everyone. As a documentary, it could have been better - as it's really hard to have someone spontaneously tell the joke as they would, but Bob Saget's version of the joke, along with Stephen Banks' mime version are enough on their own to make the idea of the flick worthwhile.
03
Sin City
- All around blockbuster visual stimulation for underground comic book nerds, and a really respectful rendition of the work of Frank Miller. Engrossing short pieces a la film noir.
04
The Squid And The Whale
- Definitely akin to the Royal Tenenbaums, The Squid and the Whale takes a walk down dysfunctional family lane - a crooked, dry humored walk. Basically you get to watch the eccentric writer type (Jeff Daniels) try and keep some sort of family togetherness in the midst of his own self destruction, while the life of his ex-wife flourishes. And the kids suffer. But it's funny, I swear.
05
Hitchhikers Guide To The Galaxy
- Bear in mind here, this is not film making at its peak of greatness, and that's definitely not why it made the list. This one's on here merely because of pure enjoyment. I read the Douglas Adams books several times, and I was dead set on picking the movie apart for inaccuracies. But it stuck generally to the pre-existing script and Adams' quirky and loveable sense of humor was in every moment of the film.
---
HELDER GOMES
1)
Saraband
(Ingmar Bergman) - Saraband is the first film Ingmar Bergman directed in almost twenty years, and is the proper sequel to the mind-blowing Scenes From a Marriage. Three decades have passed after Johan and Marianne divorced, but, as time relaxed its grip, she decides to visit him and learn the spoils of their war. At first, the Swedish director establishes Johan as a cold rationalist, but reason will later fail him. This is a touching tale of modern affairs.
2)
Tim Burton's Corpse Bride
(Tim Burton) - Those who knew Tim Burton before Charlie and the Chocolate Factory (a little too moral for my tastes) were certainly anticipating his unearthing of the stop-motion techniques of The Nightmare Before Christmas. He does so in this black, fractious encounter of fascinating burlesque worlds. The characters are so precisely geared to the plot that this happens to be the best Victorian-like, animated movie of recent memory.
3)
The Beat That My Heart Skipped
(Jacques Audiard) - Well, this was a surprise! I went to see this film at least twice this year. A French guy, obsessively interpreted by Romain Duris, is lost in the maze of professional corruption and the love for music. The plot never loses a grain of salt while Jacques Audiard insists on adding heaps and heaps of pepper. In a word: frivolous.
4)
Broken Flowers
(Jim Jarmusch) - After last year's Coffee and Cigarettes, Jarmusch got a little lazy, I think. But if this film made it to my top 5, it certainly is a pearl of sorts. No one mixes neo-classicist formal traits with contemporary hopes and fears, quite like Jim Jarmusch does. Bill Murray is here presented as the Don Juan of modern times - gorgeous!
5)
Our Music
(Jean-Luc Godard) - Godard continues with his provocative style, questioning everything from art to politics and society. Divided in three acts, Our Music goes from a brief introduction on the nature of conflict to a predatory discussion between participants of a summit in war-torn Sarajevo. The style is his own, definitely (and now, once again defiantly) reminiscent of the French
nouvelle vague
.
---
ERIC J HERBOTH
Grizzly Man
- This Werner Herzog documentary makes the top of my list because it is, in a word, fascinating. It is not, however, what I would consider successful, in terms of a well-produced documentary, and the sloppy sort of self-aggrandizing by not only Herzog ("You must never listen to this tape" he tells one of the film's central characters, in his most dramatic voice), whose commentary lends itself more to an op-ed piece than a documentary, but also by Franc G. Fallico, the medical examiner who seems hell-bent on delivering a dramatic performance along with his expert testimony. I could watch this film for hours, not only because of the remarkable footage of bears in their "natural habitat" (being "defended" by an egomaniacal prima donna) but also because of the cultural snapshot it presents in dramatic cross-section.
The Squid and the Whale
- After watching The Royal Tennenbaums for the first time I had a warm, fuzzy feeling about Wes Anderson, and after watching this similarly stylized familial mocudrama I have the same feeling about Noah Baumbach who, coincidentally, wrote the screenplay for The Life Aquatic with Steve Zissou, which Wes Anderson directed. Jeff Daniels delivers a performance that will hopefully solidify his reputation as a rock-solid leading man with good taste and incredible range.
Capote
- A great film based on a great book that serves as a showcase for a great actor (and easily one of the most under-rated thespians of our time) playing a great author. Solid supporting roles and, again, an excellent lead performance by Philip Seymour Hoffman.
March of the Penguins
- I love documentaries, I love nature and now I really love penguins. I mean, they're cute and everything, but the footage here is pretty remarkable. Who would have thought that you could get a penguin to wear a backpack?
Crash
- Did this come out in 2004? I saw it this year, down at the dollar theater. This is one of those powerful, depressing films with a star-studded cast that seems to be too deep for widespread acclaim. Oh, wait, were people talking about this movie? Was that last year? Dang. A solid all-around outing, with top notch performances and an accuracy (racial tension in America being the topic) that sends you, completely bummed, out of the theater and into the night with a head full of thoughts.
Brokeback Mountain
- I'm totally down with gay cowboys, so this film wasn't all that shocking to me. I know it threw some people for a loop though. I tried to download this from the Internet but my first attempt yeilded nothing more than a porno (by the "Bang Bros.") with a misleading file name. I was surprised to see Heath Ledger starring in this film, but more power to him. I look forward to a day when a film like this isn't so
counter
-cultural.
Wedding Crashers
- A bit earlier I mentioned Jeff Daniels, who starred alongside Jim Carrey in Dumb & Dumber, the last dumb humor film I remember watching all the way through. Wedding Crashers is of a similar caliber and was ultimately enjoyable, much more so than The 40 Year Old Virgin.
Last Days
- The beautiful, generally vivid lens work of Gus Van Sant gets all grainy and, well, grungy for this fictional adaptation of Kurt Cobain's demise.
Walk the Line
- Johnny Cash was reportedly pleased with the performances of Joaquin Phoenix and Reese Witherspoon. I am to.
Paradise Now
- At a time like this it is truly a shame that a film such as Paradise Now goes largely unnoticed. This story of two childhood friends recruited for a suicide bombing in Tel Aviv casts a new and somewhat surprising light on the Israeli-Palestinian conflict.
---
MIKE WRIGHT
01
Old Boy
- Old Boy is an original, thought-provoking film with enough of twists and turns to keep you on the edge of your seat. Though it is, in parts, violent and disturbing, Old Boy offers so much more, and has inspired me to take more notice of Far Eastern cinema.
02
Sin City
- It was refreshing to see an action film follow the directions of a comic book so closely. The thread with which each sub-story correlates with one another unravels itself gradually - it is, like lots of good films, satisfying to watch. The characters are pretty nuts too: Elijah Wood as a mute hard-as-nails cannibal nerd pips it for me though.
03
Goal
- Like watching Match of the Day and Eastenders simultaneously. Fantastic.
04
The Hitchhiker's Guide to the Galaxy
- Very funny and full of imagination. I'm too young to remember the series in details, but glimpses came back to me while watching the film. They say sarcasm is the lowest form of wit, so what would be the highest? Absurdity? Well, Hitchhiker's Guide has plenty of that.
05
Broken Flowers
- It make me laugh in a non-"ha ha" way. Bill Murray keeps you thinking, leading you up alleys, and feeding you red herrings throughout. Although some may find the film lacking in substance, I think that very feature made Broken Flowers effective.
06
Batman Begins
- Definitely the best of the Batman series. Batman Begins reflects a more realistic picture than the earlier comic-sourced films without straying too far from the original idea. Christian Bale is spot on, and the casting of Michael Caine as Alfred was another sure-fire way to score brownie points.
07
War of the Worlds
- Cool special effects and a good story. Quite immersive for a film of its ilk.
08
Star Wars: Revenge of the Sith
- Rounded off the story quite nicely. What can I say? I've only seen eight films this year!
---
JOSH ZANGER
Of what I saw here's what I thought:
01
Sin City
- Has the comic-book dramatics going for it. There is violence, humor, and an ongoing plot, none of which is for a casual observer.
02
Wedding Crashers
- Year's best comedy
03
Howl's Moving Castle
- Hayao Miyazaki made anime classics
Spirited Away
and
Kiki's Delivery Service
. This is just as amazing.
04
Batman Begins
- Many argue that
Begins
is better than the first
Batman
. Definitely up for debate.
05
March of the Penguins
- Documentary that shows the yearly mating pilgrimage, struggles of penguins in Antarctica.
06
Walk the Line
- I don't care if it was 100% factually accurate. Nothing like this will ever be. Joaquin Phoenix and Reese Witherspoon did damn good jobs telling the intimate and desperate tale of one of America's greatest songwriters and his wife.
07
Wallace & Gromit: The Curse of the Were-Rabbit
- Still in excellent form is Nick Park's Brit claymation comedy. A na´ve, flawed inventor and his ingenious, tolerating dog companion.
08
Me and You and Everyone We Know
- A definite cult, indie hit. Starring no one you know, but telling a story that we all have been through - not fitting in the way we want to. All you can say is, " ))>
--
The LAS Staff
A number of the Lost At Sea staff have worked and continue to work for various publications, both independent and commercial. Often very stifling in their narrow focus, conventional media outlets left our writers hungry for something bigger, more diverse, more communal. More active, because this is the twenty-first century and it makes sense. During it's short life LAS has accomplished many of its goals (but not all) and has in turn set new ones. Everything that we accomplish is through teamwork and cooperation, both with our regular staff writers and with our contributing writers. LAS is nothing short of a collective. Another contrasting point to some of the magazines out there is that we've checked our egos and scene ethics at the door. We welcome anyone and everyone to contribute and cover a wide range of topics. LAS does not follow your guide lines.

See other articles by The LAS Staff.
If you'd like to help spread the word about LAS, or simply want to outfit yourself with some adhesive coolness, our 4" circle LAS stickers are sure to hit the spot, and here is how to get them:
-->
Send an with $2 in PayPal funds to cover postage. Don't worry, we'll load you up with enough to cover your town. Then just be patient. They will arrive soon.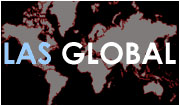 LAS has staff and freelance writers spread across North and South America, Europe, and a few in Southeast Asia as well. As such, we have no central mailing adress for unsolicited promotional material. If you are interested in having your project considered for coverage, please contact us before sending any promotional materials - save yourself time and postage!