LITERATURE
»
Full Dark, No Stars
- Stephen King's new novella questions mankind's ability to trust others.
[02.21.2011 by Bridget Doyle]
MUSIC
»
The Top 30 Albums of 2010
- Fashionably, fabulously late, our favorite music (and believe me, there was a LOT) of 2010, the year that some have called the best year for music ever. And only some of those fools work here. Plenty of usual suspects, lots of ties and a few surprises that I won't spoil, including our unexpected #1.
[12.24.2010 by The LAS Staff]
LOSTATSEA.NET
>
FEATURES
>
January 24, 2007
Oakland-native Del the Funky Homosapien, born Teren Delvon Jones in August of 1972, furnishes the world of hip-hop with illuminating and, as his name implies, super-funky lyrical content. His experience spans more than two decades and his exceptional lyrics range from science fiction narratives (Deltron 3030) to cartoon-character-delivered super-hits (Gorillaz) to humorous bits about personal hygiene, amid critiques of music industry and other lyricists.

Del has credentials to boot; here's the run down: he started rapping in the early '80s as a teenager, first contributing lyrics to his cousin Ice Cube's group, Da Lench Mob, in 1990. He released his first solo album I Wish My Brother George Was Here in 1991, followed by No Need for Alarm in 1993, and Both Sides of the Brain in 2000. He and the Heiroglyphics crew came out with their first full length in 1998, Third Eye Vision and second in 2003, Full Circle; and have their own independent label, Hieroglyphics Imperium. He has worked with renowned producer Dan "the Automator" Nakamura and Kid Koala to make Deltron 3030, a superbly produced selection of science fiction stories. Del was a guest on the animated group Gorillaz's debut; one of which, "Clint Eastwood," became insanely successful, and the other, "Rock the House," was the group's other single. His exceptional lyrics flow with creative imagery; it's no surprise his songs have been featured in video games like Tony Hawk's. He's also made appearances on Prince Paul (De La Soul) and Dan "the Automator" Nakamura-produced Handsome Boy Modeling School albums So... How's Your Girl? (1999) and White People (2004). He's appeared on The Coup's Steal This Album (1998), Zion I's True & Livin' (2005) and Wu-Tang Meets the Indie Culture (2005).

At the tail-end of his most recent tour, I caught up with Del to discuss his studies, future plans and his recently released DVD 11th Hour and the album of the same name, slated to be released later this spring.
---
LAS: In your past work you have established quite an impressive personal discography. Where do you see your career going from here?
Del:
I got a plan, at least a five-year plan. I'm trying to get more into production. I want to try to do some movie soundtracks or a cartoon or something, but for now I'm satisfied with just producing some other acts. We're trying to make hits though. That's primarily what I'm trying to do. But not like the hits you hear now. Some hits deserve to be hits. Some hits ain't nothing.
LAS: Give me some examples.
Del:
I'm not even going to say somebody's name, but you know what I'm talking about. It be some basic stuff that your little brother could make and he don't know nothing about music. It don't take much talent, but then again it's not really about that; whether it's good or not, that's my opinion. If other people like it, they like it and that's basically what it boil down to... but it's just such an over-saturation, like if
that
worked then everybody in the record company want to copy that, 'cause they just see a formula and they think that's the way to do it even though that ain't the way to do it.
LAS: So you're not trying to find a formula for a hit?
Del:
If I'm trying to figure out a formula then it's my own formula, or my own way of doing things so that when I go in to try and make a beat or make some music I'm not like stumbling all over the place. You got to have some kind of plot or some kinda plan to where [you say],
Okay I'm going to do this, I'm going to do this.
It don't have to be systematic like that. It can be loose, but you need some kind of guidelines or else you just fly all over the place. So I mean in that respect, maybe I'm trying to find a formula of some sort, but I don't want to be formulaic... Funk is hella important to me so I'm trying to extend that in music. I want that to survive, so that's one of the things that I'm trying to do.
LAS: How are you going to do that? How do you bring that in?
Del:
I just try to make whatever I make funky in some way. Funk ain't necessarily a musical style. Funk is more or less a way of doing things, like they say hip-hop is a way of life. Funk is pretty much... hip-hop is pretty much the son of funk 'cause all the kids fathers and mothers and uncles and aunts that used to listen to funk, they're now into hip-hop. It's just a new generation of that so it's connected.
But you can play anything in a funky way. You can either play it stiff, exactly the way you see it out the book, or you can kind of jazz it up a little, add a little flavor to it, so that's funk. That's what adds flavor to whatever you doing, like the gear I'm wearing now.
LAS: That's funky?
Del:
Yeah, this is funky.
LAS: Tell me about what you've been studying, and how funk fits in.
Del:
Basic music theory. Funk is my centerpiece. I guess you could say that's my root right there, but I study the blues, a little bit of jazz theory. It's just basic general music theory, so I can get a good foundation to what I'm doing. Funk basically is what I try to do, but I do it in my own way. I try to be cinematic with my music.
LAS: Cinematic?
Del:
I try to evoke some sort of feeling out of people. I think it works. I think I'm getting better. I was cool before... now I got a lot more control over what I'm doing since I have a good foundation.
LAS: You said the new album has you being more real. How does that translate?
Del:
As opposed to maybe Deltron 3030, which is fantasy. I wanted to leave anything like that off of Del the Funky Homosapien. I wanted it to be something that people could relate to. I just stick to real type situations and real things as opposed to, like, I'm crushing somebody with my rhymes and make a diamond out of their head or something. I leave that for something else. I just try to keep it real.
LAS: Give me an example, some lines.
Del:
Ok.
It's big; it's small; it really ain't nothing at all, but it gather like an avalanche. Let me stop you now while I have the chance. The funk will surely grow, which only make my fury grow. Bitches must be pretty slow thinking what they say I go for. No sir I'm extra cool, I'm gonna let 'em go on do what they do. Fuck you fools, say what you wanna. I can see that's what you love to do. Just don't touch me 'cause I ain't touchin' you and I know you weak as hell because I treat you well and that's the only reason why you speak to Del like you fixin' to beat me up you need to go and read a book and take a hint you're free to look, but naw you want to be a crook in my neck that's causing pain. Sometimes I think you all insane, you get all up in my lane, but you can't cut what's in my brain.
That's a song I wrote called "Foot Down" and it's basically talking about putting my foot down, like I'm not going to have it in whatever situation.
The second verse is about females... trying to get away with everything. Not
all
females, but some females like to try to play games.
LAS: And what are females trying to get away with?
Del:
Depends on what type of females you're talking about. I feel that females are emotional. They don't go about things like dudes do. Dudes are kind of brash, more threatening... I feel like women do things more covertly. They might they get upset with you. You can more or less
feel
it, [rather] than them actually tell you. That's something you kinda got to read sometimes, whereas a dude might get all up in your face and all aggressive and stuff, so different degrees of that.
Some women are crazy, you know just hinting at you ain't good enough. They gotta
do
something to you. The worst probably could be... to go have sex with your boy to get back at you. That would be like the lowest that you could possibly do to get back at somebody.
LAS: Is that some of the stuff that's on 11th hour? Your women troubles?
Del:
To be frank, the last two girlfriends I had were basically whores so...
LAS: Like, actual whores?
Del:
Somebody that will do
anything
for anybody; a slave basically.
LAS: So why were you interested in them?
Del:
I didn't know. You know, hoes are sneaky. Of course they don't want you to know that they're a whore.
LAS: So like Iceberg Slim's Pimp?
Del:
I love that book. I'm from Oakland, so most of that stuff I grew up around, but I was living the book
Pimp
with those two chicks basically. I mean I wasn't pimpin em; I feel like that'd take too much energy out of what I'm trying to do. That's just not me. But I mean I had to be a certain way; otherwise they would take over my household to the point where we're fighting and stuff like that. They'll actually be sockin' me in the nose, try to cut me, throw stuff at me. It was very violent. I think the worst thing one of them did was try to hang herself in my garage, twice.
LAS: That's heavy.
Del:
Yeah, she hung herself twice in my garage and I had to save her, basically. But the second time she damn near killed herself, so it was a split second situation where it's like,
Okay, what am I going to do or else this chick going to die.
LAS: That's fucked up.
Del:
But I could see that she was taking
pleasure
in doing all these things, so she wasn't that crazy because if she was she wouldn't know what she was doin'. I mean, I got all that out my way now. I basically had to move 'cause she was still coming to my house every day. I couldn't get rid of her. I finally just had to move, otherwise I don't know [what would have happened].
LAS: I hope you've found someone more suited to you.
Del:
I'm with somebody that's cool now. I went to high school with her and everything, so I'm cool now.
LAS: 11th Hour, the DVD, that's out now. You said you'll be giving people a slice of your personal life. What does it show?
Del:
It's partially about some of the chicks, troubles I had with them, since that just happened to be going on at the same time [as recording the album], so that's in there.
LAS: Will you be talking about the recording of the album 11th Hour? And when will that be coming out?
Del:
Partially. It's partially about that. It's how I do stuff. There's a little bit of concert footage, but it's mostly so you can get a personal look at what I'm about.
11th Hour
should be coming out in April maybe. You need like three-month set up time to get the artwork going and ads and all that stuff squared away. The music is pretty much done. I got a few more songs I need to record, once I'm home for good and not torn all over the place.
LAS: Are you doing most of the music?
Del:
Pretty much. Not on purpose really. That's just how it worked out. I think I see my vision probably better than anyone else. I got other people that added some tracks on there, but not too many. I got Ladybug Mecca, she's on my album, so that's about it.
LAS: Do you have many physical instruments?
Del:
I got a few at home but I play everything on the keyboard. It's just whatever I try to emulate, I study about. You said the guitar - I know how to play guitar, so when I play it on the keyboard, I won't go outside of the range of what you can do with the guitar. The same thing with the bass. I know there's a certain range, there's certain things you can do and you can't do. It's good to do on a keyboard, but you don't want it to sound fake.
LAS: Tell me about the relationship between science and music for you.
Del:
There's a science to everything I believe, 'cause everything works this particular way so I feel like that's the science of it, being able to break it down and explain how it works is the science of whatever it is, so there is a certain amount of science that goes with music but there's also a certain amount of a
feel
that goes with music too. So it's got to just feel right... It ain't just about memorizing changes and all that stuff, the theory, intervals, chords - that's part of it just so you know what you're doing. After that it comes down to feeling it... Ain't really too much of a science to that. That's either you got it or you don't.
LAS: It sounds like that's what you had and now you're trying to get a handle on the science.
Del:
Exactly. I knew a little bit just by playing, but I got a way better foundation now. So now it don't take me hours to figure out how to play a bass line or a lead part or something like that. I can just hop on the keyboard and start improvising 'cause I know where all the keys are. I know what to do, I know what the purpose is behind all of it, so there's nothing left for me to really figure out but just get on and start playing. But before I had to press each note, see how they sound together.
LAS: You rap science fiction sometimes. Are you into it?
Del:
I'm into anime, so I guess that sometimes can be considered science fiction. I'm into anime; I'm into comic books.
LAS: When you worked on Gorillaz album, was that exciting for you since you were depicted as an animated character?
Del:
It was a split second thing. It wasn't planned. Dan "the Automator" just needed somebody that could come up with something good and quick, so we happened to be finishing Deltron and that's how it happened. I mean I was pleased to do it. It still paid my bills and everything. It was a smash record. It wasn't something where I just came in with the songs already together. They was finished with the record.
LAS: And you're working with Dan right now for another Deltron. Is it still 3030?
Del:
It's called Deltron Event Two. It's a different story with a different setting. It's still in the future, but this future is not technologically advanced, so it's kind of a twist. The reason I did it like that is because I felt like I could not live up to any expectations that anybody might have about Deltron. I figured everybody would have expectations so high. I just said I'm not even gonna try to out do that Deltron. I'm gonna let it stay there in time as it is and just do something else.
It's still relevant though. This one is based on the theme that everybody just destroyed everything, everybody went so far with technology that it just ran itself out.
LAS: You've seen hip-hop undergo changes over the years, or decades I guess. What do you think the best developments are? The worst?
Del:
The worst, I can't really look at it worst 'cause it's all over the world and I never thought that was going to happen, ever, so I don't see no worst.
But if I had to pick something that was irritating about it to me is the fact that - and this is overall about music, it ain't just hip-hop - it's just a lack of creativity and low expectations... but that doesn't stop good stuff from coming out, so it isn't necessary that I sit back and gripe about it, like some people they sit back and just point out. I like looking for positive stuff.
The positive is that music has at the same time gotten hella advanced. The recording techniques are wonderful. Music never used to sound this clear and crisp. You get a perfect recording, like nothing wrong with it, [and it is] better than if you was there live.
LAS: Does that change the performance aspect?
Del:
Nah, you there for a performance so there's no confusion there, but with a record people kind of got more expectations 'cause you're actually sitting up there, got time to make it. It ain't like recording it live like it used to be. The whole band would've been there recording and if they messed up they had to
all
do it again. It's not like that - you don't even need a band. That's one thing I like about music is the fact that you can use computers to make music now. That's hella great to me 'cause I've always been computer savvy.
---
We closed the interview with some music Del had been working on that day, a piece called "Gray Clouds," done in a minor key with a bass-driven rhythm and funky organ flow. I'll say Del's future development sounds very promising. Until his new album comes out follow his musical progression yourself, as he posts his productions periodically on his Myspace page. The DVD is available for purchase now.
SEE ALSO:
myspace.com/delthefunkyhomosapien
SEE ALSO:
www.hieroglyphics.com
--
Sara Williams
Sara Williams writes and lives in Minneapolis, Minnesota. Her life revolves around music, which she plays, listens to, thinks in, writes of and is absorbed by. She has a degree in creative writing from UC Santa Cruz, a school in a lovely little town between the forest and the sea. She argues a mean leftist politics with a sweet but sharp tongue and is happy to be lost at sea searching for an Octopusís Garden in the shade.

See other articles by Sara Williams.
If you'd like to help spread the word about LAS, or simply want to outfit yourself with some adhesive coolness, our 4" circle LAS stickers are sure to hit the spot, and here is how to get them:
-->
Send an with $2 in PayPal funds to cover postage. Don't worry, we'll load you up with enough to cover your town. Then just be patient. They will arrive soon.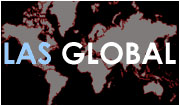 LAS has staff and freelance writers spread across North and South America, Europe, and a few in Southeast Asia as well. As such, we have no central mailing adress for unsolicited promotional material. If you are interested in having your project considered for coverage, please contact us before sending any promotional materials - save yourself time and postage!