LITERATURE
»
Full Dark, No Stars
- Stephen King's new novella questions mankind's ability to trust others.
[02.21.2011 by Bridget Doyle]
MUSIC
»
The Top 30 Albums of 2010
- Fashionably, fabulously late, our favorite music (and believe me, there was a LOT) of 2010, the year that some have called the best year for music ever. And only some of those fools work here. Plenty of usual suspects, lots of ties and a few surprises that I won't spoil, including our unexpected #1.
[12.24.2010 by The LAS Staff]
LOSTATSEA.NET
>
FEATURES
>
December 21, 2007
Kevin Alfoldy
|
John Bohannon
|
Jonathan Bradley
|
Jon Burke
|
Jonah Flicker
|
Clifton Gates
|
Patrick Gill
|
Eric J Herboth
|
Mikel Jurgen
|
Bob Ladewig
|
Peter Lindblad
|
Jason Middlekauff
|
Trent Moore
|
Eric J. Morgan
|
Staff Lists N-Z
---
Kevin Alfoldy
(a.k.a. "Mr. 8/10")
1. Weakerthans -
Reunion Tour
(Anti-) - Dude, this one got a 9/10!
2. Bowerbirds -
Hymns For A Dark Horse
(Burly Time) - Another 9/10!
3. Eluvium -
Copia
(Temporary Residence Ltd.) - And another 9/10!
4. Great Lake Swimmers -
Ongiara
(Weewerk) - Oooh, and another!
5. Caribou -
Andorra
(Merge)
6. Page France -
...And The Family Telephone
(Suicide Squeeze)
7. Pig Destroyer -
Phantom Limb
(Relapse)
8. Okkervil River -
The Stage Names
(Jagjaguwar)
9. The National -
Boxer
(Beggars Banquet)
10. Animal Collective -
Strawberry Jam
(Domino) - But only for the songs "Peacebone" and "Fireworks" as the rest was a bit weaker
--
John Bohannon
*Disclaimer: I make my top lists dependent on which records I listened to the most within the year - and they are as follows…
1. Boris ft. Michio Kurihara -
Rainbow
(Drag City) - I'll go out on a limb and say this is the best psych record of the past decade. The Japanese psychedelic movement is in full force; and this is one of the most likely, overdue collaborations in recent years. Turned into such a wondrous piece of droning melodies, pummeling drum and bass, with a nice coat of soaring reverb-soaked vocals to top it all off. The length of time this stayed on rotation in my player wins by a landslide over any record of 2007.
2. Fennesz + Sakamoto -
Cendre
(Touch) - Often albums in the ambient/electronica category I can find myself getting bored with one or two songs into the record - but
Cendre
, like the vast majority of Christian Fennesz's work, I find myself getting lost in for days, in every atmosphere.
3. Dälek -
Abandoned Language
(Ipecac) - Abstract hip-hop at its finest. Lengthy tracks with no hooks, no song forms, and flows that free your mind of rigid notions on hip-hop. I describe this to my friends as the late 60s' Miles period of hip-hop - pushing the envelope, but not quite into the stratosphere of another planet yet.
4. Robert Wyatt -
Comicopera
(Domino) - Former Soft Machine drummer keeps reinventing himself after decades of releasing material.
Comicopera
highlights some of his best efforts at straight-forward songwriting in recent years. As he gets older, his voice gets stronger it seems - a rare case for vocalists.
5. Radiohead -
In Rainbows
(self-released) - So what can be said about this album that hasn't already been said? It was a fantastic listening experience, my favorite of the year in fact. It's almost a miracle in today's music world that everyone heard this album on the same night at the same time, without any preconceived notions from the critics or general public. I made notes during my first couple of listens and found myself writing things such as "simple, a back to basics approach." Then I made a point to listen to the album again two weeks later, after all the hype had come out and make notes again (this is without looking at my previous notes - it was three in the morning when I wrote the first ones and I was half unconscious - there is no way I was going to remember them) I found myself writing "Not sure if it lives up to the hype, do I really like this as much as everyone else?" - Then I compared notes and realized what the hype had done to my opinion of the record. I found myself on the 3rd listen attaching myself to the first notes I took, because those were my real sentiments toward this record. Its funny what the hype can do to you subconsciously as a listener. Beautiful record that made me question myself as a listener.
6. Amy Winehouse -
Back to Black
(Republic) - Not sure how this couldn't be on anyone's top 10. list. This record from start to finish absolutely kills - from the hooks to the raw backing instrumentation of the Dap Kings funky backbeats to Ronson's production flare. Despite all the controversy surrounded by the woman's heroine use and whatever else she feels like consuming that day, I say - fuck it. Keep doing what you are doing - whatever is making you produce this wonderful music, don't stop doing it. Stop calling it old school, just call it R&B.
7. Kanye West -
Graduation
(Roc-A-Fella/Island Def Jam) - So many people are ready to write Kanye off because his head is bigger than his body (dude's short). But I'll be damned if I didn't find myself throwing on this record numerous times and picking up the fifteen dollar picture disc 12" singles from it. I even thought Chris Martin sounded good on this record (and that's a stretch for me), although it kind of felt like Kanye told Martin, "Ok, so we couldn't get Sting for this track - so do your absolute best to sound like him." Every track is a potential single, and he hasn't released the full record on LP so us DJs are suckered into buying the 12". Smart marketing, bad for my wallet.
8. Bruce Springsteen -
Magic
(Capitol) - The E-Street Band is back! Very rarely will you find a new Springsteen release not on my top 10. of the year. This album sounds like
Born to Run
reincarnated - but still holds the modern touch of his later albums such as
The Rising
and his 2005. solo effort
Devil's and Dust
. The songwriting here is top notch (which isn't saying much considering we are talking about the Boss here), but he manages to continue to be an artist that's longevity doesn't wear thin as he gets older. It takes a lot as an artist pushing 60 years old to stay on top of the scene and not sound dated, but if anyone can do it - its Bruce.
9. Cinematic Orchestra -
Ma Fleur
(Ninja Tune) - I really didn't picture this one ending up on my list. The review I wrote earlier this year claimed the reason I cared for this album was because it knew how to grip emotion out of simplicity - and I think that's why it stuck with me throughout the year. Not to mention this is the first time I heard Canadian crooner Patrick Watson, whose voice I fell in love with over the course of this record.
10. Nina Nastasia and Jim White -
You Follow Me
(Fat Cat) - Easily the most pleasant surprise of the year. Jim White has always been one of my favorite people behind the kit, but this record has transformed Nastasia into one of my new beloved current songwriters. This is an exploration in the raw qualities of folk music as it meets the jazz aspects of Jim White - this album is full of epic songwriting moments and lasting power. This will be the one out of my list that will move up in the rankings as the years go on.
Top Ten Tracks of 2007
1. LCD Soundsystem - "Someone Great"
2. M.I.A. - "Paper Planes"
3. NYOil - "Ya'll Should All Get Lynched"
4. LCD Soundsystem - "All My Friends"
5. Amy Winehouse - "Me and Mr. Jones"
6. Arcade Fire - "My Body is a Cage"
7. Black Kids - "Hit the Heartbrakes"
8. T-Pain - "Buy U A Drank"
9. Common - "the People"
10. Grinderman - "No Pussy Blues"
--
Jonathan Bradley
1. Kanye West -
Graduation
(Roc-A-Fella/Island Def Jam) - As a word-slinger, Kanye could never be as great as he perceives himself to be, and that's why he transformed himself from rapper to pop star. 13. tracks, no skits, T-Pain hooks, Daft Punk samples and the year's most logical hook - "Here's another hit: Barry Bonds" - made this pure pleasure from "Good Morning" to "…and that's where the story ends." West had already made a hip hop classic; now he has his masterpiece.
2. Miranda Lambert -
Crazy Ex-Girlfriend
(Columbia) - Miranda Lambert's most apparent characteristic is her rambunctious fury, but as the year passed, the songs I kept coming back to were the gentle sad tracks like "Desperation," "Easy From Now On" and "More Like Her." This is testament to her versatility as a performer; even on listen number one-hundred-and-something, the kick-ass tracks still kick ass, and the ballads are just as heart-wrenching.
3. Bloc Party -
A Weekend in the City
(Vice/Wichita) - It seemed like Bloc Party was trying to record the sentiments of an entire nation, or maybe the entire world, as it entered the second half of the first decade of the 2000s.
A Weekend in the City
is stunning because it comes close to achieving that goal, but it is intimately affecting because it finds a shared uncertainty in the lives of immigrants and clubbers, exurbanites and commuters. It suggests, perhaps, a sense of community amongst people who feel none.
4. Paramore -
Riot!
(Atlantic) - Hayley Williams and band endowed
Riot!
with hooks aplenty, but it was the emotional sincerity of the music that kept me coming back to this record. They look like they're aiming for big things, but even the simple things, like punk riffs and pop lyrics (or should that be the other way round?) have worked wonders for them so far.
5. UGK -
Underground Kingz
(Jive) -Two CDs of slow, rolling Southern rap, with UGK providing the perfect twin assault. When his partner's sneering pugnacity tires, Bun-B steps in to assert his calm authority until Pimp C is ready for another bout. With this in my car, my only dilemma concerns which disc should be on the stereo.
6. Tegan and Sara -
The Con
(Vapor/Sire) - Chris Walla made me realize how much I liked Tegan and Sara; now I wonder what I'd been missing. True, Walla gave their songs a moody, Death-Cab-style indie-pop makeover, but the tense domestic drama, and dual melodic assault came entirely from the Canadian sisters.
7. Radiohead -
In Rainbows
(self-released) - The words were actually Lil' Wayne's, but they should have been Radiohead's: "I promise… No surrender." Fortunately,
In Rainbows
was no surrender at all; it moved forward as it returned to guitar-driven arrangements. A band that seemed like it had floated off into another, terrifyingly distant, dimension flared into life with a warm, sensuous humanity. Unassuming, which Radiohead had never seemed, but still as essential as ever.
8. Prodigy -
Return of the Mac
(Koch/The Informers) - New York rapper returns to thick soul samples and his grimy roots; Mobb Deep's Prodigy set the trend for aging East coasters in 2007, and he didn't even need a movie for inspiration.
9. The National - Boxer (Beggars Banquet) - A stormy and sullen album that is also one of the year's most gorgeous. Its elegant façade conceals (barely) a heart thumping furiously.
10. Jay-Z -
American Gangster
(Roc-A-Fella) - The return to his hustler roots was contrived, but it sounded anything but. A traditional Jay-Z album would have been satisfying;
American Gangster
was cinematic and inspired: a marvel.
--
Jon Burke
1. Jay-Z -
American Gangster
(Roc-A-Fella) - 2006's
Kingdom Come
was not the triumphant return of Jigga many had expected. It showed a thoughtful, but not particularly inspired, Hova. It was rightly assumed that Jay's cushy lifestyle coupled with his status as CEO of Def Jam led to his dispassionate falloff. This year, Jay-Z's
American Gangster
, inspired by Ridley Scott's film of the same name, proved all the haters wrong. Whether teaming up with Lil' Wayne over deep, greasy layers of bass and 808. or spitting acidic solo verses about the highs and lows of life as a drug dealer, Jay-Z has returned - renewed and refreshed with one of the best albums of the year.
2. Beirut -
The Flying Club Cup
(Ba Da Bing!) - A sonic departure to France was all Zach Condon needed. His once Balkan sound became the soundtrack of the land that brought us the baguette, the beret and Serge Gainsbourg.
The Flying Club Cup
, named for a turn of the century (the 20th century, kiddies) French balloon race, is a near perfect album made by an twenty-one year old artist who, by all rights, should be decades away from perfection.
3. Menomena -
Friend and Foe
(Barsuk) - Armed with a bari sax and enough drums for ten bands, Menomena wrote, played and produced one of the first great records of 2007.
Friend Or Foe
offers a somewhat more organic take on the sound that bands like TV On The Radio have been pioneering. Menomena also gave one of the best performances at the 2007. Pitchfork Music Festival.
4. Sunset Rubdown -
Random Spirit Lover
(Jagjaguwar) - Spencer Krug + Jagjaguwar = perfection.
Random Spirit Lover
is an album that defies description. The album represents the culmination of Wolf Parade, Frog Eyes and Sunset Rubdown's previous efforts. I've been listening to it non-stop since October.
5. The National -
The Boxer
(Beggars Banquet) - Straight-ahead rock n' roll with vocals by Matt Berninger, who channels Stuart Staples and Nick Cave. A very solid and enjoyable listen. The great thing about the band's appeal and about the record is that the more you listen the more you hear and the more you like.
6. Battles -
Mirrored
(Warp) - Another highlight from the Pitchfork Festival, Battles may be the most rhythm oriented band today that doesn't utilize a drum circle. This is a record that has taken equal influence from Boards of Canada and Crazy Horse.
Mirrored
is music for cyborgs.
7. Deerhunter -
Cryptograms
(Kranky) - This album is a fucking mess. Maybe the most beautiful, ahead of its time, mess of 2007.
8. Radiohead -
In Rainbows
(self-released) - It's Radiohead. I mean come on. When was the last time they weren't fucking brilliant?
9. Castanets -
In The Vines
(Asthmatic Kitty) -The most slept on record of the year. Probably because it is one of the most sleep inducing albums of the year. That said, this is a dense, heavily layered masterpiece that in my opinion far surpasses the band's previous albums.
10. Ghostface Killah -
The Big Doe Rehab
(Def Jam) - After the crapshoot known as
More Fish
, Ghost came back swinging. The close of 2007. brought albums by both GFK and the whole Wu-Tang Clan - back-to-back on December Tuesdays.
The Big Doe Rehab
shows Ghost continuing his reign as one of hip hop's most inventive emcees and brings verses from Method Man, U-God and especially Raekwon, the likes of which haven't been heard in years.
--
Jonah Flicker
1. Kanye West -
Graduation
(Roc-A-Fella/Island Def Jam) - Hands down my favorite album of the year. Kanye continues to carry the torch for commercial hip-hop. While his "I'm so arrogant, but it works for me" persona is wearing a bit thin, he still makes some of the most forward-thinking, listenable hip-hop out there.
2. LCD Soundsystem -
Sound of Silver
(DFA/Capitol) - Shades of tender new wave and less of a focus on hipster irony elevate this one to the top of the list, surpassing James Murphy's debut.
3. Les Savy Fav -
Let's Stay Friends
(French Kiss) - We had to wait a loooooong time for a new one from LSF, but it was worth it. Toning down the dance rhythms, the band seems more focused on the rock.
4. !!! -
Myth Takes
(Warp) - Almost didn't even consider this one, but then remembered just how long it remained on my iPod. This album combines the best of !!!'s organic and electronic tendencies.
5. Arcade Fire -
Neon Bible
(Merge) - A follow-up album that doesn't know the meaning of sophomore slump.
6. Dizzee Rascal -
Maths + English
(XL) - Consistently outperforming most American rappers, Dizzee's latest finds more of his appealing yelping over the grimiest beats.
7. Modest Mouse -
We Were Dead Before the Ship Even Sank
(Epic) - Tom Waits-circus tunes aside, another winner from a band who deserves their recent huge success.
8. No Age -
Weirdo Rippers
(Fat Cat) - Experimental, noisy, quiet, and firmly rooted in a real sense of song structure and melody. Now signed to Sub Pop, I'm sure we'll be hearing a lot more from this LA duo.
9. Ghostface Killah -
The Big Doe Rehab
(Def Jam) - A second listen reveals just how nice this album is, especially in comparison to most major label hip-hop releases this year.
10. Consequence -
Don't Quit Your Day Job
(Good/Columbia/Red Ink) - Cons, a friend and collaborator of Kanye, released a playful and creative (and slept on) album that far surpassed Common's higher profile
Finding Forever
.
--
Clifton Gates
1. Dungen -
Tio Bitar
(Kemado) - Swedish woodsman laying down modern acid-rock throwback tracks gets the pole.
2. Liars -
Liars
(Mute) - Liars? Only if they said they sucked.
3. Oso -
Lonesome Tunnel Hum These Strong Arm Drones
- (self-released) - Nucking futz.
4. Arcade Fire -
Neon Bible
(Merge) - Took a while to warm up to but this is pretty decent.
5. Radiohead -
In Rainbows
(self-released) - Herboth put it best: fuck you guyses teams, Radiohead is as legit as it gets.
6. Panda Bear -
Person Pitch
(Paw Tracks) - Is it just me or did that Animal Collective disc this year kind of suck?
7. The Besnard Lakes -
Are The Dark Horse
(Jagjaguwar) - Those dudes in Indiana have one hell of a roster of bands, don't they?
8. The Field -
From Here We Go Sublime
(Kompakt) - Swedish? Check. Techno? Sort of. Minimalist? For real.
9. A Place To Bury Strangers -
A Place To Bury Strangers
(Killer Pimp) - Gets my Newcomers of the Year award.
10. Battles -
Mirrored
(Warp) - If these dudes had a vocalist and real vocals, they'd be at the top of the list.
--
Patrick Gill
1. The National -
Boxer
(Beggars Banquet) - A listen that swelters into a grand ensemble at times, while humming on all four cylinders at others. It contains the subtleties that separate this band from its peers.
2. LCD Soundsystem -
Sound of Silver
(DFA/Capitol) - We all know James Murphy makes hipster techno, and this album is chock full with infectious dancefloor grooves. It also contains melancholic and nostalgic sentiment that goes beyond mere new wave nods.
3. Okkervil River -
The Stage Names
(Jagjaguwar) - More of a refined product than the slow surge of 2005's
Black Sheep Boy
, this album offers various acts: some country roots, some rock driven, some dark and confessional, all of which overflows in a final, tragic rendition of a Beach Boys' classic.
4. Modest Mouse -
We Were Dead Before the Ship Even Sank
(Epic) - Even with the addition of Johnny Marr on guitar (a stylistic fit) and vocal contributions by Shins' James Mercer, this is a straightforward Modest Mouse album with the prominent Isaac Brock taking listeners on a jarring ride.
5. Radiohead -
In Rainbows
(self-released) - All hype aside, Radiohead feel human, perhaps for the first time. A few dusted off live favorites and outtakes feel fresh with a new batch of ever-amazing Radiohead material.
6. Battles -
Mirrored
(Warp) - At first shocking, perhaps alienating, but this bionic math rock has a pleasant human element that's almost soothing.
7. The Good, the Bad & the Queen -
The Good, the Bad & the Queen
(Parlophone/Virgin/EMI) - Unusual all-star lineup headed by Damon Albarn make gloomy British music for dub groovesters. A uniquely claustrophobic listen.
8. Pela -
Anytown Graffiti
(Great Society) - Pela sound fresh from Midwest Small Town U.S.A.; the delivery is passionate, the tales feel authentic, and the title track will bring down the house every time.
9. Pale Young Gentlemen -
Pale Young Gentlemen
(self-released) - Barroom balladry by an act with theatrical tendencies. If there's any justice in the music world, these Madison, WI-based musicians will yet find the national spotlight.
10. Arcade Fire -
Neon Bible
(Merge) - After the construction of their sanctuary studio, Arcade Fire return with non-secular overtones. They also show off their Boss roots, taking listeners in some unexpected and awe-inspiring directions.
--
Eric J Herboth
1. Dälek -
Abandoned Language
(Ipecac) - The only reason this Newark,
New Jersey, outfit wasn't on my best of 2006. list was because they didn't have an album out last year. How refreshing is it to hear heavy, dirty, massive urban music that is full of intriguing beats, off-kilter melodies and sound layers rather than endless lines about getting paid, getting a gat, getting head, and getting even with your bitches? Very.
2. El-P -
I'll Sleep When You're Dead
(Def Jux) - After a slight misstep on his last effort, Def Jux's orange jumpsuit-clad lyricist of mystery returns to the fold with a solid album full of gnarly soundscapes and, it bears repeating, El's out-there verbal flow.
3. Panda Bear -
Person Pitch
(Paw Tracks) - Having given
Strawberry Jam
, the 2007. album from Panda Bear's full-time group Animal Collective, only a cursory listen before losing interest, I was taken aback by the weird little pop gems of
Person Pitch
. Pop music's best have got nothing on Noah Lennox as it is, and isn't Panda Bear the one making babies with the girl from Múm, or was that Avey Tare? I forget.
4. Kammerflimmer Kollektief -
Jinx
(Staubgold) - Karlsruhe, Germany's best (only?) band returns after falling off my radar after the Temporary Residence Limited issues of their Payola albums, and they're still jamming all sorts of outsider noise and pseudo-orchestrations into their engaging sound collages. Too bad this band is German with a German name, as Rammstein probably trashed out the Kraut cred in the wider world several years ago.
5. Cloud Cult -
The Meaning of 8
(Earthology) - With its opening barrage of digital organicism, Cloud Cult's follow up to 2005's acclaimed and unfortunately named Advice from the Happy Hippopotamus sets about exemplifying the creative bloom of sound collage. While not necessarily directly in deed, primary songwriter Craig Minowa exhibits in spirit the high points of pop music's excesses; lines can be drawn from The Meaning of 8. to the old (Pixies, the heyday of the Elephant 6. collective) and the new (Arcade Fire, Dan Snaith's Manitoba/Caribou). Awkward vocals, oddball dynamics, weeping strings, dirty electronic flourishes, off-piste melodies - although it is all loosely, sometimes perilously darned together, everything is here to a certain degree and ultimately it all holds water.
6. Six Organs Of Admittance -
Shelter From The Ash
(Drag City) - Having arrived at Ben Chasny's music a bit late to the game, I'd only really begun to come to terms with the shapeshifting ruggedness of his Six Organs back catalog when this beast dropped this fall. While the general direction in underground music, at least amongst my favorite artists (see CocoRosie below) seems to be toward as clean and polished a studio sound as possible, Chasny's songs on
Shelter From The Ash
translate unexpectedly well into the slicker sound. I'd of course prefer the looser, grittier lo-fi feel of his past work, but I'll take this if it's all I can get.
7. Oso -
lonesome tunnel hum these strong arm drones
(self-released) - Having released all of Phil Taylor's previous work on my own label, I've always been required to issue a disclaimer when listing a Volta Do Mar or Oso album in my year-end lists. But not so for 2007, as the mad guitarist and his band of out-there players further immersed themselves in the DIY guerilla war against pop culture by releasing this, their second hand-packaged and beeswax-dipped full-length, entirely on their own. If you've any doubts about Oso's chops, head over to the band's website to peruse a few tracks or download the burner "Last Warning." Doubts will evaporate.
8. Radiohead -
In Rainbows
(self-released) - It still amazes me that "critics" who are supposedly well versed in not only the moment in popular music but also the past and how the present shapes the future can pan Radiohead. Aside from their horrendous debut,
Pablo Honey
, this band has made nary a misstep over the course of six albums, all of which, including
In Rainbows
, are solid from start to finish and several of which, namely the back-to-back world rockers of
OK Computer
and
Kid A
, have lent the band the distinguished position of having shaped modern music more than any other single entity since the Beatles.
In Rainbows
is far from the band's best work, but even so it is more entertaining than 99% of the albums released in 2007.
9. Arcade Fire -
Neon Bible
(Merge) - It took me quite a while to pick up this album again, after its initial listens left an impression of lack of focus. Perhaps I wasn't prepared for the less obvious catchiness of their follow-up to their immediately catchy
Funeral
, who knows. Regardless, I now thoroughly enjoy this album.
10. Iron & Wine -
The Shepherd's Dog
(Sub Pop) - Three words and a letter that best describe what I like about this album: "Boy with a coin."
OTHER NOTABLES
Mirah and Spectratone International -
Share This Place
(K) - Although this album falls well below the caliber of Mirah Yom Tov Zeitlyn's solo work under her own name, it nonetheless has her lush vocals and is one of the better albums of the year. She still plays a mean accordion and uses words like "liquefaction" in her songs, but this one should be chalked up to Mirah's solo work influencing the reception of -
Share This Place
in a positive direction.
The National -
Boxer
(Astralwerks) - Damn good stuff with a heavy lounge-style vocal that is warm and inviting atop creative but not outlandish rock songs. Vanilla never tasted so good!
Burial -
Untrue
(Hyperdub) - If I were more into dub stylings this album would have been on the top of the list. Unfortunately Burial loses out on my personal tastes. Still an amazingly good album, though.
Bloc Party -
Weekend In the City
(Vice/Wichita) - Even though the dude has the voice, I'm continually stoked on Bloc Party for being from the UK and not sounding like some lame ass douchebag Brit band ala Coldplay. Although "The Prayer" was a pretty tight single, backed by a video that, no matter what anyone else says, is 100% about the glories of drug use, the album's opening vocal verses of "Song For Clay" is very much a turn-off for an otherwise solid record, and nearly ruins an otherwise great song. I've since edited out the first 59. seconds of the track, that's how bad it is. Without it, the album would have made the top ten.
Battles -
Mirrored
(Warp) - A good deal of this album, especially the meandering and oddly-pitched opener, "Run:In," reminds me of Phil Taylor (see Oso above) and Tony Ceraulo's interplay in the mid-stages of Volta Do Mar's career, before Phil got crazy about the slide guitar and minus the electronics. Powerful, interesting, and completely non-conventional instrumental music can, indeed, rock.
Beirut -
The Flying Club Cup
(BaDaBing) - This album would probably get an 8/10. on the Alfoldy scale, which only goes from 7 to 9, and it is, truth be told, a pretty good album. But when Zach Condon dropped
Gulag Orkestar
for his debut he, at the same time, also put his back to the wall for his sophomore follow-up. As good as this record is, it still sounds kind of weak in the shadow of its predecessor.
CocoRosie -
The Adventures of Ghosthorse and Stillborn
(Touch and Go) - Wait, what happened? Did the sisters Casady sign to Dreamworks or something? Why does this album sound so polished, and why are there so many trip-hop influences? Aw, I think I actually made some sort of "pfffffffffffffft" sound as a lot of the expectations I had for these two escaped into the ether.
Fridge -
The Sun
(Temporary Residence Ltd.) - Just didn't listen to it enough.
--
Mikel Jurgen
1. LCD Soundsystem -
Sound of Silver
(DFA/Capitol)
2. Kanye West -
Graduation
(Roc-A-Fella/Island Def Jam)
3. Battles -
Mirrored
(Warp)
4. Dälek -
Abandoned Language
(Ipecac)
5. Radiohead -
In Rainbows
(self-released)
6. Stars Of The Lid -
And The Refinement Of Their Decline
(Kranky)
7. A Sunny Day In Glasgow -
Scribble Mural Comic Journal
(Notenuf)
8. Burial -
Untrue
(Hyperdub)
9. El-P -
I'll Sleep When You're Dead
(Def Jux)
10. Dizzee Rascal -
Maths + English
(XL)
--
Bob Ladewig
1. Battles -
Mirrored
(Warp) From the first time I heard "Atlas" I knew this record was special. It is a step in a new direction for music. Not your average boring instrumental record, not quite as manic as full-fledged math rock. A unique sounding record that stays with you. I think this will inspire many young bands in the future.
2. Menomena -
Friend and Foe
(Barsuk) - Talk about unique, these three Portland boys stretch the boundaries of pop music and put a sinister and crazy twist on it. It's kind of unbelievable how catchy this record is.
3. LCD Soundsystem -
Sound of Silver
(DFA/Capitol) - Nobody gets you dancing like an old New York punk. James Murphy knows what it takes to get everybody dancing... and it doesn't look like he cares one bit. He works hard for himself, and it seems to pay off.
4. Jens Lekman -
Night Falls Over Kortedala
(Secretly Canadian) - Even men like myself can't help but swoon over the crooning Jens Lekman. A beautiful pop record that will forever remind me of my cross-country trip from Chicago to Portland. Thank You, Jens.
5. The Teeth -
You're My Lover Now
(Park The Van) - My underdog, out-of-the-blue, Top 5 album of the year belongs to The Teeth this year. A crazy Philadelphia foursome who make some of the most interesting pop songs around. Not only is this music wonderful, but the fellows in the band are great!
6. Bon Iver -
For Emma, Forever Ago
(self-released) - The soft spot on my top 10. this year belongs to Bon Iver. If you put Sam Beam and TV on the Radio in a blender you would pour Bon Iver out and drink it up.
7. Beirut -
The Flying Club Cup
(BaDaBing) - What's the opposite of sophomore slump? Oh, that's right -
The Flying Club Cup
. This is a perfect next step for the musical journey of Beirut.
8. St. Vincent -
Marry Me
(Beggar's Banquet) - I will, Annie Clark...I will.
9. Man Man -
Six Demon Bag
(Ace Fu) - I love this album and I loved their live show. Man Man is the hardest working bunch of lunatics around. I can't wait to see what they do next.
[EDITOR'S NOTE: This was actually released in 2006]
10. Iron & Wine -
The Shepherd's Dog
(Sub Pop) - I listened to this album every day for almost two months. I loved it. Then I saw Iron & Wine play live and fell fast out of love for the band. It's a bunch of old hippies who have come to jam during the end of each and every song. Boo! Five minute outro's transitioning from one song to the next? Boo! But still, it's a great record.
--
Pete (Motherfucking) Lindblad
1. Dinosaur Jr. -
Beyond
(Fat Possum) - Nobody, but nobody, expected this from Dinosaur Jr.'s reunited original lineup. How could they? What with J. Mascis' lukewarm solo career and Lou Barlow's fading relevance, this had disaster spray painted all over it. And yet, somehow, they pulled it together, beating swords into plowshares with eardrum-wrecking distortion, bulldozing rhythms and an aerial circus of gymnastic guitar solos from a true guitar god. And underneath all that noise are the same grabbing hooks and bruised melodies you fell in love with back in the mid-'90s. A comeback for the ages.
2. Hopewell -
Beautiful Targets
(Tee Pee) - A psych-rock masterpiece that trumps anything Jason Russo's former band, Mercury Rev, has ever done,
Beautiful Targets
is a flood of full-bodied, symphonic sound. Frenetic pop energy and rich, swirling melodies make this a
Sgt. Pepper
for the new millennium, where strings, horns, big, sweeping guitars and grand piano all collide in beautiful crashes and radiant explosions. You need to discover this band.
3. Architecture In Helsinki -
Places Like This
(Polyvinyl) - Island music for post-punk refugees, Architecture In Helsinki's latest casts the nerdy, white funk of The Talking Heads in a tropicalia setting. This electro-pop finger painting dances spasmodically with child-like glee.
4. Young Galaxy -
Young Galaxy
(Arts and Crafts) - Lift your gaze to heaven - or, in this case, Canada - and soak in the space-rock wonder that is Young Galaxy's deeply affecting debut. With the DNA of Pink Floyd, Spaceman 3, The Church and Ride swimming in its genetic soup, Young Galaxy invites you to get lost in its starry, shoegazer expanses and fall to your knees in prayerful solemnity. "The Sun's Coming Up And My Plane's Going Down" makes grown men weep.
5. Buffalo Tom -
Three Easy Pieces
(New West Records/Ammal Records) - Never bowing to trends and always turning a deaf ear to critics who demanded the band be something it wasn't meant to be, Buffalo Tom quietly crafted pleasing, if sometimes bland, heartland rock in the early '90s that missed the mark as often as it delivered the goods. Then, the Boston-area band went all Rip Van Winkle on us and disappeared. Almost 10. years after its last studio album, Buffalo Tom returned with its most assured, immaculately crafted album, giving us what was expected from them all along. Honest, simple and dead-on in its pained, vignette-framed depictions of small-town life and its disappointmeents,
Three Easy Pieces
hurts so good.
6. Meat Puppets -
Rise to Your Knees
(Anodyne Records) -
Rise to Your Knees
is dark, desert psychedelia for cowboys on acid. Aging gracefully, at least sonically, the Meat Puppets opt for quieter, multi-layered instrumentation and oddball arrangements. There's even a bit of breezy reggae thrown in for good measure. Another comeback that didn't suck.
7. Love -
Blue Thumb Recordings
(Hip-O Select) - Need evidence of Arthur Lee's genius? After bathing in Love's classic psych-pop masterpiece
Forever Changes
, explore the vaults - Geraldo style - of
Blue Thumb Recordings
and revel in this collection's incredible diversity. Dipping its painted toes in lakes of acid-laced folk, Love flies off the handle into '60s rock free-for-alls and tosses out loony, but gorgeous, melodies like lassos. Lee wasn't human.
8. Maps -
We Can Create
(Mute) - A space odyssey for audiophiles,
We Can Create
breathes in, breathes out and then unveils this wildly ambitious, cinematic, space-pop epic to a world in dire need of escapism. Maps' electronic cool and psychedelic radiance embraces Spiritualized, My Bloody Valentine and Moby, creating sonic architecture that's smooth and glassy, and always interesting.
9. John Doe -
A Year In The Wilderness
(Yep Roc) - Weathered by trials and tribulations that are universal to humankind, John Doe's gritty lyrical realism and scuffed, tattered melodies make
A Year In The Wilderness
hard to put down. It has the glow of dying embers and is haunted by past sins. The tension is palpable in the strained duets of Doe and Kathleen Edwards, making this a musical household in need of couples counseling. Doe is still capable of writing edgy, dark songs that never sugarcoat the truth, and for that, he is a national treasure.
10. The Shins -
Wincing The Night Away
(Sub Pop) - A darker, more lush dalliance with winsome pop,
Wincing The Night Away
veers off the sun-splashed, '60s British Invasion highway these Kinks-worshipping songsmiths had gotten bored of traveling and heads into thick, cloudy, world-weary swirls of wistful pop. They've still got it.
--
Jason Middlekauff
1. Josh Ritter -
The Historical Conquests of Josh Ritter
(SMG) - If you enjoy fresh, literate, folk-rock and you don't have the album, get up from your computer right now and go buy it. If you're not a fan of that sort of music, go buy it anyway--you'll thank me that you did.
2. The National -
Boxer
(Beggars Banquet)
3. The Avett Brothers -
Emotionalism
(Ramseur)
4. Bruce Springsteen -
Magic
(Columbia)
5. Robert Plant/Alison Krauss -
Raising Sand
(Rounder)
6. Wilco -
Sky Blue Sky
(Nonesuch)
7. Feist -
The Reminder
(Cherry Tree/Interscope)
8. Band of Horses -
Cease To Begin
(Sub Pop)
9. Ola Podrida -
Ola Podrida
(Plug Research)
10. Will Stratton -
What The Night Said
(Stunning Models On Display)
--
Trent Moore
1. LCD Soundsystem -
Sound of Silver
(DFA/Capitol)
2. Wilco -
Sky Blue Sky
(Nonesuch)
3. The Shins -
Wincing The Night Away
(Sub Pop)
4. Arcade Fire -
Neon Bible
(Merge)
5. Nine Inch Nails -
Year Zero
(Universal/Island)
6. Smashing Pumpkins -
Zeitgeist
(Martha's Music/Reprise)
7. Radiohead -
In Rainbows
(self-released)
8. The White Stripes -
Icky Thump
(Third Man/Warner Bros/XL)
9. The National -
Boxer
(Beggars Baquet)
10. The Good, the Bad & the Queen -
The Good, the Bad & the Queen
(Parlophone/Virgin/EMI)
--
Eric J. Morgan
1. The Arcade Fire -
Neon Bible
(Merge) - While
Neon Bible
is a safe and fairly predictable choice for album of the year, the fact remains that there are few contemporary artists as cunning and sonically intriguing as The Arcade Fire.
Neon Bible
is a more somber affair than its predecessor,
Funeral
, and features resplendent wanderings through dark corridors and a dystopian worldview. Yet the album lingers in the mind, and is to be celebrated for its consistently absorbing aura and unsettling undercurrents.
2. The Field -
From Here We Go Sublime
(Kompakt) - Here's the hyperbole: this is, perhaps, the greatest electronic release of the new millennium. The melodies and samples are ridiculously catchy while at the same time strikingly thought-provoking, and the beats are flawless. I stumbled upon this gem late into the year and it catapulted to the top echelon of my list after one listen - that's how stellar it is.
3. Eluvium -
Copia
(Temporary Residence) - How to describe the gorgeous soundscapes of Eluvium? It's kind of like being surrounded by the comforting embrace of pillow-like clouds, the soft billows lulling you into an ethereal world of constant warmth and melancholy.
4. Bat For Lashes -
Fur & Gold
(Caroline) - This moody, creepy debut evokes the dark pathos of lantern-lit evenings, old cemeteries, and the frightening escapes of All Hallows' Eve. There was no better album to drift away to in the darkening days of autumn than
Fur & Gold
.
5. Efterklang -
Parades
(Leaf) - Undoubtedly, one of the most beautiful albums of the year. Efterklang departs from their previous incarnations of electronic post-rock for a more natural sound, and the result is a gorgeous tapestry of echoes and pure wonder. It's easy to become lost in the mountainous layers of this mesmerizing world.
6. Blonde Redhead -
23
(4AD) - For a long while
23
occupied the top spot in my list, but slipped a bit as further releases made their way out. Still, this is an album of dizzying, echoing guitars, pulsing rhythms, and subtle textures, a near-perfect piece of neo-noir art. It's certifiably Blonde Redhead's most mature effort.
7. Sea Wolf -
Leaves In The River
(Dangerbird) - Acoustic guitars and quiet electronic tinges create a unique ambiance throughout
Leaves In The River
, another release perfectly timed for the crisp decay of autumn. Amidst its fine musicianship,
Leaves In The River
weaves fascinating tales of lost loves and wayward souls.
8. PJ Harvey -
White Chalk
(Island) - A departure for Ms. Harvey, as piano, and not guitar, dominates this rather moody, almost gothic album. Why this gorgeous, introspective collection of haunting ballads did not garner more critical acclaim astounds me, as it's easily one of the year's most challenging-and best-albums.
9. Radiohead -
In Rainbows
(self-released) - There were several albums that I
liked
better than
In Rainbows
, but none of them are
better
albums than
In Rainbows
, if that makes sense. While certainly not Radiohead's magnum opus, the album is a tighter, more comprehensive effort than everything since
Kid A
and deserving of most the praise it's received, though the ravenous gushing of the independent media was just the slightest bit gratuitous.
10. Clare & The Reasons -
The Movie
(Frog Stand) - This lovely little debut takes my final spot-just barely-with its beautiful arrangements and wistful lyrics recalling a by-gone era.
The Movie
transports the listener to a not-so-long-ago time, serving as a lush homage to New York City and its inhabitants of a generation past.
Honorable Mentions:
Explosions In The Sky -
All Of A Sudden I Miss Everyone
(Temporary Residence)
Hooverphonic -
The President Of The LSD Golf Club
(PIAS)
LCD Soundsystem -
Sound Of Silver
(DFA)
M83. -
Digital Shades Vol. 1
(Mute)
Modest Mouse -
We Were Dead Before The Ship Even Sank
(Epic)
Múm -
Go Go Smear The Poison Ivy
(Fat Cat)
Joanna Newsom -
Joanna Newsom & The Ys Street Band
(Drag City)
The Octopus Project -
Hello, Avalanche
(Peek-A-Boo)
The Shins -
Wincing The Night Away
(Sub Pop)
Sigur Rós -
Hvarf-Heim
(XL)
---
CONTINUE TO
STAFF LISTS N-Z
--
The LAS Staff
A number of the Lost At Sea staff have worked and continue to work for various publications, both independent and commercial. Often very stifling in their narrow focus, conventional media outlets left our writers hungry for something bigger, more diverse, more communal. More active, because this is the twenty-first century and it makes sense. During it's short life LAS has accomplished many of its goals (but not all) and has in turn set new ones. Everything that we accomplish is through teamwork and cooperation, both with our regular staff writers and with our contributing writers. LAS is nothing short of a collective. Another contrasting point to some of the magazines out there is that we've checked our egos and scene ethics at the door. We welcome anyone and everyone to contribute and cover a wide range of topics. LAS does not follow your guide lines.

See other articles by The LAS Staff.
If you'd like to help spread the word about LAS, or simply want to outfit yourself with some adhesive coolness, our 4" circle LAS stickers are sure to hit the spot, and here is how to get them:
-->
Send an with $2 in PayPal funds to cover postage. Don't worry, we'll load you up with enough to cover your town. Then just be patient. They will arrive soon.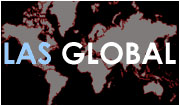 LAS has staff and freelance writers spread across North and South America, Europe, and a few in Southeast Asia as well. As such, we have no central mailing adress for unsolicited promotional material. If you are interested in having your project considered for coverage, please contact us before sending any promotional materials - save yourself time and postage!