LITERATURE
»
Full Dark, No Stars
- Stephen King's new novella questions mankind's ability to trust others.
[02.21.2011 by Bridget Doyle]
MUSIC
»
The Top 30 Albums of 2010
- Fashionably, fabulously late, our favorite music (and believe me, there was a LOT) of 2010, the year that some have called the best year for music ever. And only some of those fools work here. Plenty of usual suspects, lots of ties and a few surprises that I won't spoil, including our unexpected #1.
[12.24.2010 by The LAS Staff]
LOSTATSEA.NET
>
FEATURES
>
March 11, 2005
I love San Francisco. Every day I feel blessed to be able to wake up, walk outside, step over that homeless guy on my stoop and take a deep breath of glorious Northern California air. The late-night clang of the cable cars and diesel roar of the buses right outside my window are like sweet music to my sleepless ears. What fun it is to traipse down Haight St. throwing quarters to dirty hippies like a Twenty-First Century Johnny Appleseed. And every winter, the deal gets sweetened when the Noise Pop Music Festival rolls into town. Throughout the year, there is no shortage of good live music to see, but for a special week, bands overrun the city like fog rolling in over the Golden Gate Bridge. Spanning six days, over fifty bands and multiple venues, Noise Pop gives us locals a good reason to blow a ton money on tickets, drink a bunch of beer and ditch a couple of days of work.
TUESDAY
It was opening night, and I was minutes away from fighting the staff of the Great American Music Hall, swearing off Noise Pop and spending the rest of the week stewing in my own rage. The only thing stopping me was my journalistic integrity and lack of anything better to do.
Having to work later than expected, I didn't make it down to the Great American Music Hall until a little after nine. Luckily for me, neither did anyone else, as the line to the ticket window stretched around the block. Trying to meet friends that were already inside, I was stuck waiting by myself. As pissed as I was, the line did afford a good bit of comedy. First of all it ran right across the entrance to the O'Farrell Theater, the biggest strip club/whore house in the city. I don't know who was more uncomfortable, the men leaving the theater who had to wade through the throng of indie kids, or the indie kids who looked positively terrified that one of these people might accidentally touch them.
The other things that kept me entertained were the running monologues by all of the homeless and crazy people that show up whenever a crowd gathers. It is a fact that if you stand still for more than ten seconds anywhere in San Francisco, someone will ask you for change. On a big night like this, with tons of competition, panhandlers can be sure to come with their "A" game in hopes of departing with some of your hard earned merch money. What exactly are you supposed to say to someone who is trying to sell you a ticket that is just a newspaper that has been folded up really small?
After waiting in line for forty minutes, I was right up front, next to get an exasperated look from the girl in the ticket window when I told her that I was on a list. Before I could be glared at, I was instead told that if I hadn't purchased my ticket, I had to wait until all of the paying customers were let in. Apparently there was a rule that guest list and pass holders had to show up within an hour of the doors opening.
First of all, and I don't want to sound like some big shot, but who gets to a show before eight o'clock? Secondly, I felt worse for the people who had spent $125 on a festival pass and were in the same predicament, only they were probably about ten thousand times more pissed than I was. Lastly, and most infuriatingly, why did someone have to wait until I was in the front of the line to announce this? In the end, all I could do was ball my fists, clench my teeth and curse like a sailor.
After all other non-paying ticket holders were corralled into a line - and I use the term line loosely, as it wasn't moving and was more of a grouping of angry looking people - I waited for about five minutes before deciding to go to a bar. At this point, I wasn't sure whether I would be killing some time before heading back to see what progress my fellow lepers had made, or ending the night on a bitter note by drinking cheap beer and playing The Joker repeatedly on the juke box.
Heeding my own advice, I set out for the little bar that doesn't try, The Ha-Ra. Amazingly, Carl wasn't bartending, so I instead had to rely on his far less sarcastic doppelganger for a pour. And true to form, the bar was out of beer. Has McDonald's ever been out of hamburgers? When was the last time you asked for a book at the library and got a blank stare? If there was ever a bar that could manage this level of business acumen, it is the Ha-Ra. Actually, I stand corrected, I was able to procure two seven-ounce bottles of Miller Genuine Draft. It is then that I realized that there is actually something worse than Miller High Life and that the same company is responsible for it. I had almost choked down a bottle when things started to get weird. Apparently, forgetting that we were in a drinking establishment, the two other people in the bar started comparing Tuna Casserole recipes. I would understand if those two people happened to be my mom and my Grandmother and we were in the kitchen, but this was a sixty-five year old, toothless bartender and some guy who looked like he would be a sixty-five year old, toothless bartender in about twenty years. Worried that if I stayed much longer I would find myself a sixty-five year old, toothless bartender in forty years, I decided to duck out and see if all paying customers had entered the show yet.
The line for paying customers was gone, but the herd of my peeps was still waiting impatiently outside. After hearing the beginning of Ted Leo's set, I was informed that we would now be let in one at a time as people left for the evening. Because that is what people usually do, they sit through three hours of opening bands and leave at the first note played by the headliner. It was about five minutes into this wait that I heard a quote that made all of this tomfoolery worth it. Some guy behind me who had shown up about two minutes prior offered up this little nugget of goodwill, "Why should we get penalized for being cool enough to know someone who can get us into the show?" I couldn't wait to get inside to buy this man a drink.
Once I was in, the night's troubles faded away as Ted Leo played a solid set of his catchy and intelligent rock n' roll. I only missed two songs, and over the course of the next hour he played all of my favorites. Ted also gets bonus points for The Pharmacists being the most hirsute backing band I have ever seen. The bassist looked like Teen Wolf's Dad to the drummer's Teen Wolf. I wouldn't have been surprised if I saw one of those dudes surfing on top of the tour bus as it drove away into the light of the full moon.
All in all, I couldn't be too upset with the way the night turned out. After some disappointment, I eventually got into the show, somehow managed to find my friends, and even scored a few beers on the house from the fellow San Diego native bartender who was psyched on my brown and yellow Padres hat. In spite of the early headache I had endured, that night I ended up going to bed happy and really drunk.
THURSDAY
Seeing as how Thursday is the new Friday, I decided to celebrate the end of the week by taking off of work early and heading over to Thee Parkside to see Pidgeon play. Every day of the festival Thee Parkside, Noise Pop headquarters, had a special happy hour with free bands and drink specials starting at five. I would have preferred
free drinks
and special bands, but I'll take what I can get. After telling my boss I had important journalistic work to attend to, I set off to try and get loaded ASAP.
The whole way there, a friend of mine and I made cracks about Thee Parkside being Noise Pop Festival Headquarters and couldn't wait to see firsthand what that entailed. It turns out very little. The divey interior had no more decorations than an overzealous festival-goer with a little too much money to burn; the drink special was a dollar off a bottle of Miller High Life (which at three dollars made it
almost
tolerably overpriced) and girls giving away Fernet Blanca hats. By the way, the makers of Fernet must think that Indie rockers subsist off of the stuff. Posters of it were plastered on the walls of every venue, and bartenders and waitresses were doing their best to pour the stuff down your throat. For those of you who are not acquainted with the liquor, it is just a step bellow Jagermeister on the dark liquor I like to drink when I want to wake up with strange bruises, one shoe, and a missing wallet the next day list. Couple that with the propaganda-like promotion of Miller High Life, and if you weren't careful you were liable to do some serious shit you would be regretting for a long time.
Pretty soon, Pidgeon took the stage and played to a smattering of onlookers spread out across the bar. It is unfortunate that the band had to play this sparsely-attended early show. They were much better than most of the higher profile opening bands I saw throughout the festival. San Francisco natives, they experiment with a fast/slow, loud/soft dynamic that is personified by the violent screams of the male singer and the sweet and innocent singing of the female singer. Utilizing three guitars to create a ton of noise, Pidgeon is a San Francisco band that probably won't have to play this early much longer.
After enjoying a much too short set, my companions and I finished our drinks and set of for the Café Du Nord and Comets on Fire. Not wanting to arrive too early, I checked in to get my press pass and then headed over to the Lucky 13 down the street. Only 8:30 and already a little bleary-eyed, I had a few more drinks, got lost looking for the bathroom and watched my friend lose at pool to someone dressed like a pirate.
I arrived back at the Café Du Nord in time to catch the third band and quickly lost interest. I'm not sure what their name was, but the noise they were making was enough to drive me to the back of the crowded room. Falling somewhere between bad jam music and a fifth grade band class learning how to play their instruments, they sounded out of time with each other, making it difficult to concentrate on the what was happening onstage. With nothing else to do, more games of pool ensued on the clubs slanted and confined table. Somehow I managed not to put someone's eye out or knock over a drink as the pool table is situated a little too close to a few of the tables and chairs.
After a twenty minute intermission, the introduction of an incessant drone emanating from onstage could only mean that Comets On Fire were about to start. A bunch of guys walked onstage, looking like they had just emerged from a forest or the sixties, and proceeded to get crazy. The band plays an experimental psychedelic rock that has the power to level everything in its path. There were no discernible songs breaks, only a constant barrage of effects laden guitars, nob twiddling and epic drumming that burrowed its way deeper into your skull than the little critters in
The Wrath of Khan
. Distorted vocals carried over the music occasionally, unintelligible and felt more than heard. The music periodically ebbed, but for the most part provided the sound for a futuristic freak-out your wannabe hippy parents never even dreamed off.
After forty-five minutes of this sonic bombardment, the long day and two consecutive shows started to take their toll. Slumping into a chair, I felt like I had taken the brown acid and needed to get home before I started tasting the music. Emerging from the underground club, all my friend could stammer out was, "I feel like my brain is going to explode." I'm sure the band would take that as a compliment. My friend also said that he had waited on Wavy Gravy one time at a restaurant and that the epitome of the peace and love sixties was, "a big, fat, asshole." Heavy, man.
SUNDAY
Slightly upset that it was an afternoon show, I was nonetheless thrilled that The Thermals would be playing Noise Pop. It hadn't even been that long since they last came to town, but I was more than willing to go see them again. A textbook example on how to make great records quickly, with little money and no pretense, the band is fantastic live, usually blowing through their entire catalog in less than forty-five minutes. Barely taking a pause between songs, they don't swagger or pontificate, instead letting the music do the talking.
Which is less than I can say about the opening band. I arrived obscenely early and had the pleasure of sitting through every band on the bill. Although I usually side with the home team (except when it is that steroid abusing jerk, Barry Bonds), The Yellow Press were a little too intent on parading around onstage for my taste. I don't mind a little attitude, but I like it in equal proportion to the music. Sure, Mick Jagger struts around like he's an epileptic chicken, but he's not playing at 1:30 on a Sunday afternoon at the Bottom of the Hill. But hey, as long as Hot Hot Heat is able to consistently sell out venues, there is a chance that The Yellow Press could be the next Rolling Stones.
Following The Yellow Press was the Hold Steady. Giving them my usual opening band benefit of the doubt, I think it was only about ninety seconds into their set before I found myself sitting against the back wall with my head down, trying to figure out how long of a nap I could get in before these guys finished. The music was tolerable; I think the singer lost me with his stage banter. The guy must have a chip on his shoulder the size of Williamsburg. This is San Francisco; I really don't give a fuck if you take the L Train to work. For some reason, people seem to really like their album, so maybe my bias is unfounded. Oh wait,
Spin
called their album the best thing you didn't hear last year. Looks like I'm right.
In a surprise move, The Helio Sequence, who I thought were headlining, ended up playing before the Thermals. So far, the band's claim to fame has been that the drummer temporarily filled in on drums for Modest Mouse when Jeremiah Green lost his marbles. The Helio Sequence's music is atmospheric and surprisingly dense, considering the band is comprised of only two people. The shimmering wash of the guitar and the soothing cadence of the drums had the audience swaying like candles in the wind for the entirety of their set.
After an exhaustive afternoon of standing, staying sober, and thinking about how wet I was going to get after the show in the relentless downpour, the Thermals finally took the stage. True to form, no words were spoken before the band blasted into their first song.
Keeping their momentum the entire time, they played all of the favorites plus three new songs before calling it a day. If the great new songs were indicative of the direction the band is heading, they may soon find themselves getting name-dropped on The OC. Like usual, they were really enjoyable to watch and were the highlight of the gloomy and wet Sunday.
It was during The Thermals set that I witnessed what could be the coolest thing I have ever seen at a show. A couple brought along their two very young daughters and had them rocking out the whole time while wearing earmuffs. It warmed my cold, jaded heart to see a little girl running around the bar with huge earmuffs dwarfing her small head, bumping into people's legs, and eating cherries given to her by the bartender. I would be bitter at my parents for not taking me to concerts when I was that little, but knowing my dad's taste in music, it is probably best that I wasn't exposed to Eddie Money at such a young age. About all I would have gotten out of it is Two Tickets to a life of virginity.
Once again, Noise Pop was a rousing success. A high number of quality acts cruised into town to play mostly sold-out shows. San Franciscans were treated to a multitude of wonderful bills all packed into a dense and draining week of music. Although you would have to be crazy, unemployed or scarily into the scene to try and tackle all of the shows over the course of the festival, even casual fans were able take in a couple of bands they liked over the six days. I only attended four shows, and still managed to feel like I was the walking dead by Sunday evening.
Although not as big as SXSW, and not as festival-like as Coachella, Noise Pop has become an excellent showcase for independent music in one of America's most fantastic cities. No rational person should ever pick two sweltering days stuck in the desert listening to music in a tent over a week enjoying the progressive attitude, breathtaking scenery and mind-blowing homeless problem of San Francisco. Next year, I suggest you come for the music and stay for the gay marriages.
SEE ALSO:
www.noisepop.com/2005
--
Kevin Alfoldy
An aspiring global adventurer who cut his teeth on the sandy beaches and dirty bitches of Southern California, Kevin Alfoldy now spends his non-vacation days in Brooklyn, New York, where he occasionally finds the time to rub the crust out of his eyes long enough to contribute reviews and feature articles for LAS. A longtime staff member, Kevin also captains the tattered, often half-sunk raft of EPmd, our irregular column of EP reviews.

See other articles by Kevin Alfoldy.
If you'd like to help spread the word about LAS, or simply want to outfit yourself with some adhesive coolness, our 4" circle LAS stickers are sure to hit the spot, and here is how to get them:
-->
Send an with $2 in PayPal funds to cover postage. Don't worry, we'll load you up with enough to cover your town. Then just be patient. They will arrive soon.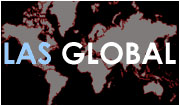 LAS has staff and freelance writers spread across North and South America, Europe, and a few in Southeast Asia as well. As such, we have no central mailing adress for unsolicited promotional material. If you are interested in having your project considered for coverage, please contact us before sending any promotional materials - save yourself time and postage!