LITERATURE
»
Full Dark, No Stars
- Stephen King's new novella questions mankind's ability to trust others.
[02.21.2011 by Bridget Doyle]
MUSIC
»
The Top 30 Albums of 2010
- Fashionably, fabulously late, our favorite music (and believe me, there was a LOT) of 2010, the year that some have called the best year for music ever. And only some of those fools work here. Plenty of usual suspects, lots of ties and a few surprises that I won't spoil, including our unexpected #1.
[12.24.2010 by The LAS Staff]
LOSTATSEA.NET
>
FEATURES
>
September 6, 2007
While the average budding photographer may be content to cut their teeth photographing less ambitious subjects like covered bridges or rock concerts, Brica Wilcox quickly learned to turn her lens toward the more intimate forum of her own image. If the process of art were to be described as the interpretation of internal and external influences, then it would go without saying that an artist without a clear understanding of themselves is doomed to, at best, a compromised vision. In her "Private Life" series, through her own critical eye Wilcox captures herself in photographs that, as she puts it, "function to extricate me from my mother as a psychological icon (as they are a circuitous method of becoming removed from and returning to myself.)"

As a girl in Tucson, Arizona, young Wilcox was naturally impacted by the role of her mother in her life. Later, the weight of her mother's character continued to influence Wilcox after her passing, which was an understandably defining moment. "Since my mother died, I have become increasingly interested in dismantling the symbiosis of our relationship," says Wilcox, who by stumbling upon photography found a medium in which she could interpret, understand, and possibly move beyond that influence. Through her process of self-examination Wilcox assembled the "Private Life" series, a collection of images that find her on both sides of the lens in compositions that are vibrant and varied enough to be intentionally so but are nonetheless colored by warmth and intimacy. In fact there seems to be a coziness that radiates from Wilcox in the "Private Life" images, even when her gaze is reserved or distracted, a closeness perhaps inherent in the process of one eye searching in itself, looking into the subject and through the ghost inside, hoping to find the artist on the other side. "While the self-portrait is always a double image, a representation of the mirror, my images refer to the memory of the mirror between my mother and myself," explains Wilcox of the series.

While "Private Life" necessarily dominates her portfolio, as of late Wilcox has been working on a new series of images, set in adjoining backyards, which she began while living amongst the fractured neighborhoods of cities on the East Coast. The vibrant cultural fabric of cities like New York is a natural magnet for artists and performers, photographers in particular, and when Wilcox relocated to the Eastern seaboard in 1999, after earning a BFA from the University of Arizona, the boundaries between the city's inhabitants began to strike her as much as the places in which their lives overlapped. The series currently in progress and from which the images in this article are taken, "Imaginary Lines," is a documentation of that idea.

In August of this year, after nearly a decade in New York, Wilcox packed up and headed back west, this time to Los Angeles, where she will attend CalArts and work toward her MFA. During the calamity of pre-moving details that had been wiping out big chunks of her time, Wilcox took a few moments from her last days in Brooklyn to talk with LAS about Roland Barthes, her process for creating images, and the ideas of private lives and personal space. In addition to assisting other photographers with commercial work, Brica Wilcox has published her own photographer in the pages of W, Newsweek, Cookie, and other magazines.
--------
LAS: I suppose first off there is the story of you as a photographer, and how you come to your images. The artist statement accompanying your "Private Life" series is very open and aboveboard, your points about your self-image and the maternal influence upon it. At what point were you first aware of that, both in terms of your photography and your person, and how does that correlate to your work; is it something that reflects itself in your "Private Life" series only, or does it play in your eye for other images as well? Were either of those things - that self-assessment and your photography - initially a reaction to or catalyst for the other?
Brica Wilcox:
Well, as an introduction, I started making pictures in high school--an awkward time for everyone. One night I happened to see this grainy black and white band flyer posted on a building and I found myself absolutely mesmerized by it's intensity. It was so simple--a flyer posted on the main drag in downtown Tucson--but it captured a feeling that gave me clarity and an excited, hopeful feeling. By coincidence and rather serendipitously, shortly thereafter I signed up for a photo class at the local community center that happened to be taught by the same person that made that photograph. It was also around that time that I started an internship at the Center for Creative Photography and it was there that my true education began. I poured through the photographs in their enormous archive and started to really take in the breadth of photography and its history. I was completely sucked in and between looking at pictures and making them it became an everyday part of life for me. I made a lot of self-portraits in the beginning. It seemed logical to experiment in private while I was figuring out my point of view. I have and continue to experiment with other genres of photography, but I think self-portraits will always be an area where my own stories and thoughts have their strongest voice. As a rule I pick concepts that are specific to my personal experience. The "Private Life" series is concerned with ideas of self-assessment, beauty, vanity and the relationship of a mother and daughter, but that is in no way the mission statement for all of my work. The recent return to self-portraiture is related to my specific experience in dealing with my mother's death. In general I am drawn to a certain type of imagery, a very visceral point of view, but my work isn't necessarily governed by those things. I simply set limitations on the way I set out to explore a subject and end by seeing what is left and use that to reassess and refine my approach. With my newest project, "Imaginary Lines," part of my process was to make photographs of uninhabited, adjoining backyards, exploring what they offered as pure spaces in relation to one another. They became very graphic, but I also saw the environments they presented as backdrops or sets to a stage that I wanted to familiarize myself with.
I also noticed the Roland Barthes reference, which I found a bit surprising for a photographer. An artist cannot very easily make a career out of self-portraiture, yet if one subscribes to the musings of social theorists like Barthes, is there not the risk of relegating photography to documentarianism, and excluding it from a form of exposure? How do you view/approach your work - art, journalism, sociological study, something else?
I have never thought of Barthes as being so problematic when it comes to photography. He does say some things that are limiting, but in the end he leaves a lot of flexibility in his interpretations of it. Just to insert one very apropos quote: "Photography is a captive of two intolerable alibis. On the one hand, 'ennobled art pictures.' On the other hand, 'reportage' which derives its prestige from the object. Neither conception is entirely correct. Photography is a Text, a complex meditation on meaning."
I think his analysis of the way photographs operate subjectively is very poignant. A funny detail in relation to Barthes and my project--apparently he started writing
Camera Lucida
as an attempt to understand his connection to a photograph of his recently deceased mother. As you saw in my statement, I am interested in his term "private life." I wanted to experiment with being photographed--of photographing myself--as a way of achieving this "privacy," even though Barthes found being photographed antithetical to that notion. Regarding the classification of my photographs, I will agree with Walker Evans when he says a work of art should be called "documentary style" rather than documentary, and I expand it to the other modalities you mention. He goes on to say that art is really useless, but can adopt that style. I am primarily interested in making things, mostly pictures, and how they are received is subject to the notions of my audience.
One thing that first struck me about the series of self portrait images was the intimacy of many of them - they seem to have a closeness that the portrait images don't quite ascertain, even in the ones that are very candid. Is that real or imagined on my part? Would there be a particular reason for that, in terms of process?
That is an interesting observation. I can see what you are saying and I think that the myself as the single character may heighten the level of intimacy as well. I mentioned earlier that I find self-portraits to hone a lot of strength and I think your comment enforces that. I see a similar difference in other photographers' work as well. Nan Goldin's self-portraits always struck me differently and more poignantly that many of her other images, even though I adore her other work. I think there really is something to the self-portrait as a format that simply feels more direct.
This probably goes back to the first question and maybe the second as well, but from Australian aboriginal tribes to some Native American Navajo peoples to the Amish, there has been a timeless resistance to the preserved image for various reasons--"stealing the soul" or violating the Second Commandment. Needless to say, without jumping out of someone's closet or hiding around corners, it is difficult to photograph someone completely disarmed. Is there something there when the subject is aware of the camera, some form of presentation, even if they're relaxed and/or comfortable with the process? Is that putting on of a face, even if imperceptible, something to be overcome, as the photographer, or do you find it more of something to work with/for/against/around? Perhaps none of the above - is the semiology of the image up to the photographer or the viewer?
I think the best time to photograph people totally disarmed is when they're watching TV. The often placid, occupied expressions are amazing to me. I have photographed my friend's daughter many times while her brain was fixed on "Sponge Bob Squarepants." Despite this, though, I'm actually not that interested in photographing people without their knowledge. I like connecting with my subjects and reaching an agreement or collaborating in the process. There is a performative aspect to some extent, both by the subject and photographer, but I think that's part of what makes photographing people exciting and unexpected. Usually it's enjoyable, but even if it's not, it's always intriguing. I need to consider your semiology question a little more--I can make arguments for both-- but I think I would like to vote for collaboration.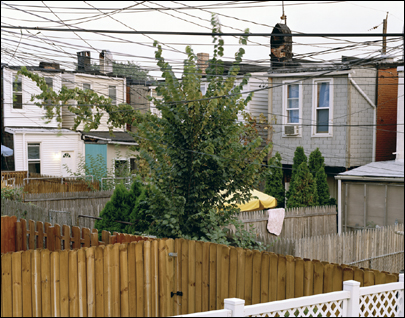 One of the first things that I remember grappling with when I began using a camera more extensively in design work was the fact that the human eye is so much more perceptive and versatile than a camera in a novice's hands. It is one thing to be unable to paint or illustrate with complete real-life accuracy something that one sees, but it is another to have a camera deliver an image that is precise but still not a true depiction. Over time, through experience and input from more accomplished photographers, I realized that, with camera in hand, a photographer - much like a film director - begins to see things through the camera's eye. Has photography in that way, or any others, changed the fundamental way that you see the world?
I always liked the difference between what I saw and what I discovered in the photograph of that thing or person. That surprise, that anticipation, was always a big part of the excitement. When I was first started making pictures, I was shooting black and white, using dramatic lighting and really trying to transform the subject from how it looked in the flesh. Now my work is more about capturing or recreating something more natural. I still face those concerns, but luckily having come from such different objectives in the beginning, I never find the process frustrating. Fortunately, I managed to learn the skills to deal with most situations along with the changes in my objectives. At this point, there are fewer surprises, but I miss them. I think learning to pre-visualize how something will translate to the camera and film has made me a better photographer, but I can't say that that aspect of photography has changed my worldview. I think one thing that may be different from non-photographers, or non-artists, is that I take notes all the time about places and things that I see that I think could make a good photograph or could just be important to keep in mind.
I think it was Sebastiao Salgado who lamented the photograph's usurping of the oral history - I suppose with the notion that images being worth a thousand words (but who's words?) would replace some of the personal details of cultural heritage. Yet, if it was indeed Salgado, in his images of South American mining, the camera has proved a remarkable means of democratizing history - it is not only those in power that can tell the story. Do you have any deeply pontificated musings on the place of the photographic image in the larger scope of the world's history?
I lament not having more oral history in my life, but I am also very thankful that I can at least look at pictures of things I didn't experience. A couple of days ago I was going through some old things of my grandmother's and found a stack of Polaroids of her after she had a face-lift. I never even knew she had one! She certainly never told me, but she was compelled to make a picture of herself in her bandages everyday until she was fully recovered. I think there are some things that are better told in words and some that are more appropriately told in images. It seems to me that both are valued as well as pursued. In a historical context, I think that the greatest thing about how the understanding of photography has progressed is that most people understand it as a subjective medium and ask questions about who is telling the story and essentially who possesses the tools of production and dissemination. This more complete view of photography tells a much larger story. I think that looking at certain historical photographs now is more about looking at how a certain subject was viewed, than how the subject actually existed.
In regards to your new series, how did you come to that scope? What generally drives you to photograph, and in particular the "Imaginary Lines" series?
I started the "Imaginary Lines" project in Baltimore. Looking back on this project, I can more clearly see what initiated my interest in it. For the last few years I have shared a backyard with another person in my building. She is lovely, but her yard manners are less so. She has a giant compost pile that is not maintained and sits directly in front of my window. On top of that, it is an animal circus back there. Between the birdfeeder, her cats and the squirrels, it is like a diorama displaying a peculiar little microcosm of life. So to make a long story short, it began to drive me crazy -- and I'll admit that I didn't have much time to put into making any changes myself. It was the idea of ownership, rights and communication that got me thinking about all the unspoken rules that were conflicting me. The larger scope of my interest had to do with living in New York City and the reality of stacked lives and compartmentalized living. Combined with the contradictory feelings of alienation in such a huge city, it became obvious to me that adjoining backyards are the perfect analogy for urban living and something I wanted to explore.
I find it odd/comforting that there is an obvious demarcation between the lives that each area is home to, yet at the same time, from the vantage point of the camera, it is clear just how cursory those divisions are. The idea that a quarter-inch slat of wood can make those on either side oblivious to the other is a bit absurd, yet, as they say, out of sight is out of mind. Do you think there exists a unifying sense in any of your photographs, something that can give images the power to undo the aloofness that is so prevalent in this day and age, even between neighbors? The title "Imaginary Lines" sort of hints at that.
In general, the system of allocation and demarcation in the yards is very functional. There are examples of things that aren't contained by these physical separations of course. Your point of "out of sight out of mind" applies sometimes, but it isn't always out of sight. So then I want to ask, whose problem is it? And what are the rules of enforcing change when you are at odds with such a cursory division? One place I photographed complained of rats coming into their yard because of their neighbor's bad trash habits. I am torn when I think about these spaces. On the one hand it feels very absurd to me, but I also see it as necessary and utilitarian. I see this place as an emotional crossroads--a semi-private space where people project their psyches based on the notion of ownership. The project is not overtly political, but I see these small adjoining spaces both as a stand-in for contiguous countries and continents as well as bodies passing on the street. I am interested in the ways the yards are inherently porous and share the circumstances that exist in the ground they all share. So many ideas including privacy, complicity, exclusion, responsibility and rights intersect along the physical divisions of the spaces. The predominance of the overhead view really came from wanting to see these spaces as they exist simultaneously. My photographs raise questions about the whole system of demarcation and expose the aspect of division that is futile and arbitrary. But perhaps by seeing things from a new vantage point we can start interacting in a new way. SEE ALSO:
www.bricawilcox.com
--
Eric J Herboth
Eric J. Herboth is the founder, publisher and Managing Editor of LAS magazine. He is a magazine editor, freelance writer, bike mechanic, commercial pilot, graphic designer, International Scout enthusiast and giver of the benefit of the doubt. He currently lives in rural central Germany with his two best friends, dog Awahni and cat Scout.

See other articles by Eric J Herboth.
If you'd like to help spread the word about LAS, or simply want to outfit yourself with some adhesive coolness, our 4" circle LAS stickers are sure to hit the spot, and here is how to get them:
-->
Send an with $2 in PayPal funds to cover postage. Don't worry, we'll load you up with enough to cover your town. Then just be patient. They will arrive soon.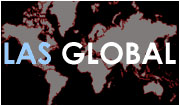 LAS has staff and freelance writers spread across North and South America, Europe, and a few in Southeast Asia as well. As such, we have no central mailing adress for unsolicited promotional material. If you are interested in having your project considered for coverage, please contact us before sending any promotional materials - save yourself time and postage!