LITERATURE
»
Full Dark, No Stars
- Stephen King's new novella questions mankind's ability to trust others.
[02.21.2011 by Bridget Doyle]
MUSIC
»
The Top 30 Albums of 2010
- Fashionably, fabulously late, our favorite music (and believe me, there was a LOT) of 2010, the year that some have called the best year for music ever. And only some of those fools work here. Plenty of usual suspects, lots of ties and a few surprises that I won't spoil, including our unexpected #1.
[12.24.2010 by The LAS Staff]
LOSTATSEA.NET
>
FEATURES
>
December 23, 2009
2009 YEAR-END MUSIC REPORT
//
Is it really that time of the year already? Another twelve flips of the calendar, another year-end Best Albums list from the LAS staff. This time around we're closing out the decade with the usual potpourri of selections that stand as testament to a musical landscape that is always expanding and contracting. A few notes on this year's list:
+
Once again there was no Radiohead on the list. Still no Arcade Fire, no M.I.A., no Beruit, no Liars, no Joanna Newsom, not even a Sufjan Stevens album. That said, the #1 act from last year makes a return, as do several acts that have populated our year-end lists throughout the decade.
+
This year there was a five-way tie for the final spot on the list.
+
This year there were also plenty of bands with strange names, monikers that are hilarious and puzzling and just plain bad.
+
As per usual there are a wealth of different record labels represented, from majors to independents to self-released albums. This bears noting as the well-documented decay of the traditional music industry structure continues.
+
There also continues to be a proliferation of musical styles, some innovative and some revisionist. There are monolithic metal acts, masked hip-hop acts, a couple of shoegaze outfits, a folk artist paying tribute to black metal, even a French indie rock troupe.
All things considered, 2009 was an interesting year for music. Now, on to the list.
---
20. (tie)

Casiotone for the Painfully Alone

-

Vs. Children

(Tomlab)

Few things in life are as frightening as confronting an impending pregnancy. The almost comically simple phrase, "I'm late" can be

the

dividing line between "before" and "after" in the course of someone's life. For some this is good; others, not so much. Unlike me, the thought of fatherhood does not make Owen Ashworth immediately pack a bag and start practicing his Spanish. Instead, as he has always done in times of looming crisis, he creates a musical masterpiece that tries to make sense of the countless hurdles that life incessantly throws at us. The usual instruments apply: intelligence, compassion, and some sweet Casio beats. Despite its title,

Vs. Children

never really makes an argument for or against this situation, instead acknowledging the profound impact of becoming a parent and asking the listener to fully consider consequences across the spectrum.

Vs. Children

is difficult and unflinching in its subject matter--such is life.

//

KEVIN ALFOLDY
---
20. (tie)

Do Make Say Think

-

Other Truths

(Constellation)

Other Truths

only has four tracks so clearly there is something epic amiss. Teeming with substance, think of Do Make Say Think's newest full-length as Explosions in the Sky but with jazz elements, tighter melodies and more instruments. The symphonic-like songs here scale the walls of ordinary instrumentation, both jazzy and orchestral, varying in complexity and tone, infusing horns or strings when the case requires. A plethora of crescendos if that's your bag. And it's not afraid to get emotional either.

//

BRIAN CHRISTOPHER JONES
---
20. (tie)

The Horrors

-

Primary Colours

(XL)

What a difference two years makes. Though the Horrors more than lived up to their name with the spooky, punk-driven blares of 2007's

Strange House

, the UK band completely flips the script with its sophomore effort. The dramatic shift in style from campy power-chord riffing to an expansive goth/shoegaze/post-rock hybrid can be largely attributed to the impeccable production of Portishead scientist Geoff Barrow. The change is sensed immediately as the 4/4 syncopation and synth washes melt into caterwauling guitars on opener "Mirror's Image." From there, singer Faris Badwan and his black-clad brood unleash a sonic assault that marks a ballsy yet beautiful 180 from a band we don't suspect has run out of surprises yet.

//

KIRAN ADITHAM
---
20. (tie)

Mastodon

-

Crack the Skye

(Reprise)

Rasputin's murder and a teenage suicide might not have much in common, but to overanalyze the concept of

Crack the Skye

is to miss the music: elements from the expectedly heavy to the surprisingly approachable comprise twenty or so distinct song ideas sewn together into seven cohesive "tracks." The urgency on "Divinations" lives up to what we've come to expect from the band's previous work, yet inexplicably repeatable choruses dominate the album. Still, riffs like those buried deep in "The Czar" remain what Mastodon is about. Those and impossibly complicated overarching concepts.

//

JJ LANG
---
20. (tie)

Paramore

-

Brand New Eyes

(Fueled by Ramen)

Only a band this young, earnest, and Christian would talk up their near-breakup as an "inspiration" for a third album and actually make it true. Every one of Hayley Williams' pop-punk screams on

Brand New Eyes

is filled with a survivor's ragged joy, and she's learned before 21 the point-counterpoint some artists never do: "God knows the world doesn't need another band / But what a waste it would have been." Which doesn't make her so mature she can't threaten to break off your finger next time you point it.

//

THEON WEBER
---
20. (tie)

Zoos of Berlin

-

Taxis

(self-released)

Just about any tag you throw at this album will find a place to stick. It is baroque pop for sure, but there are also hints of shoegaze and punk, folk and electronica, goth and jazz. There are trumpets and reverb, jaunty guitars and new-wave synths. Everything about it is swirling, almost scatterbrained, like Morrissey mixing up an outré blend of Clinic and Of Montreal (but for the most part still calm and subdued). Track after track, the album puts a new twist on being suave and cutesy at the same time: the drums are often insistent, the bass occasionally taunting, the guitar a stoic counterpoint to the trumpet's neediness, the synthesizers wired on some stimulant or another and the vocals thick and classy like melted butter. Sample "Juan Matus" for a taste. Intelligent and assured without being snooty or brash,

Taxis

sounds like Wes Anderson's wardrobe looks. I guess you can call it Dandy Rock.

//

ERIC J HERBOTH
---
19.

Japandroids

-

Post-Nothing

(Polyvinyl)

Blame Meg and Jack for this whole noisemaking-duo thing. Point the finger at No Age for adding a dose of DIY slop to the recipe. Thank awesomely-named Vancouver ragtags Japandroids for showing how messy and loud the guitar and drums can get when the garage door is blown open. Twisted, distorted, contorted, meet melodic, anthemic, monolithic. It's coincidental that their wryly titled debut

Post-Nothing

arrived in the last year of a hotly "post" decade--this stuff is definitely

pre

-something. At the least, "Sovereignty" should be the chosen half-pipe soundtrack for their hometown Winter Games.

//

ARI SHAPIRO
---
18.

The Raveonettes

-

In and Out of Control

(Vice)

bob-

never cared about this group until the new one, which i think is as tuneful as magnetic fields and has a couple shockingly, even humorously straightforward songs against rape and abusive boyfriends. curious to what you think - it's making my top ten.

dan

ill play it again

rc

//

DAN WEISS
---
17.

Why?

-

Eskimo Snow

(Anticon)

Though it does reprise the eponymous line from "A Sky for Shoeing Horses Under" at one point, I would be remiss to not point out that

Eskimo Snow

is nothing like its predecessor (a masterpiece in its own right). Which isn't to say that it isn't great in itself; it's simply far more indie-pop than Yoni Wolf's more backpacker-oriented fans likely have a use for. "Against Me" takes this transition to the extreme, coming down on the shimmery, twinkling side more than smarmy

McSweeney's

rap. There's a slide guitar breakdown in one track, and that's not even the one that sounds most like Wilco. There's still plenty of poetics ("a coven of midwives under a Dracula-caped eclipse"), wry observations ("I wear the customary clothes of my time") and blushy confessions ("I think my upstairs neighbor hears me masturbating"), but this time around Wolf and his mates have completely jettisoned their urban influence for more wide-open spaces. I wonder how many albums into a discography a band has to get before the notion of settling down with a particular style becomes counterintuitive. I don't expect Why? to answer that.

//

ERIC J HERBOTH
---
16.

The XX

-

xx

(Young Turks)

Sexual anxiety, digital drums, early twenties and passive-aggressive singing. These all feature heavily in the XX's superbly melancholic debut and de facto coming-of-age statement of the year. Which is to say they're musically and tonally wise beyond their years; need for affection and a steady relationship are portrayed in part by lyrics but also by almost imperceptibly switching between the voices of the male and female leads. The bittersweet affair as elegant pop.

//

ADRIAN PEREZ
---
15.

Grizzly Bear

-

Veckatimest

(Warp)

One of the most celebrated albums of the year in any genre,

Veckatimest

made Grizzly Bear poppy, engaging, and somewhat capricious. Masterfully structured and engineered, the sprawl of it offers little emotion but loads of enjoyable melodies: "Two Weeks" captured widespread attention for good reason, and accessible gateways like "Southern Point", "Ready, Able" and "While You Wait for the Others" enticed the curious into the deeper reaches. Some of the slower song such as "Dory" and "Hold Still" have trouble standing alone, but match the personality of the more "leading" cuts and bleed into quite a sum of individual parts, capped by the somber piano "Foreground." If nothing else, you won't leave

Veckatimest

feeling incomplete.

//

BRIAN CHRISTOPHER JONES
---
14.

Atlas Sound

-

Logos

(Kranky)

Listening to

Logos

is like being lost in a fever dream brought on by a pharmaceutical haze. It's all swirling colors, disorientation, and racing pulse. Bradford Cox has taken his tape loop/collage aesthetic and refined it into a collection of honest-to-goodness songs that stand on their own while simultaneously bleeding into one another to create a beautifully washed out and kaleidoscopic whole. And somehow this dense aural melange is downright catchy.

//

KEVIN ALFOLDY
---
13.

DOOM

-

Born Like This

(Lex)

"Once sold an inbred skinhead a nigger joke/ Plus a brand new chrome smokin' with the triggers broke" is Daniel Dumile's twisted brand of humor, which will carry the Aesop Rock torch well into the 2010s, except Aesop Rock never extended a villainous persona all the way to homophobic cracks at Superman's long johns ("It's a herb...it's a lame...it's a goddamn shame") or claimed to vote for McCain. The former MF Doom's new moniker is totally indicative; everything on his best album ever is

honed

to perfection, from the dust sparkling the esoteric beats to the exemplary guest spots, and I don't just mean the two Wu cameos. "I'm still dope, rock a thrift store coat/ And a fresh pair of moccasins/ Comfortable for walking in," from unknown Empress Stahhr, hints at why even the supposedly tuned-in bloggers fumbled the biggest hiphop year to be untouched by materialism entirely since the glory days of Rakim and KRS-One.

//

DAN WEISS
---
12.

The Pains of Being Pure at Heart

-

The Pains of Being Pure at Heart

(Slumberland)

Everything the Pains of Being Pure at Heart do has been done before, by a half-forgotten host of Sarah Records stalwarts and even occasionally My Bloody Valentine; everything they do has also been done this well before. But it hasn't been done this well often, which makes this lovely little band a case study in pop economics: we've got room for several more like this before tongues really start clicking.

//

THEON WEBER
---
11.

Mount Eerie

-

Wind's Poem

(P.W. Elverum & Sun, Ltd.)

Touted as an homage to black metal,

Wind's Poem

opens with a squall of guitar called "Wind's Dark Poem" that leaves no doubt Phil Elverum was serious about ditching the Microphones moniker. And by "squall of guitar" I mean just that: a sustained blast of noise that could peel paint. At nearly a dozen minutes in length, the following "Through the Trees" wades through even murkier noise in a half-sleep, less abrasive than the opener and more in line with the dreamlike whispers of Elverum's earlier work. There are thematics here, particularly the titular wind hailed "destroyer" and "revealer," and enough of Elverum's signature chords (albeit oft-buried in distortion) and haunting voice to entice the timid library hipster who would otherwise eschew the heavier parts. A creepy and unexpected turn from a guy who only gets more interesting and stranger with time.

//

ERIC J HERBOTH
---
10.

The Flaming Lips

-

Embryonic

(Warner Bros.)

Interest in the Flaming Lips seemed to be waning even among their fans due to their seeming complacency at being a cute, left-field near-household name that put on wacky concerts and made wacky films. That gave

Embryonic

something to prove, but it apparently didn't need the help to be so exciting. This dark-psych nightmare of a comeback brings the transformation of

The Soft Bulletin

full circle in reverse: gone are the dancing animals and Technicolor symphonies, leaving only malfunctioning-spacecraft sound effects, mantra-like chants in lieu of song structures, and even several instances where Wayne Coyne deepens his frayed falsetto for something more alien and low. Was the most welcome surprise of 2009 that they had the gall to take such tough-to-chew risks? Or that no one hesitated to embrace them?

//

CORY TENDERING
---
09.

Yo La Tengo

-

Popular Songs

(Matador)

The first time I heard opener "Here to Fall" I was overcome by something I hadn't felt from this band since 1997's

I Can Hear the Heart Beating as One

. Even though I've immensely enjoyed every Yo La Tengo album, there was a certain pace to

Beating as One

that seamlessly paced the album's eclecticism and defined its core essence at the same time: pure-distilled noise sweetly attenuated with melodic pop. And more than a decade later,

Popular Songs

manages that same continuous feat: where flawless noise pop is always constant.

//

ADRIAN PEREZ
---
08.

Yeah Yeah Yeahs

-

It's Blitz!

(Interscope)

Though they've distanced themselves even further from the frenetic, propulsive compositions of

Fever to Tell

, Yeah Yeah Yeahs have never sounded more vibrant than on their third full-length. Karen O and crew seem more comfortable coexisting with electronics on

It's Blitz!

as instantly proven by "Zero," with twitchy-synth arpeggio segueing into charged-up new-wave. But the NY-bred trio can balance the act, whether tickling minor-chord keys on the ballad "Runaway" or invoking sea shanties on the majestic "Skeletons." Having reclaimed their mojo after the uneven

Show Your Bones

, the Yeah Yeah Yeahs might not be the band you once remembered, but it'll take you even longer to forget them in this incarnation.

//

KIRAN ADITHAM
---
07.

Fuck Buttons

-

Tarot Sport

(ATP)

Create an archetype for the album's sound in the first five minutes, and then attack it from various angles for the next hour. Listen to Fuck Buttons enough, and you actually think making an album is that logical. Repeated visits to this vast soundscape, though, reveal far more expert craftsmanship. The lengthy opener, "Surf Solar," never drags, building at the perfect speed and opening doors for the rest of the venture. The appearance of the odd sweet sound helps make for more enjoyable listens, but the way all of these seemingly clashing moments intertwine creates the rare minimalist that truly transports the mind to a new place.

//

JJ LANG
---
06.

Dan Deacon

-

Bromst

(Carpark)

The opening salvo of

Bromst

, aptly named "Build Voice," is a signal that Baltimore's premier tinkerer-in-residence has grown up since (but not forgotten)

Spiderman of the Rings

. Deacon proceeds from the childlike wonder of his breakthrough album, but

Bromst

adds a layer of sophistication to the songwriting within layers of knee-deep electronics. The wondrous motif of "Snookered" is the most striking example of just how far he's come-please show me a more memorable melody from 2009. Translating this electro-pile live with a dozen instrumentalists in tow was ambitious (and not entirely successful), but his original recorded version brims with mad genius.

//

ARI SHAPIRO
---
05.

Fever Ray

-

Fever Ray

(Rabid)

The Knife's better half, Karin Dreijer Andersson, fully realized and successfully fused her conceptual art and electro-pop inclinations on her solo debut as Fever Ray. The haunting video for chills-inducing single "When I Grow Up" was the perfect introduction to her solo creepiness, a collection of seemingly mundane details turned brooding by her cavernous textures and beats. At times disconcertingly distorting her voice,

Fever Ray

only reveals her vulnerability on occasion and continues tinkering with conventional concepts of what is gender and what is beauty. In other words, it picks up where

Silent Shout

left off, and just in time.

//

JONAH FLICKER
---
04.

The Antlers

-

Hospice

(Frenchkiss)

Hospice

, the knockout debut from Brooklyn-based trio, The Antlers, is a track-by-track chronology of a loved one's passing, from diagnosis to death rattle and even then the harrowing nightmares in the aftermath. Paralleling frontman Peter Silberman's artist-in-exile solitude during the making of it,

Hospice

is intensely personal, full of murky synths, ethereal drone, and maudlin reflections that wouldn't mean a thing if the songs he sculpted weren't so striking and pretty at once.

Concept albums reached a tiredly conventional nadir with

21st Century Breakdown

this year and they've always been prey to forced message-moralizing and trite subject matter, so it's a boon that

Hospice

manages to sidestep these pitfalls. Silberman crafts a beautifully mournful narrative that embodies the duality of death where grief and helplessness are as prevalent as exasperation and anger. His expansive vocals range from an operatic and impossibly fragile falsetto on acoustic closer, "Epilogue" to full-on wail on the cathartic "Sylvia". In the throes of its protagonist's suffering, "Wake" proclaims "It was easier to lock the doors and kill the phones than to show my skin/ Because the hardest thing is never to repent for someone else/ It's letting people in."

Hospice

wrestles with accepting a certain finality and hardly offers a comfortable resolution. But absorbing it as a listen has the paradoxical effect of satisfying far more than it is draining.

//

LARA LONGO
---
03.

Animal Collective

-

Merriweather Post Pavilion

(Domino)

When I mentioned this list to a friend, he responded by asking "Where is it?" As I went to open my email, he stopped me. Not the list, but where did

Merriweather Post Pavilion

place. What other album has enjoyed such a powerful reputation all year? Animal Collective's most approachable album by yards has been touted an instant classic since it leaked almost a year ago exactly, and it deserves the honor. "My Girls," "Brother Sport" and "Summertime Clothes" especially brought in hoards of new fans without alienating those who appreciated the band's all-encompassing atmospheric feel before it became one of the year's biggest sounds. And sometimes it's as simple as that.

//

JJ LANG
---
02.

Dirty Projectors

-

Bitte Orca

(Domino)

Dave Longstreth may be aspiring to something far more angular than the competition, but it looks like he slipped on a pop record in the meantime. Anyone willing to look past the strange textures and lyrics will find songs like "No Intention" or "Temecula Sunrise" (sample lyric: "Definitely you can come and live with us/ I know there's a space for you in the basement, yeah/ All you gotta do is help out with the chores and dishes") in their head for weeks. That balance between the avant and the accessible was blown wide open this year but nowhere more aptly than on

Bitte Orca

, which proved such astounding feats-particularly the unfathomable "Stillness Is the Move," a smooth-souled blog smash that's been compared to none other than Mariah Carey-that it's no surprise they've been on the tips of everyone's tongues for most of the year.

//

CORY TENDERING
---
01.

Phoenix

-

Wolfgang Amadeus Phoenix

(Loyauté)

Phoenix may be topping "Best New Artist" lists all over the 2009 end-quarter, but we at LAS know this distinction is all but ten years too late. These champions of twitchy power-pop (and car commercials), deliver the year's most beloved fare with their fourth full-length and what most would call a breakthrough,

Wolfgang Amadeus Phoenix

. In an interview with

Spin

last August, frontman Thomas Mars was candid about the band's aspirations to "play in zee big leagues," 5,000 kilometers across the pond from their native France. The boys are nothing if not fulfillers of purpose.

Wolfgang Amadeus Phoenix

is unabashedly pop and it's almost a surprise that it could be so fashionable; driving rock rhythms and playful hooks are nothing new and will never die, but something so likable about this band (Mars' unimpeachable vocals probably help) has bridged an underground that continues to embrace them just as the approaching mainstream grants them an equally warm welcome. Maybe the songs helped: the anthemic "Countdown" pit big, walloping choruses against contemplative asides, "Lisztomania" married rock jangle with danceability just as Franz Ferdinand scored similarly five years ago, and synth-disco beats successfully mask any introspective melancholy on "Lasso." This isn't new bag for Phoenix by any stretch; they've been an electro-rock hybrid since the late nineties, when they first convened for an Air remix. Nevertheless,

Wolfgang Amadeus Phoenix

carries the boyish shakeability that's charmed more and more consistently since they began. Zee big leagues have noticed.

//

LARA LONGO
---
---
As in years past, this was fun. Hopefully 2010 will begin another decade of innovative and interesting music. To take a look back at some of our favorite albums from the past ten years, check out our
2000-2009: Albums of the Decade
list, and for individual tracks there is our
2000-2009: Songs of the Decade
list. Have a safe and happy New Year.
--
The LAS Staff
A number of the Lost At Sea staff have worked and continue to work for various publications, both independent and commercial. Often very stifling in their narrow focus, conventional media outlets left our writers hungry for something bigger, more diverse, more communal. More active, because this is the twenty-first century and it makes sense. During it's short life LAS has accomplished many of its goals (but not all) and has in turn set new ones. Everything that we accomplish is through teamwork and cooperation, both with our regular staff writers and with our contributing writers. LAS is nothing short of a collective. Another contrasting point to some of the magazines out there is that we've checked our egos and scene ethics at the door. We welcome anyone and everyone to contribute and cover a wide range of topics. LAS does not follow your guide lines.

See other articles by The LAS Staff.
If you'd like to help spread the word about LAS, or simply want to outfit yourself with some adhesive coolness, our 4" circle LAS stickers are sure to hit the spot, and here is how to get them:
-->
Send an with $2 in PayPal funds to cover postage. Don't worry, we'll load you up with enough to cover your town. Then just be patient. They will arrive soon.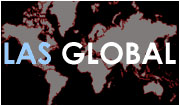 LAS has staff and freelance writers spread across North and South America, Europe, and a few in Southeast Asia as well. As such, we have no central mailing adress for unsolicited promotional material. If you are interested in having your project considered for coverage, please contact us before sending any promotional materials - save yourself time and postage!