LITERATURE
»
Full Dark, No Stars
- Stephen King's new novella questions mankind's ability to trust others.
[02.21.2011 by Bridget Doyle]
MUSIC
»
The Top 30 Albums of 2010
- Fashionably, fabulously late, our favorite music (and believe me, there was a LOT) of 2010, the year that some have called the best year for music ever. And only some of those fools work here. Plenty of usual suspects, lots of ties and a few surprises that I won't spoil, including our unexpected #1.
[12.24.2010 by The LAS Staff]
LOSTATSEA.NET
>
FEATURES
>
March 26, 2010
Camp, the aesthetic sensibility most consider synonymous with kitsch, became a subject of general interest in 1964, when a fledgling writer named Susan Sontag published the essay "Notes on 'Camp'" with the
Partisan Review
. At that time the artistic style had been associated with homosexuals, but Sontag's 6000-word thesis placed an emphasis on pop culture, making it equal with so-called high culture.
Prior to Sontag, the meaning of Camp had changed through the previous hundred years. In his
Encyclopaedia of Homosexuality
, author and former professor of art history at New York's Hunter College, Wayne R. Dynes, traces the word back to 1907 when it was used to describe scandalous behaviour on the street; years later in the United States the
The New Partridge Dictionary of Slang And Unconventional English
defined it as "to exhibit humorously exaggerated, dramatic, effeminate mannerisms." The year 1954 saw a division of the movement into a Low and High Camp. In his book
The World In the Evening
the novelist Christopher Isherwood called Low Camp "a swishy little boy with peroxided hair, dressed in a picture hat and a feather boa, pretending to be Marlene Dietrich"; while "High Camp always has an underlying seriousness", as in ballet or baroque art for example.
After Sontag's essay Camp began to take on a larger kind of sensibility. This deviation from its gay origins caused arguments between those researching the subject and, according to Senior Lecturer of Cultural Studies at the University of Sussex Andy Medhurst's article "Camp," some of those involved accused Sontag of "stealing" its meaning entirely. Moreover and perhaps fueling those allegations, at the same time Camp had begun a migration from being used exclusively by queer people, who were criticizing the dominant model of "normality," to other outsider movements. In her book
Guilty Pleasures: Feminist Camp from Mae West to Madonna
, Pamela Robertson recounts how the aesthetic was co-opted and utilized by feminists as a gender parody.
The situation of Camp was of course different in Poland at the time of "Notes on 'Camp'". Changes would slowly appear decades later after the fall of communism, an important historical moment that proved to be relatively unremarkable in the history of Polish art, but when it was written in the 1960s Sontag's essay was not even relevent in Poland, where it wouldn't be translated for another fifteen years. By then artists were interested more in the freedom of the individual and the beginning of possibilities offered by the free market and digital media, says Wojciech Wlodarczyk in
Sztuka Polska 1918-2000
(
Polish Art 1918-2000
), than by the visual support for their new country. But at the same time 1989 was an important year for art historians, the year the paradigm was changing from modernism to post-modernism. The influx of pop culture and the synchronous increase in the financial wealth of society as a whole, which was assembling its own LGBT movement, finally reached Poland. The ground had been prepared for Camp's arrival.
Although the communist system had not provided a place for Camp, one of the most interesting practitioners of low and even unconscious camp was born behind the Iron Curtain. Extravagant singer
Violetta Villas
, in the grey and destitute Poland of the 1970s and 80s, lived a life of theatrical ceremony and dressed in gowns of baroque glamour
1
. Her characteristic appearance included fur boas, gloves and hats, and long, thickly curled blonde hair that served as an unchanging trademark for 50 years. Photographer Robert Laska took a remarkable series of Villas images for the
Machina
magazine in 2007 [including the banner image above].
Though Lech Walesa's Solidarity movement had let the wider world into Poland, the Camp movement was stifled in the mainstream in the years just after 1989, a time when the critical works of artists like
Katarzyna Kozyra
and
Artur Zmijewski
overwhelmed the spotlight. But as the honours bestowed to Kozyra's video installation
Men's Baths
at the Venice Biennale in 1999 showed, even critical art had a predisposition to developing a certain Camp quality. In that piece the artist "dressed" as a man and entered into a Budapest bathhouse to film nude men, and it is interesting that opposition to such critical art appeared almost at the same time that its popularity rose. The pop-banality of the unassociated
Ladnie Group
2
has since introduced a "nice" version of art product, which can be acknowledged with Camp aesthetics.
While critical art was on the rise another development that derailed the Camp aesthetic from wider Polish discourse was the influence of the Frankfurt School, which had addressed the situation directly when it used the term "background art" to describe Camp. The German counter-influence dovetailed with a strong position from the Roman Catholic Church, which Piotr Piotrowski noted in his book
Znaczenia Modernizmu
(
Meanings of Modernism: Towards a History of Polish Art After 1945
) played a big part in the political and social life of the country even under communist rule. With the Vatican's traditional views on sexual orientation and social roles being intolerable of opposition to heterosexuality and a patriarchal model of "normality," Camp was an obvious red flag.
Interesting and somewhat paradoxical is that although conservative in nature the Church itself advertises aspects of transgender appeal to worshippers, as in the case of mass produced
"Holy Pictures"
3
--those ubiquitous small devotional graphics representing saints George, Sebastian, Christopher and others. The devotionals are made in a decidedly kitsch style and express a type of folk religion, a faith that Piotr Oczko's recent book
CAMPania: Zjawisko campu we wspolczesnej kulturze
(
Camp phenomenon in modern culture
) notes is based primarily on emotion rather than deep intellectual analysis. The saints are usually youthful, healthy, good looking men with many features--red lips, pink cheeks, thick hair, delicate features, small hands and faces--culturally and biologically acknowledged as markers of the opposite sex. The cards circulate endlessly in the same style that unsanctified Camp while the Church and its followers bow blindly to stereotypically gay visualizations rather than staunch heterosexual heroes.
"Holy Picture" adaptation: Reni, G., ca. 1636. The Archangel Michael ("Prayers for the Church and the Holy Father".
Some of those aspects of religious art have in turn inspired artist
Bitch von Kicz
. In last year's photograph
Saint Sebastian
, originally used for the June cover of the "Slajd" ("Slide") magazine, he is an icon of gay mythology inspired by Christian imagery. But where the Church-sanctioned image changed an original work of the 17th century Italian painter Guido Reni into kitsch, Bitch von Kicz mixes aspects of external influence into the process, creating a space of camp.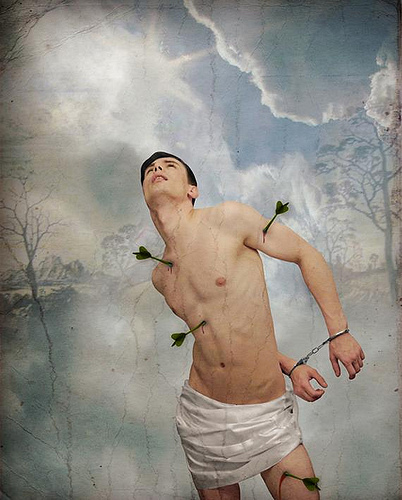 A new "Holy Picture": Bitch von Kicz, 2009. St. Sebastian.
The opposition to both kitsch and consumption plays the main role in
Michal Kopaniszyn
and
Matylda Salajewska
's 2006 project
Jezusmaria!
, a work criticizing cheap devotional art and the shallow beliefs they see caricatured by some Polish worshippers. A series of photographs and performances presented via the web, the action of
Jezusmaria!
--which was easy to predict
4
--caused enough of a scandal that galleries were afraid to exhibit the work. The noise died down when the project's web archive disappeared.
The open borders after 1989 did ultimately lead to pop culture, as well as kitsch, having an impact on Polish art. The inspirations of kitsch can be found in the photographs of
Malwina Wieczorek-Brade
and
Marta Napiorkowska-Losin
, particularly in the former's
The Sunday Dandies
. A series of "hand painted" photographs,
The Sunday Dandies
were inspired by the chromolithography technique popular during the 19th century that, as a result of cheap mass production and targeted cultural usage, went from retro curiosity to a staple of kitsch and bad taste. When in "Notes on 'Camp'" Sontag demanded that "there exists, indeed, a good taste of bad taste," she would be echoed years later by Ewa Grzeszczyk calling Wieczorek-Brade the first Polish, self-conscious camp artist.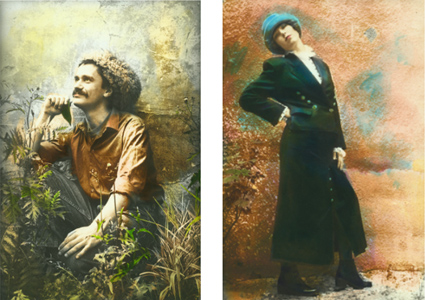 The Sunday Dandies: Wieczorek - Brade M., 1997. Krzysztof and Anna.
From a camp perspective the title of Wieczorek-Brade's work is interesting in itself: Oscar Wilde, an inspiration for Sontag's essay and an important camp figure, was arguably the most important historical dandy. What UrbanDictionary calls "men who consider themselves to be arbiters of culture and refinement and wit," dandies are those who favor an aesthetic that may or may not work but looks stylish regardless. Dandies like to have a good time; they like to pose, to be extravagant, and to use accessories (such as rings) to focus on themselves rather than others. In contemporary translation, many of the young dappers who show up for
fin de siecle
-inspired bike rides like San Francisco's
SF Tweed
and London's
Tweed Run
identify themselves as dandies, and during a November episode of his eponymous television interview show PBS host Charlie Rose referred to the personal style of film director Wes Anderson as that of "a kind of a dandy."
The works of Marta Napiorkowska-Losin are mainly stylized self-portraits from a series of sessions in which she would dress differently, often with childrens gadgets and exaggerated smiles. An interesting feature in the work is the contrast between her appearance and the surrounding environment of a typical Polish house or a meadow with a donkey. Napiorkowska-Losin represents the awkward marriage of camp with nature and day-to-day life.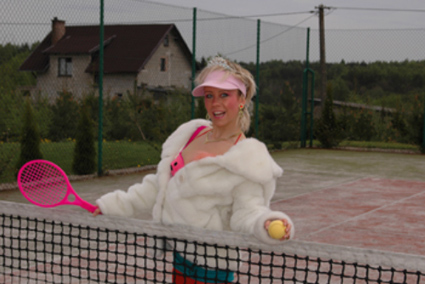 The awkward marriage of camp: Napiorkowska-Losin M., 2005. Princess Bubu.
Both artists had a playful attitude towards their works and "had fun" while making it. As Sontag saw it, "camp taste is, above all, a mode of enjoyment, of appreciation--not judgment."
References to transgender--although still not accepted in public--also started to become more visible in Polish culture after 1989. There are examples of artists trying to escape from homophobic terror, as found in the self-portraits of photographer
Maciej Osika
. In the 2003 series called
Mesdames et Messieurs
, Osika shows his other, hidden nature--an exclusively dressed, distinctive woman--in the process of transformation. In some images in the series he appears as a woman, while in others he is only "half dressed," in the clothes of a woman but still visibly a man. The series
shows
what Piotr Stasiowski, curator of the
Mesdames et Messieurs
exhibition at Galeria Zakret, sees as Camp for the artist as a code, a language of communication with other queer people.
Bitch von Kicz, 2006 Chandelier.
To turn the gender scale on end entirely, Bitch von Kicz shows a kind of "double" cross-dressing in the 2006 artwork
Chandelier
, where a man "dressed" as both a female and male comes out from the darkness and softly touches a crystal fixture. He wears a furry, foxy collar, gently lying on his naked arm, his make up replete with painted moustache.
Bitch von Kicz does not have a specific meaning behind the picture, but her work encourages the viewer to dig deeper and create new ideas. The main figure, for example, is confusing the gender identity by displaying secondary sex characteristics, and consciously making it even more complicated by borrowing the moustache of a man. If the figure were gay, having a moustache might associate him with the Castro clone gays, yet there is more similarity to the androgynous moustache of Madonna's "Justify my Love"
video
than to the facial hair of a working class man. So what do "they" want to say? It could be helpful to use a genderqueer term for the interpretation; the figure is both man and woman as well as being neither. We know nothing about the sexual orientation of "they".
And there is also the titular chandelier, which could mean nothing but could also symbolize the tree in Biblical Eden, where a man and the woman made of his rib could find knowledge of good and evil. With Bitch von Kicz however, it is hard to say whether "they" have already picked up the apple or not, and
Chandelier
has additional depth like the dark background and theatrical light that can also be linked to Caravaggio's art. It is possible that the artist, even with nothing to say, toys with the observer, "genderfucking" and playing with all gender references and any interpretation.
Superwoman: Olszyna Z., 2008 Washing and Ironing.
Decades ago when Camp began to leak beyond queer communities and into other outsider movements, the style's influence quickly spread. In his 2008 series
Superwoman
, photographer
Zbigniew Olszyna
shows the distribution of social roles. In one, a man sits on a sofa carrying the TV remote control, almost invisible (you can see only his feet) as a lavender and pink doll of a woman does the housework, dutifully ironing. In another she's seductively bent at the waist, but to do laundry next to the toilet. To cope she must to be a kind of hero, a superwoman, like those of Olszyna's inspirations in 1950s and 60s posters of American housewives. The photographs are highly stylized, the lady posed in an extra clean interior and her face coyly covered with a toy mask.
These scenes may sound mundane to audiences in the West, where Camp is exhausted as a subject, but in the Catholic, post-colonial Poland, where multiculturalism does not exist and homosexuals are still hiding in their closets, it remains fresh. In Poland Camp is like a newborn baby, or at least an aesthetic with a "second youth".
--F-O-O-T-N-O-T-E-S-
1

The style of Violetta Villas started in Poland but expanded to the "Casino de Paris" in Las Vegas, where she was a star in the 1960s. After returning to Poland in 1969 she continued to live and dress like a diva. Her stage image (dresses and gestures) were taken from the opera and applied to pop culture.



2

The term "Ladnie" means "nice" in Polish.



3

Those "Holy Pictures" may also represent Jesus or his mother Mary, angels or reproductions of "high art" like Raffaello Santi. Except for reproductions, the pictures do not have either an author or date of origin. "Holy pictures" can be given to worshippers during "koleda" (each year after 6th January, priests visit to bless their worshippers and their homes in a special ritual, usually leaving a souvenir, like these pictures, after their visit) or for other occasions such as first communions.



4

Before Jezusmaria! the artist Dorota Nieznalska made the installation Passion in 2001, a work triggering a scandal that closed the Wyspa Gallery in Gdansk and two years later landed Nieznalska convicted of the "offence of the believers" (six months of restricted freedom, public works and payment of court fees). Last year she was finally released after 27 retrials. At the beginning of March 2010 she found herself in court again with the same charges.
SEE ALSO:
www.robertlaska.com
SEE ALSO:
www.myspace.com/bitchvonkicz
SEE ALSO:
www.osikam.com
SEE ALSO:
zbigniewolszyna.blogspot.com
SEE ALSO:
www.myspace.com/violettavillas
--
Anna K. England
Anna K. England is an artist, Polish philologist and a PhD student of the History of Art at the University of Wroclaw.

See other articles by Anna K. England.
If you'd like to help spread the word about LAS, or simply want to outfit yourself with some adhesive coolness, our 4" circle LAS stickers are sure to hit the spot, and here is how to get them:
-->
Send an with $2 in PayPal funds to cover postage. Don't worry, we'll load you up with enough to cover your town. Then just be patient. They will arrive soon.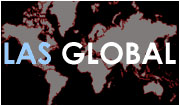 LAS has staff and freelance writers spread across North and South America, Europe, and a few in Southeast Asia as well. As such, we have no central mailing adress for unsolicited promotional material. If you are interested in having your project considered for coverage, please contact us before sending any promotional materials - save yourself time and postage!