LITERATURE
»
Full Dark, No Stars
- Stephen King's new novella questions mankind's ability to trust others.
[02.21.2011 by Bridget Doyle]
MUSIC
»
The Top 30 Albums of 2010
- Fashionably, fabulously late, our favorite music (and believe me, there was a LOT) of 2010, the year that some have called the best year for music ever. And only some of those fools work here. Plenty of usual suspects, lots of ties and a few surprises that I won't spoil, including our unexpected #1.
[12.24.2010 by The LAS Staff]
LOSTATSEA.NET
>
FEATURES
>
December 22, 2006
Kevin Alfoldy
|
Jon Burke
|
Matt Conner
|
Jonah Flicker
|
Clifton Gates
|
Helder Gomes
|
Eric J Herboth
|
Mikel Jurgen
|
Bob Ladewig
|
Monique Lebreau
|
Peter Lindblad
|
Josh Mabray
|
Eric Morgan
|
Ted Nixon
|
Marcy Saude
|
Nick Seivert
|
Mike Shea
|
Ari Shapiro
|
Mark Taylor
|
Mark Thompson
|
Sara Williams
|
Mike Wright
|
Josh Zanger
--
Kevin Alfoldy
1 The Thermals -
The Body, The Blood, The Machine
(Sub Pop)
They don't wear eyeliner, turn up in the tabloids, or try to get all rock opera on their fans. The Thermals straight up rule and made the best rock and roll record of the year.
2 The Deertick and Peter and the Wolf CD-R's my friend gave me the day she moved to London
I don't think either of these were proper albums, but they sounded both beautiful and anguished while staring out a window at the endlessly flat Texas landscape for two days. Simultaneously making me think about the future while dwelling on the past, these made me fall in love with life even more.
2 Isis -
In the Absence of Truth
(Ipecac)
Once again, Isis unleashes another gripping album of art metal. This time with more singing!
3 Two Gallants-
What the Toll Tells
(Saddle Creek)
Gothic Americana originating from the windy, trash strewn streets of San Francisco. Two Gallants evoke a lonesome traveler weariness that gets into your bones like the cold on a solitary walk down a dusty road.
4 Casiotone for the Painfully Alone -
Etiquette
(Tomlab)
Simple, yet incredibly intelligent songs about the turmoil and confusion of being young and rudderless in an apathetic world.
5 Mono -
You Are There
/ Mono & World's End Girlfriend -
Palmless Prayer/Mass Murder Refrain
(Temporary Residence)
One album builds to cathartic climaxes while the other's subtle beauty is barely audible. Mono has undeniable talent and whether deafening or hushed, are equally affecting.
6 Converge -
No Heroes
(Epitaph)
Hands down the best hardcore album this year.
7 Mogwai -
Mr. Beast
(Matador)
This soundtracked one of the most amazing experiences I've ever had. The right song at the right time absolutely changed my life. And I thought only Bright Eyes had the power to do that.
8 Envy -
Insomniac Doze
(Temporary Residence)
It's amazing that these guys are so slept on. Yet another exciting band originating from Japan.
9 Owen -
At Home With
(Polyvinyl)
Life isn't pretty and neither are these blunt lyrics that are brutal in their honesty. Coupled with the charming music, the effect is stunning.
10 Band of Horses -
Everything All The Time
(Sub Pop)
I'm still upset about the break-up of Carissa's Wierd, but I can take solace in "The Funeral," probably my favorite song of the year.
--
Jon Burke
1 TV on the Radio -
Return to Cookie Mountain
(4AD)
Duh. If you haven't heard it yet go buy it.
2 Liars -
Drum's Not Dead
(Mute)
The album title is self-explanatory. This disc is an intensive exploration of rhythm, layers of rhythm and layers of layers of rhythm. All of this pounding creates a ritualistic feel that is only amplified by Angus Andrew's frenetic vocal performance. If drum was dead this album serves as the resurrection and bloody payback for whomever killed it.
3 Grizzly Bear -
Yellow House
(Warp)
Sort of a lo-fi version of TVOTR with dark atmospherics and a folk influence merging to create something resembling taking a trip to the circus while dosed out on codeine.
4 Heartless Bastards -
All This Time
(Fat Possum)
The growth of this band from their debut is impossible to deny. Erika's vocals are still monstrous but here they are no longer pulling the band along. The stomping rhythms and distorted guitars can stand on their own now and do with a rare ferocity.
5 Clark -
Body Riddle
(Warp)
This is the album that Boards of Canada should have made this year. There are elements of all of my favorite electronic artists here starting with Aphex and adding in some Four Tet, Prefuse and even some Stones Throw sounds.
6 Ghostface Killah -
Fishscale
(Def Jam)
This is a far better hip-hop album than anything I've heard all year. Ghost's flow is unique, his rhymes tight and randomly referential and the production is beyond stellar. J Dilla, Pete Rock and Doom all shine behind Ghost, track after dazzling track. Even the skits on
Fishscale
are tolerable.
7 Neko Case -
Fox Confessor Brings the Flood
(Anti-)
The redheaded wonder basks in guitars rich in glorious reverb on this disc. Neko's ambiguous lyrics add a mysterious element to these songs that only intensifies with her gorgeous vocals. "Hold On, Hold On" and "Star Witness" are required listening.
8 Joanna Newsom -
Ys
(Drag City)
Ms. Newsome cannot do anything by the book. The raw and piercing vocals of Joanna's debut have been tempered here and backed with Van Dyke Parks' symphonic production. The album has an antiquated, oaken feel which Newsom's harp, elfin presence and lengthy, lyrical songs only serve to accentuate.
9 Benoît Pioulard -
Precis
(Kranky)
At 22 this guy has accomplished more than most artists will accomplish in a decade. Simply beautiful.
10 Bobby Bare, Jr. -
The Longest Meow
(Bloodshot)
This is a fun, straight-ahead, rock album. Bare got My Morning Jacket to be his back up band and recorded this album in less than a day.
--
Matt Conner
1 Ray LaMontagne -
Till The Sun Turns Black
(RCA)
Nobody does melancholy like Ray and he saves his best for last.
2 Sleeping At Last -
Keep No Score
(self-released)
Orchestral arrangements mixed with epic rock make one of the best 2006 has to offer.
3 Greg Laswell -
Through Toledo
(Vanguard)
The second coming of Jeff Buckley.
4 Thom Yorke
The Eraser
(XL)
Even when disarmed from all but his laptop, Yorke still creates beautiful sonic landscapes.
5 Josh Garrels -
Over Oceans
(Grrr)
This indie singer/songwriters melds acoustics and hip-hop with a spiritualist style that transcends any genre.
6 Twilight Singers -
Powder Burns
(One Little Indian)
Dark, brooding pop rock that is best album yet from The Twilight Singers.
7 Rosie Thomas -
These Friends of Mine
(Sing A Long)
Teaming with Sufjan and Denison Witmer is smart move on this minimally poetic album.
8 Dixie Chicks -
Taking The Long Way
(Columbia)
If only for the ability to craft pure pop bliss in the midst of controversy.
9 Anathallo -
Floating World
(Nettwerk)
Folk-rock comes to theatrical life in this retelling of Japanese folk tale.
10 John Mark McMillan -
The Songs Inside The Sound of Breaking
(Braille)
Love and loss rarely sounds this good in this workmanlike effort that evokes thoughts of Springsteen.
--
Jonah Flicker
1 Ghostface Killah -
Fishscale
(Def Jam)
Tony Starks is the only good rapper in the world. Period. Even his bad songs are good. Shut up.
2 Band of Horses -
Everything All the Time
(Sub Pop)
This is why indie rock is good, even when it's a formula you've heard 10,000 times before. BOH aren't doing anything new, but they do it so well.
3 Sonic Youth -
Rather Ripped
(Geffen)
They're old, they're getting cooly haggard, but they are still one of the best bands in the world, over 25 years later. SY has embraced their soft side, but they still know how to let the feedback squeal.
4 Hot Snakes -
Thunder Down Under
(Swami)
Sadly, this band broke up, but their last will and testament must have included the mandate that this album, a radio appearance from Australia, be released after their demise. Thank you, Jesus. Some bands still rock.
5 Bonnie Prince Billy -
The Letting Go
(Drag City)
Will Oldham has donated another beautiful, mournful, austere contribution to the American song book.
6 The Thermals -
The Body, The Blood, The Machine
(Sub Pop)
I ignored this album for far too long after getting it, and now I'm trying to catch up. Political, raw, fun - like the Ramones crashing the Republican convention drunk on Night Train.
7 Gnarls Barkley -
St. Elsewhere
(Atlantic)
Me and everyone else, but it's hard to resist.
8 Mew -
And the Glass Handed Kites
(Sony)
I think this was originally released in Europe in 2005, but whatever. Thanks to my brother-in-law, Brian, for turning me on to this one - he thought I'd hate it at first, and I did. But then the Grinch's heart started beating, and I realized that this is beautiful, creative, emotional (not emo) music.
9 Tapes N' Tapes -
The Loon
(XL)
Almost left this one off, but it has really grown on me, warts and all. Sort of a precursor of better things to come from this band.
10 Various Artists -
Science Faction: B'More Gutter Music
(Breakbeat Science)
The new ghetto tech, this shit is a raw hybrid of house/rap/techno/dancehall/Miami bass. I want to blast this at Nic Harcourt's house.
--
Clifton Gates
1 Pink Mountaintops -
Axis of Evol
(Jagjaguwar)
2 Cadence Weapon -
Breaking Kayfabe
(Upper Class)
3 Grizzly Bear -
Yellow House
(Warp)
4 DJ Shadow -
The Outsider
(Universal)
5 Beirut -
The Gulag Orkestar
(4AD)
6 Lupe Fiasco -
Food & Liquor
(Atlantic)
7 Regina Spektor -
Begin to Hope
(Sire)
8 Tom Waits -
Orphans: Brawlers, Bawlers & Bastards
(Anti-)
9 Clipse -
Hell Hath No Fury
(Re-Up Gang)
10 Neko Case -
Fox Confessor Brings the Flood
(Anti-)
--
Helder Gomes
1 Chuck E. Weiss -
23rd & Stout
(Cooking Vinyl)
This is just Weiss' fourth solo outing. Considering he started off as a drummer with Lightnin' Hopkins in the far 60s, this is very few. But
23rd & Stout
is the finest bluesy shit that has crossed my sight and amuse my ears in a long time. While living at West Hollywood's Tropicana Motel with songwriting partner Tom Waits and Rickie Lee Jones, he was immortalized in Jones' song "Chuck E.'s in Love". Being the master of cool, he has always been the right guy to hang out with. He even opened the Viper Room club in LA with Johnny Depp.
23rd & Stout
certainly deserves its place at the forefront of my best of 2006 list for I have spent many nights driving to the jazzy, whisky-soaked sound of the "Prince Minsky's Lament," the Morphine-infused, scary feel of "Sho Is Cold," and the most deranged phone conversation ever.
2 Burial -
Burial
(Hyperdub)
Yeah, this was probably the most talked-about album all year, inside and outside the dubstep community and deservingly so. Always rubbing shoulders with Memories of the Future, the joint venture of scene partners Kode9 & the Spaceape, Burial endorses an infatuated sound, pregnant with fat basslines, a rumbling glitch, and a disturbing atmosphere. Before being out in the streets, this was South London's best kept secret. And, although Burial was the only one making to these finals, the second place should be shared with his partners in crime.
3 No Luck Club -
Prosperity
(Igloo Cartel)
This record is surprisingly eclectic. It goes from vacant electronics to piano-driven, dub incursions, from scratching, fatso deliveries to tropicalia, jazz-funk intersections. The Vancouver-based trio has managed to put out the most recommendable instrumental hip-hop pedigree for the caffeine-addicted. The resemblance with an urban fairytale, inebriated with oriental fumes, only makes
Prosperity
all the more entertaining and mind-numbing.
4 Mouse on Mars -
Varcharz
(Ipecac Recordings)
Mouse on Mars' latest is a record for both the new breed and the usual suspects. The German duo's post-techno experiments are greater than ever.
Varcharz
is raw and fractured, while remaining listenable and enjoyable even for the diehard fan. Those who felt lost with the sugary, far more structured
Radical Connector
will now find the path to redemption. Besides, cuts like "Chartnok" and "Düül" may even bring newcomers. So, welcome, sinners, the light is now upon you!
5 Lisa Germano -
In the Maybe World
(Young God)
This girl is no stranger for the wild at heart. Beautiful, enlightened songs with a sprinkle of malice, thus has been Lisa Germano's formula, always to a great result.
In the Maybe World
is like a closet that she opens to let out all her ghosts and fears. "Into Oblivion" and the great finale "After Monday" sound like the wind slowly messing with the leaves in the tree outside. Charming and fragile. To handle with extreme care.
6 Sunn 0))) & Boris -
Altar
(Southern Lord)
A collaboration between the torchbearers of doom/drone metal Sunn 0))) and Japanese experimentalists Boris couldn't go further than this.
Altar
is slow and heavy, so slow and heavy it hurts. And when I say "slow", I mean r-e-a-l-l-y slow. When the record kicks off a wall of engulfing drones immediately sets in and takes you to a piercing, pulsating universe. It's like acid rain under an orange, dark sky. Only it heals after burning your eardrums.
7 Sei Miguel -
The Tone Gardens
(Creative Sources)
Sei Miguel is one of the greatest blowing the trumpet, but he remains pretty much unknown even (and I'd say, sometimes especially) in Portugal. His work has been exploring the tonal spectre of the instrument for quite some time now. In
The Tone Gardens
silence is king, and his pocket trumpet fills each vacant space with a wisdom normally credited to great jazz vultures like Miles Davis. The record is augmented by Fala Mariam's alto trombone, César Burago's percussive cells and Rafael Toral's electronic inputs. This is the shape of jazz to come.
8 Dabrye -
Two/Three
(Ghostly International)
Dabrye has always surrounded himself with wise folks. His latest
Two/Three
is no exception: Wildchild, MF Doom, Kadence, Thomas Fehlmann, and Vast Aire, among others, contribute dope tracks to Dabrye's leftfield hip-hop memorabilia. The Ann Arbor, MI-based producer is mature enough to sound tight and disciplined, but he still bears the knife in his teeth and infuses new and swaggering elements in his music. Two thumbs way up for this one!
9 Romica Puceanu & the Gore Brothers -
Sounds from a Bygone Age, Vol. 2
(Asphalt-Tango)
No wonder Romica Puceanu was dubbed the Billie Holiday of the East. Her voice was dazzling and strong enough to carry the weight of the gypsy music's heritage. This record documents the period between 1964 and 1973, when Puceanu was the leading Romanian Lautari vocalist. Here she is accompanied by the traditional ensemble the Gore Brothers, which adds a lot of meaning and serves as an instrumental bed to her voice.
10 Carlos Bica & Azul -
Believer
(Enja)
This record was released to celebrate this Portuguese-German-American connection. The fourth in Azul's career,
Believer
makes you believe that jazz doesn't have to be stigmatized and locked in its musical shell. Besides the Portuguese bandleader and double bass player Carlos Bica, the band includes Berlin's turntablist DJ Illvibe (aka Vincent von Schlippenbach), Frank Möbus on electric guitar, and Jim Black on percussion. And however produced it may sound, DJ Illvibe's contribution was actually created spontaneously.
--
Eric J. Herboth
1 Beirut -
The Gulag Orkestar
(4AD)
What a beautiful, beautiful album! Beruit's out-of-nowhere heartstopper is amazing partly because it sounds so lush, but perhaps moreso because it sounds so utterly unique without trying to sound utterly unique.
2 Liars -
Drum's Not Dead
(Mute)
This dual album/DVD came out so long ago that I almost forgot about it, but thankfully it was remembered at the last moment. Speaking of the last moment, the album's closer, "The Other side of Mt. Heart Attack," is probably my song of the year.
3 TV on the Radio -
Return to Cookie Mountain
(4AD)
From beginning to end this is easily the most solid rock band album of 2006.
4 Matmos -
The Rose Has Teeth in the Mouth of a Beast
(Matador)
Crazy/beautiful.
5 Beach House -
Beach House
(Carpark)
This album reminds me of the out-of-season house on the shore at the end of
Eternal Sunshine of the Spotless Mind
, empty and collapsing but still inviting and beautiful.
6 Cut Chemist -
The Audience's Listening
(Warner Bros.)
I'm not sure if it was the infectious Indian beats of "The Garden" or the massive disappointment with DJ Shadow's
The Outsider
that made me like this album so much, but either way I do.
7 Islands -
Return to the Sea
(Equator)
What a weird little album. This probably won't satisfy everyone who was just beginning to get their head around The Unicorns only to have the band cut and run, but it's a nice little amalgam of folk, noise, rap and everything else. I wouldn't be surprised if there was actually a kitchen sink on this record.
8 Joanna Newsom -
Ys
(Drag City)
Oh, lady of the harp, you make such beautiful music!
9 Juli -
Ein Neuer Tag
(Universal)
Because Bloc Party didn't release an album this year.
10 The Decemberists -
The Crane Wife
(Interscope)
I kind of hate parts of this album, but I pretty much like the rest of it.
JUST MISSED THE LIST
:
Lupe Fiasco -
Food & Liquor
Thom Yorke -
The Eraser
Hot Chip -
The Warning
Regina Spektor -
Begin to Hope
The Fiery Furnaces -
Bitter Tea
Neko Case -
Fox Confessor Brings the Flood
Murder By Death -
In Bocca Al Lupo
--
Mikel Jurgen
1 TV on the Radio -
Return to Cookie Mountain
(Interscope)
2 Rodrigo y Gabriela -
Rodrigo y Gabriela
(Ruby Works)
3 Ali Farka Touré -
Savane
(World Circuit)
4 The Roots -
Game Theory
(Def Jam)
5 Clipse -
Hell Hath No Fury
(Re-Up Gang)
6 The Game -
Doctor's Advocate
(Aftermath)
7 The Black Keys -
Chulahoma
(Fat Possum)
8 J Dilla -
The Shining
(BBE)
9 Mono -
You Are There
(Temporary Residence)
--
Bob Ladewig
1 Tapes 'N Tapes -
The Loon
(XL)
Originally, this album was released in late 2005 by the band themselves. It was then released on a label in March of 2006, to a much wider base of people. All in all - it has been the most played album (in my itunes) for the past year. This is as close to perfection as an album can get. It's got some great, rollicking rock-moments, as well as some beautiful hushed gems. It's got it all, and they certainly pack a punch with their live show!
2 Beirut -
The Gulag Orkestar
(4AD)
Wow, my list is overrun by blogger-favorite bands, but I guess I am in that category too. Out of nowhere (or New Mexico via Brooklyn) comes Zach Condon, the 19 year old wunderkind who sings like Stephen Merrit, writes like Jeff Mangum and loses his voice while on tour like Axl Rose. One of the most impressive debut albums of the past decade.
3 Figurines -
Skeleton
(Control Group)
These boys from Denmark put this album out in their home country in 2005, but it founds its way over the seas to the Americas in early 2006 and has been on heavy-rotation with all the mixtapes I've made. A solid band. A solid album with a range of straight up 3chord punky tunes, to twangy countrified licks (and a piano ballad!) These guys have accomplished a lot on this, their sophomore release.
4 Cold War Kids -
Robbers & Cowards
(Downtown)
The hardest working band in California, Cold War Kids became webfavorites with the release of 3 EP's. Culling together the best tracks of those releases let them put out their first proper album on the Downtown Records imprint. It's like the Rolling Stones had a bar fight with Jon Spencer and the Kings of Leon broke it up. Trashy but smooth blue-collar rock and roll… and catchy as hell!
5 The Extraordinaires -
Ribbons of War
(self-released)
I love this concept album. Everyone I have introduced this album to has fallen in love with it as well. It's captivating. The writing, the music, the singing… it's all perfect. When you're in the mood for a great story, choose this album over a Decemberists song, unless you don't have the time. A creative band from Philadelphia has brought a wonderful story to life in this album.
6 Islands -
Return To The Sea
(Equator)
The death of the Unicorns gave life to Islands and
Return To The Sea
is an album I've been returning to all year. Fun and creative, while at times challenging, Islands have made a complex, big-hearted debut album for the hispter kid in all of us old-looking twenty-somethings.
7 Grizzly Bear -
Yellow House
(Warp)
Moody and introverted, Grizzly Bear put a slight experimental spin on spaced-out introspection. Lots of fuzz and lots of distance, this yellow house is haunted by beauty.
8 Man Man -
Six Demon Bag
(Ace Fu)
Insane and fun, Man Man know what they're doing… it may be that everyone else has no idea what's going on when they listen to this six demon bag o' craziness.
9 Danielson -
Ships
(Secretly Canadian)
It may be a bit of a challenge to enjoy the singing voice of Mr. Daniel Smith, but this album has a much friendlier attitude than those in his back-catalogue. Featuring numerous friends (and famile members) Ships sets you off on a journey of topsy-turvy indie pop.
10 Bishop Allen -
2006 Monthly EPs
Sure, it's not an album, but it will be. Releasing one 4-song EP each month in 2006, Bishop Allen has proven to be a group of hard working Boston (via Brooklyn) boys. I'm hoping 2007 see's this band take the best song from each of the EP's to release a proper album. They haven't released a studio album since 2003's
Charm School
. Great band, great collection of EP's.
--
Monique Lebreau
1 Joanna Newsom -
Ys
(Drag City)
2 Final Fantasy -
He Poos Clouds
(Tomlab)
3 The Handsome Family -
Last Days of Wonder
(Carrot Top)
4 Matmos -
The Rose Has Teeth in the Mouth of a Beast
(Matador)
5 Benoît Pioulard -
Precis
(Kranky)
6 Baby & Hide -
Normal People
(Team AV)
7 Regina Spektor -
Begin to Hope
(Sire)
8 I'm From Barcelona -
Let Me Introduce You To My Friends
(EMI)
9 Justin Timberlake -
FutureSex/LoveSounds
(Jive)
--
Peter Lindblad
1 Liars -
Drum's Not Dead
(Mute)
Drifting down an eerie river of drone and complex tribal rhythms,
Drum's Not Dead
is a hypnotic, thoroughly engrossing concept album about fear and imagination that completely sucks you into its heart of darkness. Another about-face for a band that seems intent on confounding fans and critics alike with every release,
Drum's Not Dead
is the disturbing quiet that followed the violently abrasive storm
They Were Wrong, So We Drowned
. Ambitious and oddly beautiful,
Drum's Not Dead
leaves you wondering: what was that about Liars being just another Gang Of Four knock-off?
2 Tom Waits -
Orphans: Brawlers, Bawlers & Bastards
(Anti-)
Pork-pie hat in hand, Tom Waits comes to you looking for a home for his
Orphans
, a collection (supposedly) of outtakes and rarities from Waits' long-running career that hangs together better than any odds-and-sods release has a right to. Holding 54 songs within the limits of its own teeming Bowery,
Orphans
- broken down into three stylistically distinct discs - is a sprawling masterpiece of whiskey-soaked ballads, theatrical Vaudevillian romps, junkyard jazz and drunk-tank rants and musings. It's typically weird, but entertaining fare from an eccentric genius of an artist who is anything but typical.
3 Wovenhand -
Mosaic
(Glitterhouse)
A warning to repent from former Sixteen Horsepower driver and devout Christian David Eugene Edwards, Wovenhand's
Mosaic
can be a harrowing, fire-and-brimstone sermon of gale-force Appalachian folk and or a haunting specter of European folk mysticism. A gathering storm of varied instrumentation - from hurdy-gurdy to flowing piano to various percussive oddities to pollution-choked organ to banjo to ... Jesus, why don't I just list the instruments he doesn't use? -
Mosaic
sees Edwards throwing down the gauntlet for Dead Can Dance - that is if they're still back together. In every sense of the word,
Mosaic
is an epic.
4 +/- -
Let's Build a Fire
(Absolutely Kosher)
The fire hasn't gone out yet for former Versus guitarist James Baluyut. Worth it for the dizzying poly-rhythmic complexity alone, the dark beauty of
Let's Build a Fire
gives off a strange glow, coming from its unique melodies and warm nostalgia. But at its heart is a brooding intensity that seems to whip the pace of these songs into a full gallop, when it's not stopping to take in the wonder of the stars and meditate on the sadness and struggles of human existence. Baluyut has forever altered the formula behind the best indie-pop music.
5 Jenny Lewis with The Watson Twins -
Rabbit Fur Coat
(Team Love)
Jenny Lewis is not the sole heir to Patsy Cline's legacy, but if Cline had the chance to rewrite her will after hearing
Rabbit Fur Coat
, Lewis would get a large chunk of it. Warm, soulful alt.-country melodies fit comfortably with Lewis' home-spun wisdom, worldly social commentary and true-to-life storytelling, making
Rabbit Fur Coat
an easy-to-swallow treat. Lewis doesn't take herself seriously here, but the rest of us should.
6 Shearwater -
Palo Santo
(Misra)
It was a fucking great year for alt.-country and all its ridiculous sub-genres and folk-rock hybrids. Am I alone in thinking that? Among the brightest diamonds was Shearwater's
Palo Santo
, the dark, menacing cousin to Okkervil River's bleak, but hopeful insta-classic
Black Sheep Boy
. Stepping out of partner Will Sheff's long, oppressive shadow, Jonathan Meiburg took over all songwriting duties for Shearwater on
Palo Santo
and displayed a gift for creating foreboding atmospheres and flowing melodies with piano, guitars, banjo and other traditional instruments. A troubled place to visit,
Palo Santo
is also beautiful and lush.
7 Isobel Campbell and Mark Lanegan -
Ballad of the Broken Seas
(V2)
Lee Hazelwood and Nancy Sinatra, eat your heart out. An inspired pairing of breathy chanteuse Isobel Campbell and gruff grunge-era refugee Mark Lanegan,
Ballad of the Broken Seas
cements Campbell's status as one of the best female songwriters around. Along with a rollicking rendition of Hank Williams' "Ramblin' Man,"
Ballad of the Broken Seas
has sea shanties, a lovely acoustic instrumental and hazy skies full of the kind of gauzy, faintly sunny country music that Hazelwood mastered. Who needs Belle And Sebastian?
8 Micah P. Hinson -
Micah P. Hinson And The Opera Circuit
(Jade Tree)
Did I mention that this was a fucking great year for alt.country? Another watershed record from a troubled artist continuing to expand his musical range, Micah P. Hinson
And The Opera Circuit
has all the lush grandeur of a Lambchop record, but it also balls up its fists for barroom brawling rockers and sits naked in front of a mirror for spare, intimate folk readings of lives in various states of disrepair. Pretty remarkable stuff from someone racked with back pain and unable to medicate due to an addiction to painkillers.
9 Beach House -
Beach House
(Carpark)
Mourning summer's end and welcoming fall with a self-medicated, daydreaming stupor, Beach House's stunning debut is an elegy to the narcotic shoegazer tomes of Galaxie 500 and Slowdive, and a place where memories linger like ghosts. Alex Scally's almost Hawaiian-sounding guitar glows faintly and Victoria Legrand's ethereal organ wafts through the air like the scent of lilacs. This grew on me like a gauzy fungus and I liked it.
10 The Decemberists -
The Crane Wife
(Capitol)
--
Josh Mabray
1 Yeah Yeah Yeahs -
Show Your Bones
(Interscope)
2 The Killers -
Sam's Town
(Island)
3 We Are Scientists -
With Love and Squalor
(Virgin)
4 Grizzly Bear -
Yellow House
(Warp)
5 The Black Keys -
The Magic Potion
(Nonesuch)
6 Wolfmother -
Wolfmother
(Interscope/Modular)
7 Joanna Newsom -
Ys
(Drag City)
8 Anathallo -
Floating World
(Nettwerk)
9 Amos Lee -
Supply and Demand
(Blue Note)
10 Margot and the Nuclear So So's -
The Dust of Retreat
(Standard Recording Co.)
--
Eric Morgan
1 The Decemberists -
The Crane Wife
(Interscope)
2 Murder By Death -
In Bocca al Lupo
(Tent Show)
3 Thom Yorke -
The Eraser
(XL)
4 Joanna Newsom -
Ys
(Drag City)
5 Clogs -
Lantern
(Talitres)
6 Under Byen -
Samme stof som stof
(Play It Again Sam)
7 Mono -
You Are There
(Temporary Residence)
8 The Album Leaf -
Into the Blue Again
(Sub Pop)
9 Sufjan Stevens -
The Avalanche
(Asthmatic Kitty)
10 Hammock -
Raising Your Voice...Trying to Stop an Echo
(Darla)
--
Ted Nixon
1 Dr Octagon -
The Return of Dr Octagon
(OCD)
Top billed because I waited too many years to be disappointed. Kool Keith himself could not stop this album's momentum (probably because he has had little to do with the actual LP). Despite the rumors of Keith bailing on the label in the middle of the project, the unknown producer team of One Watt Sun merged the classic hip-hop legend's lyrics with funky dance breaks, psychedelic soundscapes, and polished production. While hardcore Keith fans refuse to legitimize this release, there is no doubt that Dr. Octagon has once again given us a window into the future of hip-hop.
2 DJ Krush -
Stepping Stones: The Self Remixed Best
(Sony International)
Thank God there is no Japanese translation for "lame best of" releases. To the Japanese, Hideaki Ishii is the James Brown of soundscapes. To an American audience, he is known as the Japanese DJ Shadow. Krush certifies himself as The Godfather with his best compositions of the past ten years all subtly re-engineered. One needs to listen to the erie remix of "Kemuri" to appreciate the thought and reconstruction involved.
3 Labtekwon -
The Ghetto Dai Lai Lama, V.777
(Morphius)
Hands down the best lyrical accomplishment in '06. He doesn't use Harvard vocabulary but he will rip someone to shreds in a freestyle battle on a Baltimore train. There is no one as acrobatic and comfortable in front of a microphone.
4 J Dilla -
Donuts
(Stones Throw)
This album marks the official end of what rap historians will soon call the "Dilla" era ('96-'06)-a period that pushed the boundaries and comfort zones of hip-hop production. On his deathbed, James "Dilla" Yancey composed a scrapbook of minute-long choppy beats with abrupt endings that revealed some his of most previously unknown samples and influences. He didn't need
Donuts
to prove he is the GOAT of hip-hop production. However, it was a pleasant gesture to his loyal fans.
5 The Roots -
Game Theory
(Def Jam)
The masters of organic hip-hop/jazz get top position for including a remix tribute of
Donuts
' "Time: Donuts of the Heart".
Game Theory
is a great mix to throw on if one doesn't want houseguests criticizing their music. This steak is very well done.
6 Mr. Lif -
Mo Mega
(Def Jux)
After listening to "The Fries", it is easy to see why McDonalds passed up on Lif as the guy rapping in their commercials. Clever, sharp rhymes mixed with political/social theory make this the Al Gore documentary of hip-hop.
7 The Coup -
Pick a Bigger Weapon
(Epitaph)
Politically charged seems to be in fashion. Consider it beneficial that Boots Riley, Tom Morello, and Dwayne Wiggins added some funk, soul, sex, and actual music into the mix.
8 Count Bass D -
Act Your Waist Size
(Fat Beats)
It is easy to look past the voiceover of Count's spoken word/rap performance because the clever beatmaking and sampling is so precise. I give this consideration because of several references and style to the classic LP
Resurrection
.
9 Jurassic 5 -
Feedback
(Interscope)
The rap quintet shows no sign of missing Cut Chemist as DJ Numark delivers forward-thinking composition while the actual rappers are still stuck in the early '90s.
10 Kush -
Kush and His Blues Meet Funk Mediocre
(Independent)
The former musical director and first trumpet for James Brown who lead the revolt that spawned Maceo and All the Kings Men goes solo. After years of playing with Clinton, Bootsy, and JB, it is not surprising to see the bluesman is hardly blue at all when the funk chords come into play. You can purchase this album at www.kushsights.com
--
Marcy Saude
1 Scott Walker
The Drift
(4AD)
2 Colossal Yes -
Acapulco Roughs
(Ba Da Bing!)
3 Inca Ore with Lemon Bear's Orchestra -
Birds in the Bushes
(5 Rue Christine)
4 The Skygreen Leopards -
Disciples of California
(Jagjaguwar)
5 Om -
Conference of the Birds
(Load)
6 Joanna Newsom -
Ys
(Drag City)
7 Bert Jansch -
Black Swan
8 Axolotl -
Way Blank
(Psych-O Path)
9 Hank IV -
Third Person Shooter
(Hook Or Crook)
10 Boris -
Pink
(Southern Lord)
--
Nick Seivert
1 Ariel Pink -
House Arrest
(Paw Tracks)
2 Liars -
Drum's Not Dead
(Mute)
3 Joanna Newsom -
Ys
(Drag City)
4 DeVotchKa -
Curse Your Little Heart
(Ace Fu)
5 Hidden Cameras -
Awoo
(Arts & Crafts)
6 Mahogany -
Connectivity
(Darla)
7 De Kift -
De Kift
(North East Indie)
8 Islands -
Return To The Sea
(Equator)
9 TV on the Radio -
Return to Cookie Mountain
(4AD)
10 Damsel -
Distressed
(Temporary Residence)
--
Mike Shea
1 Joanna Newsom -
Ys
(Drag City)
2 Destroyer -
Destroyer's Rubies
(Merge)
3 Peter Bjorn and John -
Writer's Block
(Wichita)
4 Islands -
Return To The Sea
(Equator)
5 Beirut -
The Gulag Orkestar
(4AD)
6 Rahim -
Ideal Lives
(Frenchkiss)
7 TV on the Radio -
Return To Cookie Mountain
(4AD)
8 Ratatat -
Classics
(XL)
9 Spankrock -
YoYoYoYoYo
(Big Dada)
10 Sunset Rubdown -
Shut Up I Am Dreaming
(Absolutely Kosher)
--
Ari Shapiro
1 Parts & Labor -
Stay Afraid
(Jagjaguwar)
What the hell is in the Brooklyn water these days? If musicians were treated like athletes, these guys would be accused of being on the juice from the first thunderous swing of the drumstick. A relentless barrage of squalling electronics, colossal drumming and toiling vocals, this threesome play like the plane is going down. Yet buried in this proletariat chaos is anthem and triumph, held together by the skin of gnawing teeth. With a live show that teeters like on anvil on a ledge, these music machinists are ragged on the outside, but hum like a hulking engine with every piston firing.
2 The Thermals -
The Body, The Blood, The Machine
(Sub Pop)
A Portland power trio, in the classic punk aesthetic. This succinct record could've been recorded on a boombox and sounded just as great. Raw guitar, yelped vocals and a bashing drumkit is the crude core. Affix unabashed lyrics of anguish aimed at the hypocrisy of religion and politics, and it's the polemic music statement of the year. To quote their previous album's title:
Fuckin A
.
3 Liars -
Drum's Not Dead
(Mute)
This NY band relocated to Berlin to record their third album in their wildly evolving musical arc. The title says it all and somewhere Mickey Hart is giddy. But this is no drum circle or spaced-out jam, so be grateful. Drums are postulated to be the first human instruments and the stark infrastructure laid here harkens something wondrous and primitive. Add the ominous presence of singer Angus Andrew and the effect is both unsettling and comfortable.
4 The Paper Chase -
Now You Are One Of Us
(Kill Rock Stars)
Ugly rarely sounds this dazzling. Filled to the brim with death, paranoia, abuse and more death, this "concept" album is in a crass class by itself. Over the tippy-top, yet a shockingly rousing listen. Like the best avant-garde, it disturbs the status quo and slices the audience down the middle: some will love it, some will hate it, none will have no opinion.
5 The Rapture -
Pieces of The People We Love
(Universal Motown)
How to follow up a knock-your-socks-off debut? Keep the same fresh ingredients but tweak the recipe. With their pummeling dance-funk-punk trifecta, the groovy NYC foursome keeps the disco kitsch at arms length, as they lay into rhythmic sax riffs, jagged guitar, sinuous basslines and enough cowbell to satisfy Ferrell and Walken. They're also one of the hottest live bands on the indie club circuit, catch 'em before their imminent upgrade to large venues.
6 Love Is All -
Nine Times That Same Song
(What's Your Rupture?)
Scandinavia, that magnificent place with midnight suns and some of the most exciting music in the past several years. This Swedish ensemble traffics in "pop cacophony": call-and-response chants, stuttering sax, pet surf sounds - throw it into the mashup and see what happens. When it's played this energetically and sung this marvelously, the results are smashing.
7 Mates Of State -
Bring It Back
(Barsuk)
Pop distilled down to its crystalline form. The sound achieved by this husband and wife is sincere, jubilant and tender, without being fluffy. Kind of what marriage should be, huh? More expansive than the simple drums and keyboard setup, an uber-harmonious White Stripes, if only Meg and Jack could've stayed together.
8 Oneida -
Happy New Year
(Jagjaguwar)
Part of the Brooklyn bumper crop of innovative bands, this squad are experts in the art of reiteration, without ever sounding repetitive. Forget circular noodling, calling them a "jam" band is like calling Jackson Pollack a splatterer. With edgy and controlled precision, they build multiple layers into unexpectedly minimal and angular soundscapes. Throw in some medieval interludes, a mesmerizing live show, and happy New Year indeed.
9 Band Of Horses -
Everything All The Time
(Sub Pop)
This Seattle band of equines dropped a heartfelt and at times achingly beautiful debut. Singing like a richer Jim James (MMJ), with more range to boot, Ben Bridwell lays it out there. Seamlessly blending country, singer/songwriter and Americana, the result echoes the crazy-for-horses man himself, Neil Young. A captivating stage presence hints at great potential.
10 Beirut -
The Gulag Orkestar
(4AD)
A debut unlike anything else this year, or even recent memory, in terms of musical motifs and arrangements. Sonic-minded youth Zach Condon takes horns, piano and acoustic guitar from his home in New Mexico to old-world Eastern Europe and back. The transportation is a left-field success due to the honesty and warmth that pervades the album, including vocals that could be crackling out of a console radio.
11 Wilderness
Vessel States
(Jagjaguwar)
Not quite reaching the high watermark set by their self-titled 2005 debut, this record still achieves greatness. No band sounds quite like this outfit from Baltimore, which is primarily due to the evocative delivery of vocalist James Johnson. His baritone warbles through barely decipherable lyrics, simply another instrument within the sparse arrangements. At turns beautiful and eerie, they continue their streak through untamed lands.
--
Mark Taylor
1 Band of Horses -
Everything All The Time
(Sub Pop)
Who knew minimalists could sound so profound? Literally, there is nothing new to see here yet Band of Horses have created a bare bone epic full of frail guitar rock and dense storylines that forgets about succumbing to its predecessors. Beautiful and sad,
Everything All The Time
is an album that indie kids have embraced and uncle Jessie and the Duke boys love.
2 Grandaddy -
Just Like The Fambly Cat
(V2)
This year's award for best dramatic scene in a band goes to Jason Lytle and company for their portrayal of an ailing group that wants so much to be loved that the only way to earn the respect of their peers is to set themselves free from torrent restraints of moderate success to make one more kick ass record.
3 Built To Spill -
You In Reverse
(Warner Bros.)
Doug Martsch has finally let down his guard and for anyone listening, Built To Spill's return to guitar rockdom has benefited from his willingness to share the spotlight with his fellow comrades by creating an elusive set of indie pop gems that build off of each other not heard since
Keep It Like A Secret
.
4 Dirty On Purpose -
Hallelujah Sirens
(North Street Records)
Again, no new ground has been broken but Dirty On Purpose know how wear their influences on their sleeves and do so rightly by channeling early '90s shoegaze to become post-rock poster boys. An honest and sincere record,
Hallelujah Sirens
is a sound of a band breathing life back into a dying genre.
5 Aereogramme -
My Heart Has A Wish That You Would Not Go
(Chemikal Underground)
Not released stateside until January, Aereogramme's latest is the band's gloomiest yet imaginative work to date. Gone are the angry outburst and metal guitars replaced by a more subtle aggression that's likely to distract some diehards but win the band over in the sensitive rock circles. Who cares, this band could cover "Wind Beneath My Wings" and I'd listen.
6 Mogwai -
Mr. Beast
(Matador)
A little pretentiousness never hurt anybody. In fact it helped remind Mogwai that they are the Justin Timberlake of post rock. Mogwai didn't invent the genre but they know how to work the system by obverting to the hype machine and by crafting lush soundscapes that made them indie rock superstars in the first place.
7 My Morning Jacket -
Okonokos
(ATO Records)
Live albums were created for bands like My Morning Jacket. The bands natural graces rely on stripped down, progressive rock jams and what better form for their canvas than a double live album that highlights Jim James's naturally sweet voice and the band's knack for creating an impenetrable atmosphere.
8 White Whale -
WWI
(Merge)
A highly underrated album, White Whale's take on adventure at sea evokes the kind of mood that Pleasure Forever helped establish a few years back. Led by ex-Butterglory Matt Suggs, White Whale straddles the fence between chamber pop and cinematic soundscapes.
9 The Hold Steady -
Boys And Girls In America
(Vagrant Records)
I'm not sure if there is a better contemporary rock band around. Enough so the band will round out my 9th and 10th best album of the year.
--
Mark Thompson
1 Volcano! -
Beautiful Seizure
(Leaf)
Listening to
Beautiful Seizure
is an overwhelming experience as melody fights it out with white noise, drumming goes on and off the beat, while Thom Yorke-style vocals scream the lyrics.
2 Someone Still Loves You Boris Yeltsin -
Broom
(Polyvinyl)
Although these could easily be dismissed as Shins and Weezer wannabes,
Broom
has enough originality and summer pop goodness to find a place in your heart.
3 Casiotone For The Painfully Alone -
Etiquette
(Tomlab)
By opening up his music to a full band sound, Owen Ashworth has exceeded all expectations with this beautiful, if sorrowful, record.
4 Yeah Yeah Yeahs -
Show Your Bones
(Interscope)
Yeah Yeah Yeahs' second album is a more than worthy follow-up to
Fever To Tell
.
5 TV On The Radio -
Return To Cookie Mountain
(4AD)
Return To Cookie Mountain
proves just how good TV On The Radio really are.
6 The Knife -
Silent Shout
(Mute)
A freaky, scary band that somehow became everyone's favourite band in 2006.
7 Oneida -
Happy New Year
(Jagjaguwar)
With
Happy New Year
, Oneida added consistency to their music and produced a great album.
8 Beirut -
The Gulag Orkestar
(4AD)
East European folk. anyone? The surprising thing is once you've heard this you'll end up saying, "Yes please!"
9 Joanna Newsom -
Ys
(Drag City)
Although Joanna Newsom's voice can be a bit much for some to stomach, once you overcome that her beautiful arrangements and lyrics are worth the effort.
10 Final Fantasy -
He Poos Clouds
(Tomlab)
Owen Pallet, better known as the string arranger for The Hidden Cameras and Arcade Fire produced his own delicate and beautiful violin pop record.
--
Sara Williams
1 Scissor Sisters -
Ta-Dah
(Universal)
2 Joanna Newsom -
Ys
(Drag City)
3 Thom Yorke -
The Eraser
(XL)
4 Ben Harper -
Both Sides of the Gun
(Virgin)
5 Ani DiFranco -
Reprieve
(Righteous Babe)
6 Regina Spektor -
Begin To Hope
(Sire)
7 Neko Case -
Fox Confessor Brings the Flood
(Anti)
8 Neil Young -
Living With War
(Reprise)
worst: Paris Hilton
Paris
--
Mike Wright
1 Tim Hecker -
Harmony in Ultraviolet
(Kranky)
Overflowing with luscious noise and formless guitar haze,
Harmony in Ultraviolet
sees the masterman maintain the high standard he has set for himself. Hecker's fourth record, however, reaches a peak in diversity, bringing the My Bloody Valentine-derived wall-of-noise generation fully up to date.
2 Bibio -
Hand Cranked
(Mush)
Whether it's the fact that
Hand Cranked
sounds like it's been recorded through a dictaphone, or that it sounds eerily similar to the soundtrack to
The Wicker Man
which makes it so compelling is neither here nor there. Stephen Wilkinson's coiling melodies are charming, memorable, and present a mix that will take more than a few fleeting listens to pin down.
3 Keith Fullerton Whitman -
Lisbon
(Kranky)
One sitting and one track is all it takes for Whitman to sum it all up.
Lisbon
is what could be described as a 'textbook' piece of electronic artistry, gathering itself from a series of submerged tones before crashing home and dissipating. Upon reflection it sounds straightforward, but then perhaps it takes a genius to present a complex piece of work in such a simple, digestible way.
4 Serena-Maneesh -
Serena-Maneesh
(Playlouder)
Who would have expected Norway's take on shoegaze to turn so many heads? Serena-Maneesh offer a proficient follow-up to Slowdive et al, mixing up enough quirks and idiosyncracies to make this, their debut, stand out in its own right. The follow-up should be a corker.
5 Daedelus -
Denies the Day's Demise
(Mush)
Most strikingly, Daedelus (aka Alfred Weisberg-Roberts) sounds like he had a blast writing and producing Denies the Day's Demise. Daedelus's beat-chopping and sample-splicing contains the humor, eccentricity, and energy to kick the life into any dead party.
6 Belong -
October Language
(Carpark)
Two-pronged electronic outfits seem to be something of a dying breed, but the live and energy in this New Orleans-based duo is indisputable. As full-on as the ambient tag will allow,
October Language
swells, collides and plateaus with the imagination that few newcomers can harness.
7 Clark -
Body Riddle
(Warp)
Clark, as he is now known (formerly Chris Clark), has progressed from the excellent
Empty the Bones of You
, to present
Body Riddle
, which, for an essentially electronic album, sounds remarkably un-electronic. The punishing beats and experimental programming are still present, but Clark manages to manipulate them with a much more natural tone than the lion's share of his peers.
8 Chris Herbert -
Mezzotint
(Kranky)
Thick, textured, brooding drift music from Chris Herbert. From beginning to end, Mezzotint sustains the same blurred soundscapes that Stars of the Lid made spectacular. A great year for Kranky.
9 Taylor Deupree -
Northern
(12k)
More faultless minimalism from 12k head honcho Deupree, whose graceful sinewaves and neat flickers of static sound as divine as ever.
10 David Thomas Broughton -
The Complete Guide to Insufficiency
(Plug Research)
Simple, unpolished beauty.
The Complete Guide to Insufficiency
presents further evidence of how awesome primitive recording methods can sound.
--
Josh Zanger
1 Herbert -
Scale
(K7)
An album deep with Dani Siciliano's beautiful vocals, lush orchestral instrumentation, and Herbert's sometimes minimalist-sometimes dance friendly electronic pop songwriting.
2 Gnarls Barkley -
St. Elsewhere
(Downtown)
DangerMouse and Cee-Lo hit pop paydirt while still catering to independent crowds. "Crazy" was a good song until the radio killed it. Anyways, the real killer single is "Transformer."
3 Band of Horses -
Everything All the Time
(Sub Pop)
Every song on this album is a must download. Vocals that sound akin to Flaming Lips's Wayne Coyne, and slow-burning moody indie rock music that sounds like few others. Lead singer plays a pedal steel guitar too.
4 Rhymefest -
Blue Collar
(Allido/J-Records)
Thanks again, Kanye. Along with West-sider Lupe Fiasco, South-side emcee Rhymefest has taken Chicago hip-hop to a new level of credibility. Big beats, full album concept, great guest spots, and thought-out word schemes can be heard here. (Real name) Che Smith's got a sick flow on top of it all.
5 Jimmy Edgar -
Color Strip
(Warp)
For three straight months after getting a copy of this album, I couldn't stop listening to it. Electronic beat production that is an intricately detailed mix of techno, glitch, hip-hop, and street beats and synth melodies that are super sexy. When Edgar uses his low-toned vocal filter and quick scatted lines like "I wanna be your STD," the sound is both raunchy and overwhelmingly intriguing.
6 Benoît Pioulard -
Precis
(Kranky)
Part electronic-part indie folk. LAS has been giving
Precis
praise for a while now. A typical album track is constructed from acoustic guitar parts, tambourine, tape loops/field recordings, and Benoît Pioulard's vocal harmonies. This is a colorful and complex record that comes off in more of a simple, delicate manner.
7 J Dilla -
Donuts
(Stones Throw)
One of his two albums (along with "The Shining") released during the year of his untimely death. With police sirens and humorous sampling methods and clip content, this is a soul-driven hip-hop style that can never be duplicated. Dilla is considered one of the finest producers in hip-hop and Donuts is considered to be perhaps the finest work of his career.
8 Extra Golden -
OK-Oyot System
(Thrill Jockey)
Two Kenyan musicians put together with members of indie rock bands Golden and Weird War. This album was recorded with a makeshift recording setup in the club that one of the African musicians had a residency in. Tragically, the original vocalist who sang lead for the album passed away prior to the album's release. The juxtaposition of English and African vocals is hard to deny. The title track is a good one.
9 Destroyer -
Destroyer's Rubies
(Merge)
Dan Bejar's got gems flyin' out his ass. A much different feel from his last effort, Your Blues-more organic, conventional indie rock songs here. But still has those literate storybook lyrics and strong songwriting.
10 Rodrigo y Gabriela -
Rodrigo y Gabriela
(Ruby Works)
Two Mexican acoustic guitar players who reside in Ireland. The album is all instrumental and features some amazing technical playing but doesn't rely on that lone ability, it's also very creative. Rhythms and melodies are something that you don't often hear on the guitar.
5 BEST COLLECTIONS
:
Various Artists -
Chrome Children
(Stones Throw)
Hitters from up-and-comers Guilty Simpson, Georgia Anne Muldrow, Aloe Blacc and from established slangers Percee P w/ Quasimoto, Madvillain, and J Dilla. Also has a DVD with a showcase in Austin, TX and interviews with Peanut Butter Wolf and Madlib.
Hugh Masekela -
The Chisa Years: 1965-1975 (Rare and Unreleased)
(BBE)
Some amazing dance/afro/jazz grooves. Features Letta Mbulu singing on several rare cuts.
Various Artists -
Hefty 10 Digest - CD2 - Prefuse 73 mix
(Hefty Records)
Tracks from the Chicago electronic label were hand picked and mixed by Scott Herren aka Prefuse 73. 21 unique cuts with artist mash-ups like Mondii & Eliot Lipp, Slicker (Delarosa + Asora mix), or the kicker of all L'Altra and Phil Ranelin (whew, boy!).
Various Artists -
Idol Tryouts Two
(Ghostly International)
The generous two-disc label collection features too many amazing electronic artists. Disc one are names that have established the indie imprint over the years - Dabrye, Matthew Dear, Kill Memory Crash, Solvent. Disc two is subheaded "SMM" (a term basically standing for 'ambient/experimental') and has more obscure artists - Loscil, Cepia, Greg Davis, Christopher Willits, Tim Hecker - but carries just as much quality.
Various Artists -
The Birmingham Sound: The Soul of Neal Hemphill, Vol. 1
(Rabbit Factory)
Unreleased classic (1960s-'70s) dusty tracks from some soul greats like Frederick Knight, Little Lois Barber, and Ralph "Soul" Jackson. This type of music is one of a kind; fun, musically creative, and often emotional.
--
The LAS Staff
A number of the Lost At Sea staff have worked and continue to work for various publications, both independent and commercial. Often very stifling in their narrow focus, conventional media outlets left our writers hungry for something bigger, more diverse, more communal. More active, because this is the twenty-first century and it makes sense. During it's short life LAS has accomplished many of its goals (but not all) and has in turn set new ones. Everything that we accomplish is through teamwork and cooperation, both with our regular staff writers and with our contributing writers. LAS is nothing short of a collective. Another contrasting point to some of the magazines out there is that we've checked our egos and scene ethics at the door. We welcome anyone and everyone to contribute and cover a wide range of topics. LAS does not follow your guide lines.

See other articles by The LAS Staff.
If you'd like to help spread the word about LAS, or simply want to outfit yourself with some adhesive coolness, our 4" circle LAS stickers are sure to hit the spot, and here is how to get them:
-->
Send an with $2 in PayPal funds to cover postage. Don't worry, we'll load you up with enough to cover your town. Then just be patient. They will arrive soon.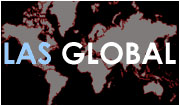 LAS has staff and freelance writers spread across North and South America, Europe, and a few in Southeast Asia as well. As such, we have no central mailing adress for unsolicited promotional material. If you are interested in having your project considered for coverage, please contact us before sending any promotional materials - save yourself time and postage!