LITERATURE
»
Full Dark, No Stars
- Stephen King's new novella questions mankind's ability to trust others.
[02.21.2011 by Bridget Doyle]
MUSIC
»
The Top 30 Albums of 2010
- Fashionably, fabulously late, our favorite music (and believe me, there was a LOT) of 2010, the year that some have called the best year for music ever. And only some of those fools work here. Plenty of usual suspects, lots of ties and a few surprises that I won't spoil, including our unexpected #1.
[12.24.2010 by The LAS Staff]
LOSTATSEA.NET
>
FEATURES
>
April 17, 2006
Out of the corner of my eye, as I entered Pamplona's Plaza de Toros stadium and thrust my body sharply to the right in a half running, half stumbling motion, I caught sight of the man who had been running next to me being trampled. The man--a Corsican in his mid thirties that I would learn was named Hector--with a bewildered look in his eye, rolled over and glanced quickly down at his side, stained in a dark splotch of blood and soil that contrasted starkly with his white shirt. A look of panic spread across his face as he was blindly grabbed by the arm and drug out of the tunnel and into the stadium. Moments later several more of the ceremonial bulls charged through the tunnel and into the dirt-floored stadium, kicking up a cloud of dust that seemed to hang in stasis, lingering amid the buzz of chaos, revelry and pure adrenaline. As Hector wobbled to his feet, eyes still affixed on his abdomen, friends rallied around him in the odd mechanics of celebration and cursory medical check. A lifting of the Corsican's shirt revealed a large, splotchy abrasion that defied the logic of the term
strawberry
, its periphery already beginning to darken into a nasty plum-colored bruise and the melon-sized center glistening with droplets of blood.
The group's frenzy, half high-spirited cultural ceremony and half low-key panic, took only a few minutes to cajole Hector into a state of calm, as it was quickly decided that most of the blood on the shirt had come from the bull's hooves, deeply lacerated from Pamplona's rough streets. Remembering that event now, looking back on it from above the mists of youthful exuberance, I feel deeply ashamed to have participated in such a barbaric ritual. It is something I cannot explain fully, especially considering that I was several years into a strict vegetarian diet and boycott of animal products at the time, but only catalog under
unacceptable
in my files of self-examination. In lieu of a justification I can only look back on it, the twisted expression of a Corsican stranger stuck in my mind forever, one of those moments of shared humanity possessing a certain gravitas.
Another thing that I remember about that day in early July was the shirt I was wearing--not the traditional white smock (and red sash) I had borrowed from a girl watching from the fence, but the blue t-shirt I had woken up in that morning. The shirt, which bore the image of a wheelie-ing cat atop the word
Dianogah
, written in a Danzig-like font, was designed and printed by Jay Ryan, a creative figure that has steadily risen to prominence amongst printmakers. When he printed the shirt nearly a decade ago, Jay Ryan almost certainly had no idea that it would one day wind up in a Spanish bullfighting ring, sweaty, dirty and torn just below the left arm.
Ryan was initially known as one of two bassists in the band Dianogah, which is adapted from the name of the Death Star's garbage compactor in
Star Wars
, but as his band teetered on the brink of indie rock stardom his work printing concert posters became the art that most associated with his name. Over a decade of printing, he has developed an unmistakable style and a cult following, not to mention critical peer approval, has sprung up around his Chicago design studio, dubbed The Bird Machine and operated with his wife, fellow printmaker Diana Sudyka, and artist Mat Daly. Having greatly expanded his design portfolio to do work for not only underground music luminaries like Shellac but also commercial clients like Converse shoes, his market value and name recognition have soared. Following up a 2500 square-foot banner in downtown Chicago isn't easy, but Ryan's creative drive simply will not let him rest; his most recent production is a full-color art book entitled
100 Posters 134 Squirrels
. The book, which is being released by Punk Planet Books in conjunction with Akashic Books, in turn prompted a publicity tour, and we caught up with Ryan shortly after he returned to his home studio in Chicago.
Fugazi / 1998
LAS: So, you mentioned that you were going to be out of town for several weeks. Where'd you go, if you don't mind my asking?
Jay Ryan
: Since the beginning of November, I've been to (sort of in order): Grand Rapids, Ann Arbor, Toronto, Montreal, Northampton, Boston, New York, Washington DC, Pittsburgh, Columbus, Cincinnati, Nashville, Manchester, UK, Nottingham, UK, Cleveland, Eerie PA, Philadelphia, New York, Pittsburgh, Louisville, Bellingham WA, Seattle, Medford OR, San Francisco, Berkeley, Emeryville CA, Los Angeles, Torrance, San Diego, Encinitas and Minneapolis.
So: that's where my time has gone.
How were all those city stops? Was it just a book tour, or were you hitting gallery spaces with your work also?
Some were gallery shows (Seattle, LA, Berkeley, San Francisco, Manchester, Chicago) some were book store signings with posters displays, and some were just poster displays without the book.
Not to dive in too deep, but I often wonder if the human race didn't have its golden era during the 20th century, since there seem to be so few frontiers left--or at least obvious ones. Not for you yourself, but for the broader context of print art, where do you see it going, as a progression? It has been decades since Warhol broke the chains of the gallery world with Pop Art, and half a century since Frank Lloyd Wright. I doubt anything could shock today's art world the way Duchamp's urinal did, but I would also say that Christo's Gates caused quite a buzz. What do you see shaking things up in art or design, that isn't simply a consequence of technology? Have artists done all they can do without the use of technology?
What could shake things up? Massive popular "success". Selling ART to the masses. I HATE the work of Thomas Kincaide, for example, and I think his marketing and sales practices were disingenuous, at best, but he got everyone to pay attention because every fucking Steve and Jenny at the County Line Mall wanted one of his "paintings". Richest living artist in the world. Made the ART world sit up and take notice. Did I answer your question? This has nothing to do, obviously, with my goals or how I make my work; I just think it's funny--Kincade is the ART equivalent of Good Charlotte or Avril Lavigne--they've got all the trappings of the "punk" scene, with the distortion, the hair, et cetera, but are totally missing the point, and aren't actually "punk" in any way that counts.
The Flaming Lips + Hum / 2000
How much is technology changing the way you approach your art? Are computer programs or machines taking the place or augmenting any of the process? What are some of the changes that you've seen in your decade of poster making?
Photoshop makes magazine illustrations and book covers a lot easier. The process of making one-time illustrations is entirely separate from the process of making posters, though--for me the process of making posters hasn't changed at all--the way I make posters could have been done 30 years ago, no problem. The ancillary aspects of my job are easier, though--faster communication with clients through email, being able to sell posters on our website, et cetera. The direct effects are non-existent.
In both your poster illustration and your music there is a tendency toward the granular and natural tones of perception. There are no rigid geometrics to your posters and there are no cold synthetics in your music. Do you consider yourself an organic person?
If you put it that way, I guess I'm an organic person. None of what I do or what I am is "manufactured", I guess.
I didn't think I'd see the day when there was both a domain name for your art and a domain name for Dianogah. Did the digital jump frighten you, not interest you, what? It seems a bit absurd, if you think about it, cold digital sites for such textured, free-form art to be viewed. Do you check out design, art or posters online, or do the lines of ink on textured surfaces have a quality that makes them almost three dimensional, makes them so that they can't be compressed into neatly displayed images?
Dianogah and the Bird Machine have both had websites since the having of websites became mainstream, around 1998 or 1999.
I know I'm stating the obvious, but the web is simply a medium for conveying a message. The fact that there's a picture of my posters online isn't a reflection on the posters at all. My 96-year-old grandmother is on the Internet, too (as a 72dpi jpg), but she has absolutely nothing to do with the Internet or anything more complex than an answering machine.
don't go alone (go with a friend) / 2003
Name a poster or image that someone else has done that you wish had been yours.
Anything by Aaron Horkey or Dan McCarthy or Little Friends of Printmaking. They are creating the most exciting posters made today.
Although I do wonder what your favorite image is, if you have one, I'm more interested in your ink skeletons. Is there any single poster that you've done that sort of hangs on as a splinter, even if the print may be gone? Anything that you shake your head at and wonder what you were thinking or how you could have done such a lame job?
Yes, but I don't talk about those things.
Okay, then what are some of the things--not necessarily posters--that have influenced your style?
Building forts while growing up, and skateboarding--studying skateboarding culture closely, while being outside of it, while in high school.
The Internet seems to be truly adept at dissemination, and as the whole indie or non-mainstream arts community--from music to printmaking--is made visible to a wider audience, patterns seem to emerge. There are a handful of artists who have been making prints consistently for 10 or more years who's style resonates clearly in later works by other people. Do you ever see any of your style popping up, conspicuously or otherwise? What do you think about that?
I see some people who are building upon my "style", and that's fine. Cliché: nothing is made in a vacuum. My work is built on a lifetime of seeing the work of others, and other people see my work now. They're not a "threat" in any way--if that's what you're asking--they're not "ripping me off"--they're doing their own work, filtered through having seen my posters, and posters by a bunch of other people.
Low (1997) Seam (1998) Lounge Ax (2000)
Were you an extra in High Fidelity?
I think you have me confused with Ian Williams. I'm much more subtle when I check out girls in record stores.
So how did you get hooked up with that Converse banner that hung in Chicago?
An ad agency from California called and asked me to design a billboard. I had brief moral issues, as
sweatshop owner
Nike is the parent company of Converse, but I've worn Converse my whole life. Turns out one of the guys on the creative team at the ad agency was someone I'd met when our bands played together in Rome. Small world. The assignment was pretty ideal:
Design something 25 feet wide by 100 feet high, which deals with the ideas of 'creativity' or 'individuality' as might be experienced by someone who'd wear converse shoes. The image doesn't need to have shoes. You will get paid whether we use the image or not. There will be no revisions
. I wish they hadn't put my name across the bottom really big like that--RYAN--they told me they were just going to put the converse logo down there.
Where is the banner now? Did you keep it? Was it covered in bird shit and taxi exhaust?
It's still hanging, as far as I've heard. No one has leased the space, so they have no reason to take it down. I WILL get it, when it comes down.
Perusing your site I noticed that pretty much any poster made before last year is unavailable. Is that something you worry about, that you might become some Kozik-type persona and your old prints will be destined to show up on eBay for a couple hundred dollars?
Fortunately/unfortunately, that's the case already, in some instances. I was making posters for years before a larger group of people started paying attention, so there are prints that I tried to sell at the shows for $5, which I sat on copies for YEARS, trying to sell for $20, which now fetch $300 on eBay. Unfortunately, that's a function of only making a limited number of prints.
I also noticed that whereas your early posters were for prime indie rock movers and shakers, such as Fugazi and Shellac, your more recent work is more than peppered with commercial or group clients. Do you have any conflicts with the idea that, as your print making grows, you might not have as much control over who you do work for, for instance as a result of an increased cost of doing business?
I'm trying to not work for ANYONE but I'm bad at saying no. More "institutions" have been trying to hire me recently, and the work I do for bands has been suffering, which makes me really unhappy. I have a couple good institutional jobs I'm working on right now, but I really wish I could do EVERY job that people ask me to do. I have to turn down like 19 out of 20, just because I don't have time to do everything. I'm very grateful that I'm in this ridiculous position, but I really can't do more than what I'm doing. My "new" thing (been trying to do this for a year or two) is to only take on jobs that flat-out
EXCITE
me. I've been sticking to that pretty well recently. We'll see how it pans out.
Animal Stack (2004) Squirrels Taking Risks (2004)
In the interview at the back of your book, you talk a bit about where you might be going in the future, with your career. You mentioned that you'd taken up painting again, at least casually, and that you'd like to flesh out your printmaking portfolio with disjointed projects. Do you ever think about shifting completely off base and working in another medium? There seems to be a real window for cultural cross-pollination in our time--Andy Mueller has his Ohio Girl studio and also does the Quiet Life clothing label, Shepard Fairey is teaming up with DJ Shadow for a clothing line of their own, Mike Rusczyks is doing 150 hand-painted decks for Foundation. Will there be a Bird Machine iPod in the future, or an expansion of the t-shirt line?
We'll see. Keep an eye on your local skateboard store, for starters.
One of your trademarks has been the use of animal caricatures in your art, particularly common varieties like the squirrel. Although I did spot the rogue wooly mammoth and maybe a platypus or zebra somewhere, most of your characters are garden variety. And I don't mean that negatively, but in the sense of "everyday" animals. Not a plethora of lions or gorillas, or dragons and cobras for that matter. Is that something conscious, or is it more a product of what you're familiar with?
Bears are funny. Alligators are not funny. Badgers and marmots are interesting, dragons are not. Dragons don't even exist--
they're made-up!
I think I saw a cat in one of the photos in your book, and by the gentle, playful style of your work I had assumed you would be partial to pets. In your prints the animals are generally engaged in a pursuit of some kind, whether it be rabbits at an art gallery, a bear powering a film projector, or the infamous squirrels taking risks. Do you find yourself anthropomorphizing a lot with real animals? My dog and I have lengthy, in-depth conversations, and our cat is rather vocal about his opinions.
My greyhound, Seth, and my cats, Ocho and Akiko, are definitely members of my family, as important as the rest of my relatives. SEE ALSO:
www.thebirdmachine.com
SEE ALSO:
www.dianogah.com
SEE ALSO:
www.punkplanetbooks.com
SEE ALSO:
www.akashicbooks.com
--
Eric J Herboth
Eric J. Herboth is the founder, publisher and Managing Editor of LAS magazine. He is a magazine editor, freelance writer, bike mechanic, commercial pilot, graphic designer, International Scout enthusiast and giver of the benefit of the doubt. He currently lives in rural central Germany with his two best friends, dog Awahni and cat Scout.

See other articles by Eric J Herboth.
If you'd like to help spread the word about LAS, or simply want to outfit yourself with some adhesive coolness, our 4" circle LAS stickers are sure to hit the spot, and here is how to get them:
-->
Send an with $2 in PayPal funds to cover postage. Don't worry, we'll load you up with enough to cover your town. Then just be patient. They will arrive soon.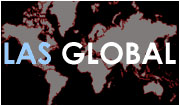 LAS has staff and freelance writers spread across North and South America, Europe, and a few in Southeast Asia as well. As such, we have no central mailing adress for unsolicited promotional material. If you are interested in having your project considered for coverage, please contact us before sending any promotional materials - save yourself time and postage!