LITERATURE
»
Full Dark, No Stars
- Stephen King's new novella questions mankind's ability to trust others.
[02.21.2011 by Bridget Doyle]
MUSIC
»
The Top 30 Albums of 2010
- Fashionably, fabulously late, our favorite music (and believe me, there was a LOT) of 2010, the year that some have called the best year for music ever. And only some of those fools work here. Plenty of usual suspects, lots of ties and a few surprises that I won't spoil, including our unexpected #1.
[12.24.2010 by The LAS Staff]
LOSTATSEA.NET
>
FEATURES
>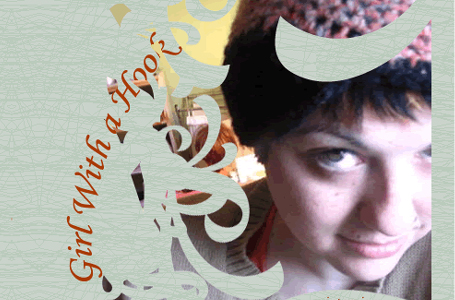 January 26, 2007
As is often the case with the web, not long ago I found myself clicking away through a series of artists' websites, aimlessly jumping from street artists to bag makers to ceramicists, when I came across the Myspace page of Heather Baris and stopped cold in my tracks. A native of St. Louis (don't get her started) who transplanted herself to Chicago a few years ago, Baris has been needleworking on creative, free-form hats for the past several years and has amassed an outstanding collection. But this isn't your grandmother's needlework; Baris' hats are anything but stuffy. Ripples of fabric cascade from the crown, waves of wool wrap around the sides, strange organic nodes, bulges and pods emerge from all sides.

I did spot a blue poncho in her collection, but without a doubt Barris' forté is headwear. All of her hats are custom made and are created freeform, without the use of any patterns or templates. Cruising the gallery of her past creations is like a trip through some psychedelic rabbit hole of needlework, and if a potential buyer happens to spot a style they would like to see on their own heads Baris is happy to oblige with a similar product. But Baris draws the line at exact replicas; each hat is unique, no exceptions.

After clicking through what seemed like an endless parade of headwear with names like "Jungle Love," "Fruit Salad," "Teal Twist," and "Barnacle Bonnet," I found myself with more questions than answers and decided to drop Baris a line to find out what exactly makes this particular mad hatter tick.
---
LAS: I suppose we should start with the obvious - how did you get into knitting?
Heather Baris:
My best friend in college taught me how to knit. She always made such gorgeous scarves and things that I think I was jealous. After a ton of practice, I got it down. Knitting was very relaxing for me and kept my obsessive fidgeting to a minimum. Although I love to knit, I crochet the hats I make. My grandma taught me how to crochet when I was young, I think around nine. Crocheting is a much better way for me to create organic shapes whereas knitting is great for rectangles and more structure.
Obsessive fidgiting?
Yeah, I think i'm obssessive compulsive. I'm constantly pullin' my hair and shakin' my foot and stuff like that. Having my hands busy crocheting is much more productive.
So, obviously you're dealing with a dolt here - what is the difference between knitting and crocheting? I'm sure to a lot of people it's probably like the difference between swimming and running, but I can hardly use a sewing machine, so bear with me.
They're pretty similar in the fact that they both consist of creating patterns by looping loops of yarn together. Knitting involves two needles and is what is usually used for scarves and gloves and things like that. It can be a closed stich or an open lacey stich... so many variations. Crocheting uses one hook. It's used a lot for making circles of fabric and afgans and has a very open stitch. I prefer the look of knit, but crochet allows me to create a more organic shape. I too can barely use a sewing machine!
Where do your ideas come from? A lot of your hats are amazing in a way that causes me to wonder how they ever came to be - odd appendages and growths and folds and waves. Are they something that you see complete in your mind before you set out, or do they sort of shape themselves as you go?
When I'm thinking of ideas, lots of things go through my head... Dr. Suess, sea creatures - anemones, sponges, barnacles, coral - and lots of other things that somehow relate to organic shapes.
I start a hat with a general idea of what I might want, but that almost always changes. My ideas change with the progess of the hat; I go with the yarn and it shows me what it is willing to do. Just like my hair... if I force the yarn to do something it doesn't want to do, it will end up looking un-natural and just plain not good. Not that my hats or my hair look natural, but I think you get the picture.
In short, the ideas are formed with the hat. That's why it's hard to create two of the same.
Why the focus on hats? Why not socks?
I've been obsessed with hats for an awful long time now. Hats give me a way to create more of a sculptural shape than, say, socks. Vintage hats inspire me a lot, especially 20's style hats. They're always so graceful and dramatic. A hat has so much more freedom of form - it's more than a hat to me, it's my art. I just can't see doing that with such a structured form as socks.
Is there a pile of fucked up, abandoned hats somewhere in your life, or are you pretty much able to get anything to work? Is there such a thing as an unrecoverable error in needlework?
There sure is a pile of fucked up hats in my house! They're mostly half finished hats that frustrated me so much that I threw them down. I know that some of them just need a little shapping and love and they'll be wonderful, but it could be months before I want to touch those. I don't think there are unrecoverable errors, really. Anything that is made can be used again in a different way unless, of course, you spill a jug of anti-freeze on a hat and it dries and you wash it but are still not sure if it all came out and wonder if that's even safe for human contact anymore. Then, yes, [it could be] unrecoverable.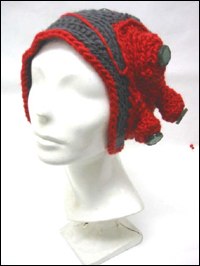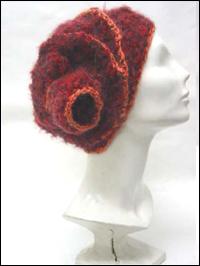 Have you had any ideas for hats that you've been unable to produce?
Well, of course! That's why I try to keep my ideas loose. They change in the process, and I always tell people that if they want a similar hat, it will never be exact. I do think, though, that as I continue to create hats, the ideas are easier to produce.
Are there some things that you just can't do with yarn?
Can't do with yarn?! NOPE! You can even make fabric with yarn! I mean, I don't, but it's possible. I figure that if one yarn can't do it, another yarn can. There's so much fabulous yarn in the world, there's got to be one for every project. Although... I
did
have to make my own breakfast this morning. So yeah, yarn apparently can't do that. Maybe I just have lazy yarn.
How long does the average hat take you to make?
This is always the first question and the hardest one for me to answer. Sometimes, I can sit down for 8 hours straight and make three or four hats. Other times, it takes three sittings to finish just one. It usually depends on how well my idea is coming out and how tired I am. I'm not a good night crocheter. When I'm really into it though, I can get one hat done in two sittings. That's probably the average. I would consider a sitting around two or three hours.
I was at a county fair in rural Illinois this summer and the crafts section of the exhibits, where people display their arts and crafts in hopes of winning a blue ribbon, was almost non-existant. There were only two entries. I spoke with one of the women in charge, a nice elderly lady, and she indicated that most of the traditional home crafts were dying out, even at the county fair. Yet knitting seems to have caught on with yuppies something fierce - Vogue even has a special knitting magazine. What do you make of knitting's sudden chic-ness amongst the stylish?
You know, I'm not sure how this came about! I did notice a HUGE change in the amount of young people knitting though. Maybe they liked that fact that there was something else they could do with name brands... get your wooden needles, some expensive fancy yarn and your
Vogue
knitting magazine and try to make a handmade designer piece. I guess there are worse things the yuppies could have gotten into. I also think the handmade gift made it really popular as well. And i'm ok with this - at least people are doing something.
It seems that just about any endeavor has its own culture and cultish followings... who is the Michael Jordan of needlework?
I wish I knew. I only have
my
personal hero, my reason for starting hats and my constant inspiration. Her name is Ana Voog and she's
online
and amazing!
Do you belong to any formal or informal knitting circles?
No. I looked into a knitting group once and they always met when I was still at work. I also work better alone or with one person. I get distracted super easily and usually just like music or television to keep me company while creating.
I was doing some reading and was surprised to find out that the craft was originally (as most things I suppose) completely dominated by men. Yet today it is almost exclusively thought of as a craft for women. Any thoughts on that?
Well, I have heard that before. I didn't do any research on it, but it might have to do with people wanting to put women in their place and send the men out workin'. I mean, I don't really know, but I'm pretty sure they stopped knitting out of manliness.
Do any guys ever wear your hats? I don't think a big goon like myself could pull one off... it seems like it would take a certain kind of (outrageously attractive?) guy to pull it off, as most of them are, for lack of a better word - effeminate.
You are correct. I don't think I've knowingly sold a hat to a guy. I've been asked why I don't make more hats for men and it's hard to answer. I mean, I never said they couldn't wear them, but I'm creating art. Men are pretty simple with their head attire and I don't do simple very well. In my head, I usually think, if you want a simple hat... go buy one. I've tried, and I'll keep trying to create some man-hats, but I've found it's a real challenge. I've been trying to make one for my boyfriend for a month now and i've taken it apart four times! So yeah, it takes a certain man to wear these hats.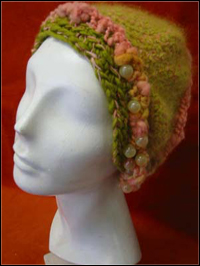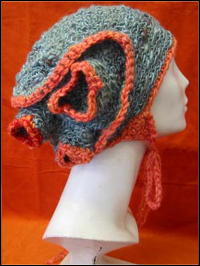 You seem to have a thing for dogs... but, with all that yarn around, shouldn't you have some cats?
Nope! cats would just chase my yarn around and tangle it up and that would be no good. My dog, Tater, has no interest in my yarn and I like it that way. My friend's cat has already claimed some of my yarn and it's always all over the house and covered in hair, which is a very sad sight for me.
Let me bust out some lingo: Do you typically knit in stockinette or reverse stockinette? Or patterns?
Wow... I haven't used a pattern in ages. I prefer stockinette stitch though.
Are there any other techniques or patterns that you're fond of using?
I have found a new love for another stitch though... I'm bad with stitch names unfortunately. It goes knit, purl, knit, purl, et cetera... and it makes it so your piece doesn't curl in. I love it!
I hate it when a piece curls in! What about materials? Do you stick with wool yarn, or do you ever bust out any angora or alpaca or anything else a little more "exotic" for your hats?
I think one of my favorite yarns would have to be brown sheep worsted or bulky wool. It knits and crochets
gorgeously
! I love wool, it's the warmest. I found a woman in Uruguay that spins the softest and most fabulous wool I've ever seen. It takes awhile to get, but it's so worth it. I always break out the other yarn though. I love crazy textured yarns. Sometimes I don't even know what it's made of, but it looks great. I would have more alpaca if I could afford it... so soft. It's all about the color and the texture to me.
How did you hook up with this woman from Uruguay? I'm picturing a weather-worn woman wrapped in a traditional Charrua blanket shearing sheep by a campfire... which is quaint but really stereotypical.
Nice image! I found her on Ebay. It is very possible that she is who you think she is, but we might never know. Although, she does has a computer. I've found a lot of yarn from Uruguay on ebay actually. This woman is the best though - softest yarn EVER!
Are there breakdowns in the needlework community, like the yuppie-ish types who hit Wal-Mart for their supplies versus ultra-green types who only use wool harvested from freerange sheep fatted on organic oats? Does any of that really matter, or is the only thing that matters a kick-ass garment?
I'm really bad about keeping track of the craft community. You're probably right with your catagories though. I'm sort of a homebody. I don't get too involved with communities, except when I'm in a craft fair. I've never made yarn, but i'd love to try. I would like to go to a farm someday and sheer a sheep or a llama and make yarn out of it! I might hate it though. Sheering a sheep sounds nice to me though. Did that even have anything to do with your question?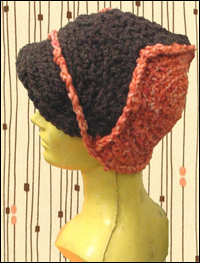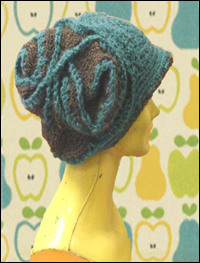 Who would you consider your typical customer?
When I'm in a craft fair, it seems like a majority of my customers are
in
the fair. It's usually a good mix of young and older folks that buy them. Usually people that are tired of normal hats that you see everywhere and want something different. It's usually creative and open people that buy them, and mostly women.
Do you sell your wares anywhere in particular? I can imagine that a lot of swanky boutiques catering to hipsters might be salivating at cashing in on the new chic of needlework...
You would think. But I found that it's not the best way to make money. I had my hats in a store in a popular Chicago boutique when I moved here 4 years ago. It was a great start, but they want 40% of what I make on the hat. That means I'm barely making anything and would have to really mark it up to have it be worth it. I have a problem with over-charging for my goods. I know one day I'll be able to over-charge and still sell them, but for now I haven't made a strong enough name for myself yet and don't want to head that way. I also want the average person to be able to afford them.
So for now, I've been sticking with
my store at etsy.com
, and craft fairs such as
DEPART-ment
and the
Renegade Fair
in Chicago.
Have you ever spotted one of your hats on the street?
I've spotted them while at the craft fairs, but never radomly on the street. I wish I would though!
Is there anything about your craft that people never ask you, but you wish they would? Or something interesting that most people don't think about?
Well, no one has ever asked me THAT before. Good question. Hmmm... I really don't know.
---
With the northern hemisphere already in the grips of winter and the long summer days already shortening for those on the bottom half of the globe, now is the perfect time to outfit your noggin' with one of Baris' elegant creations. After all, ninety percent of body heat escapes through the head. You can find Baris' work at craft fairs in and around Chicago as well as at several hip online boutiques like Etsy and DEPART-ment.
SEE ALSO:
www.girlwithahook.com
--
Eric J Herboth
Eric J. Herboth is the founder, publisher and Managing Editor of LAS magazine. He is a magazine editor, freelance writer, bike mechanic, commercial pilot, graphic designer, International Scout enthusiast and giver of the benefit of the doubt. He currently lives in rural central Germany with his two best friends, dog Awahni and cat Scout.

See other articles by Eric J Herboth.
If you'd like to help spread the word about LAS, or simply want to outfit yourself with some adhesive coolness, our 4" circle LAS stickers are sure to hit the spot, and here is how to get them:
-->
Send an with $2 in PayPal funds to cover postage. Don't worry, we'll load you up with enough to cover your town. Then just be patient. They will arrive soon.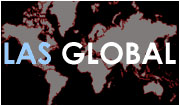 LAS has staff and freelance writers spread across North and South America, Europe, and a few in Southeast Asia as well. As such, we have no central mailing adress for unsolicited promotional material. If you are interested in having your project considered for coverage, please contact us before sending any promotional materials - save yourself time and postage!