LITERATURE
»
Full Dark, No Stars
- Stephen King's new novella questions mankind's ability to trust others.
[02.21.2011 by Bridget Doyle]
MUSIC
»
The Top 30 Albums of 2010
- Fashionably, fabulously late, our favorite music (and believe me, there was a LOT) of 2010, the year that some have called the best year for music ever. And only some of those fools work here. Plenty of usual suspects, lots of ties and a few surprises that I won't spoil, including our unexpected #1.
[12.24.2010 by The LAS Staff]
LOSTATSEA.NET
>
FEATURES
>
June 13, 2006
Several weeks ago the Comedians of Comedy Tour kicked off a short run through the middle of America in hopes of raising the spirits of hipsters who feel down about our country. Patton Oswalt, Brian Posehn, Maria Bamford and Eugene Mirman went out on the road for two weeks and brought smiles to the people. The nerdy, hipster people in the Midwest, that is.

We (Stacey Hallal and Bob Ladewig) had the pleasure of talking with Eugene Mirman at length in Chicago the day of the the tour's final two shows. Just weeks later Mirman would be touring solo to promote his newest CD release, En Garde, Society!, and at the end of this month he'll be MCing the festivities at Suicide Squeeze's 10-Year Anniversary shows in Seattle. Back in Chicago Eugene took a few minutes from his calendar and talked with us about touring, creating shows, labels, his dreams, and about the freedom of making things happen for yourself.
---
LAS:
This wasn't an extensive tour, was it?
MIRMAN:
No, it was about a week and a half.
LAS:
So how has it been?
MIRMAN:
It's been very fun. It's fun being in a van and joking around. The shows are really good. The crowds are really great -- except for in Champaign, Illinois.
LAS:
It wasn't good in Champaign last night?
MIRMAN:
Actually it was good, it's just that there were a handful of people who were really rowdy. As it turns out that the club sent out an email saying that we like drunk people to heckle us - which is not true. They sent it to people who bought tickets in advance, which was weird and I'm sure when we were, like, "why are you guys all drunk and crazy?" they were, like, "you wanted this." But we didn't. Most people were really nice, but it's just funny because there were like 10 people who were far too annoying and either they
are
assholes or the club told them to
become
assholes.
LAS:
How did you get hooked up with the Comedians of Comedy tour this time?
MIRMAN:
Patton asked me. He organizes it.
LAS:
And how did you meet Patton?
MIRMAN:
Oh, just through comedy. I've known him for a few years. I forget when I met him. Probably three or four years ago. Either in New York or somewhere. Not a great story but extremely accurate. Eventually in comedy you just meet everybody in the same world. He's friends with lots of friends of mine.
LAS:
You've not only done comedy tours, you've also opened for a lot of bands - Modest Mouse, Yo La Tango - I'm curious as to how that is different for you, playing in different types of venues. Are the audiences different? Do you adapt your material?
MIRMAN:
It's much easier to do comedy for people who are there to see comedy than for people who are there to see music. But, on the other hand, if people really like it, you can tap a new audience. Also, the sensibility of the fans of the bands I tour with really matches with the sensibility of my comedy.
LAS:
Tell me about the regular stand up shows in Brooklyn that you do,
Tinkle
and
Invite Them Up
.
MIRMAN:
Well,
Tinkle
doesn't happen regularly right now. For a while it was, because David Cross was in LA doing
Arrested Development
, but it might start back up. Our show,
Invite Them Up
, I do with Bobby Tisdale. We do it every week, unless I am touring. It's a four-year juggernaut of comedy.
LAS:
Wow. Four years. Do you mix music and comedy?
MIRMAN:
It's mostly comedy but we often have music at the end. We've had Yo La Tango, Conner from Bright Eyes did it, but the show is mostly comedy. Have you seen the CD? The compilation?
LAS:
We don't have the compilation. We have your CD…
MIRMAN:
That's all for the best, mine is
awesome
. But basically
Invite Them Up
is people doing odd bits - like this guy Jon Glaser He used to write for Conan. He's really funny, his bit is that his dad used to be in ZZTop, and he reads these letters his dad wrote to ZZTop. It's weird things like that.
LAS:
Speaking of weird stuff. Your web site has been running for a long time. Where did that idea stem from? And first of all, is that an actual picture of you?
MIRMAN:
Yes, that is me as a baby in Russia. I used to work at a web company and I shared an office with a designer and he said, "we should make you a web site". So, I scanned a bunch of pictures. The first thing we did was make the picture wink, then we thought we should make it sing so I recorded a bunch of songs. It just came from experimenting and playing around.
LAS:
It's hilarious how it's grown. It's pretty popular.
MIRMAN:
I don't even know if, when I first put it up, if it said I was a comedian. I think what worked for it was that it was just content. I guess now you can find stuff about me on it, but at first it was just videos and weird crap people could look at, and me just messing around.
LAS:
Seems like you like to mess around a lot. Were you in Aspen this year?
MIRMAN:
I did Aspen last year. And I did five years ago too.
LAS:
Wow. Five years ago?
MIRMAN:
Yeah, oh boy. You'd think it would even matter. But it doesn't matter. It's fine, It's fun. But it's nothing, I mean, I'm sure some things happen for people there, but I don't think the industry cares about me. I think people do.
LAS:
How do you feel about the different big festivals like Aspen, Just For Laughs, South by Southwest…
MIRMAN:
South by Southwest is my favorite. Bumbershoot is really awesome too. The music festivals are my favorite, probably because I'm not quite in the industry of music so I don't care. I'm not trying to meet anyone to do anything, I'm just there to listen to music and do shows. Aspen and Just for Laughs are fun too, but they are "industryish" and I don't like a lot of the industry side. It's just not fun for me. But the music part is fun for me. I mean, for instance, I can just put out records. You can just go around a lot of the traditional ways that people succeed in comedy or in anything, and I prefer it. I'm totally happy to do Aspen and Montreal but it's a lot more fun to put out something on Subpop and do South by Southwest. I can do whatever and they will put it out without having to change things or people trying to figure out how something will work on a show or whatever.
LAS:
I know they are kind of a family of labels, but your first album was on Suicide Squeeze, and this one is on Subpop. Was there a big to-do about that?
MIRMAN:
Dave and all the people at Suicide Squeeze are wonderful and I don't know if you've ever talked to him but he is a super nice guy. There was no to-do. My first album was very well received critically but it hasn't sold that well yet so I thought I would try something different with a bigger label.
LAS:
It makes sense. David Cross releases his stuff on Subpop.
MIRMAN:
Yeah, it's just bigger and I think it will be more out there. It's not like there is any crazy big reason like I was mad at them or anything... goddamn art rock!
LAS:
What would be your ideal scenario for yourself? Are you happy touring and making albums?
MIRMAN:
I do like touring and love making albums and I think that's the thing I might do. I would definitely like to have specials, or maybe make a movie or do a TV show, but more than that I like making things up and I feel like a lot of the way comedy works.... Even if you get a pilot and you write a pilot over some period of time, then you get notes and then it all kind of fails and disappears. Most shows aren't made. I would hate to work on a script for a long time, that I thought was good, and have nothing happen to it. I'd rather ask somebody for a small amount of money and make a DVD that I sell. Why not do that? Why make a pilot? And, of course, the answer is that you get paid lots of money and you can have a home - which I may want at some point. But[the way it is now], you can make stuff and sell it, and you can make money, and it's just a different way you can do stuff and that's just how I would rather do it.
LAS:
How did you get hooked up with Home Movies, on the Cartoon Network?
MIRMAN:
I used to live with Brendan Smalls in Boston. We started doing comedy together. I mean somebody has to live with people, right? But yeah, we did comedy for years together in Boston, where we met.
LAS:
Well, your voice is used very well in that show.
MIRMAN:
Thanks. I think so, too.
LAS:
Since it's the last night of the tour, are you gonna hang out in Chicago at all when it's done?
MIRMAN:
I was going to, but I am going on tour again in a week and half so… but I might change my mind. I probably won't. I guess if I fall in love tonight I may stay for an extra day.
LAS:
Just an extra day?
MIRMAN:
That's how much patience I have.
LAS:
A technical question - when generating new material, how frequently do you turn over new material?
MIRMAN:
It depends on what you are doing... If you are you performing for people, you have to put on a show for them that they will enjoy. For instance, tonight I will try to do different stuff from the last time I was in Chicago, but I might do a little of the old stuff because it's a large, new audience. I more think of it that way, in terms of "where am I and what have people seen?" In a sense, that's what's fun about making an album to me - you make and album and then that stuff is done, and then you write more. For
Invite Them Up
, I have a new show every Wednesday, where I write new material for that show and then that stuff becomes my act. But it depends. I just did a tour with Cake, that was like 3000 people at the shows, so I did stuff I wrote 8 years ago that I really don't do that often now. But for people who have not ever seen me, I know that material is really effective and I would rather just do an old joke, to not die in front of 3000 people. But if I did that tour again, I would do all new material, because I wouldn't want to do the same stuff for the same audience. That's what I am more concerned with.
LAS:
Do you keep careful track of it?
MIRMAN:
In my head. I know I was doing certain things at a certain period of time. For example, I know I was here last May and I have a sense of what stuff I was doing around that time. I might keep a little of it because I think that's pretty reasonable. I have two shows, so I might keep a little more because I want to vary between the two shows. Some people are crazies and come to both shows, so I want them to get an extra ten minutes of something.
LAS:
Do you keep your live material different from your web site?
MIRMAN:
Not totally. I play videos... probably not tonight, but I have videos that I will show that are on my web site. I think the shared experience of seeing a video is different from watching it alone. Also, a lot of people haven't seen what's on the web site. I used to be, like, I won't put this on the site so I can do it live, but people can still enjoy it and it's so totally different in a group.
LAS:
Is that the same with video or audio clips from your act?
MIRMAN:
Yeah, I have a few of those on my site. One thing that mildly concerns me but not too much Is people started taping stuff that I am currently touring and putting it on Youtube.com. In a sense I'd rather save some stuff to do in every place without people having seen it once, but the number of people who see it on the web is pretty irrelevant, so I'm not too concerned.
LAS:
Is it like a band? People want to hear
the Hits
?
MIRMAN:
The difference is that people want to hear the Hits from a band, and people want new jokes from a comic. If I had an Aqualung everyone would want to hear it.
LAS:
You mean you don't? Come on.
MIRMAN:
I mean even if I did, no one would want to hear it cause they'd already know it.
LAS:
Last question. What would be your dream tour? What would the line up be? Music? Comics?
MIRMAN:
I don't know. It would probably involve Robin Hitchcock and Todd Barry. It would probably be people who I have toured with anyway and some people I haven't, but I don't know how the audiences would mesh. What I would ideally want is probably something no one would ideally put on. The audience would battle maybe. But not really. I'm actually sure it would work out fine. Or Lou Reed maybe, oddly enough. Or not really. Maybe? Meaning wouldn't it be fun to play with Velvet Underground? But not? But really, Patton and David Cross, John Benjamin, John Glaser are so funny, I would love to tour with them all of which is sort of plausible but they have babies that they seem to love and can't abandon.
LAS:
When I saw
Tinkle
, they were all there, David Cross, Todd Barry, John Benjamin.
MIRMAN:
They are
Tinkle
. They hosted
Tinkle
all time. Yes, yes, a
Tinkle
tour would be really fun. One of the
Tinkle
shows I did Wilco played. That would be incredibly fun. If we did a
Tinkle
Tour with Wilco as the musical guest, that would be fun. Also, it would be unreasonable.
---
That night the comedy tour played at the Logan Square Auditorium for two shows. The crowd(s) of Chicago hipsters filled the room with palpable excitement and anticipation, and it is probably safe to say that I don't think anyone walked away disappointed.

Since it was the last show of the tour, all four comedians got on stage at the end and shared all the bits they had been doing on the road (most of them at one another's expense - apparently Patton Oswalt is a big Leone Redbone fan). Mirman hadn't been bluffing; it was easy to see how well they were all getting along, and the sight gave fuel to our hopes that this tour continues over the years. We just can't see it not working.
--
Comedian Stacey Hallal, whom Bob Ladewig describes as "the funniest and most beautiful girl in the world," lives in Chicago, where she performs and directs improvisational comedy. This is her first contribution to LAS.
-- SEE ALSO:
www.eugenemirman.com
SEE ALSO:
www.subpop.com
SEE ALSO:
www.suicidesqueeze.net
--
Bob Ladewig
Having been introduced to good music by his sister in the early years, Bob Ladewig has been searching out all the best in indie music ever since. He also rides a skateboard and performs/directs comedy shows and, like all great men, he's afraid of really growing up.

See other articles by Bob Ladewig.
If you'd like to help spread the word about LAS, or simply want to outfit yourself with some adhesive coolness, our 4" circle LAS stickers are sure to hit the spot, and here is how to get them:
-->
Send an with $2 in PayPal funds to cover postage. Don't worry, we'll load you up with enough to cover your town. Then just be patient. They will arrive soon.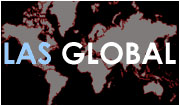 LAS has staff and freelance writers spread across North and South America, Europe, and a few in Southeast Asia as well. As such, we have no central mailing adress for unsolicited promotional material. If you are interested in having your project considered for coverage, please contact us before sending any promotional materials - save yourself time and postage!