LITERATURE
»
Full Dark, No Stars
- Stephen King's new novella questions mankind's ability to trust others.
[02.21.2011 by Bridget Doyle]
MUSIC
»
The Top 30 Albums of 2010
- Fashionably, fabulously late, our favorite music (and believe me, there was a LOT) of 2010, the year that some have called the best year for music ever. And only some of those fools work here. Plenty of usual suspects, lots of ties and a few surprises that I won't spoil, including our unexpected #1.
[12.24.2010 by The LAS Staff]
LOSTATSEA.NET
>
FEATURES
>
December 21, 2007
Staff Lists A-M
|
Rachael Neile-Mcgrew
|
Mike Orme
|
Marcy Saude
|
Eric Schneider
|
Ari Shapiro
|
Mike Shea
|
Imran Siddiquee
|
Daniel Svanberg
|
Mark Taylor
|
Dave Toropov
|
Dan Weiss
|
Mike Wright
|
Josh Zanger
|
2007 Composite Top 20
---
Rachael Neile-Mcgrew
1. The Arcade Fire -
Neon Bible
(Merge) - Sprawling sound, reminiscient of Echo and the Bunnymen, but not as gay. Ambitious sophomore effort that snags you right away. This one will end up on most Top Tens, or should.
2. A Place to Bury Strangers -
A Place to Bury Strangers
(Killer Pimp) - Reminds me of my teenage years, listening to Joy Division and The Stone Roses, but much, much louder. Initially attracted to the band for the name, but so happy I have rather morbid tastes in monikers.
3. PJ Harvey -
White Chalk
(Island) - She could put out an album of her doing the dishes and I would put it on my Top Ten.
4. Andrew Bird -
Armchair Apocyrpha
(Fat Possum) - Lovely, and it has some well-crafted lyrics that beg for repeated listening. Hooky melodies and out of the ordinary instrumentation make this a nice album to chill out with.
5. Blonde Redhead -
23
(4AD) - Atmospheric, but with better beats. Does Blonde Redhead make anyone else think of Lush?
6. Black Francis -
Bluefinger
(Cooking Vinyl) - Yes, I'm a sucker for all the Pixies Alumni. Long Live Charles Thompson.
Bluefinger
is a fine return to the old name and sound.
7. Klaxons -
Myths of the Near Future
(Geffen) - Inventive sound, with a surprise in every song. You certainly cannot accuse them of monotony.
8. Arctic Monkeys -
Favourite Worst Nightmare
(Domino) - Energetic Brit-pop with clever, quick lyrics. This is a good road trip album. And who can resist the adorable accent?
9. Clipd Beaks -
Clipd Beaks
(Lovepump United) - Kinda noisy, interesting and almost totally unique. It rocks out in a peculiar way that I find soothing?? Again, I stumbled upon this band based on their name. This is the kind of noise album that my friends and I tried to record during college.
10. Radiohead -
In Rainbows
(self-released) - The only reason I am putting this one at number ten is because it will be at the top of most other top tens. I'm just trying to balance the year-end review universe. It's probably more like four or five.
Honorable Mentions
The Besnard Lakes --
The Besnard Lakes are the Dark Horse
(Jagjaguwar)
Bjork -
Volta
(Atlantic)
Interpol -
Our Love to Admire
(Capitol)
Spoon -
Ga Ga Ga Ga Ga
(Merge)
Biggest Disappointments
Modest Mouse -
We Were Dead Before the Ship Even Sank
(Epic)
Thanks for the first mediocre album, double-M. And the May show in Chicago sucked. It's your own fault for making me love you in the first place.
--
Mike Orme
1. The Field -
From Here We Go Sublime
(Kompakt) - Unlike his peers, Axel Willner has inextricably tied his first full-length as the Field to not a genre, but a concept. A collection of name-that-tunes on both an epic and microscopic level, Willner's compositions breathe borrowed fire, each a seven-odd minute journey of discovery that loops quarter-second samples of Kate Bush or Fleetwood Mac or Lionel Richie, or someone you've heard before but won't recognize here. Rather than recreating the mash-up, the Field seems to revel in the smooth-down.
2. LCD Soundsystem -
Sound of Silver
(DFA/Capitol)
3. Daft Punk -
Alive 2007
(Virgin) - The Parisian duo's recent live show, debuting with a light-up pyramid at Coachella '06 and continuing with the unstoppable
Alive 2007
world tour, has moved critics and fans alike to obnoxious hyperbole. But even without the visual aid of progressively more complex light show, the tunes bang. This mixed-up conflagration of all the popular Daft Punk cuts is a progressive mind-fuck. Would you prefer "Television Rules The Nation" mixed in with "Crescendolls?" Have you ever wanted to hear "Around the World" and "Harder, Better, Faster, Stronger" in the same sonic space? Or "One More Time" and "Aerodynamic" mashed up to a face-melting sequencer line... Maybe this really
is
the greatest live show of all time.
4. Studio -
Yearbook #1
(Information) - 2007. will be remembered as the year the beach broke. Studio's seventy-minute behemoth
Yearbook #1
reached our shores early this year, blending sunny Afro-pop rhythms with the pulsing techno-guitar of Manuel Göttsching and tangential pop inspiration from the Aztec Camera generation (later followed by an easier-to-find re-issue of their
West Coast
.
Yearbook
, however, was the greatest harbinger of a year that saw big releases from similarly Balearic groups A Mountain of One, Strategy, and even Vampire Weekend.
5. Gui Boratto -
Chromophobia
(Kompakt) - Briefly the Kompakt Artist Album of The Year (and quickly supplanted by the Field),
Chromophobia
brings together a curious collection of techno grooves that might be a little too off-the-wall for Ibiza, but which consistently amaze in their upward-looking glory. The Brazilian producer has a knack for putting great big trance lines into a bewilderingly unchanging "minimal techno" landscape, literally entrancing the listener.
6. A Sunny Day In Glasgow -
Scribble Mural Comic Journal
(Notenuf) - Dream-pop is an understatement. This full-length debut from the Philly-area trio is one long lucid dream. Vocals fade briefly in and just as soon are lost forever, and muffled pianos seem to herald a coming dawn that is eternally and maddeningly on the cusp of being. As soon as it's over, you grasp at what little you can remember and vow to exert better control next time. Good luck.
7. Tujiko Noriko -
Solo
(Emego)
8. Panda Bear -
Person Pitch
(Paw Tracks)
9. Justice -
†
(Ed Banger/Vice) - Call them Diet Daft Punk. Just do it. Ed Banger's flagship act got out from under the haters and the cries of "nuNuRave" and got out a full-length with some of the year's best dance tracks. Perhaps most surprising was the Jackson 5. tribute "D.A.N.C.E.," which not only managed to stay away from the fake electro-house guitar fuzz, but spawned five hundred or so excellent homegrown-yet-club-ready re-mixes. Blog-house, indeed.
10. Arcade Fire -
Neon Bible
(Merge)
- Win Butler still wants to be a rock star and he finally has the appropriate scale to give it a go. Penning big Springsteen-esque choruses and recording a full pipe organ in an abandoned church, Butler and his army of young multi-instrumentalist mercenaries seem dead-set on proving that you're never too young to be taken seriously, and never too old to bang on motorcycle helments. Their record's theme (general anti-evangelical) might be fish-in-a-barrel, but last I checked, there's nothing that says you can't hit your audience over the head with the blatantly obvious as long as you kind of rock in doing so.
--
Marcy Saude
1. Big Blood -
Sew Your Wild Days 1. & 2
(Time-Lag)
2. Robert Wyatt -
Comicopera
(Domino)
3. Common Eider, King Eider -
How to Build a Cabin
(Yik Yak/IODA)
4. Psychedelic Horseshit -
Magic Flowers Droned
(Siltbreeze)
5. Richard Youngs -
Autumn Response
(Jagjaguwar)
6. Group Doueh -
Guitar Music from Western Sahara
(Sublime Frequencies)
7. Omar Souleyman -
Highway to Hassake: Folk and Pop Sounds of Syria
(Sublime Frequencies)
8. Wooden Shjips -
Wooden Shjips
(Sick Thirst)
9. MV & EE with the Bummer Road -
Green Blues
(Ecstatic Peace)
10. Magik Markers -
Boss
(Ecstatic Peace)
--
Eric Schneider
1. Blonde Redhead -
23
(4AD) - On its second album for 4AD, Blonde Redhead continues to work an appropriately atmospheric angle, while offering up its most impressive set of songs to date. It's elegant, strange, tense, and - at times - thrillingly rocked-out. This is the sound of a band working at the peak of its powers.
2. Radiohead -
In Rainbows
(self-released) - The group's most accessible album since
The Bends
, and arguably its most consistent since
Kid A
… and they practically gave it away. What's not to like?
3. The White Stripes -
Icky Thump
(Third Man/Warner Bros/XL) - Jack and Meg hit yet another one out of the park. It's weird and all over the place, and it reinforces why the White Stripes are the most inventive blues-rock act since Led Zeppelin.
4. Iron & Wine
The Shepherd's Dog
(Sub Pop) - Indie-folk hero Sam Beam gets all Beatlesque in the studio and even throws in some African rhythms - and it works surprisingly well.
5. Jesu -
Conqueror
(Hydra Head) - Imagine a minimalist jam session between Black Sabbath and Ride, and you're in Jesu territory. Whereas Godflesh was apocalyptic and industrial, Jesu is majestic and elemental, making it the most intriguing of Justin Broadrick's many musical aliases. The guy definitely proved to be one of the most prolific artists of the year, also issuing the
Pale Sketches
rarities collection, the
Lifeline
EP, and a split LP with Eluvium. Speaking of which…
6. Eluvium - Copia (Temporary Residence) - That part in a great film where the camera pulls back to reveal a gorgeous landscape and the orchestra kicks in to stunning effect - this is an album full of those moments.
Copia
takes Brian Eno's concept of "discreet music" in emotive and beautifully cinematic directions.
7. LCD Soundsystem
Sound of Silver
(DFA/Capitol) - There's something vaguely annoying about James Murphy, but the guy managed to come up with an amazingly fun--and often ferociously funky--set of songs that easily eclipses LCD's impressive, but sometimes too schticky, debut. And those that claim that
45:33
is the year's better Soundsystem release need to get off their Stairmaster and onto the dance floor for "Us V Them."
8. Arcade Fire -
Neon Bible
(Merge) - It's basically impossible to top the thrill of discovering Arcade Fire's
Funeral
. That noted,
Neon Bible
is a mature, measured follow-up that doesn't disappoint. And "Keep the Car Running" gets my two-year-old daughter dancing around the room every time.
9. Caribou -
Andorra
(Merge) - Dan Snaith has gotten ridiculously good at distilling his many influences - 1960s psychedelic pop, krautrock, free jazz, and even vintage R&B - into some fascinating electronica.
Andorra
is the warmest, most organic and cohesive Caribou offering yet.
10. Battles -
Mirrored
(Warp) - While it can get a bit too "math rock"-y for its own good,
Mirrored
is a vibrant and restless outing that gets my vote on the strength of the phenomenal single "Atlas" alone.
Other favorites:
The Shins -
Wincing the Night Away
(Sub Pop)
Explosions in the Sky -
All of a Sudden I Miss Everyone
(Temporary Residence)
Yeah Yeah Yeahs -
Is Is
EP (Interscope)
Bat for Lashes -
Fur and Gold
(She Bear)
Fennesz/Sakamoto -
Cendre
(Touch)
--
Ari Shapiro
1. Kevin Drew -
Spirit If…
(Arts & Crafts) - Kevin Drew is etching his name in the indie idol scrapbook, mainly as the co-mastermind behind the brilliant Broken Social Scene. With this hour-long, dubiously titled "solo" effort (the Social Scene is sufficiently intact to fill the bountiful guest-spots), Drew gushes music that is as raw as the feelings and subjects he attacks - fucking, fighting, fearing, hoping. And like the stuff pumping through our veins, it is deep, colorful, urgent and brimming with subsistence. Let it Bleed.
2. Cloud Cult -
The Meaning of 8
(Earthology) - The bookend for Kevin Drew's #1, another hour-plus of music that leaves the listener lurching. This eclectic and environmental ensemble from the Land of 10,000 Lakes is growing stronger with each release. Like a melodious playground, the album merry-goes around the loss of Craig Minowa's infant son several years ago. Tragic and uplifting, with moments of staggering clarity, it ends up as a tribute to the ragged richness of life.
3. A Place To Bury Strangers -
A Place To Bury Strangers
(Killer Pimp) - The sonic warping of early Jesus and the Mary Chain, including their pop proficiency, is quickly evidenced in the hard-charging opening seconds of this debut. Fossilized layers of distortion and a heavy heaping of guitar pedals could smother the whole deal; natch, it catapults this clamor over the cacophony moat. Nitty, gritty and endlessly inspiring, just like the borough that birthed this fearsome threesome with the awesome moniker (Gospel of Matthew meets Aleister Crowley). That would be Brooklyn, but of course.
4. Radiohead -
In Rainbows
(self-released) - Surprise, surprise, Radiohead have made a critic's Top 10. Year End list! At this point in their arc - actually since
The Bends
, over a decade ago - it seems implausible that this band could release an album that would escape such recognition. The band struck a pot o' gold again, going redux with a gorgeous, jazzy sequence of ten perfect songs, conveniently downloaded to millions of OK computers across the globe. And shutter to think: Yorke, the Greenwoods, O'Brien and Selway aren't even at the end of their rainbow.
5. Arcade Fire -
Neon Bible
(Merge) - About as startling as finding Radiohead on this list, the phenomenal Canadian outfit is in their heir-apparent catbird seat. In hindsight,
Funeral
was like an Old Testament bomb from wintry Montreal, dropped on an indie world waiting for the next "only band that matters." The Neon New Testament did nothing to settle to the dust stirred up by these talented art punks. But it may have settled the passionate debate: the Arcade Fire tent revival is here to stay, as long as it damn well pleases. Strap on those motorcycle helmets.
6. LCD Soundsystem -
Sound of Silver
(DFA/Capitol) - James Murphy is morphing into a Gen X renaissance man of musicology. It would suffice to amass a giant collection of vinyl, be the DJ-of-the-moment, produce the dance-punk-of-the-minute (as one half of the DFA), and pop out workout music for Nike. Yet the scruffy hipster still finds time to record and perform as LCD Soundsystem, releasing a sophomore effort that equals his striking debut. Mashing an electronic heartbeat with half-sung sardonic words could come up short in lesser hands. But Murphy touches the notes just right, even the poignant songs make you shake your hips.
7. Liars -
Liars
(Mute) - Come clean, you Liars: Berlin or Brooklyn? Experimental or dance-punk? Primordial or evolved? Hell, keep messing with us, eschew the categorization, and just throw it all against a wall - hard. What sticks is a self-titled, non-narcissistic nod to creativity run wild. Amok, possibly; awol, not in the least.
8. Caribou -
Andorra
(Merge) - Leave it to Dan Snaith, with a PhD in Mathematics, to expound the formula. Whereas some electronic music may lack emotion, the good Doctor sneaks in just enough human touch to redefine the equation. Like his native Canadian backwoods, the record plays like a remote, radiant campfire - you can't get too close to it, but its warmth draws you near.
9. The Aliens -
Astronomy for Dogs
(EMI) - Maybe I have a soft spot for one degree of separation from the beloved Beta Band, who recently packed it up. Or, maybe three out of four original members ain't bad. However one does the math, the resulting Aliens add up. This blithe romp over seventy minutes and several decades ends up as more than the sum of its parts. Groovy, retro, mod, tender, and of course, weird. Beta Version 2.0 is proven; let the music masses have at it.
10. Parts & Labor -
Mapmaker
(Jagjaguwar/Brah) These music mechanics topped my 2006. list, a contraire choice fer sure. But I'd be amiss if I didn't include their brilliant '07. follow-up on this-here inventory. The parts are lubricated, but still grinding, and things are as laborious as ever. More melodic than
Stay Afraid
- that is, if you consider fierce vocals, thunder-bolting drumming, occasional horns and duct-taped keyboards to be harmonious. Buried underneath the rubble lie the anthems for this star-crossed spangled country: O' say can you bring the pummel?
SONG OF THE YEAR
: "Resurrection Fern" by Iron & Wine.
Sometimes the simplest songs are so deceptively beautiful, they can disarm the most seasoned listener. Sam Beam orbits this universe, and occasionally sends out a shooting star, much like Yo La Tengo did last year with the stunning "Black Flowers." Coming late in the set of the strong, but uniform,
The Sheperd's Dog
, "Resurrection Fern" ever-so-slightly breaks the mold. But like breaking a brittle piece of clay, the result is shattering. "And we'll undress beside the ashes of the fire/ Both our tender bellies wound in baling wire." Enough said.
--
Mike Shea
1. The National -
Boxer
(Beggars Banquet)
2. Aesop Rock -
None Shall Pass
(Def Jux)
3. Parts and Labor -
Mapmaker
(Jagjaguwar/Brah)
4. Burial -
Untrue
(Hyperdub)
5. Two Gallants -
Two Gallants
(Saddle Creek)
6. Ghostface Killah -
The Big Doe Rehab
(Def Jam)
7. Ratatat -
Remixes Volume 2
(none)
8. Sunset Rubdown -
Random Spirit Lover
(Jagjaguwar)
9. UGK -
Underground Kingz
(Jive)
10. Battles -
Mirrored
(Warp)
--
Imran Siddiquee
1. Panda Bear -
Person Pitch
(Paw Tracks)
2. M.I.A. -
Kala
(XL)
3. The National -
Boxer
(Beggars Banquet)
4. Radiohead -
In Rainbows
(self-released)
5. Arcade Fire -
Neon Bible
(Merge)
6. Sunset Rubdown -
Random Spirit Lover
(Jagjaguwar)
7. LCD Soundsystem -
Sound of Silver
(DFA/Capitol)
8. Patrick Wolf -
The Magic Position
(Loog/Low Altitude)
9. Animal Collective -
Strawberry Jam
(Domino)
10. Feist -
The Reminder
(Cherry Tree/Interscope)
--
Daniel Svanberg
1. Von Sudenfed -
Tromatic Reflexxions
(Domino) - A collaborative match made in heaven, where Mark E Smith of The Fall hooks up with electronica maestros Mouse on Mars, resulting in a record that will last all year long.
2. Southerly -
Storyteller and the Gossip Columnist
(Greyday Productions) - Indie pop at it's best. Southerly frontman Krist Kreuger has penned an album-full of close to perfect pop songs.
3. Freezepop -
Future Future Future Perfect
(Cordless Recordings) - On their third full-length Allston, Massachusetts finest band proves once and for all that they just might be the future future future of geeky electronica.
4. Lesbians On Ecstasy -
We Know You Know
(Alien8) - When the urge for feminist coffee shop chants gets too strong, just reach for
We Know You Know
for that quick, angry lady fix.
5. Calvin Harris -
I Created Disco
(Fly Eye/Columbia) - Calvin Harris is a liar. He didn't create disco. He did however do an excellent job reinventing it, and proving to the world that the only thing you need to become a pop star is an Amiga 500 and a sense for fine beats.
6. Justice -
†
(Ed Banger/Vice) - The French are taking the French sound (duh!) a bit further with Justice. Proving that the best thing to come from the land of cheese, wine and love is actually hard electronic beats.
7. The Hives -
The Black and White Album
(A&M) - Sweden's finest do it again, proving that there is only one goal in sight: world domination.
8. Richard Hawley -
Lady's Bridge
(Mute) - This years big weeper, Richard Hawley has penned a small army of sentimental love songs that will leave your heart overflowing.
9. Client -
Heartland
(Metropolis) - Three foxy British ladies calling themselves Client might be the closest thing to the Pet Shop Boys since
Very
.
10. Hans Appelqvist -
Sinfantin och Mörkret
(Häpna) - Ambient album of the year, for the lover of animal sounds, soft guitars, and very weird lyrics.
--
Mark Taylor
1. Twilight Sad -
Fourteen Autumns & Fifteen Winters
(Fat Cat) - The Twilight Sad have made a record that bleeds emotional havoc through unsettling lyrics and noisy guitar tantrums that makes for an unnerving but ambitious listening. Burning children, knifings and abandonment never sounded so glorious.
2. Band Of Horses -
Cease To Begin
(Sub Pop) - Ben Bridwell is on the forefront of trendy beard growing and indie rock taste making. Not bad for a former homeless addict turned indie rock authoritarian.
3. Arcade Fire -
Neon Bible
(Merge) - Even with all the hype, overexposure and constant name checking, the Arcade Fire continues their world domination and there's plenty of reason for their acceptance. Universal, everyman lyrics and E Street Band build ups that are primed for the baby boomers and cool enough for the Pitchfork followers.
4. Battles -
Mirrored
(Warp) - What can I say that hasn't already been said about Battles? People that don't "get them" obviously have never "seen them."
5. Parts and Labor -
Mapmaker
(Jagjaguwar) -
Mapmaker
is the sound of robots making love while listening to Sugar.
6. Aereogramme -
My Heart Has A Wish That You Would Not Go
(Sonic Unyon) - It was inevitable. One of the finest Scottish acts broke up shortly after releasing their swan song only to be pulverized by critics for "softening" their sound. Lush, epic, and extremely honest,
My Hear has A Wish
will forever be the album that made Aereogramme the stadium rock band that never was.
7. The Octopus Project -
Hello Avalanche
(Peek-A-Boo) - This unsuspecting, experimental relay race came out of nowhere only to solidify the band as grassroots leaders in buzzing electronic rock by becoming dialysis for the oversaturated internet music boom.
8. Blonde Redhead -
23
(4AD) - Album after album, Blonde Redhead have made good on moody atmospherics and beautifully arranged theatrics.
23
is a true testament to the bands ability to push their own boundaries through progression and commanding live performances.
9. Justice -
†
(Ed Banger/Vice) - I was able to catch Justice at CMJ this year. They were awesome and so is their new record.
10. Pinback -
Autumn Of The Seraphs
(Touch And Go) - Rob Crow was a busy man this year releasing his solo effort,
Living Well
and reforming Heavy Vegetable alumni with Other Men, but its Pinback's
Autumn Of The Seraphs
that takes the coveted ten spot on my year end review that MIA was dying to get on but never will.
--
Dave Toropov
1. The National -
Boxer
(Beggars Banquet) - A stone-cold instant classic, there is no doubt in my mind that this album will soon become the
Born To Run
of the post-9/11. era, if it hasn't already.
"How did it feel to be a young adult in the beginning of the new millennium, daddy?"
2. El-P -
I'll Sleep When You're Dead
(Def Jux) - I've probably championed this album more than any other this year, because it never got the billing it deserves as one of the great artistic achievements in hip-hop. The scariest, rawest, angriest, and smartest the genre has ever been. Chuck D's proud of you, El-P.
3. Daft Punk -
Alive 2007
(Virgin) - I was lucky enough to be front row at the biggest rave party Coney Island has ever seen this past summer when SebastiAn, Kavinsky, The Rapture, and (motherfucking) Daft Punk delivered the ultimate sensory overload at Keyspan Arena. This live set is absolutely flawless, and completely achieves the ultimate goal of every musician since the dawn of man: to take both the artist and the audience to a much better place, if only for an hour and twenty minutes.
4. Panda Bear -
Person Pitch
(Paw Tracks) - The comparison's been made again and again, but Noah Lennox is the rebirth of Brian Wilson,
Person Pitch
is his
Pet Sounds
, and "Bros" is his "Good Vibrations." Trying to win over the hot girl with your intelligent, yet accessible taste in music? The buck stops here.
5. Lil' Wayne -
Da Drought 3
(Young Money Entertainment) - Make no bones about it, the year 2007. belonged to Dwayne Michael Carter, Jr. I lost count of how many mixtapes released in his name this year, but this one has always remained the Big Daddy. On the "Show Me What You Got" remix, Lil' Wayne truly mastered the art of the diss - don't address your rival directly, just do the same song he did, but do it about five thousand times better. He walked the walk, talked the talk, and claimed the name of hip-hop.
6. Burial -
Untrue
(Hyperdub) - Maybe I don't know enough about the current electronic "scene," but an album this brilliant certainly seemed to come straight out of nowhere. Dark, alive, and full of heart,
Untrue
is nothing short of devastating. Grab your new Sennheisers and leave on the TV static, this is the next great insomnia record.
7. Kanye West -
Graduation
(Roc-A-Fella/Island Def Jam) - Everytime I listen to this album, it creeps closer and closer to becoming my favorite album from Kanye, which is certainly saying something given the amount of untouchable work he's done. He's never had a better stretch of pure gold than "Flashing Lights" through "Homecoming," and really, was there a time you were more excited this year than when you learned that Kanye and Daft Punk had done a song together?
8. Radiohead -
In Rainbows
(self-released) - Unzipping the 160 kpbs mp3.
In Rainbows
folder is probably the closest I'll ever come to experiencing a musical event that can rival unwrapping a new Beatles album in 1967. I felt like I was part of a new movement, witnessing a turning point in popular music. No, it's not
Kid A
, no, it's not
OK Computer
, but it's still better than just about everything else around, and the album's release reminded everyone that they were still the big boys on the block. The future of intelligent pop music is in their hands, and it's nice to have a leader that deserves the title.
9. Arcade Fire -
Neon Bible
(Merge) - The Arcade Fire reached for the stars on
Neon Bible
, and while they may have ended up a few rungs short, there's no doubt that some of the year's greatest songs were delivered in the album's forty-seven minutes. "Keep The Car Running" and "No Cars Go" were the brightest lights, and their performance of "Neon Bible" in an elevator was one of the more charming YouTube videos in recent memory. Radiohead might be the grizzled kings of Alternative, but there isn't a band alive that's more eager to be the next Important Band.
10. Working For A Nuclear Free City -
Businessmen & Ghosts
(Deaf, Dumb & Blind) - I was turned on to these guys by the now sadly defunct Stylus magazine, and what a great find it was. Working For A Nuclear Free City is everything you loved about Alternative circa 1984-1991, and "Asleep At The Wheel" was one of the top ten songs of the year, hands down. Now that you know about it, go find it.
--
Dan Weiss
1. Arcade Fire -
Neon Bible
(Merge) - The first surprise is that they're a blog band who second album improved on the first. The second is that I let a bunch of melodramatic art-rockers take my top spot.
Neon Bible
is a gift. It warns us of the fear and insanity the world allows near our children, spouses, and families, but it never preaches. It casts a séance on the chaos of the decade, alternately soothsaying and rallying, nuzzling you with wet lips and a warm blanket, chanting to itself: we will get through this. "Intervention" is so beautiful, it must live to see another century. But it's also so on its feet it'll fight for the privilege. Not far behind, waving torches, is an army of ten.
2. The Apples in Stereo -
New Magnetic Wonder
(Simian/Yep Roc) - Robert Schnieder makes great pop look so easy, he must be a pro. Or an expert thief: if I dug through an ELO LP collection I might find the original recipes for some of these shiny, 70s-tinged indelibles. But even then, I bet I'd prefer this. Vocoded androids and futuristic psychedelia are sprinkled in generously so that even the hook-hungriest will avoid a diabetic coma, and the rest are all old tricks: sweet love songs, four-part prog-rock suites, and a blissful dose of "Can you feel it/ Makes you feel so good."
3. Kanye West
Graduation
(Roc-A-Fella/Island Def Jam) - Rappers make it too easy for Kanye West. They sleep; he conquers. He wants the world, which means MTV, cheerleaders, hipsters, grandchildren, iPod shuffles. And he'll sample anything to succeed, which means Steely Dan, Can, Daft Punk, even Coldplay. All of which he filters through his genius beat constructions, fanciful hooks, and expensive wordplay that I truly believe he still writes all by himself. You have to hand it to the man who wants it this bad. You have to hand it to the man who succeeds this well.
4. Miranda Lambert -
Crazy Ex-Girlfriend
(Columbia) - Reality TV is forgiven; the shudder-inducing cloud of darkness that shrouds our evenings has spit out the singular drop of perfection that is
Crazy Ex-Girlfriend
. It would've been enough to merely put eleven country-crossover songs in a row that I'd like to hear twice, but some enchanted factory of magic elves in Nashville has gone above and beyond. These are eleven country-crossover songs in a row I'd rather hear than
any other record this year
except the above three. And for bonus ethics, there's not a red-state pride anthem or chauvinist cliché in sight. Really, Columbia, you shouldn't have!
5. Rilo Kiley -
Under the Blacklight
(Warner Bros.) - If you mistook Jenny Lewis for indie's most notorious sex object instead of pop's boldest genius, now's the time to reacquaint yourself. This isn't the Rilo Kiley of Saddle Creek, with acoustic guitars and a drum machine. This is a well-oiled machine that stinks of pure L.A.: reprehensible sex, unkosher affairs and multi-million-dollar hook-craft. Give a little love.
6. Travis Morrison Hellfighters -
All Y'all
(Barsuk) - If you want proof that fickle web-critics have outlived our usefulness, pull out your credit card and give Barsuk a holler. Wait a week, open the mail, and become promptly annoyed at what you'd been missing. Grind your teeth at how obvious it was all along, that geniuses don't always stay geniuses forever, but they damn sure don't just dry up because
Pitchfork
says so.
7. Against Me! -
New Wave
(Sire) - Warped Tour is forgiven. Like Kanye West, Against Me! might've succeeded only because they no competition. Fall Out Boy certainly wasn't aiming for anything like this, a collection of theme songs for young Americans embarrassed for their country and pissed for their roommate's taste and music. If Tom Gabel's delivery is too strained and wordy for you, just you try and say something eloquent about these frustrating times in three minutes. Those riffs didn't come so easy either.
8. Justice -
†
(Ed Banger/Vice) - It is my firm belief that electronica needs personality just like any rock or rap star. Its most colorful characters, bizarre geniuses like Tricky and Aphex Twin, are also creators of its most enduring music. Dozens of anonymous button-pushers tweak knobs and conceivably shake an ass or send an audiophile into another dimension unlocked by expensive headphones. But only a few have the guts to reach the masses. Here's the first to pop up in ten years. They fetishize leather and biblical imagery. They pour liberal quantities of ugly, crackling distortion on their tunes. They pay tribute to Michael Jackson utilizing, of all things, a
children's choir
. And they gave work to a cracked-out London rapper named Uffie. If all this sounds like the work of a rock band, not a club act, you're damn right starting to get the picture. "Do the d.a.n.c.e./ get ready to
ignite
."
9. Maroon 5. -
It Won't Be Soon Before Long
(A&M) - So rote is the state of mainstream rock in 2008. (Hinder? Velvet Revolver? FUCK THAT) that I will proudly announce my allegiance to the dark side. With Justin Timberlake showing up on critics' polls every which way, cash-in pop bands with an affinity for black music are officially game for the ever-elusive artistic credibility that last courted white-boy funk when Red Hot Chili Peppers wore only socks on their dicks. This time around, ex-annoyance Adam Levine and his merry band of male sluts have come up with all sorts of innovations you don't want to know exist. Such as: the Great Disco Song ("Makes Me Wonder"), The Great Horny Prince Imitation ("Kiwi"), and of course, the Great Lighter Ballad ("Won't Go Home Without You"…or is it "Back at Your Door"?). Resist at your peril, but remember: I used to hate them, too.
10. Imperial Teen -
The Hair The TV The Baby & The Band
(Merge) - There's something illogical, nostalgic and kind of heartening about a band sticking with a sound that hasn't gone anywhere in ten years. Half of that span was literal disappeance; these 90s blips might as well have been cryogenically frozen unless your college DJ showed interest in Hey Willpower. In case you were wondering, they're still reconfiguring the same three chords, and they still make reliably inscrutable alt-pop. If they keep doing it another ten years, they might become eligible for the Sonic Youth Hall of Fame.
Honorable Mentions
: Magik Markers, Feist, Los Campesinos, Dizzee Rascal, LCD Soundsystem, Radiohead, Bright Eyes, Buck 65, Mac Lethal, Avril Lavigne, Spoon, A Place to Bury Strangers, Jens Lekman, Lori McKenna, Brakes, They Might Be Giants, Coconut Records, Gogol Bordello, The White Stripes… obviously I'm running out of room to name everything I felt deserves a nod. This was a great year for music.
--
Mike Wright
1. Burial -
Untrue
(Hyperdub) - Anonymous producer Burial has followed up his acclaimed debut in style.
Untrue
's trippy beats and lonely, swirling scapes are almost talismanic of dubstep. It's a product of a city cracked at the seams, and London through and through: treading the streets of the grotty East End isn't the same without
Untrue
feeding into your ears.
2. Animal Collective -
Strawberry Jam
(Domino) - More polished and poised, but
Strawberry Jam
is still 100% Animal Collective. Having churned out gem after gem for years, the AC prove they can still find some freaky new sounds to toy with. These guys seemingly know no boundaries, and are a breath of fresh air to behold.
3. Battles -
Mirrored
(Warp) - Given their indie/post-rock/hardcore/avant-garde pedigree, Battles never had a hope in hell of failing.
Mirrored
is a product of four ludicrously switched on individuals making fun of music and laughing at convention, yet it somehow comes across as vaguely accessible. Hats off to Battles for making music this harebrained so likable.
4. Stars Of The Lid -
And The Refinement Of Their Decline
(Kranky) - McBride and Wiltzie evidently had plenty of sleep-core fodder at their disposal after their six-year hibernation.
Refinement
is as soporific and unconscious as SOTL have always been - perfect relief amid the clamour and strife of modern living.
5. Panda Bear -
Person Pitch
(Paw Tracks) -
Person Pitch
rides on a poignant, immersive tangent from Panda Bear (aka Noah Lennox)'s regular band, Animal Collective. A striking release - hauntingly compelling - and one to sink your teeth into. "I'm Not", for one, is achingly pretty.
6. Caribou -
Andorra
(Merge) - A year in music is all the more pleasurable with Dan Snaith's contribution, and
Andorra
doesn't disappoint. Caribou's delightful, summery brand of indie-pop is continued here and runs through the record - the sort the month of August was tailored for.
7. Efterklang -
Parades
(Leaf) - Just a snippet of
Parades
is enough to make the mouth water, such is the grandiosity and richness of Efterklang's instrumentation. Post-rock it may be, but with songs this catchy, Efterklang have etched their name into the more penetrable end of the spectrum.
8. Moskitoo -
Drape
(12k) - Sanae Yamasaki is second to none when it comes to twee electronics.
Drape
resides at the suppler end of minimalism, moulding her textures and tones into structured forms, which, when combined with her raspy vocals, are impossible to resist.
9. Strategy -
Future Rock
(Kranky) - Could this be some "funky, ambient music"?? Paul Dickow's second full-length for Kranky as Strategy strikes a new chord, taking the scaped-out drones synonymous with the label and lodging a groove in amongst them, emerging with a record as club-compatible as it is blissful.
10. Alva Noto -
Xerrox Vol. 1
(Raster-Noton) - The concept behind Alva Noto's
Xerrox
series (which will eventually number five albums) is fascinating enough, but the music on the first volume is something else. Not many artists would admit to "copying" but Carsten Nicolai here dedicates himself to it, drenching everyday samples in distortion and avalanches of white noise before manipulating them beyond recognition. The outcome is exquisite, and nothing short of what we've come to expect from the ultra-classy Raster-Noton label.
--
Josh Zanger
1. Panda Bear -
Person Pitch
(Paw Tracks) - Vocal lines are intertwining, captivating, and every little bit the timbre of a youthful Brian Wilson. In some songs ("Comfy In Nautica") Noah Lennox angelically sings as part of a choir of his layered voice. With other standout tunes ("Take Pills," "I'm Not") he buoyantly hopscotches lyrics over handclaps and sampled clicks. The cohesive ease of
Person Pitch
is what really makes this a great album.
2. Strategy -
Future Rock
(Kranky) - Like Clark's
Body Riddle
of a year ago, this album has been ignored to a criminal amount.
Future Rock
is a lethal combination of slick style, dance sensibility, and improvisational ethni-rock patchwork.
3. Orgone -
The Killion Floor
(Ubiquity) - Another under-heralded group and album. It's like rebirthing the JBs into a new era with new influences and style outlets. Funky as hell, but it also grooves all over afrobeat and soul.
4. Kanye West -
Graduation
(Roc-A-Fella/Island Def Jam) - Kanye's third full-length album is just as excellent as his first two. The production process is still first rate with samples coming from some surprising sources (Can, Steely Dan, Daft Punk, and others) and assistance from creative weapon-x Jon Brion. "I Wonder" is one of my favorite tracks of the year.
5. Battles -
Mirrored
(Warp) - The debate has consistently been: Is this math rock, or isn't it? But there has never been a dispute about whether or not
Mirrored
is exceptional or not. The vocally appealing - and yet very strange - "Atlas" has led the indie rock experimenters to their most critical success so far.
6. Jay-Z -
American Gangster
(Roc-A-Fella) - With
American Gangster
, Jay-Z has redeemed himself (and then some) from a lackluster comeback album,
Kingdom Come
. Some people are calling the current work one of the best of his career. There are few low moments, plenty of excellent production (even from - gasp - P Diddy), and the rhymes are stealthy, pertinent and flow so smoothly.
7. Various Artists -
Expanse At Low Levels
(Moodgadget) - This label's stock is rising quickly so get on board NOW.
EALL
is the ambient twin to the label's unexpectedly impressive comp
The Rorschach Suite
. The collection boasts the likes of proven artists like Benoit Pioulard (Kranky) and The Reflecting Skin (Ghostly International), as well as worthy prospects such as Praveen and Direwires.
8. Radiohead -
In Rainbows
(self-released) - Before Digi-sale Drama 2007, you were probably either way into Radiohead or real sick of 'em. When this album emerged from the hype smokescreen, it unsurprisingly stood up just as most of Radiohead's past works have.
9. Cornelius -
Sensuous
(Everloving) - A mishmash of styles and musical conventions all under the guise of loopy post-rock/indie synth funk. Danceable sometimes, rockin' others. Always impressive.
10. D'Arcangelo -
Eksel
(Rephlex) - One could describe the sound as, "a more ambient version of Luke Vibert" or "a laid back more breakbeat-friendly version of Aphex Twin." Either way, that's good company to be in.
---
CONTINUE TO
LAS COMPOSITE TOP 20
--
The LAS Staff
A number of the Lost At Sea staff have worked and continue to work for various publications, both independent and commercial. Often very stifling in their narrow focus, conventional media outlets left our writers hungry for something bigger, more diverse, more communal. More active, because this is the twenty-first century and it makes sense. During it's short life LAS has accomplished many of its goals (but not all) and has in turn set new ones. Everything that we accomplish is through teamwork and cooperation, both with our regular staff writers and with our contributing writers. LAS is nothing short of a collective. Another contrasting point to some of the magazines out there is that we've checked our egos and scene ethics at the door. We welcome anyone and everyone to contribute and cover a wide range of topics. LAS does not follow your guide lines.

See other articles by The LAS Staff.
If you'd like to help spread the word about LAS, or simply want to outfit yourself with some adhesive coolness, our 4" circle LAS stickers are sure to hit the spot, and here is how to get them:
-->
Send an with $2 in PayPal funds to cover postage. Don't worry, we'll load you up with enough to cover your town. Then just be patient. They will arrive soon.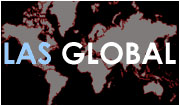 LAS has staff and freelance writers spread across North and South America, Europe, and a few in Southeast Asia as well. As such, we have no central mailing adress for unsolicited promotional material. If you are interested in having your project considered for coverage, please contact us before sending any promotional materials - save yourself time and postage!