LITERATURE
»
Full Dark, No Stars
- Stephen King's new novella questions mankind's ability to trust others.
[02.21.2011 by Bridget Doyle]
MUSIC
»
The Top 30 Albums of 2010
- Fashionably, fabulously late, our favorite music (and believe me, there was a LOT) of 2010, the year that some have called the best year for music ever. And only some of those fools work here. Plenty of usual suspects, lots of ties and a few surprises that I won't spoil, including our unexpected #1.
[12.24.2010 by The LAS Staff]
LOSTATSEA.NET
>
FEATURES
>
January 31, 2002
Begun as as an outlet for his musical inklings while treading water after the anti-climactic fizzle of his former band American Football, DMS was never meant to encompass more than the voice of its creator, the Champaign-based drummer, trumpeter, and all-around composer Steve Lamos. Not that the sounds found on his debut release, the self-titled EP issued by TEAM AV last year, are likely to yield a phalanx of musicians with a similar bent. Tracks like "Laughing With Me/At Me," with its blown-out first-generation Nintento-styled synthesizer melody, interspersed keyboard spasms, free-form drumming and beautiful but sporadic and interpretive trumpet parts is pretty indicative of the larger DMS sound, bouncing around like a pinball between various themes before waltzing out on a fading synth squeal and a beautiful, lingering trumpet melody that wafts gingerly and alone for the track's final minute. Elsewhere, such as in the live staple "Den of Metal Arts," a ferociously indecisive number that is equal part drum clinic, software malfunction, and hyperpaced Holodeck™ throwback dance party and one of the few tracks that has remained in rotation from DMS' early days until now, after limbering up with some analog and digital calisthenics Lamos puts together a frustratingly tight sequence that is hot and sharp enough to burn grooves into the speakers. When he locks in to such achingly sweet sections as the 2:40 to 5:00-minute mark on "Den of Metal Arts," one can't help but wonder why Lamos won't just indulge us. Sure, that groove might be an over-simplification and even an outright reversal of the DMS position on melodic overtones and textural undertones, but it's fucking tight as hell. Throw the kids on the dance floor a bone, would ya, Steve?

Taking the route it did - how many one-man analog/digital drum/synth acts can say they were doing their thing before the millennium? - DMS was sure to be an adventure for anyone, but for Lamos, who had unwittingly become a part of the Midwestern emo/post-punk/shoegaze scene with his work in the highly touted Polyvinyl emo icons American Football as well as stints in the sterile, ice-pop post-modernist project National Skyline and touring and recording with seminal emo outfit Braid, it was a true strike in the dark. There was an expected amount of backlash from record buyers who picked up the DMS EP by following the American Football tag, and a lot of the ins Lamos had for setting up early shows landed him in front of crowds that were far more familiar with Lifter Puller than Squarepusher. It seemed, at least initially, that DMS was going to be a low-profile project whether Lamos wanted it to be or not.

Not long after putting the wheels in motion on his bedroom project, however, things began to slowly snowball for DMS. The album was serviced to a few hundred CMJ stations where it landed mostly in the hands of DJs who weren't quite sure what to make of it but found a few appreciative souls as well. The record charted with a smattering of station hoists - WNUR's experimental programmers, a free-jazz show in Montreal, the college charts at KBOO in Portland - and made use of the then new but quickly exploding internet to find listeners in Prague, Lisbon, Tokyo, Vancouver. It was around this time that Lamos began filling in with the band of longtime friend and fellow Champaign-Urbana music scene veteran Chris Broach, who had cut the cord on local legends Braid to start what is loosely referred to as Firebird. What was initially a limited run as a fill-in drummer for a few gigs turned into a permanent seat for Lamos, who was soon joined by former Back of Dave guitarist Ben Wilson, who had agreed to take up bass duties for Firebird. To say that Lamos and Wilson have a chemistry would explain their dramatic improvement of the Firebird band's rhythm section, but it is the shared scholar's appreciation for the intricacies of experimental and avant-garde music that accounts for the left-field constructions the pair have made as DMS. Although the staple of the DMS sound continues to be Lamos' flighty, jaw-dropping drum exhibitions and the quirky, sometimes harsh programming that it swims in, Wilson's guitar and pedal manipulations have had a pronounced effect on the music's gravity. Whereas Lamos' strictly solo compositions were comprised of multiple tracks, they all maintained a sort of equilibrium, especially on stage where live elements were competing with programmed beats pumping through the PA system; what Wilson brings to the fold is a distinct sense of depth. The interplay between the two creates not only another dimensional envelope, but also the process by which they can throw ideas into that space and see how they bounce around. In a live setting Lamos and Wilson don't so much as play off of each other - anyone who has caught multiple sets can quickly recognize the repetition of songs' basic themes - as much as they play around each other.

Aside from the distinctive shift in sound (compare the before and after MP3s below) from the more caricaturized synth sounds of the DMS EP that nodded at Lamos' influences in the IDM camp toward a more sweeping and atmospheric motif at the behest of Wilson's guitar that will strike a cord with fans of God Speed You! Black Emperor, the most obvious initial benefit of the expansion into a true band has been an increase in the number of live performances. Lamos and Wilson recently spent time touring the Eastern US and Canada, pulling double duty with the Firebird Band as well as their own trip for shows in New York and Philadelphia with hip-hop savants Dälek. Throw in a handful of shows in the Midwest - Lamos is often tapped to open for visiting icons like Mouse on Mars when they roll through Chicago or Champaign - and the two-headed DMS contraption has managed to tighten up the amendments to the early songs they plan on keeping and work out enough new material to have jazz hounds, experimentalists, DJs and remixers alike hoping that DMS will soon be laying down a proper album. Until then, the adventure continues.

Two LAS writers familiar with Lamos and Wilson - Ryan Allen also plays guitar in Thunderbirds Are Now! and drums in Red Shirt Brigade, the latter of which is also signed to the TEAM AV label run by Eric J Herboth that DMS calls home - recently fired off a batch of ten questions to both, and the following is what they got back.
STEVE LAMOS answers ten questions posed by LAS writer Ryan Allen.
01)
LAS: The name of the band is DMS, but yet, you are not a hip-hop artist, nor are you a corporation of any sort... why the name? Why the mystery? Who are the men behind the big, monolithic, block-lettered initials?
Lamos:
I wanted a computer-y name. I actually thought about "data management systems" for a while, but that's awfully corporate-sounding... and so DMS is the result. Also, someone pointed out that a lot of old jazz records use "dms" as the abbreviation for drums, which sounds pretty good to me. By the way, the "are you DMX?" question gets funnier each and every time I hear it.
02)
Do you ever feel as if people come out to some of your shows, considering that they have hypothetically heard your record, and expect you to have eight arms, knowing that at one time you were a one man army of rock, and are surprised to see that in fact you are a standard-issue human, and do not have eight arms?
I do not have eight arms.
03)
Now that DMS is a two-piece, what advantages and possible disadvantages are you experiencing when it comes to writing songs and performing live?
It's great. Ben has brought this whole thing to the next musical level and made DMS into something it wasn't before. I did DMS solo for a lot of reasons, the main one being that I got tired of waiting around for and/or being kicked out of bands. I'm proud of what I did and the album I made, but having another musician to bounce off of makes the whole thing much better. There are no disadvantages other than those of an olfactory nature.
04)
You just got back from a tour, where you played with notable independent music artists like Pele and Dälek... is it even possible for you to have counted how many times Ben farted in the van? And if so, what's the tally? And, could you equate the smell of the farts with anything, so our readers could possibly imagine the nature of them?
They are extra-terrestrial in origin... devastating in effect. The lowest levels of hell likely have a similar flavor.
05)
A lot of folks are into DMS because of the fact that you used to be in American Football, a band featuring some bloke from Joan Of Arc or something. Does it annoy you to be billed as "ex-American Football" when your DMS project has nothing in common with that, musically?
I deliberately pushed the "ex-America Football" at first, just because it was an easy way to get gigs. It backfired a lot, and most AF fans absolutely hated DMS. Recently, though, things have been going well enough musically that people have stopped coming up after the show and asking "when is Mike's album coming out?" or, if there will be another American Football record. Still, I would say that my drumming in DMS is really an extension of what I did in AF. I've always approached the drums in a certain way, and in spite of the computer, DMS is not really that different except that I'm tighter now than before. In fact, the song "SOS" from the
DMS
EP was supposed to be the first song I ever released as DMS, but the trumpet part is a new arrangement of an old American Football melody. It didn't work out that way in reality, but that was the idea.
06)
It is obvious to many people that see you play live that you are an incredible drummer with a very distinct style, but some people do not know Steve Lamos, the lover, the husband, and the sex machine. Have you ever translated your superior drumming ability to the act of coitus, possibly incorporating a triple paradiddle into lovemaking sessions?
Good lord... don't let the wife see this.
07)
Are the White Stripes really all that? Who, in your opinion, is the next band to rule indie rock?
White what? Never heard of 'em. I really like Dälek... indie hip-hop I guess. I think they should be the next big thing. As far as indie rock, the Red Shirt Brigade is hot shite, and I like Pedro the Lion a lot lately, too.
08)
What are the pitfalls of being involved full-time with education, and yet having to commit time to touring and recording as DMS?
It's a real pain in the ass. Honestly. I don't sleep much. My wife is less than thrilled that I'm never around. I don't practice enough or write enough music, and we don't tour like we should. But, I guess that's life. I once saw a bumper sticker - in fact, Ryan, it was while we were at your house - that said "real musicians have day jobs," and I think that speaks a lot of truth. Maybe by that logic I am a real musician.
09)
Who would you have been listening to lately that has been influencing, possibly, the new sounds DMS are producing as a two-piece?
I say the same thing every time, so maybe Ben will say something more interesting. Various IDM artists - Timbaland, the new Missy Elliot, Dälek, my old Miles Davis & Sly Stone albums,
Siamese Dream
, the funny sounds that come out of ACID 2.0 on my old ass computer.
10)
What should us blokes that are hip to the DMS beat frenzy expect next? A new album? Another tour? What's up, brah?
We plan on recording before the end of the year. Occasional shows with good acts would be nice. Short tours on school breaks. A collaborative 12-inch with Dälek has been tossed around, as have collaborations with members of Pele. In general, less sleep and more rock.
///
BEN WILSON answers ten questions posed by LAS writer Eric J Herboth.
01)
LAS: The name of the band is DMS, but yet, you are not a hip-hop artist, nor are you a corporation of any sort. What is your take on the name mystery? Have you tried to get Steve to change it?
Wilson:
I kind of talked to Steve about changing the name; he wouldn't even tell me what DMS stood for. Everyone I know makes their own phrases to the anagram. Maybe it just stands for "drums" like on the old jazz records.
02)
Do you ever feel as if people come out to some of your shows having heard the DMS record and expect you guys to be dorks with laptops? Do you think it may piss people off when they hear a smoking live set and then buy the EP, only to hear something completely different?
I think for the most part, people don't really know what we sound like, so there's not really any surprise or disappointment. Some have preferred the set to the album, some the album over the set. The two are a little different, but they are also the result of different circumstances.
03)
Now that DMS is your main gig, a two-piece, what advantages and possible disadvantages are you experiencing when it comes to writing songs and performing live? Because DMS is more experimental, do you find yourself having to think outside of the box, so to speak?
We are a two-piece, but we are definitely slaves to the electronics we work with. The way we both play depends on them. That brings a different element to the workload, but we don't really have any disadvantages, we just bring up ideas and try to make them work.
04)
You just got back from a tour, where you played with notable independent music artists like Pele and Dälek... is it even possible for you to have counted how many times Steve started worrying about the van being locked? Cleithrophobia is "the Fear of being locked in an enclosed place", but there is no known phobia for "forgetting to lock the van" - do you think Steve could represent a breakthrough discovery in Phobiology?
I don't think it's fair to pick on Steve's ailments. Especially when his disorder helps me sleep well at night. Although I will say that Steve takes particular pride in the fact that if someone wants to jack something from his car or the van, they will have to bash his windows in to get it.
05)
A lot of folks have heard about DMS because of the fact that you both used to be in the Firebird cadre and that Steve was in American Football. Does it annoy you to be billed as "ex-American Football" or "ex-Firebird" when DMS has little to nothing in common with those projects, musically? What about the Back of Dave thing?
Nah. That's no big deal. We're both proud of the stuff we've done in the past.
06)
It is obvious that Steve has never picked up a lady as the result of his musical endeavors? How about yourself? Do you think Steve is ruining your chances of getting play on the road?
Shit. May game's been so weak lately, there isn't much Steve could do to hurt it. How bout you, playa? I hope you can back up asking a question like that.
07)
Is it true that you and Steve made Firebird what it is today?
Chris and Andy make Firebird what it is, no question. Steve and I did well backing them up.
08)
How do you approach DMS, considering that the bulk of your work has been in more straight-ahead, post-rock, guitar-based outfits?
With DMS, I just try to listen without a predetermined perspective. It's new to both of us, for sure, but I think that, with exception to the Firebird, nothing either of us have done have really been that "straight-forward," so the challenge really lies in keeping our ideas contained rather than expanding them.
09)
Who would you have been listening to lately that has been influencing, possibly, the new sounds DMS are producing?
I like a lot of the newer electronic music, some of the 1970s fusion stuff, a few twentieth century composers right now. I also need a steady diet of bands that are raw and driving. Some things are interesting, while others are motivating.
10)
What should us blokes that are hip to the DMS beat frenzy expect next? A new album? Another tour? What's up, brah?
Yes, an album soon, possibly a split with Dälek, and we'll play as much as we can right now. We're into it. Are you?
///
MP3 FILES
DMS 1
"Den of Metal Arts"
MP3
"Laughing With Me/At Me"
MP3
DMS 1+2
"por otro nombre" LIVE
MP3
"Night Court" LIVE
MP3
"Carpet Bombing" LIVE
MP3
"Peripheral Vision" LIVE
MP3
SEE ALSO:
www.team-av.com/dms
--
Ryan Allen
A former staff writer with fabulous hair, Ryan Allen once fronted Red Shirt Brigade with his brother, Scott. He currently fronts the art/fashion punk band Thunderbirds Are Now!, with is brother, Scott.

See other articles by Ryan Allen.
If you'd like to help spread the word about LAS, or simply want to outfit yourself with some adhesive coolness, our 4" circle LAS stickers are sure to hit the spot, and here is how to get them:
-->
Send an with $2 in PayPal funds to cover postage. Don't worry, we'll load you up with enough to cover your town. Then just be patient. They will arrive soon.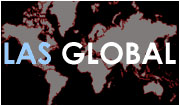 LAS has staff and freelance writers spread across North and South America, Europe, and a few in Southeast Asia as well. As such, we have no central mailing adress for unsolicited promotional material. If you are interested in having your project considered for coverage, please contact us before sending any promotional materials - save yourself time and postage!