LITERATURE
»
Full Dark, No Stars
- Stephen King's new novella questions mankind's ability to trust others.
[02.21.2011 by Bridget Doyle]
MUSIC
»
The Top 30 Albums of 2010
- Fashionably, fabulously late, our favorite music (and believe me, there was a LOT) of 2010, the year that some have called the best year for music ever. And only some of those fools work here. Plenty of usual suspects, lots of ties and a few surprises that I won't spoil, including our unexpected #1.
[12.24.2010 by The LAS Staff]
LOSTATSEA.NET
>
FEATURES
>
April 19, 2000
Aloha sits patiently in my living room, waiting to begin the second interview of their young careers as inventive rockers. The group's freshman full-length album,
That's Your Fire
, will be released next month via the Polyvinyl label and will undoubtedly proceed to take the indie music world by storm. Combining the brisk dynamics of the burgeoning post-punk movement with sweeping melodies and the highly distinctive punch of glistening vibraphone flourishes, the album carries the weight of two musical worlds on its shoulders at once. Although not completely accurate, I'm fond of describing
That's Your Fire
as the album Q and Not U would write if they were band campers rather than punk rockers. If you're a fan of both Jawbox and Stereolab, you'll certainly want to track it down when it hits record stores.
The album, however, won't be released for a few weeks. In the meantime, the group find themselves in my living room after a blistering performance for a handful of duly impressed listeners at a small mid-town St. Louis bar. Guitarist and vocalist Tony Cavallario sits strumming an acoustic guitar; Eric Koltnow, the player responsible for most of the band's distinctive vibraphone bits, waits attentively, quietly; Matthew Gengler, the group's bassist and animated social leader, watches Scout, the cat, walk around the room and systematically knock things over; drummer and multi-instrumentalist Cale Parks, who handles the vibraphones duties alongside Koltnow, reclines on the couch, fighting off an impending sleep fueled by too many pints of Old Style. Visibly taxed from their performance, the four young men graciously sidle up for questioning.
---
LAS: Okay, let's start with the introductions.
Gengler
: My name is Matt. I drive the van 50-percent of the time, I play bass 100-percent of the time.
Koltnow
: I'm Eric and I play vibraphones, synthesizers and percussion a lot of the time. No percentages.
Cale (nodding off): My name is Cale and I play the drum kit, and I play vibraphone on usually one-tenth of what we play per night.
Cavallario
: I'm Tony and I play guitar and sing most of the time. I drive some times, talk to the label a lot...
Parks
: And Tony's our bookie.
You booked the tour this time out? Was that pretty exciting for you?
Cavallario
: Not really.
Gengler
: You mean you didn't enjoy giving up your entire free time to the cell phone and email?
Did you end up getting a lot of shows because of the Polyvinyl connection?
Cavallario
: It helped in some situations, because people may have heard of us, but they still wanted us to send a CD. But a lot of the time if we just played the Polyvinyl card they would book us anyway. It was easier than before we were with Polyvinyl.
Gengler
: It is the same with booking agents, because it is just easier to talk to somebody with that behind us.
How has the tour been going?
Cavallario
: Overall, when we play shows it has been pretty good. When shows fall through or we have no shows at all it sucks.
What do you end up doing then, when you don't have a show?
Parks
: Go broke.
Koltnow
: Sometimes it isn't so bad, like if your friends want to go to New Orleans with you and drink dollar beers in the street.
Gengler
: It isn't like it's been hideous but, at the same time, not having any money in your pocket kind of sucks.
Things have been kind of touch and go then?
Gengler
: I had a great time tonight, this being the worst day of our entire tour. But it was also one of our best.
A van incident...
Gengler
: One of many van incidents. At this point, water is our archenemy. It makes the van run like crap.
Parks
: Precipitation in general. It makes the van sputter and all kinds of shit.
Gengler
: After that, I balded a tire.
Balded? I don't think that's a word, is it?
Gengler
: Yeah it is, because I balded a tire. In Georgia. And we waited like four days to change it. And then the throttle. It's screwed. We spent the day getting that fixed; fortunately we found some guys that were willing to do something completely wrong to make it work right, which was pretty much our saving grace and the reason we made it to the show. But when we make it to the show it's all okay because we get to play, whether there's five people or fifty.
So what in the hell are you doing touring right before the record comes out? Wouldn't it be better to have the new record to sell at shows?
Cavallario
: We really only had one option to do all this and that was to go all out and record and tour all at once. Once Cale goes back to school we won't have as much time. I'm sure it'll be different after the record comes out if there is a lot of press or whatever, but even now, just getting out on the
road, it is making a big impact on people along the way, just knowing we exist and then looking for our record to come out. Plus we hadn't ever really done anything like this, really paid our dues or anything.
What sort of reaction are you getting along the way?
Koltnow
: It varies.
Cavallario
: Pretty much every show we play at least ten people will sign up for the email list or buy a record, and even if they don't buy a bunch of stuff there are always people that are into [the music]. And that honestly makes every show worthwhile, if only two people have heard of us and we get to play for them.
Do you think you have to go in trying harder to win people over because you have such a non-traditional sound?
Koltnow
: Definitely.
Gengler
: I think we're going to try hard no matter where we're at or who we are.
Koltnow
: We're definitely a hard sell for people, but I think we play ten times harder than most other bands do. I mean, just with the effort... we bring a lot of gear, and the amount of playing we do. It is a hard listen at first, but I think people generally get into it, eventually.
Parks
: If you were to take any other band and put every note they play in a show on a piece of sheet music, then put it next to ours, you'd see that we are playing a lot more notes. It isn't that we're trying too hard or whatever, it's just what we do. We play a lot more and a lot harder than the bands
we are grouped with.
Gengler
: It is just... there are bands in our scene or bands on our label that we are grouped with that don't sound anything like us.
Parks
: There is that same drive behind it, with us and with other bands, but we are much more... crowded? I guess that is the word.
Do you find the label thing being a problem?
Gengler
: I think a lot of people assume that if you are on a label with a lot of big bands that things are just handed to you. But it is hard in the first place to just get on one of those labels and be considered a success. How hard do you think it is for a band to be signed to Jade Tree without thinking of Joan of Arc and, jeesus, Euphone and Kid Dynamite. Polyvinyl is a growing label and we are part of their growth.
Cavallario
: I think there is a common denominator between us and our label mates, it isn't like we're coming out of left field or anything.
Gengler
: We're all kids in our twenties hitting instruments.
Cavallario
: The common denominator is pretty high.
Gengler
: There is something that I realized tonight. These three kids came up to me and one of them was like this industrial-slash-goth kid, with the white contacts and that stuff. And his friend was this like, alternadude, and his girlfriend -
Parks
: She was beautiful. I saw that girl and she was gorgeous.
She wasn't too smart though.
Parks
: Yeah, but...
For the record, Cale has a girlfriend.
Cavallario
: A lot of the stuff we do, the instrumentation is not real normal. Having a vibraphone isn't that strange, because a lot of the big indie rock bands have the same kind of instrumentation.
Gengler
: But the delivery is different. Even within songs we are always prone to improvisation.
Parks
: It is never the same.
Gengler
: It is still rock music, and there are some parts that I can't mess around with, but there are others that I can mess around with. And I do.
Cavallario
: It's like a movie, where you have the dialogue that tells the story, but there is so much visual stuff going on, and I think that is why we have such good luck live.
Honestly, I think you come across much better live. After listening to the record... it was so busy and wrought with sounds that I thought your show was going to be suffocating and really suck.
Parks
: Thanks a lot.
Seriously, I did, but then you really blew me away.
Koltnow
: I would hope so. When we record, the studio is the studio, but live is live. We don't want them to be the same.
Gengler
: Essentially, the studio has to be about recording, about siphoning your energy through your engineer and the board. If you have the chance to make a beautiful sculpture of your song, then take that chance, but you're not finished with the art.
Parks
: When we record, it is like a mold, and we build on that. There is a basic structure on the record, but when we play out it takes that and goes. The record is a score, if anything. Just like jazz musicians... they play a standard but it never comes out the same way twice live.
There is so much high intensity motion when you play, it is exhausting even to watch.
Gengler
: There will never be a 25-year reunion of this band. There is one chance in life to do shit the hardest possible way and to make it wonderful. And I think we do that. Another Bob Mould quote to cite is "The best shows are the ones you don't remember." If you wake up and look out in the middle of it, you fucked up.
Koltnow
: Along the same lines, the worst thing that could happen to us would be if we make eye contact or if something breaks that deep concentration during our set. And that is part of the reason why we don't stop between songs, because anything that pulls you out of that stream of energy detracts from
us. The most exciting parts of the evening are the parts when we don't know what is going to happen next, when I don't know what anyone else is going to do. There are times when we play songs, as a band, that none of us know.
Is that how you write songs?
Gengler
: Another quote. A close friend of ours once said that watching us write songs is like watching a David Mammet play. It can be really, really hard. There are tracks on the record that took days and days to write.
Cavallario
: But there are other songs that I would wake up and write down on paper and then they were committed to tape that night. Sometimes I can write a very minimalistic song alone in a bedroom, just singing the words, but then I can bring it to the table and over the course of a month or however long it takes us it will be come something totally different, in a positive sense.
Gengler
: Not that having some sort of camp counselor wouldn't make things easier at times, but I hope it stays that way and is always this, like big monster of a process to keep it interesting.
Parks
: It's like any relationship with someone, the day it isn't interesting that shit is over. Any time anyone brings anything to the table... like "Ferocious Love," which is on the new album... I remember when we put that together. There are all of these separate parts that function like different songs, but in the end they all kind of come together. And that is why we are... that's why we're Aloha.
Koltnow
: We never really know how a song is going to sound until we hear it played back the first time on tape after recording it.
Are any of your songs ever really "done" at all?
Gengler
: Maybe in the second that the cumulative sound hits the audience's ears, then they are done. But they are incomplete the second we stop playing them.
Cavallario
: There is a point in every song where, if we were just a standard rock three-piece, that the songs would have to end, but the way we work they can go on if we want them to.
Gengler
: We do things differently. I mean, our sound isn't that unconventional, there aren't any twelve-string instruments or anything. Tony doesn't play guitar solos.
Cavallario
: I want to though.
Parks
: But, the way I play drums I don't think of them as a rhythm instrument. We use everything as a lead instrument. Like the bass, it doesn't just double the root of any core. What Matthew does, he has his own melodies and he does different things.
[Scout, the cat, knocks over the recorder.]
Parks
: That is the biggest cat I've ever seen.
He's only two though. He might get bigger.
Parks
: When he first came up he was nice, all rubbing on my leg and now he's biting me and shit.
[noticing Parks' shorts] Are those the pants that turn into shorts?
Parks
: Hell yeah, dude.
You ever turn them into shorts?
Parks
: We haven't had to yet, although-
Koltnow
: His zip off and mine roll into this strap. Because one minute you're in Cleveland and the next-
Parks
: Houston, Texas. You know what I'm saying?
Koltnow
: You don't understand, at two o'clock this afternoon it was really hot. Tonight it was chilly.
Did you roll your pants up?
Koltnow
: Hell yeah.
Parks
: Another thing we get a lot is, "Are you guys twins?"
You can totally see that though. And now I know, because I always wondered who in the fuck bought those pants.
Parks
: I quit skating like two years ago, but these are from some Italian skateboarding company. They're all rad and shit.
You should have named your record-
Parks
: Aloha,
RAD
.
So, how did you get hooked up with Polyvinyl in the first place?
Cavallario
: We sent Matt Lundsford a tape and he thought it was cool, then we sent him a CD and he liked that and said he wanted to see us play, so we drove to Champaign and played a show.
The one where you were all pissed up on High Life?
[in unison] No! Old Style! Old Style!
Cavallario
: But, yeah, we sent him a demo. As much as he swears he doesn't listen to demos, he does, and sometimes he signs the bands. He was just really looking hard for a new band at the time and we turned out to be it.
Gengler
: No matter how many interviews you hear to the contrary, he listens to the demos.
Cavallario
: I read an email that said we sounded like Red House Painters and Genesis. I don't know about the Genesis part, but I know he ended up being a big Red House Painters fan.
Parks
: The guitarist for the first band tonight said your vocals sounded like Red House Painters.
Cavallario
: They were tanked though. Everyone sounds like Red House Painters when you're drunk.
Parks
: But when Matt came to see us, it was a fucked up show. We were all drunk and we didn't think he was going to come. Like 10 minutes into the set Tony's guitar strap fell off. Everything was going wrong and, at one point, I looked up and totally broke my concentration but somehow I did something really cool and the shit just locked up. I saw Matt look at his wife and nod, like he thought it was cool, so I just kept doing it.
Gengler
: It's like, "You like crackers? We got crackers."
Parks
: "You like cheese, baby? We got some cheese to go with that shit!"
SEE ALSO:
www.musicofaloha.com
SEE ALSO:
www.polyvinylrecords.com
--
Eric J Herboth
Eric J. Herboth is the founder, publisher and Managing Editor of LAS magazine. He is a magazine editor, freelance writer, bike mechanic, commercial pilot, graphic designer, International Scout enthusiast and giver of the benefit of the doubt. He currently lives in rural central Germany with his two best friends, dog Awahni and cat Scout.

See other articles by Eric J Herboth.
If you'd like to help spread the word about LAS, or simply want to outfit yourself with some adhesive coolness, our 4" circle LAS stickers are sure to hit the spot, and here is how to get them:
-->
Send an with $2 in PayPal funds to cover postage. Don't worry, we'll load you up with enough to cover your town. Then just be patient. They will arrive soon.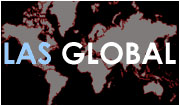 LAS has staff and freelance writers spread across North and South America, Europe, and a few in Southeast Asia as well. As such, we have no central mailing adress for unsolicited promotional material. If you are interested in having your project considered for coverage, please contact us before sending any promotional materials - save yourself time and postage!