LITERATURE
»
Full Dark, No Stars
- Stephen King's new novella questions mankind's ability to trust others.
[02.21.2011 by Bridget Doyle]
MUSIC
»
The Top 30 Albums of 2010
- Fashionably, fabulously late, our favorite music (and believe me, there was a LOT) of 2010, the year that some have called the best year for music ever. And only some of those fools work here. Plenty of usual suspects, lots of ties and a few surprises that I won't spoil, including our unexpected #1.
[12.24.2010 by The LAS Staff]
LOSTATSEA.NET
>
FEATURES
>
December 22, 2006
---
John Burke
1.
Sympathy for Lady Vengeance
- Technically this came out in Korea last year but I saw it in the theatre in 2006. This is the third and final installment in Park Chan-Wook's revenge trilogy and it is, in some ways, the best. The final act is incredibly rough but, like Hitchcock, Park knows that when to cut and when cut away.
2.
V for Vendetta
- Slightly altering the story of Alan Moore's masterwork and updating it for the 21st century only served to make V for Vendetta a better film. Despite being tied to The Matrix team, this film is actually more cerebral than action packed and will appeal to anyone frustrated with the State of fear we live in.
3.
Brick
- This film blew me away. This is the best mystery film of the year - Sort of a teenage Daschell Hammett investigating fellow students in an affluent suburban high school. The amazing element that Johnson is able to capture is the gravity and intensity that high school age kids add to everything they do.
4.
Little Miss Sunshine
- Everything about this film is stellar from the cast, to the dialog and the somehow upbeat story of a family who seem to fail at everything they attempt.
5.
Hostel
- If you've ever traveled abroad and been embarrassed by a fellow American's behavior, this is the movie for you. The violence is extremely grisly and disturbing but that doesn't mean this is a film to dismiss. Director Eli Roth is much smarter than most critics give him credit for. Watch for a cameo from Takashi Miike giving a little financial advice.
6.
Tristram Shandy: A Cock and Bull Story
- An intellectual British comedy about one of the greatest pieces of Western literature that almost no one has ever read. Steve Coogan's performance is worth the price of the rental alone.
7.
Thank You for Smoking
- TYFS is yet another entry in the growing canon of Libertarian comedies.
8.
Slither
- Rednecks attacked by parasitic slugs that create zombies. This is a fun little horror comedy in the vein of Tremors or The Evil Dead. The gory special effects are great too.
9.
Night Watch
- This film will hook you in the first five minutes. The supernatural element to this film really isn't the draw though - you care about these characters. The story is also homage to classic Russian literature and characters.
10.
Borat
- This is strange because Borat fits on both my Best Of… list AND my Most Overrated… list. I had seen both the British and American episodes of The Ali G Show prior to seeing this film and therefore many of set-ups and gags in Borat seemed done. There were moments (the hotel wrestling) that were hilarious but the draw, for me, of this film is the performance by Sacha Baron Cohen. Sacha may well be the next Peter Sellers in his ability to completely inhabit a character. Borat is just a good comedy but Sacha Baron Cohen is an amazing actor.
---
Matt Conner
1.
United 93
- The most important film of the new century. Paul Greengrass is best director of 2006 for making this so compelling without going over the top (see Oliver Stone).
2.
The Fountain
- Darren Aronofsky's imagery is worth the price of admission, but his philosophy on life, death, and love is equally stunning.
3.
Babel
- Makes Crash look like Child's Play and deftly handles multiple storylines and crises. Includes best character development of any movie I've seen this year.
4.
Borat
- The bottom line is that this is the funniest movie to come out in a generation.
5.
Little Miss Sunshine
- She steals our hearts even if she can't win the pageant. Greg Kinnear should win an Oscar.
6.
An Inconvenient Truth
- Al Gore? The environment? You know a movie is good when these two forces combine for a decent box-office take.
7.
The Departed
- Scorsese is good, although not Gangs of New York good. Still, you have to make the top ten when your cast is this good.
8.
Thank You For Not Smoking
- Fantastic ensemble cast makes this the best comedy not named Borat.
9.
Inside Man
- Spike Lee finally makes his mark and Clive Owen steals the show.
10.
Apocalypto
- Brutal, savage, brilliant. Gibson is one of the best behind the camera and it shows in this epic.
---
Clifton Gates
1.
Babel
- What can I say? This was the best film that I saw in 2006.
2.
The Departed
- Yeah, this was good. Gritty, well directed, well acted. Good.
3.
Stranger than Fiction
- Finally Will Farrell makes a movie that is actually worth watching.
4.
The Wire
- This is actually a TV series, but it is hands-down better that most of the movies released this year.
5.
Letters from Iwo Jima
- Touching.
6.
Volver
- Not the best film Pedro Almodóvar has ever made, but even on a bad day he beats most film makers.
7.
Notes on a Scandal
- I went to see this on a date. I didn't hate it nearly as much as I hated my date.
8.
Hollywoodland
- Ben Affleck didn't actually make me want to puke for once.
9.
Thank You For Not Smoking
- Mocumentaries are the new biopics.
10.
Bobby
- Ah, just imagine the road America could have taken...
---
Eric J. Herboth
01.
Babel
- Strong cast, strong story, strong response. It's my number one for the year.
02.
Volver
- Pedro Almodóvar is one of the greatest living film makers.
03.
Everything Is Illuminated
- I think this actually saw its release last year, but I didn't download it until this summer. A thoroughly enjoyable dramatic comedy with a goofy heart and strong historical/political overtones. I'm not sure if this is Liev Schrieber's directorial debut or not, but he did a fine job.
04.
The Departed
- Good guys, bad guys and everything in between.
05.
Stranger Than Fiction
- See Clifton Gates' comment above.
06.
The Science of Sleep
- I had to download this four times before I found one that wasn't a porno. It was worth it.
07.
An Inconvenient Truth
- Most of this film's information was pretty basic, but that is what it is going to take to reach the lugheaded American public. Baby steps.
08.
Who Killed The Electric Car?
- Michael Moore didn't make this film.
09.
Borat
- Yeah, this stuff is funny. Hilarious even. I think I pulled a muscle from laughing so hard.
10.
Six Feet Under: The Complete Series
- Ungiven holiday gifts are the best! There is nothing like a four day marathon to pass the cold and rainy winter alone. Such a great show!
---
Susan Howson
1.
Little Miss Sunshine
- The Academy should create a new award for this one, something like ?All-Around Like-ability? or ?Most Difficult to Contain Enthusiasm For? or ?Brought the Most People Back from the Bridge Off of Which They Had Intended to Jump.?
2.
The Departed
- I like it most when a film sees my expectations, stomps on them, and then slaps me across the face for having been such a snob in the first place. Every second of this film was a delight, and though I walked into it obnoxiously recounting Scorcese?s awful recent releases to everyone who would listen, I walked out humbled.
3.
The Science of Sleep
- Momentous! Penultimate! Trailblazing! Just kidding, I slept through a lot of this movie because I found it that boring. Everyone else I know, however, speaks of it in words of at least three syllables with multiple exclamation points after them. I?m willing to admit that maybe I missed something (it happens), but I secretly feel like it?s a case of confusing good direction with good screenwriting.
4.
Superman Returns
- One of the best superhero movies I?ve seen in a long time, probably because Bryan Singer directed it (you know, the guy who did the first two X-Men movies). Funny, surprising, and liberally doused with Parker Posey. I wanted X-Men 3 to be really amazing, but I got this instead. And even though Superman Returns sure features a lot of dudes in tights instead of dudes with metal skeletons, I?m OK with it.
5.
The Queen
- A much more interesting biopic than we?ve been able to get in the past couple of years. This one will win all the awards, and it deserves them. If we must give an Oscar to every famous person that portrays another famous person, then thank goodness there?s a decent film in the running this year.
6.
High School Musical
- Hey, what can I say. It kept my nieces (4 and 7) completely transfixed for an hour and a half so I could sit down and zone out. If you ask me, that?s worth twelve Little Miss Sunshines and twenty Departeds put together..
---
Bob Ladewig
1) My Pick of the Year:
Little Miss Sunshine
- A perfect movie. Moving in parts, Hilarious in others - with a good story that kept everything moving. Some things seemed forced or unbelievable, but I forgave it once the movie was over. Each part needed to be told. Great story, great acting, great writing and perfect editing. Of course, the soundtrack helped too.
2) Almost lived up to the hype I gave it:
Science of Sleep
- After Eternal Sunshine of the Spotless Mind, I fell in love with Michel Gondry's creative imagery. I was really looking forward to this film once I saw the trailer. While the effects (animation, visuals, etc) looked great in the dream world of the film, the story itself was never clear, which caused me to not invest as much. I wanted to love it, but I ended up just liking it.
3) Most underrated/unwatched movie:
Brick
- When a movie's biggest star is "that kid from Witness" (Lucas Haas), it's got to be quite an independent movie. A modern, high-school take on the Raymond Chandler noir stories. Creative camera work and wonderful dialogue, this movie should have been seen by more people.
4) Best stylized movie:
The Proposition
- When a movie is written by Nick Cave and takes features cowboys in the Australian outback, it most certainly has a unique style. A family of outlaws being hunted by an Australian sheriff is the main story in this dark and desolate story. It's a thrilling movie at a slow-pace.
5) Fucking Hilarious:
Borat
- If you haven't seen it yet, you need to. It's fucking ridiculous.
6) Best Documentary:
The Devil & Daniel Johnston
- I have never been much of a fan of Daniel Johnston's music. I know he's viewed as a genius of sorts, but I can't here it when I listen to his home recordings. This documentary opened me up to the inner-workings of what made this genius mad. He is certainly a unique and creative individual haunted by himself. While I still don't enjoy his music, it made me appreciate what he's done for the independent music scene.
7) Could have been funnier:
Idiocracy
- Mike Judge seemed to have given up with this complex movie. A hilarious take on the future of the world (specifically America) if we don't change our current behavior. Most of the jokes fall flat, but the comments made about society ring clear. I wish it had a more interesting plot.
8) Most complex/confusing movie that probably didn't need to be made:
Tristam Shandy: a Cock and Bull Story
- At times, clever - Tristam Shandy is more pointless than anything.
---
Eric Morgan
1.
The Departed
2.
United 93
3.
Casino Royale
4.
Little Miss Sunshine
5.
The Illusionist
6.
An Inconvenient Truth
7.
Thank You for Smoking
8.
Darwin's Nightmare
9.
Bubble
10.
Stranger than Fiction
---
Ted Nixon
1.
Thank You For Smoking
- Thank you for making this film.
2.
Half Nelson
- Can there be a better story line? A teacher trying to influence the life of a little girl except he is faced with the overwhelming challenge of being addicted to crack.
3.
Stranger than Fiction
- The story of icon sketch comedian successfully and tragically playing a serious role. (see Jim Carrey)
4.
Grandmas Boy
- Ranked for it's ability to minimize the growth of the viewers' brain cells without having to intentionally kill them.
5.
The Pursuit of Happyness
- I have not seen this film yet, but for the first time I cried watching the previews.
6.
Street Fight
- The now current mayor of Newark is documented during a nasty election campaign to unseat the than 20 year running mayor. It was shocking to see how dirty politics can get on the local level.
7.
Little Miss Sunshine
- Its great to see an uninspiring story line have such strong character development. So awkward and uncomfortable, I felt they were my own family.
8.
Chappelle's Block Party
- Glad to hear Dave isn't in Africa living amongst a tribe of natives . I appreciated the undirected free form approach that gave the viewer the feeling they just tagged along with Chappelle and friends.
---
Sara Williams
A Scanner Darkly
- This is the first movie in which Keanu Reeves has given an original performance since Bill and Ted's Excellent Adventure, in my humble opinion.
Scoop
- Woody Allen, ghost stories and journalism. Mmmm yes!
Tristram Shandy: A Cock and Bull Story
- Hilarious, clever, captivating and the image of Shandy upside down in a womb is hard to forget.
Little Miss Sunshine
The Illusionist
Idlewild
A Priarie Home Companion
worst:
Ask the Dust
---
Josh Zanger
1)
Cars
2)
Talladega Nights: The Ballad of Ricky Bobby
3)
The Departed
4)
Inside Man
5)
Borat
6)
The Fountain
7)
V For Vendetta
8)
Strangers with Candy
9)
Monster House
10)
The Break-Up
--
The LAS Staff
A number of the Lost At Sea staff have worked and continue to work for various publications, both independent and commercial. Often very stifling in their narrow focus, conventional media outlets left our writers hungry for something bigger, more diverse, more communal. More active, because this is the twenty-first century and it makes sense. During it's short life LAS has accomplished many of its goals (but not all) and has in turn set new ones. Everything that we accomplish is through teamwork and cooperation, both with our regular staff writers and with our contributing writers. LAS is nothing short of a collective. Another contrasting point to some of the magazines out there is that we've checked our egos and scene ethics at the door. We welcome anyone and everyone to contribute and cover a wide range of topics. LAS does not follow your guide lines.

See other articles by The LAS Staff.
If you'd like to help spread the word about LAS, or simply want to outfit yourself with some adhesive coolness, our 4" circle LAS stickers are sure to hit the spot, and here is how to get them:
-->
Send an with $2 in PayPal funds to cover postage. Don't worry, we'll load you up with enough to cover your town. Then just be patient. They will arrive soon.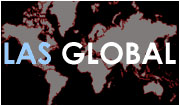 LAS has staff and freelance writers spread across North and South America, Europe, and a few in Southeast Asia as well. As such, we have no central mailing adress for unsolicited promotional material. If you are interested in having your project considered for coverage, please contact us before sending any promotional materials - save yourself time and postage!