LITERATURE
»
Full Dark, No Stars
- Stephen King's new novella questions mankind's ability to trust others.
[02.21.2011 by Bridget Doyle]
MUSIC
»
The Top 30 Albums of 2010
- Fashionably, fabulously late, our favorite music (and believe me, there was a LOT) of 2010, the year that some have called the best year for music ever. And only some of those fools work here. Plenty of usual suspects, lots of ties and a few surprises that I won't spoil, including our unexpected #1.
[12.24.2010 by The LAS Staff]
LOSTATSEA.NET
>
FEATURES
>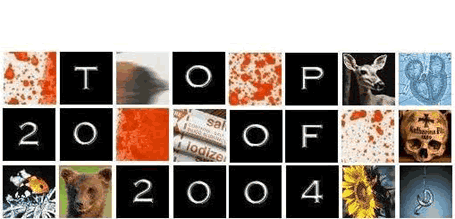 December 17, 2004
Individual Lists A-L
|
Craig Mertes
|
Thom Nash
|
John Peters
|
Sarah Peters
|
Jeanette Samyn
|
Max Schaefer
|
Stephen Smith
|
Tim Smith
|
David Spain
|
Brian Sutherland
|
Mark Taylor
|
Dan Williams
|
Mike Wright
|
Josh Zanger
|
2004 Composite Top 20
---
Craig Mertes
For me, this year has been deceptively great. When I first sat down to create this list yielded less than ten entries that I believed deserved to be on a year end top ten list. "How can this be?" I asked myself and went back to the drawing board and created a list of what has come out this year. Soon I found myself with the opposite problem, I now have too many albums that I feel deserve to get top billing, very simply 2004 has yielded more then ten good albums. Mission of Burma's triumphant return with OnOffOn, Tom Wait's brilliant follow-up to Blood Money and Alice, the Black Keys' syrupy blues fused goodness. So now that I have to get this list in to the editors at Lost At Sea, my list has bloated to a robust group albums released this year that are worth checking out. Take a look.
01 Madvillain -
Madvillainy
Number one this year has been a real fight in my mind. I've gone back and forth between
Rubber Factory
and
Madvilliany.
This should really be a tie in my opinion, however while ties are okay in top ten lists, it is definitely not alright for number one, for the coveted top spot on a Best of 2004 list. So here we are Madvillian gets it by a nose. MF Doom's been busy this year, and pairing with Madlib has created his best work to date. Doom's created another alter ego here, Supervillian. And his gravelly laid-back delivery matches perfectly with Madlib's big band beats and Golden Age of Radio production.
Madvilliany
successfully creates a smokey jazz club full of sketchy characters. This edges
Rubber Factory
only in the fact that I found this in my CD player slightly more often.
02 The Black Keys -
Rubber Factory
This Dayton, Ohio duo really deserves more than to be number 2, but that's the way it goes.
Rubber Factory
is more than just a terrific follow-up to
Thickfreakness
, it is a testament to Dan Auerbach's ability to write a fantastic blues and rock song.
Rubber Factory
(an ode to their home down of Dayton) oozes with blues rock goodness. Every song here get stuck in my head as well as get my body moving.
03 Tom Waits -
Real Gone
What can I say? This is Tom Waits. There is only one Tom Waits and there will only ever be one Tom Waits.
Real Gone
finds Waits trading in his trademark piano for a guitar, but in typical fashion Waits makes it work. Waits's dark humor is ever-present as he creates more songs with dark subject matter regarding among other things death. "Hoist the Rag" is a definite standout that harkens to something I may have heard on the
Buena Vista Social Club
soundtrack. Waits wins yet again.
04 Mastodon -
Leviathan
Mastodon is on the verge of revitalizing metal as we know it. And may I say that I believe from here on out, every album that is going to even claim to be metal needs to open with the line "I think that someone is trying to kill me." On
Leviathan
, Mastodon creates a something of a concept album loosely based around
Moby Dick
. Of any band around today, Mastodon's dark ominous presence is the one to pull this off. Following on the heels of their spectacular full length debut,
Remission, Leviathan
is not quite as dark. However, the Sabbath-esc riffs and presence is still here, and still present is the southern sludge rock influences that made Remission so great. In interviews Mastodon admitted that the creation process was less strained and stressful. Mastodon proves that they are the new age of storytelling in metal.
05 Challenger -
Give The People What They Want In Lethal Doses
Members of Chicago's Milemarker give the electronics a break for this new project on Jade Tree and create a classic post-punk rock record. Similar to Fugazi to but in a very Chicago style, Challenger snaps, snarls, and bites their way through 30 minutes of punk goodness that gets stuck in your head.
06 Mission of Burma -
OnOffOn
What Mission of Burma has done is downright impressive. After galvanizing the punk rock world with their art-punk in the early eighties and creating a legend with just a single EP and one full length album, Mission of Burma broke up. Fast forward twenty years and Mission of Burma have picked up where they left off as if no time has past. One of ways that I define a timeless album is thinking that if this album was released today would it still be relevant. Albums like the Pixies'
Doolittle
and Fugazi's
Repeater
stand the test of time - released today with the same mastering, these albums would still be as fantastic as they were the day they were released. Mission of Burma's
OnOffOn
has those same qualities. Itharkens back to the post-punk of the eighties but does not create a sense of nostalgia simply recalls the great work that was going on then and puts it into today's context.
07 Hot Snakes -
Audit in Progress
John Reis, a.k.a. Speedo, is my new hero. This year I rediscovered Rocket From the Crypt and really got into the Hot Snakes. The Hot Snakes follow
Suicide Invoice
with another bouncy catchy batch of pop-punk.
08 Maroons -
Ambush
This late entry into 2004 is simply impressive. To all you young hip-hoppers out there, Quannom Projects and Definitive Jux is the place to be. Personally I extend enough respect to both of these labels to pick up anything that bears their mark, and Quannom has not let me down here. Maroons consists of Lateef the Truth Speaker and Chief Xcel. The Chief throws down some heavier beats than Blackalicious is creating these days and Lateef lends his rhymes to the project. Lateef waxes political "If" taking it straight to President Bush in what I believe to be the best protest song of 2004. Commercial hip-hop may be creatively dead, but the underground is alive and kicking, and the Maroons are proof of it.
09 Modest Mouse -
Good News For People Who Like Bad News
Modest Mouse put themselves into the public's eye with their second release for Epic. However, scoring two radio hits hasn't corrupted Isaac Brock's sound or his altered sense of humor. Modest Mouse has yet another batch of classic songs, minus one ill-advised attempt at mimic Tom Waits. Modest Mouse's quirky sense of pop songs win yet again.
10 Death From Above 1979 -
You're a Woman, I'm a Machine
It amazing how much sound Death From Above 1979 creates with just a bass and a set of drums. This duo from north of the boarder avoid the sophomore slump by dropping a jem of a stoner metal tinged album about lost love.
You're a Woman, I'm a Machine
breathes fire as it's gigantic low end riffs rumble. Recalling Sabbath's massive grandeur and building off of southern metal grooves, Death From Above 1979 riff-tastic effort makes for a great metal listen.
11 Q and Not U -
Power
Being forced to adapt has not necessarily made for improvement on Q and Not U's debut,
No Kill No Beep Beep
, it has; however, caused an excellent change in Q and Not U's sound and this has not been all bad. Their snappy dance-punk has been rounded around the edges since the release of their sophomore album,
Different Damage
. Drummer John Davis broke his foot playing street hockey before Q and Not U went to the studio to record
Power
. All of this adaptation may have softened the sharp punk sound from their debut, but it hasn't dampened their songwriting ability.
Power
sports some of the best dance punk around and demonstrated Q and Not U's song writing chops.
12 Sonic Youth -
Sonic Nurse
13 RJD2 -
Since We Last Spoke
Definitive Jux has become a heavyweight in the hip-hop world by releasing dope album after dope album. RJD2's sophomore effort takes a new path when compared to his terrific debut Deadringer.
Since We Last Spoke
is a more instrumental groove oriented album which RJD2 proves he is just as adept at creating as more traditional hip-hop beats.
14 Pilot to Gunner -
Get Saved
15 Means -
Divine Right of the Means
The Means trade in some of their snarl for swagger on their third full length. More than any other "garage" band I've heard these days, the Means can legitimately call the Stooges an influence. My stance is that Iggy would be proud of these guys and gal, channeling
Raw Power
and updating the sound to fit 2004. It's too bad this will be their last album, as they broke up earlier this year.
16 Hives -
Tyrannosaurus Hives
17 Clutch -
Blast Tyrant
18 The Gift of Gab -
4th Dimension Rocket Ships Going Up
19 Ted Leo/Pharmacists -
Shake the Streets
20 Million Dollar Marxists -
Give It a Name
This Canadian band will hopefully bring real garage punk back to life, creating an album forged from equal parts Detroit grime and Ohio born punk rock, ala the New Bomb Turks.
Give it a Name
is loud, raucous and untamed. Keep it coming guys.
21 Dalek vs. Faust -
Derbe Respect, Alder - Klangbad & Staubgold
22 Blood Brothers -
Crimes
23 Pig Destroyer -
Terrifyer
I don't believe that their was a heavier album released this year. Pig Destroyer dropped another terrifying, heavy album, appropriately called
Terrifyer
. Another pseudo concept album build around love, betrayal and hate; while two of these topics are not foreign to the thrash metal Pig Destroyer create, love is, and serious props need to be given for Pig Destroyer delving into love as a thrash metal topic.
24 Joss Stone -
The Soul Sessions
---
Thom Nash
01 Wilco -
A Ghost is Born
Everything Jim O'Rourke touches turns to gold.
02 PJ Harvey -
Uh Huh Her
Her best since
Rid of Me,
not because it sounds most like it but because she has finally gotten back to writing songs without any pretense.
03 Sonic Youth -
Sonic Nurse
While it may be their most formulaic sounding album yet, it's also one of their best.
04 Mission of Burma -
OnOffOn
They make youth look like more of a handicap to making rock music than a necessity.
05 TV On the Radio -
Desperate Youth, Blood Thirsty Babes
I've never heard anything like it. I'm not sure if that means that I am terribly ignorant or if this record is one of the most original I've heard in a very long time.
06 Burning Brides -
Leave No Ashes
As Dimitri Coats said: "It's a great record. It's probably one of the best rock albums of the year..."
07 Liars -
They Were Wrong So We Drowned
This is fucking scary/amazing.
08 The Fall -
The Real New Fall LP
As a new Fall convert, I have no context for judging this album against the past 50 or so previous ones. I can say with certainty, however, that this is pretty awesome.
09 Franz Ferdinand -
Franz Ferdinand
With all the success that has come to them, chances are that they're going to blow it on the next one. I'm going to be sad when I have to throw this out and pretend I had always hated them.
10 Modest Mouse -
Good News for People Who Love Bad News
Isaac Brock may have stabbed many indie geeks in the back by "selling out" so unabashedly, but maybe it's all just a plot to get enough clout to record the
real
follow up to
The Moon and Antarctica.
Regardless, this record proves that even when Brock is coasting he is still a genius.
---
John Peters
01 Arcade Fire -
Funeral
Arcade Fire's
Funeral
is one of the most refreshing and original albums I've heard in a long time. Leave it to Merge to hit one out of the park.
02 Modest Mouse -
Good News for People Who Love Bad News
Modest Mouse's
Good News for People Who Love Bad News
was one of the most pervasive albums of the year. At first I was annoyed and even taken aback to hear
"Float On" in ads and even trendy clothing stores, but then I remembered that "Gravity's Plan" was used to hock minivans and beer. I guess if there was ever a band
that deserved to get huge...
03 Chin Up Chin Up -
We Should Never Have Lived Like We Were Skyscrapers
We Should Never Have Lived Like We Were Skyscrapers
is a late comer to my list. I had just about given up on art-pop. Thanks to my wife, Sarah and Brian Sutherland for turning me on to Chin Up Chin Up.
04 The Plastic Constellations -
Mazatlan
Imagine post-rock with a self-deprecating sense of humor.
05 McLusky -
The Difference Between Me and You is That I'm Not on Fire
McLusky hasn't dropped from my musical radar since
Do Dallas
. This album is always good for at least one track that will fit your mood.
06 Loretta Lynn -
Van Lear Rose
It's so welcome to hear Loretta Lynn again. The girl from Butcher County has been there and has now come back to regale us with the tale of her journey.
07 Morrissey -
You Are The Quarry
You Are The Quarry
is a testament to Morrissey's staying power. The formula hasn't really changed that much, but Morrissey knows his game and executes it perfectly.
08 The Go! Team -
Thunder, Lightning, Strike
I tried really hard to not like this album. Eventually I caved due to "Feelgood by Numbers" and the jump-rope cadence of "The Power is On". This is the sound of unabashed exuberance.
09 De La Soul -
The Grind Date
I haven't listened to De La Soul since the late 80's. Hearing
The Grind Date
sounds like they picked up not far from where I/they left off. In a genre that is saturated
with mediocrity and one-hitters, it's refreshing to hear some really good old school.
10 Califone -
Heron King Blues
Califone leans heavily on an eclectic mix of American music, but does so with formidable prowess. This organic mix of blues, folk and loops is never overbearing and approaches
a perfect balance without the bad aftertaste of classic rock.
---
Sarah Peters
01 Blonde Redhead -
Misery is a Butterfly
The band is definitely working together, having gilded themselves as a stronger collaboration of their parts. Here, there is no real competition, and even as the vocal spotlight shifts, the Kazu and Amadeo are substantially more complementary.
Misery is a Butterfly
is skillfully layered - gloriously over-the-top, but also inside and beneath it. As bawdy ringleaders, they give you the show, but cleverly display the world behind it and dare you to decide which is more cunning.
02 McLusky -
The Difference Between Me and You Is That I Am Not On Fire
Steve Albini's production has snuck in and completely infiltrated the band. What's more, it's as if they wanted it that way. A wholly dark, raucous affair, it proves the band is not a one-trick pony; in fact, they have taken the ideas of
Do Dallas
and allowed them to corrode in hostility. This is McLusky gone angry, even daring, and moves them to a progressive place, not to be bypassed.
03 The Robot Ate Me -
On Vacation
The childish and the political meet in waves of vertigo-inducing, uneasy pop. This will make you feel ill and lovely, heartsick and fearful in one short sitting, hitting every thinkable emotion clean through. With food for thought, empathy to spare and a song for every mindset, it is an occasion for rejoicing. Best pop album of 2004, hands down.
04 The Hold Steady -
Almost Killed Me
A masterwork, calling attention to one centralized, very important matter: the profound hides most significantly in the mundane. You'll want to be invited to the party, you'll find yourself among the not-so-anonymous crowds, and who knows, you might even get a nickname. A bright and hilarious classic.
05 The Plastic Constellations -
Mazatlan
It's astounding, really, that for all the sharpness and intensity the band has accumulated, they position it against a very friendly, likeable playfulness. It's hard not to fall in love with Mazatlan almost immediately - the album is just plain appealing.
06 Sonic Youth -
Sonic Nurse
The truly fashionable never goes out of style. We should all feel good that Sonic Youth sounds as vital and progressive as ever.
07 Modest Mouse -
Good News for People Who Love Bad News
When Modest Mouse appears on an inevitable VH1 special on One-Hit Wonders, we will all know better. Beyond the mind-boggling success of "Float On," this album smiles glowingly upon the rest of their catalog, proving they can be loved by one and all.
08 Arcade Fire -
Funeral
Like the influences they've found in the Talking Heads and New Order, there is definitely more to take in beyond the initially appealing surface - and on Funeral, the charging immediacy will doubtlessly draw you to the greater depth. We warm to their weirdness, peculiar lightheartedness and elusive romanticism.
09 Cocorosie -
La Maison De Mon Reve
An overwhelming, lovely junk-drawer album if there ever was one. This colors outside the lines with ink and blood and eyeshadow, all to make a greater picture out of focus. CocoRosie makes me wish it rained all the time, just to match their sweet vocals up to my windshield wipers.
10 The Go! Team -
Thunder, Lightning, Strike
An exclusive invitation to a universal party; like Cibo Matto, Avalanches and Enon, all designed for confetti-colored recreation. Each and every track lets you loosen your inhibitions as it takes you somewhere fun.
---
Jeanette Samyn
01 Cause Co-Motion -
Over U/I Don't Wanna Know
02 Brian Wilson -
Smile
03 Crystal Cock Over Canada -
50 Ways to Lose Your Cock
04 Ariel Pink's Haunted Graffiti -
The Doldrums
05 Love Is All -
Make Out Fall Out Make Up
06 Tunnel of Love -
Tunnel of Love
07 Animal Collective -
Sung Tongs
08 Thanksgiving -
Welcome Nowhere
09 Das Oath -
Das Oath
10 Cam'ron -
Purple Haze
---
Max Schaefer
With regards to myself, music in the year of 2004 found itself often dappled alongside books read when the sky had been all but drained of light. As the moments passed, I became somewhat accustomed to reviving the music I kept laying beside me when the night had settled down and I would begin reading or writing something or other under a dim desk lamp. I presently worry about the grand benefits my eyes may reap on account of such a renewed choice; I presently worry about a horde of decisions I've made within this dwindling year of moments, all of which I feel a trifle too trivial to dwell upon here, for it would certainly mean my having to forge through other concerns, upon which I would prattle much too long, carrying this unto even more absurd lengths, simply so as to balance out the scales, if you would. Anyway, suffice it to say, I passed through an assortment of literary works for whose happening upon I now feel terribly thankful. In particular, the efforts by Heidegger, Hegel and Simone De Beauvoir provided me an intriguing vantage point from which to view my relation to myself, to the world and my fellows (not to mention the horror that is Descartes methodological doubt and "I think therefore I am", which is sadly so very enrooted in peoples everyday thought); and, although we were not without our quarrels, music was not too far away. In a year ripe with records, here are a few I recall being with during my nights:
01 Rosy Parlane -
Iris
Iris
exposed Parlane as a focal artist in modern music. Adorned with John Wozencraft's superlative photographs of abandoned snow encrusted pastoral landscapes seen through a blue filter, this work acutely articulates the malaise and mystery spurred by a season of blustery blizzards and frozen icicles drooping off of rooftops. Parlane paints on a canvas of arching drones with hailstorms of glitch electronica, an occasional sibilance of hazy white noise and sharp shafts of digital sound equivalent to squalls of wind snapping at a metal awning. Given that where I am presently it is -37 degrees outside, one might imagine that I would be playing "Endless Summer" ad nauseam, yet
Iris
accommodates itself so well with the winter season. With the inclusion of subtle field recordings and organic instruments such as a celestial church organ, these compositions stand out from that of their peers on account of the human quality with which each is imbued.
02 Akira Rabelais -
Spellewauerynsherde
Though Rabelais adopts a spectator position so as to reassemble these traditional Icelandic a capella lament songs, which date back to the '60s, he is nonetheless wholeheartedly engaged in pondering his movements, as exposed by his choice to leave particular pieces to stand on their own, while having others hit with a deep resonance or sublimate into dim drones. Regardless of which avenues these compositions pass through,
Spellewauerynsherde
, marked only by the human voice and its manipulation, has a curious capacity to communicate with a person despite what their personal state may entail.
03 Irr Apt (Ext.) -
Ozeanische Gefule
Snapping snares, airless pattering clicks, coiling metallic drones and buzzing saw-toothed organs are but a dash of the sounds that overlay palpable, ever-evolving samples of nature's muddled majesty. An album which seeks to exemplify a life inexhaustible in possibilities, these compositions swiftly veer from insect-like electronics that mirror the rhizomatic growth of plants from a Japanese garden and gradually gives unto otherworldly voices and bewildering intrusions of cacophonic noise that have the unstable volatility of overloaded circuits. The people of Irr Apt (Ext.) line their album-notes with florid convictions as to human freedom and responsibility in a way that reminds of The Hafler Trio and, like those artists, this work ought to be sought by those seeking something of a challenge.
04 Deathprod -
Morals And Dogma
This effort consists of four engulfing drones, but is defined largely by its centerpiece in "Dead Peoples Things"; pock-marked by a whiny violin and a scratchy test oscillator being played like a theremin, the piece is cloaked in a perturbed ambience as the violin sketches a sad melody.
05 Max Richter -
The Blue Notebooks
A chattering of gulls on the shore, the typewriter smack and actress Tilda Swinton (Orlando) reading excerpts from Frank Kafka's
The Blue Octavo Notebooks
and Polish author Czseslaw Milosz's
Hymn Of The Pearl
and
Unattainable Earth
are but a few of the minute details coiled in the delicate fabric of this work. Delectably melodic and eminently accessible, The Blue notebooks, with its stark piano playing and lyrical violin, harkens back to the elegiac mood and restrained romanticism of Satie, Nymann and Bryars.
06 Richard Youngs -
River Through Howling Sky
Something of an intersection where the poignant marriage of melody to lyric found in his recent efforts meet with the terse experimentation from his youth, Youngs employs this avant-garde folk form as a means to dislocate the notion of song inside itself. A crackling of pebbles fuse into a single shrill noise, while guitar strings are snapped anxiously and Youngs angelic warble wanders through a strenuous repetition of phrase and line, altering dynamics and creating tiny variations in his lyrics so as to draw the listener deep into the woods of his world where the two become seemingly inseparable. In a catalogue already replete with classics such as
Sapphie
and
Advent
,
River Through Howling Sky
finds Youngs still at his best.
07 Johann Johannsson -
Virðulegu Forsetar
A shift from Englaborn's three to five minute vignettes, this effort focuses upon extended modern compositions which wade near drone waters. With this being said, a simple three-note motif reappears throughout these four selections, rising from mercurial depths into exultant highs that elicit strong emotions. Originally played live in the year 2002, whereupon balloons were arranged so as to plummet into the audience in accordance to the development of the compositions, the performance was awarded as that year's best in all of Iceland.
08 Birchville Cat Motel -
Beautiful Speck Triumph
Campbell Kneale tends to approach recording with a everything-even-the-kitchen-sink manner and while one might feel weary as to the jumbled mess which is likely to be born, Kneale displays a deft ability to weave his many toys (baby-monitor, garbage, turntables, etc) into a singular, even, at times, coherent statement. And although at moment's intentionally difficult, absurdists, as well as Set Fire To Flames fans should appreciate its anarchist charm. Sprawling over two discs,
Beautiful Speck Triumph
provides a muted voice to what is fundamentally a chaotic void.
09 Andrew Chalk -
Fall In The Wake Of A Flawless Landscape
Of any record stemming from 2004, I imagine I spent the most moments with this effort from Andrew Chalk; an engrossing, self-contained environment of rich, billowing drones whose origins escape me still. Rife with sounds that continually elude the conscious mind, one may lay about and attempt to catch what they will or engage with something else while these two twenty-one minute pieces nevertheless transform the environment in which you find yourself.
10 Arco -
Restraint
Chris Healey has penned my favorite set of lyrics found on an album in 2004.
Restraint
, the mature follow-up to the endearing lullaby that was
Coming To Terms
, finds Healey in a thoughtful self-questioning as to how he might continue to go about his life. As for the compositions, this work stands out from its predecessor by way of its dense weave of trumpet, glockenspiel as well the more prominent contributions from Healey's fellows in Dave Milligan and brother Nick. Full of honest confessions and general wonderings, such as found in "Stream" where Healey bemoans "I know a choice is coming/For peace or honesty/Pour concrete on the footprints/From everything that you might be/Love will set you free", Restraint is a testament to the notion that there is nothing more beautiful than a mind grappling with a world that transcends it.
Notables
:
No-Man -
Together We're Stranger
(I've always been a trifle in between on No-Man, but here Tim Bowness has a voice so tender which wafts along a sound that may almost satisfy anyone who ever feels nostalgic for latter-day Talk Talk)
The Loop Orchestra -
Not Overtly Orchestral
(employs reel-to-reel tape recorders and an array of turntables to fashion a multi-layered, almost dated outer space sound)
Charalambides -
Joy Shapes
(Christina Carter's voice sounds like a tortured instrument and, upon my first listen, brought me close to something I now feel was probably fear)
Hope To See In 2005
:
Hood -
Outside Closer
(bless, bless)
---
Stephen Smith
01 Of Montreal -
Satanic Panic in the Attic
Kevin Barnes puts his name in the hat for the title of musical genius - I say give it to him. This album is simply incredible from start to finish. Jangly, catchy, danceable, musically sound...best album I've heard since....
02 The Fiery Furnaces -
Blueberry Boat
Almost as fun intellectually as it is musically. It's not just catchy, it's downright addictive. The way the music changes completely from one verse to the next is spellbinding.
03 Animal Collective -
Sung Tongs
This could easily have been the best album of the year. It calls out to me at night when I'm asleep. The soundscapes painted here are incredible in a way that I've never heard before.
04 Deerhoof -
Milk Man
Sure it's scary, but it's also brilliant. Intellectually in your face.
05 Elliott Smith -
From a Basement on the Hill
I probably would have put this album so high in my list, simply as tribute to Smith, but it made it on its own merit. This is his best work and his most complete-sounding album. So sad that he never got to hear the final product.
06 Arcade Fire -
Funeral
This is the best Talking Heads record that David Byrne never wrote.
07 Rogue Wave -
Out of the Shadow
Ahhhhh I love it! Once I start it, I can't stop. It's got everything anyone could ever ask for in a pop record.
08 Br. Danielson -
Brother is to Son
It took a while to grow on me, but this record has slowly taken over my stereo (Not to mention my mix CDs). It's beautiful in a way that's really hard to describe.
09 The Elected -
Me First
Sonic brilliance + intense lyrics + Sub Pop = hit.
10 American Music Club -
Love Songs for Patriots
Wow, what a comeback! I never expected such passion from these guys after, what, ten years? It's like they never stopped!
11 Sufjan Stevens -
Seven Swans
Picked up right where last year's amazing
Greetings From Michigan
left off. A small masterpiece.
12 63 Crayons -
Good People
One of the best indie pop records I've heard in a long time, and one of the best debut LPs too. Wanna dance? Here's your record.
13 Will Johnson -
Vultures Await
His voice mesmerizes me. This album carries me somewhere else... it's very dreamy and intimate.
14 Architecture in Helsinki -
Fingers Crossed
A great mix of genres all rolled into one great package. Ska, folk, garage... it's all here and it all sounds very fresh.
15 John Vanderslice -
Cellar Door
This guy just keeps on comin'. This might even be his best album yet.
---
Tim Smith
01 Brian Wilson -
Smile
02 The Streets -
A Grand Don't Come for Free
03 Elliott Smith -
From a Basement on the Hill
04 The Libertines -
The Libertines
05 Loretta Lynn -
Van Lear Rose
06 Madvillan -
Madvillainy
07 Air -
Talkie Walkie
08 The Hives -
Tyrannosaurus Hives
09 The Coral -
Magic & Medicine
10 Dizzee Rascal -
Showtime
---
David Spain
01 Madvillan -
Madvillainy
With a cast of characters longer than a Disney film roster, MF Doom and Madlib, with their umpteen personalities in tow, combine to create the best album of the year. Doom's deep voiced rhymes and flow mingle perfectly with Madlib's quirky production and sampling.
02 Interpol -
Antics
There's something epic about Interpol's albums, a grandiose impression left on my mind after each listen, as if I'm part of something bigger than just a group of songs. Interpol manages to compliment their stellar debut with a stellar follow-up, engaging and humorous at times, and Hollywood in scope.
03 Xiu Xiu -
Fabulous Muscles
Xiu Xiu is: complicated, difficult, misinterpreted; brilliant. Jamie Stewart's over-the-top yelps and darkly humorous and affecting lyricism can be heart wrenching, the music is unconventional, but
Fabulous Muscles'
intensity and challenge is worth the effort.
04 Blood Brothers -
Crimes
The Blood Brothers create their most cohesive effort to date without losing any of the aggression or creativity of their previous works. Crimes is a blaring, grating, joy of an album.
05 Arcade Fire -
Funeral
Funeral
, simply put, has blindsided the indie rock community. Not quite the second coming of
In The Aeroplane Over the Sea, Funeral
provides a delicate balance of oddities and spirit, one of the more pleasant surprises of 2004.
06 Bjork -
Medulla
Björk, never dwelling within the same realm or concept of music as most artists, creates in
Medulla
an exploration of voice as instrument and melody. To call it experimental is a little much considering its source, but enlisting the help of beatboxers, Robert Wyatt, and the Mike Patton to lend their vocal talents prefaces the scope of Björk's art.
07 Modest Mouse -
Good News for People Who Love Bad News
What's left to say about Modest Mouse? They've created a great album and while doing so have found some commercial success. The catchiness obviously hasn't been lost on the public considering I heard "Float On" while strolling through the mall. Gulp.
08 Pinback -
Summer in Abaddon
Rob Crow and Armistead Burwell Smith IV are machines. Touring, creating musical side projects galore, and Pinback. It's catchy, layered pop music, with soothing, melodic duel vocals. I love them...you should too.
09 Tom Waits -
Real Gone
Waits' love and exploration of dirt and grime, barroom corners and bottom-of-the-barrel lifestyles are ever present on
Real Gone
, giving dark alleys a soundtrack. With his gruff howling and cacophony productions, Waits manages to continue his trend of fine records.
10 Sufjan Stevens -
Seven Swans
Easily the most gorgeous album of the year, Sufjan Stevens creates a personal exploration of his faith with the help of the Danielson Famile. Banjo laced and delicate, the structures and choruses induce calm and peace.
11 Karate -
Pockets
This is finally the album that Geoff Farina and company have been alluding to since their inception. An amalgamation of their post hardcore/indie rock and jazz meanderings,
Pockets
never lingers too long on one particular or the other, finding a happy medium.
12 The Futureheads -
The Futureheads
I can't help but hear Billy Bragg every time Barry Hyde opens his mouth. This is a good thing, as are The Futureheads. It's manic pop rock with a touch of British punk, great vocal play and choruses, energy, and fun.
13 TV On the Radio -
Desperate Youth, Blood Thirsty Babes
Like it or not, Tunde Adebimpe sounds a lot like Peter Gabriel. TV On the Radio, however, does not. It's a little bit doo-wop, soul, electronic, and rock; smooth with an emphasis on Adebimpe's stellar vocals.
14 Q and Not U -
Power
How the times have changed for Q and Not U, both in physical and musical composition. After losing their bassist after their first disc, they ventured forth abandoning their post-punk styling, now shifting on
Power
towards a danceable, 70s-influenced rock, psyche and funk intact.
15 Saul Williams -
Saul Williams
Spoken word stylist and poet, Saul Williams' self-titled second album contains moments of perfection. Lyrically, Williams' observations and commentaries are clever, musically, the album is a constant barrage of heavy bass, guest appearances (Beck and Zack de la Rocha) and energy, and when it shines, it's blinding.
---
Brian Sutherland
01 The National -
The Cherry Tree EP
I don't recall a band ever recording a year's finest album in two consecutive years. I'm only 23. Believe me: I would remember. This year, The National followed up 2003's best record,
Sad Songs for Dirty Lovers
with
The Cherry Tree EP
, a collection of songs so dense, so concentrated and intense with emotion that I doubt the average listener could have endured a full-length.
02 Modest Mouse -
Good News for People Who Love Bad News
Many people have probably thought to themselves, "Oh, what an ironic title!" The good news: Isaac Brock finally wrote the album of his career. The bad news: potheaded indie-rock elitists must find another underdog messiah to worship. Unlike in the movies, where, after being left on its own, the bastard puppy always follows home the little loser child without a friend, Modest Mouse will not be returning to the indie-rock community.
03 Franz Ferdinand -
Franz Ferdinand
Franz Ferdinand is truly the story of 2004, and they deserve to be it. Between the months of April and December, I saw them play a sold out show at Chicago's tiny Empty Bottle, then, a sold out show at Chicago's Metro. Later in the year, I passed at seeing them play two sold out shows at Chicago mega venues, the Riviera Theatre and the Aragon Ballroom. An imported band playing four sold out gigs in Chicago in one year is an amazing feat. Just stay out of Sarajevo, Franz!
04 The French Kicks -
Trial of the Century
I was shocked to hear the route The French Kicks took with
Trial of the Century
. They could have easily capitalized on the dance rock trend that they helped revive, abiding by the safe but solid formula used on 2002's
One Time Bells
; however, instead, they removed the "kick" from their sound and released
Trial of the Century
, a remarkably subtle, poised rock album that experiments more with air and space than with noise and filler.
05 TV on the Radio -
Desperate Youth, Blood-Thirsty Babes
When I first heard TV on the Radio's Young Liars EP in 2003, I thought it was crap. I didn't even plan on giving
Desperate Youth, Blood-Thirsty Babes
a chance - until I saw them play in the spring. Upon hearing the record live, I fell in love with it but still not necessarily the band. While
Desperate Youth, Blood-Thirsty Babes
is one of the most original sounds I have heard in years and certainly one of this year's best releases, I have serious doubts that TV on the Radio will be able to sustain both the freshness of their sound and the interest of their audience (we are talking about Touch and Go's fan base, after all) for too long. I'd love to be proven wrong.
06 Sons and Daughters -
Love the Cup
I'm at the mercy of the Lost at Sea panel of judges as to whether this is considered a 2004 release, since it was technically released abroad in 2003. Nevertheless, better, more solid albums with more serious messages may have been released this year in America, but none came across as gritty, sincere and authentic as
Love the Cup
from Glasgow's Sons and Daughters.
Love the Cup
is a classic punk rock album. And Ailidh Lennon doesn't need to smash her mandolin on stage to prove it although that would be pretty cool.
07 Raising the Fawn -
The North Sea
In May, Broken Social Scene's John Crossingham released this year's consummate winter album, The North Sea, through his side-project, Raising the Fawn. Raising the Fawn is no solo act; they are a band who writes and plays extremely well together.
The North Sea
is primarily a morose affair, but it does not take gloom to all-time lows. Like all winters, there is at least one bright moment on the album, "Gwendolyn," which will make every 2004 mix CD I ever - or never - make.
08 The Race -
If You Can
You can call me a homer all you want, but I still love Chicago's The Race.
If You Can
was the release of 2004 that I most anxiously awaited, since I have seen and heard the band develop since its foundation. The follow-up to a flawed effort,
The Perfect Gift, If You Can
does what its predecessor didn't: it flows, it surprises and it gives Chicago hope in a scene that became somewhat hackneyed in 2004.
09 Pinback -
Summer in Abaddon
The chorus of album-closing anthem "AFK" says it best, "Remember the summer in Abaddon." When I first read the title of Pinback's 2004 release, I thought the band may be sentencing itself to death by declaring summer in Abaddon, the realm of the dead in the book of Job. But play with the Bible, and you're bound to come across something divine. Despite the title, there is something truly wonderful about
Summer in Abaddon.
10 Ratatat -
Ratatat
Ratatat makes the Best of 2004 cut this year by default, since it is the official make-out/make-love/fuck album of 2004. Ratatat's self-titled debut aroused me like !!!'s
Louden Up Now
gave me a headache. While they are now slightly (in)famous for having their music featured in a recent Hummer "car" commercial, Ratatat should be proudest of recording the ultimate album of 2004 for those other hummers. Sorry, I couldn't resist.
---
Mark Taylor
01 Arcade Fire -
Funeral
A musical ice capade, if you will, of dazzling musical exploration complete with spins and triple threats of beautiful melodies, exceptional multi-instrument interplay, and some of the most sincere sounding music to grace my observation tank this year.
Funeral
is a romantic sounding album, effectively adding dark lyrical content, that gives witness to gender-bending musical styles that have left me breathless since purchasing the album earlier this year. Sure to be on multiple "best of" lists.
02 Hot Snakes -
Audit in Progress
Is there really another punk band that matters? In my opinion, John Reis can do no wrong and with
Audit in Progress
, the Hot Snakes have continued their punk rock explorations which basically takes pieces from John's previously renowned projects to complete an all encompassing, orgasmic, sub-style, rock n roll soiree as the band unites indie and punk rock blueprints and then roles them together into a rampant and infectious crowing achievement that I like to call
Audit in Progress
.
03 Modest Mouse -
Good News for People Who Love Bad News
I feel like Franz Ferdinand stole Modest Mouse's thunder. People unfamiliar with MM's quirky unprecedented approach to rock were easily manipulated into "getting the bands confused" as both singles, Modest Mouse's "Float On" and Franz Ferdinand's "Take Me Out" videos were similar in look and quizzical musical approach and both were released around the same time. To me, there is no comparison between the two. Modest Mouse has been around long enough to stand boldly as originators of a very distinct style of pop and
Good News
stands to be one off the finest release since the band's inception.
04 Aerogramme -
Seclusion
Any other past Aerogramme album would have been my number one choice but with their mini-album
Seclusion
, Aerogramme have once again defied logic and came up with another aural and visual stimulating opus combining a short film and it's score, as well as a heavy and overtly dramatic version of "Lightening Strikes the Postman" from the Flaming Lips which may possible be one of the best cover songs I have ever heard.
05 Sonic Youth -
Sonic Nurse
I'll be the first to admit that
Sonic Nurse
is hardly perfection, but it stands intently as one of the finest releases the band has produced in many years. Perhaps middle age has made Sonic Youth wise beyond their years as they are able to discern what is poignant with an album that is skillful and sure to sharpen the senses with a natural understanding of song craft and lyrical handiwork this guy hasn't heard since
Daydream Nation
.
06 The Futureheads -
The Futureheads
At first the Futureheads came across as a defunct early 80's post-punk spin-off but upon further listening it doesn't take long to see the genius the band conveys, channeling early punk rock acts of the Clash and The Knack with down right addictive melodies, intricate vocal harmonies, and bad ass guitar arrangements. In every respect, the Futureheads are the future of a culmination of British post-punk and contemporary guitar rock.
07 Interpol -
Antics
I was pretty late to jump onto the hysteria gained after the release of
Turn on your Bright Lights
, but once I let go I was forced into the wonderful world of Antics. Antics plays on the more" strait forward" music moments found on
Turn on your Bright Lights
with less emphasis on the darker elements that made me such a fan in the first place. Still, Interpol's sophomore album is no less cohesive than their first outing making
Antics
, and the band itself, a memorable if not inescapable commodity in style and substance.
08 These Arms Are Snakes -
Oxeneers or The Lion Sleeps When Its Antelope Go Home
After the band released their first EP,
This is Meant to Hurt You
, the indie rock community certainly stood up and took notice. These Arms Are Snakes takes me back to the earlier days of post-hardcore bands like Kerosene 454, Radio Flyer, Bluetip, and maybe the heavier parts of Roadside Monument, adding a more progressive sound to an already fundamental musical element that was shaped years before. I wish more bands were making music like this.
09 Read Yellow -
Radios Burn Faster
Another lesson in guitar driven supremacy which has become less revered in a time when 80's revivals and garagey three chord progressions dominate in the underground rock renaissance. With
Radios Burn Faster
, Read Yellow besiege the listener into an enveloping storm of a punk rock evolution which forefronts massive guitars, sturdy drums, and shouted vocals. This album, although nowhere as seminal, has temporarily fed my hunger while I anxiously await the new Trail of Dead album.
10 Trans Am -
Liberation
One of the most politically charged records to come out of '04. Trans Am had plenty to say with
Liberation
, using it as a platform for Bush bashing and war protesting. Trans Am retro post-rock sound fits in nicely with the resurrection of the 80'nolstalga sound that the band actually help revive in the mid 90's and with Liberation the band managed to make a "come back" to what made them underground hero's with past albums like
Surrender to the Night
and
Futureworld
.
---
Dan Williams
01 Ted Leo/RX -
Shake the Sheets
Political punk party record. Seriously it's just damn good album that will motivate you to shake your ass and hand out political pamphlets at the same time. Ted Leo is on a straight roll for about 10 years now, a solid streak of excellence that's been pretty much unmatched. Clearly this album once again solidifies Mr. Leo as the underground's best songwriter.
02 Arcade Fire -
Funeral
The best part about this album is that it comes off vibrant, fresh and unpredictable, even after 10 listens or so. It's quirky and weird and cohesive and it's from Canada.
03 Quantazelle -
Coaster
To me this was a shot in the dark unknown - a discovery from the magic world of MP3 blogs. One woman from Chicago has created an awesome uptempo , downtempo ambient IDM whatever-the-hell-you-call-it electronic album. While still lurking in the shadows as a virtual unknown it's a shame more people haven't heard Coaster, the most compelling electronic album of the year, featuring an opener "Braking (hushed)" that gets the nod for best song of the year.
04 Styrofoam -
Nothing Lost
Another electro-tinged album from Morr Music of Germany . This one features some help from the rock god Ben Gibbard, but other than Gibbard's other work with DNTEL (and of course the postal service) Styrofoam's music is more frazzled and glitchy. Runner Up Song of the Year nods go to "Beequeen," a beautifully scattered collage of beats and blips that all comes together to end in a sublime union.
05 Franz Ferdinand -
Franz Ferdinand
Yeah the hip fasionistas broke it big. But don't begrudge them their fame. This Debut is fine as apple pie or the Scottish equivalent. Big Hooks and Big Swagger it's a deadly combination.
06 The Futureheads -
The Futureheads
The Futureheads sound like the Jam, except sped up. I like the Jam, I like fast music. I like unironic Kate Bush cover's that sound quite good. The Futureheads I like.
07 The Delays -
Faded Seaside Glamour
That voice. That soaring falsetto is just so compelling. It'll be a shame if the band ever goes through puberty and all those beautiful melodies are lost.
08 Interpol -
Antics
Interpol's second full length flaunts some new territory for the band with positive results.
Antics
is more poppy, more cohesive and more compelling than
Turn on the Bright Lights,
which itself was nothing to scoff at.
09 The Like Young -
So Serious
This Chicago duo craft some seriously crunchy and infectious pop songs. Now two for two with this and last year's
Art Contest
, the future for the group looks bright.
10 The Hold Steady -
Almost Killed Me
A perfect match of wit and rock. Craig Finn's tales of drunks, weirdo's and outcasts are set against the backdrop of bar band hooks and the occasional saxophone.
---
Mike Wright
01 Tortoise -
It's All Around You
There are a handful of bands that can remain accessible in spite of their complexity. Tortoise keep it subtle; they can be appreciated on a number of levels, which makes the process of listening to this record unfold most satisfying.
02 Animal Collective -
Sung Tongs
The creative bastardisation of such hummable tunes makes
Sung Tongs
catchy in an entirely disturbing way.
03 90 Day Men -
Panda Park
Almost neo-classical, deeply sophisticated.
04 Textual -
Hindsight Sunglasses
Bright, percussive electronica (IDM?). Seriously, check this out.
05 Squarepusher -
Ultravisitor
The array of talent and attention to detail demonstrated by Tom Jenkinson is phenomenal.
06 Q and Not U -
Power
It seems fashionable to say that Q and not U have lost it since their first record. They've progressed and diversified, perhaps losing a few straight up punk fans, but I'm sticking with them.
07 Pan American -
Quiet City
Dark and minimalist. I find this type of music incredibly uplifting.
08 Deerhoof -
Milk Man
Makes me feel young.
09 A Silver Mount Zion -
Pretty Little Lightning Paw
Not their best work, but great musicianship nevertheless.
10 The Hold Steady -
Almost Killed Me
The lyrics are incomparable; hilarious and free of pretence and insincerity.
---
Josh Zanger
01 Arcade Fire -
Funeral
Coming out of virtually nowhere (one recording prior to their credit - an EP), Arcade Fire released an album that dances a line between indie rock introversion and experimental studio tweaking. All of the songs are tied together in their story-telling poetic lyricism and agile transition of artistic thoughts. The album flows by the attractiveness of Win Butler's willowy quivering vocals and an expansive catalogue of instrumentation and musicianship - the crafty use of accordions, auxiliary percussion and strings separate
Funeral
from even the better albums of the year. Also, two interesting facts: it was recorded behind the funding of Canadian government arts grants; and the name
Funeral
was inspired by the deaths of several of the band members' relatives during the writing and recording process.
02 Air -
Talkie Walkie
Air bounces back from some negative criticism regarding
10,000 Hertz Legend
with their third full length,
Talkie Walkie.
The album is a vague combination of new age ambiance, movie score impersonation and electronic experimentalism (hello, Tortoise). The overall effect works in its outright simplicity.
03 Eagles of Death Metal -
Peace Love Death Metal
An under-the-radar Queens of the Stone Age side project. Features QOTSA frontman/guitarist Josh Homme on drums and Homme's long-time friend Jesse Hughes on guitar and sing-songy, whispy vocals. Throughout the album there is minimal mixing and effects - just the energy of fiery desert blues/garage rock. All of the songs are brief and upbeat, while exhibiting a slightly-sardonic lyrical catchiness.
04 Destroyer -
Your Blues
More goodness from Merge Records. Dan Bejar recorded
Your Blues
with the help of David Carswell and John Collins, who both laid down Roland and Kurtzweil synth parts. Bejar does everything else including bold theatrical-like English-accent vocals, mild percussion, and acoustic guitar that paints a folk impression over the electronics. The inclusion of synthesizer on the album makes for moments of faux-string orchestral grandeur, which takes some time to truly appreciate.
05 The Mae Shi -
Terrorbird
Another indie group. Another rock outfit.
Terrorbird
is an album that you will either love or hate. The attitudes of the group members come straight off the compact disc like heat radiating off a sizzling grill. Most of the mood is spastic, with energy coming from shrieking and frantic instrument playing. For the most part, the songs follow a conventional pattern of rock - catchy, anemic guitar riffs, party punk, disco backbeats and multiple interacting vocal melodies. At times, The Mae Shi further complicate their fanbase demographic with experimental electronic and free form musical edges. Totally wacky, but totally worth it.
06 Pit er Pat -
Emergency
A release from the relatively unknown trio from Chicago.
Emergency
is simple and artistic in its approach but such characteristics can go miles when done the right way. The album can be seen for its emotional desperation and darkness even though the members never really cover the entire canvas with paint. The instrumentation is what particularly leads to the simplistic reception, as the album is focused around drum kit, bass and electric piano.
07 TV On the Radio -
Desperate Youth, Blood Thirsty Babes
TVOTR's first full length is proof to the group's staying power. Drawing out all the comparisons to Peter Gabriel, Pere Ubu, Interpol and whoever else, the group actually does create a unique niche of their own as they balance the substance behind vocal harmonies, electronic studio effects and New York rock 'n' roll.
08 Craig Armstrong -
Piano Works
This guy just did the score for the movie
Ray,
so he must be something to take a look at.
Piano Works
is one of those albums that isn't going to be heard by many people, but for those that do, it will make a lasting impression. All the songs are solo piano compositions. Some of the tracks have effects that Armstrong mixed in live during his studio performances. Overall, the album is summed up as the observance of a personal and technically-sound piano playing.
09 Kanye West -
The College Dropout
My one nod to pop and hip-hop, all in one. The album runs a little heavy on the skit side, but most of these sketches are fairly amusing and have a message.
The College Dropout
revolves around a theme of making it despite the challenge of racial and social credentials - a contemporary, education-minded twist on the American Dream. The album is refreshing for the hip-hop genre, in that the topics aren't about who has the most bling and the biggest rims. Instead, Kanye tells the story of a young black man from Chicago and backs up his swagger with exceptional samples and danceable grooves.
10 Matt Marque -
Nothing Personal
Understated indie pop. While there are many albums with greater messages or more talented musicians, Marque plays music that is good to put on in the background in any sort of laid back situation. Almost like a Marvin Gaye for the Caucasian underground, the album is a collection of songs that sound like they were written at night in Marque's bedroom; subtle acoustic guitars atop various drum machine, hip-hop backbeats.
---
CONTINUE TO
LAS COMPOSITE TOP 20
--
The LAS Staff
A number of the Lost At Sea staff have worked and continue to work for various publications, both independent and commercial. Often very stifling in their narrow focus, conventional media outlets left our writers hungry for something bigger, more diverse, more communal. More active, because this is the twenty-first century and it makes sense. During it's short life LAS has accomplished many of its goals (but not all) and has in turn set new ones. Everything that we accomplish is through teamwork and cooperation, both with our regular staff writers and with our contributing writers. LAS is nothing short of a collective. Another contrasting point to some of the magazines out there is that we've checked our egos and scene ethics at the door. We welcome anyone and everyone to contribute and cover a wide range of topics. LAS does not follow your guide lines.

See other articles by The LAS Staff.
If you'd like to help spread the word about LAS, or simply want to outfit yourself with some adhesive coolness, our 4" circle LAS stickers are sure to hit the spot, and here is how to get them:
-->
Send an with $2 in PayPal funds to cover postage. Don't worry, we'll load you up with enough to cover your town. Then just be patient. They will arrive soon.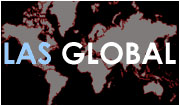 LAS has staff and freelance writers spread across North and South America, Europe, and a few in Southeast Asia as well. As such, we have no central mailing adress for unsolicited promotional material. If you are interested in having your project considered for coverage, please contact us before sending any promotional materials - save yourself time and postage!