LITERATURE
»
Full Dark, No Stars
- Stephen King's new novella questions mankind's ability to trust others.
[02.21.2011 by Bridget Doyle]
MUSIC
»
The Top 30 Albums of 2010
- Fashionably, fabulously late, our favorite music (and believe me, there was a LOT) of 2010, the year that some have called the best year for music ever. And only some of those fools work here. Plenty of usual suspects, lots of ties and a few surprises that I won't spoil, including our unexpected #1.
[12.24.2010 by The LAS Staff]
LOSTATSEA.NET
>
FEATURES
>
March 17, 2008
The music festival of today has somehow evolved from its fun-loving, everybody-gather-round, often chaotic origins into a carnival of consumerist decadence and certifiable disaster. On one hand, the melting pot bubbling over with musical genres and human camaraderie provides a sense of being in a world removed from the daily grind while camping under the sky in an ode to our primitive forefathers (although, the asshole with the giant generator doesn't count). On the other hand, the music often becomes the lowest common denominator at some of these festivals, taking a back seat to the ascension of the backpacking drug dealer. In the swampy haven of South Florida's Big Cypress Indian Reservation, the site where this year's Langerado Music Festival was held, getting tweaked seemed to be of the utmost importance, or at least it overruled the music.
When it comes to pulling off a three-day bender of great bands, the fat lady doesn't sing when the performance contracts have been signed. If there is one thing guaranteed to put a damper on a music festival with a hell of a lineup, it's a lack of organization. Even if it rains, you can still pull it off if you've got your ducks in a row. I'm not going to rant and rave, because the good people of Langerado tried their bestů but then again I didn't spot a suggestion box the entire weekend, so here 'goes: (1) Organize a better source of transportation from the destination airport to the festival grounds. I spent some of the most rank hours I've ever experienced in a bus with the most dreadful hippies I've ever come across in my entire existence, only to be dropped off in a giant mud pit and directed to walk a mile to my campsite, bags in tow. Whoever came up with the brilliant idea of having golf cart taxis deserves a shake of the hand, because they saved my life, or at least my back. (2) More stuff. While the lineup was promising and there were efforts to mix things up with a "Kiderado" kids center and the "Greenerado" ecovillage, the festival grounds didn't have a plethora of options beyond the music, and a lack of other things to do - random pieces of art and a ferris wheel excluded - doesn't serve to enhance a festival in those moments when people need a short break from the tunes, and doesn't do much to attract a wider audience, either. You can only watch a guy stick his hand in an alligator's mouth for so long. (3) Hire sound guys that know what the hell they are doing. The entire Beastie Boys set was practically ruined at the hands of whoever was behind the board, as they couldn't get a handle on the balance and left the volume insanely low. I heard more about how hard people were going to be tripping at Sound Tribe Sector 9 after the show than I heard of the actual Beastie Boys. If you're putting all of your eggs in the musical basket, bad sound is going to be a major problem.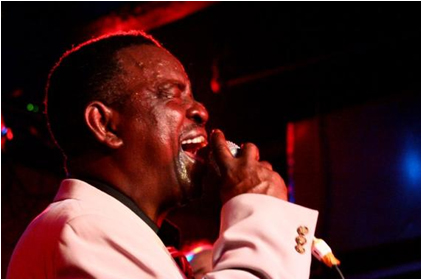 The soul-saving power of The Dynamites feat. Charles Walker.
FRIDAY
Now that I've laid down the law, lets get to the nitty-gritty. After one shithole of a venture getting to the grounds Thursday evening, I needed some TLC on Friday - and I received exactly that from Nashville's
The Dynamites featuring Charles Walker
. Walker, a cat that's been around since the 1960s, when he was opening for the likes of James Brown and cutting records for labels such as Chess, gave the kind of performance one would expect from a seasoned veteran. The Dynamites are the kind of people Walker inspired, and their respectful awe is apparent when they play with the man. How this band hasn't reached the level of notoriety that Sharon Jones has achieved recently is beyond me - but once they get a few more records under their belt, I'm sure Charles Walker and his Dynamites will be delivering the goods to much larger audiences. With my wearied soul revived, I needed some rock and roll to tend to my spirit, and
The Walkmen
have never ceased to satisfy the ache in my heart for garage rock revivalism. Always playing ear-piercingly loud and with a penchant for losing their shit on stage, the band is a surefire hit every time around.
The highlight of Friday came in the form of a complete mind-fuck courtesy of New York City's
!!!
. Always requiring a pronunciation disclaimer (you can say it "Chk Chk Chk", or "Pow Pow Pow" if you prefer), the triple-exclamation became the talk of the festival with their ball-busting beats and a cache of insane live antics from singer Nic Offer, a guy who's primary dance steps resemble that of a gay man fusing with a go-go girl. Tracks performed from last year's
Myth Takes
managed to take on a different identity in the live setting - from the chugging bass riffs, the sexy groaning vocals (in Offer's case "vocals" are a misnomer - half the time he is just making sounds), to the super-pulsating double drummer effect. Even a 40-something photographer I talked to in the media area got down on this - although he insisted on claiming the band sounded like "Lotus meets Queen," and my insides screamed in misery at the thought. Off-the-mark references or not, the fact of the matter is that the hippies got down, and I had never considered how perfect a band !!! is for a festival oriented towards the jam community. At the end of the set, Offer offered the crowd a "Didgeridoo" instead of a goodbye, a remark that pointed summed up the off-kilter adventure of Langerado.
Another group of New York natives, the
Beastie Boys
, were on the bill shortly after set into motion the single greatest conflict between the festival and myself. Had the aging superstar trio not been on Langerado's schedule, chances are that I would have skipped it altogether - and the fact that their set really just
wasn't that good
put me into a state of befuddlement and frustration. As soon as the famous hip-hoppers would work the crowd to a frenzied pitch, they completely killed their own buzz by laying their mics down, picking up their instruments, and delivering extremely mediocre instrumental tracks. Venturing into new territory is understandable for any group that's been at it for decades, but when it comes to headlining a festival, exploration isn't what's expected. Not to mention, as I stated earlier the sound guy must have been hopped up on goofballs during their set, leaving Mixmaster Mike's tracks to blare infinitely louder than the trio's vocals. After a slightly disappointing Beastie Boys set I hit the trail back to the tent for a night of stormy weather.
Michael Stipe was surprising, but Pelican owned the night.
SATURDAY
Kicking off Saturday was a set from
Blitzen Trapper
, who seemed to both fall prey to and feed a languid Langerado. With a total of about 200 of the thousands in attendance coming out to see them, the band just didn't seem motivated to be there, and the crowd that had assembled didn't seem to want to listen. Rather than entertaining a smattering of disinterested festival goers, the Oregon-based indie-rock mishmashers would be much more in their element playing to those same 200 people in a tightly-packed club and blowing their ears off. Sticking them with a noon billing on the largest stage at a jam-centric festival is just poor scheduling. Thankfully,
The Bad Plus
picked up where the Portlanders left off with a perfect sunny Saturday set of traditional jazz-meets-modern pop-culture puree, their set featuring everything from original compositions to a solid cover of Blondie's "Heart of Glass." Drummer David King - obviously a percussionist not from the school of traditional jazz - is truly the highlight of the group's show, bringing a fusion-y, free-jazz, rock approach to the trio.
After a disappointing
Avett Brothers
cancellation (the amount of disappointments and cancellations -
Vampire Weekend
ditched the festival for a
Saturday Night Live
gig - should hint at something here), I finally had a chance to catch
Dr. Dog
after many failed attempts to do so at previous festivals. The band's harmonization and live vocals sound phenomenal, but the instrumentation sounded a bit thin. Although I know they go for a minimalist approach in the studio, they don't have the advantage of layering live. Considering the sound guy's knack for sleeping on the job, I'd love to be able to check out the band in a different environment, maybe a club atmosphere with the aforementioned Blitzen Trapper on the bill to give both a fair shake.
As the sun began to fall and the evening chill set in,
Thievery Corporation
took the stage with their full band. And as far as backing bands go, Rob Garza and Eric Hilton pick the right folks for the job, selecting a crew capable of bringing the proper elements to spark their multi-layered beats to life. Everything - from the sounds of Jamaica to Brazilian percussive elements - kept their set engaging and full of energy, something many bands (especially in an environment that was literally bordering on cold) were not able to do over the course of the weekend. Playing almost a retrospective of their expansive careers as DJs - from
Mirror Conspiracy
to
The Cosmic Game
- Garza and Hilton displayed a deft understanding of song selection and kept the crowd in sync with them for a nearly two hour set.
After a much-needed nap, I finally got to witness the two most outstanding performances of the weekend - and oddly enough, they couldn't have been more divergent. The first was a surprisingly energetic Michael Stipe delivering the goods during my inaugural
R.E.M.
experience. Although I found it a little creepy that Stipe referred to the audience his "children" (dude looks old enough to be anybody's dad nowadays), he put on one hell of a show. Regrouping after the extremely disappointing album
Around the Sun
, the band tried out a handful of new tracks (all, as Stipe pointed out, clocking in under 3 minutes) from the upcoming
Accelerate
. To my surprise, the songs were good.
Really good
. Their Langerado set conjured up visions of the R.E.M. that delivered some of the most important records of the past two decades and defied all traditional notions of what Southern Rock meant. Back at their absolute best, the band even delivered a palatable version of "Losing My Religion" (which, let me tell you, sounded pretty damn awesome considering how much I despise that song) and, to the great pleasure of the guy screaming his head off in front of me, "Man on the Moon." The only drawback to the Georgians' performance was the lack of material from
Murmur
, but something told me I was getting greedy by dreaming of those songs.
The second notable performance of the night belonged to
Pelican
- and holy mother of god did they OWN the stage. Using the cold weather as a motivation for their brand of atmospheric instru-metal, the band's guitars screamed through the night and the double bass pedal pounded at gale force. The chemistry between the two guitars is one of selfless intention - the riffs are built for the proper cohesion of the songs, not for the throbbing ego of the typical macho metal player. With the day on the wane, Pelican revived my faith in Langerado, and someone at the festival deserves a nod for the amazing decision to not have them play to an empty field in the mid-day sun.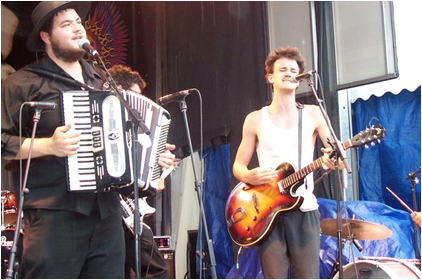 The Felice Brothers helped Sunday rebound from the ho-hum of Saturday.
SUNDAY
Frankly, heading into Sunday - as is often the case with three-day events - I was ready for this festival to be over. Luckily, there were a few gems throughout the closing day that made sticking around worthwhile. Starting my day off with
Josh Ritter
was a much better choice than
Martin Sexton
, who only delivered one song before I said
to hell with it
. His recorded material is testament to the fact that Ritter really is one heck of a songwriter, and his live set made that fact even more apparent. Ritter's songs are much more powerful with an acoustic guitar than with a full band, but the urge to play amongst other musicians at a festival is understandable. "The Temptation of Adam," off of last year's
The Historical Conquests of Josh Ritter
, showcased his talent as a word slinger with nothing but a guitar on his back, while "Kathleen" was an obvious crowd favorite with the full band.
Following Ritter's set was an enigmatic set by the boys from the Catskill Mountains - the
Felice Brothers
. After hearing their self-titled debut from the Team Love imprint, their set was one of the performances I had looked forward to throughout the weekend, and they didn't disappoint. It was like watching a revival meeting presided over by the Band and Bob Dylan, reincarnated in 2008. Full of energy, clever lyricism, foolish chatter between tracks, and a knack for making songs sound familiar even if you've never heard them before, there's nothing to stop these guys from being huge. They understand their audience and, with absolutely zero-percent pretension in their raw, folk talent, how to get them to react to their music. Hell, they even came down in the crowd after the show to sell CDs person to person, and they hawked more than a handful.
To end the festival I caught two sets, back-to-back, from
Of Montreal
and
The National
. For the record, I've never been an Of Montreal fan, and probably never will be - but they sure do put on a dandy of a live show. Covering everything from M.I.A. to MGMT and sugar-coating the show with psychedelia in every form, the Elephant Six spin-off know how to leave their mark on a crowd. Most people leaving the festival were talking about Kevin Barnes walking out of a casket, covered in shaving cream - an act that made absolutely no damn sense, but wasn't questioned by a person in the crowd. The National didn't bring the psychedelia, but they brought a batch of 2007's best songs and nailed every single one of them. Theirs was a show with no theatrics, no caskets, and no shaving cream - just a band with more passion in one hand than most bands carry in their entire useless bodies.
Thanks to the National and a handful of others, Sunday's lineup redeemed some of the disappointments of Friday and Saturday, but I still wouldn't say the weekend was a total success. For someone who generally enjoys festivals and usually has a great time at any multi-day event, Langerado was highly lacking something. Granted, cancellations and the weather are beyond anyone's control (although early March
is
an odd time for a festival, even in South Florida), but the same can't be said for transportation options, sound quality, and scheduling that scarcely rewards hard-working independent bands for even showing up. Langerado has had six years to work out the kinks of putting together the best festival under the sun, and unfortunately they've still got a ways to go. That said, the promise of better organization and a stacked lineup would be enough to entice me back to the Everglades, mud pits and all. SEE ALSO:
www.langerado.com
--
John Bohannon
An LAS contributing writer based in Murfreesboro, Tennessee, John Bohannon is also a regular contributor to the pages of Prefixmag.com, Daytrotter.com, and Impose Magazine.

See other articles by John Bohannon.
If you'd like to help spread the word about LAS, or simply want to outfit yourself with some adhesive coolness, our 4" circle LAS stickers are sure to hit the spot, and here is how to get them:
-->
Send an with $2 in PayPal funds to cover postage. Don't worry, we'll load you up with enough to cover your town. Then just be patient. They will arrive soon.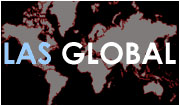 LAS has staff and freelance writers spread across North and South America, Europe, and a few in Southeast Asia as well. As such, we have no central mailing adress for unsolicited promotional material. If you are interested in having your project considered for coverage, please contact us before sending any promotional materials - save yourself time and postage!