LITERATURE
»
Full Dark, No Stars
- Stephen King's new novella questions mankind's ability to trust others.
[02.21.2011 by Bridget Doyle]
MUSIC
»
The Top 30 Albums of 2010
- Fashionably, fabulously late, our favorite music (and believe me, there was a LOT) of 2010, the year that some have called the best year for music ever. And only some of those fools work here. Plenty of usual suspects, lots of ties and a few surprises that I won't spoil, including our unexpected #1.
[12.24.2010 by The LAS Staff]
LOSTATSEA.NET
>
FEATURES
>
January 12, 2006
I first came across Aaron Winters when his publishing concern, Abide Visuals, broached the subject of Jay Howell with us last year. Based in Sacramento, the mid-state capital of California that isn't exactly known for it's art scene, Winters had taken it upon himself to advance not only his own career, but the careers and portfolios of his friends and fellow citizens. Plans were hatched, a loose collective called the Ultramega was formed, and a successful group show at the 111 Minna Gallery in San Francisco was pulled off. Then the rumble from Sacto died down.

Both Winters' new magazine, Exit Strategy (this year), and Howell's Negatron (last year) have made it onto our Best Print lists, so I figured this was as good of a time as any to probe him about his art, his recent collaborative failures, and the impending success of his new LP-sized print collections.
---
LAS: So, where did Exit Strategy come from? Was it your way of ejecting yourself from the Ultramega, which seemed to pop up and then go bust just as quickly?
Aaron Winters
: Well, I couldn't exactly
eject myself
from the Ultramega, even if I tried.
Skinner
helped hook up the 111 Minna Gallery show, and Jay helped recruit some of the artists, but Ultramega was 90% me to begin with.
The nicest way I can put it is that Ultramega simply imploded on itself. And I'm not pointing fingers; a lot of that is my fault. I was pretty naive to think that artists that don't push themselves individually would do so as a group for the common good if given the chance. Nice in theory like a Marxist turd, you know? With that many people there was sure to be some ego and inexperience to create problems, and I'm sure I bummed some dudes out just by being the group Nazi trying to hold everything together.
The only connection between the Ultramega and Exit Strategy, besides there being several of the group's artists shown in the book, is that Exit Strategy borrows the idea that, if I'm going to spend my promotional budget on myself already, and mail out all this stuff, there's no harm in including my friends. I'm very lucky to be where I am in my career and have no problem helping people with the resources I have that they may not have. I also like the idea that if Artist X tells someone about the book or the website, [people] have a chance to check out Artist Y and Artist Z, too. With all of us living in Sacramento, this obviously was limited, since we know pretty much all the same people. So now with Exit Strategy, you get a chance to throw the lesser-knowns in with guys like
Andy Mueller
and
Buffmonster
. People who would go, "Jairus Tonel? Who?" are actually more likely to take a chance on it, if even just incidentally. Its a fact of human nature that people are drawn to what they know, so I figure, give them a taste of what they know while sneaking in the new.
But the even better thing about doing the magazine format is that it lets us be seen out of town without having to try to get 15 people and their shit to another city at one time, 2 or 3 times in a month. Getting the Ultramega guys to San Francisco was a joke... and we were talking about Japan?! A few of us did a follow-up in San Diego in August and it made for a serious production, just logistically. So now I can just say, "Here... two months. Don't flake or you're cut." Very AYSO of me. I need a clipboard and whistle. In return I print an extra 200 copies and mail them out to anybody and everybody I think might care to give these artists exposure.
An obvious point to start would be to ask you about the size, packaging and the whole aesthetic element of Exit Strategy - how did you wind up doing the LP format? Was that something that was precipitated by a financial concern, like a sweet deal on vinyl jackets, or was a big square book premeditated?
I won't go into too much detail, but I've been involved with the punk and indie rock scenes since about 1989, doing posters, playing in bands, traveling with bands, doing album art, record collecting, et cetera. So I can't even begin to divorce art from music anymore. It's all one big mess in my head at this point.
Part of that overlap includes a ten-year history in zine publishing. I taught myself most of the design applications I know by making crappy little Xeroxed zines (Lumpsome: 6 issues, 1996-1998) and that kinda peaked in 2001 or 2002 with the second issue of Djörk. I packaged it like a 7" -- vinyl sleeve, jacket, and paper inner sleeve -- the full nine. All these zines were mostly run-of-the-mill band interview/op-ed/review types of things, but I was kinda burnt since I was writing them, designing them, doing everything entirely by myself. And they're definitely money pits. Since then I've helped publish a few of Jay's
Punks Git Cut
zines as well as his book,
Negatron
, so it never really got out of my system.
The LP format was the obvious progression from having done a 7", you know? Luckily, having worked with several record labels doing real LPs, I knew who to go to, but price wasn't really a consideration. With this being art alone, it makes best sense to make the images as big as possible. It sucks looking at some kickass, intricate Robert Williams painting in Juxtapoz that's like 2"x3", you know? Its like the insane inner gatefold artwork Mati Klarwein did for Santana's
Abraxas
... it is so pointless at CD size. Plus, I'd like to think it puts some pressure on the artist to step it up when its knocking people in the face. I also think it enhances collectability.
How do you plan to pull off Exit Strategy, from a logistical standpoint? Accepting no advertising is an admirable decision, but it makes for some financial hemorrhaging. It is truly nice to have magazines that aren't hammed to death with a million advertisements, but I would imagine that being an artistic/non-corporate type doesn't lend itself to monetary security, even before publishing something like Exit Strategy. Are you going to go broke and only do a couple of issues?
Not if people buy it! My printer is indie, too, and makes it cheap enough so that, if I sell all 500 copies, I'll have enough to do the next one even better. Breaking even would be cool, but really I just want to make enough back to do the next one. The initial investment is spent, so fuck it, its just money. I may be in business, but I'm a terrible businessman. I have a good 9-to-5 and a stable freelance base as a designer, so I'm able to basically funnel all my freelance money back into art, since it is my hobby as well as my job. If it comes down to it I'll spend another grip to do issue two, regardless.
On the same theme, are you going to stay with a circulation of 500 copies, or do you envision an expansion? Again, it seems like economics would dictate growth, and that your financial outlook is a pretty open and closed thing. I mean, secretly I'm hoping that the non-commercial presentation of Exit Strategy will intentionally keep it low-key and infused with integrity, but it is a hard thing to balance being edgy and artistically true with being unchained to financial obligations.
I'd rather keep the number low and hopefully make them more collectable or valuable to those few that have them. I'd re-invest in more pages or color or more inserts before I up the number of copies. My goal is to eventually have this drop with the same expectation and intensity that
GUM
does.
You are a non-corporate type, right?
Funny. Speaking of GUM, Kevin (Grady) has sponsorship by, like, Puma, and that's just incredible to me. I'm not bagging it because they don't make it lame by adding a bunch of Jackie Joyner-Kersey ads or perfume samples and shit. They put in little Puma gummy bears, which is just such a rad idea. I think it is incredible; that dude gets to put out his promo package and actually have people pay him to do it, not to mention
buy
it from bookstores. He's a friggin' genius, and not just because he gave Fred Willard a centerfold!
But for me? Like I was saying before, I came out of the punk scene. Hence the workaholic/OCD/DIY thing. You don't just wash your hands of that. I swear, guys like Ian McKaye, Jeff Ott and Jello Biafra have more to do with who I am today than my own father. Kinda embarrassing, but somewhere unconsciously I'm sure I got my degree in political science because of Fugazi.
I hate corporations, but the reality is that they exist and they're holding a lot of cards. If you can work them in your favor the way some guys do, then why not take their money? Read
Ryan McGinness
'
Sponsorship
; he's on point mostly about this. I used to be all, "Fuck that band, the sell-outs" (I actually said that on camera about Kurt Cobain the night he died), and my initial reaction with like, Trans Am being in a video game is like, "Aw man, not them too." But I think I've come to grips with the idea that Trans Am was able to play one of their songs and have it brought into homes worldwide and they finally made more than a nickel. Maybe kids that would listen to Staind will be into it and figure out indie rock is cool and buy their albums, you know? I can't begrudge that.
Be honest - are all of the original artworks in color and much better that way?
No. I specifically asked that they be black and white originals because I knew that if I didn't somebody would turn in a piece that would convert to shit in grayscale. I've been working with amateur artists -- myself foremost on that list -- a long time so I know a lot of pitfalls to dodge preemptively. Now to just figure out how to convey the concept of
bleeds
.
How did you pool together the artists for this first issue of Exit Strategy? I was really excited to see work by artists that I know and love, like Andy Mueller, as well as some really great work by people that I didn't know, which I would imagine is the whole point of art publications but rarely seems to be. Was this issue's lineup your dream team?
Oh man. Well, I mean, I can't do a project in a town this small with the friends I have and not include them. How can I not put Skinner in this, you know? Not only would I take a bullet for the guy, but he just happens to be incredibly gifted and I want to see him succeed and I'll do everything in my power to make that happen. Same with
Nate Cordero
. So, yeah, there is some nepotistic flavor to some of it.
There were a few others, though, that nobody really knows about -- even in Sacramento -- like
Kristin Cofer
,
Jyoti Alexander
and
Cody Frost (QWERT)
, that I wanted to see get some love. Then there's those that are already kicking ass and prove that Sac doesn't suck, like
Mike Rodriguez
, Jay Howell and
Adrienne Yan
. Part of the reason behind doing the project this way that I didn't mention before is that I'm trying, through all my personal stuff as well as these larger projects and shows, to show people that Sacramento isn't just a bunch of drunk hell raisers and rockabillidiots.
But at the same time, I did intentionally want more than a Sacto-centric book. Andy is pretty much the only guy out there doing so well on as many levels as a person can and I look up to him as much as anyone as a designer. That he returns my emails is still a mindblower, like a basketball kid getting to bro down with Michael Jordan, you know?
Chris Sleboda
is just a random internet find but he's dope as hell and his piece ended up being one of my favorites. Buffmonster, the dude's killing it right now.
Albert Reyes
is sick, too -- a true grit artist in every sense.
Ray Noland
's magazine, The Blacklist, is dope, he's an incredibly gifted designer.
Joe Ledbetter
just had a couple toys come out... he's doing so well. Anyway, point being is these guys are certainly not nobodies but they're all right at radar level. I hope this helps them as much as the rest of us.
As for Dream Team? I can pretty much die once Andy Howell and Geoff McFetridge do some pages. Jim Phillips from the old days of Santa Cruz Skateboards, The Gonz, Jeremy Fish, Jay Ryan, Templeton, Derek Hess, Art Chantry...
Is there a movement or style or medium of art that you can think of as having influenced modern art and, even further, pop culture, the way that graffiti has? It really blows my mind - I had thought that the digital revolution was flooding design a few years ago, but especially since 2000 it seems that there isn't a corner of the globe that graffiti hasn't touched.
Graffiti never really took root with me personally -- but I also grew up a mile off the nearest paved road, too. So from my purely academic experience with it, all I can really see as why that might be is that graffiti is unique in that it can be done with anything, anywhere. And that means from some hesher scratching AC/DC into his desk at school, to little Janey writing on her dad's steamed up car windows, to
Neckface
scaling some building, and so on. Its this being an affordable creative outlet of the poorest of the poor in a concentrated urban environment which really gave it that solidified b-boy identity you see marketed, but graffiti was, as is the unfortunate case with almost everything, unable to take on this global aspect you're talking about until you started to see affluent suburbanites with the money to travel, publish magazines, start websites -- all in an effort to associate with the urban radical, a.k.a. "trying to look hard." Same shit happened with all the boardsports in the past ten years. Be that as it may, this necessary evil grants graffiti in its current form the luxury to manifest itself as public, illegal and mercenary, but also hang in galleries and be sold as clothes and toys.
As far as pervasiveness in everyday life -- like in the amount you see just driving around, no, I'd say graffiti has everything else beat by a mile except maybe Clear Channel. Unfortunately, if you gauged that by what's actually being bought and
appreciated
, then Thomas Kincaide is tops. But that could change. You're already seeing guys my age, as we get older, investing in street art. Nate (Cordero) was telling me that he sold some art to this middle-aged family guy that has original Twist bottles and Dalek pizza boxes in his collection. That's a good sign.
How do you see Exit Strategy fitting into the art world - as a compliment to something, an influence over something in the future, a reaction to something pre-existing? Initially it seems easy to think or say that there is no impact, that the magazine will stand alone as it's own thing, but artwork created not in response to something and not as an impetus for response from the viewer hardly seems like art.
I don't think you can try to set out trying to shift a paradigm or whatever -- I doubt Aaron Rose knew 100% that his work at Alleged would end up the way it did.
Exit Strategy -- from a purely logistical, tangible standpoint -- exists as a response to over-commercialized magazines that once had real merit but have since turned into fashion advertorials. I cant understand how a magazine that starts out earning 'cred' can then turn its back on what made it cool, relegating art and artists to like a page and half, and then go run 40 pages of fashion spreads. Too many magazines exist solely to satisfy their investors and keep their staff from having to get day jobs. It really just comes down to saying
If I'm paying $8 for an 80 page magazine, then I don't want 60 pages of ads and 15 pages of chicks wearing tarps and glitter
. Pre-LFP Big Brother and Color (from Vancouver, a lot like Lodown without all the German) skate magazines were so dope and stayed pure, but they've, of course, folded.
Personally, I'd be flattered to see Exit Strategy mentioned in the same breath as GUM and
Faesthetic
. Kevin and Dustin are onto something and I'd like to think Exit Strategy fits snuggly between the two. If I'm eventually considered on par with them or help foster that - whatever it actually is - I've succeeded.
From a more aesthetic point of view, the existence of these artists within this subculture and over-commercialized environment gives them all plenty enough to react against. Getting woken up at six to go to some job you hate evokes a reaction, right? Most people react by going to the gym, overeating, drinking a twelver every night. These folks happen to make artwork instead. You look at Skinner's spread -- or any of his art -- and you
know
shit is crazy loud in that boy's head and it's a reaction.
I don't know, if you use "artwork created not in response to something... hardly seems like art" as the basis for artistic credibility, you better throw out all the Cubists and Dadaists and the rest, you know? All they were doing was trying to one-up other forms of art.
True or False: The computer will be the death of organic, creative art on a mass-populous level.
Well, organic art is inherently limited in its range of availability. That's why people go to Italy and Paris to check out old, unique masterpieces even though you can see that stuff online or on a t-shirt. Going back to before, it's going to take a populist art form like graffiti to disseminate organic artwork worldwide. Mass production and organic art are mutually exclusive. But the more it gets out there the more ubiquitous it becomes and the less people notice or care.
As for the question of whether or not it will replace organic art altogether: Oh, hell no! First off, people are
so
over computers. The novelty is gone, and much of what was done in digital art's infancy, in the 1990s, was complete crap: terrible websites and overblown Photoshop filter spazzing/rave flyer nonsense, in particular. Vector-drawn art is getting tiresome too. Plus, people spend so much time with computers at work that I think anything related to that gets that negative connotation attached to it. Somehow people still manage to play a shitload of video games, but that's probably because you get to kill things.
You also have to consider how fucked up the world is right now -- it is like the 1970s except Carter wasn't a complete moron bent on mutually assured destruction in the name of Homeland Security. People are stressing on terror, gas prices, et cetera, and most just don't want to marvel at beauty or have to comprehend complexity in art. They want a little Tim Biskup creature smiling at them or to get a laugh out of dudes like Jay Howell or
Baseman
. They like seeing brush strokes and crossed out words because they can relate to it. Digital art just kind of presents most people with the same 'warm fuzzy' as a toaster oven. It does the job, but so what?
It's actually frustrating for me, as I've worked for years to hone my ability to make professional quality art with the help of a computer, just to see myself pretty much get set aside by dudes that draw a stick figure farting. I got vibed right out the door of a store in San Francisco because the magazine looked too pro, and that's discouraging. I'm not trying to slag anyone or say that makes it worse, because art is only as valuable as the viewer deems it, and if the viewer likes a farting stickman badly photocopied on used newspaper, then that's fine by me. I'm just not gonna do it myself. Everything's cyclical, and I have other ways to be successful until the next wave comes. And Exit Strategy might not be it.
If I were to tell you that it would be cool to do a single-sided LP with an etching on the flip side to be included with each copy of Exit Strategy, would I be the first person to do so?
Nobody has suggested that, but I really hope to be able to include a 4-song 12" with Issue 2. Gatefold, even! I want to grab some bands that need love, just like the artists I include. Tera Melos from Roseville being first on the list.
You should have put the Snoop Dogg portrait in the center of the book, man!
The centerfold was determined by Mr. Frost not following directions and turning in a vertical piece. It only seemed appropriate to run it there since most wank-proficient readers are used to turning mags sideways to peep the centerfold. Plus, Cody's piece is kick ass on its own. Albert's piece is awesome, though I don't think it's actually Snoop. I get a lot of comments on that. He and Skinn, mostly.
Oh, and complete tangential segue, what do you think about the non-stay of execution for Tookie Williams?
I don't know enough about it, but from what I gather its basically about the issue of institutionalized reform versus self-initiated rehabilitation, and the state doesn't want to let go of it's monopoly on failing to rehabilitate jack and/or shit.
What are your plans for the second issue of Exit Strategy? I noticed that you are accepting outside submissions for future issues - aren't you worried about getting swamped with stuff you can't use? I was going to send you some of my stuff, but I have nothing to do with skateboarding so I was afraid I'd be on the outs.
Huh? My piece is the only one with a skateboard in it, and besides Judd being pro, Mike owning a shop and Andy working at Lakai, that's the only connection. Pete, Jay and Skinn are all in bands. Does that help?
I'm not too worried about being swamped because I have no problem telling people no. All the response I've had from the promo copies I sent out have been from artists wanting in, which is cool because now I've already got Tim Karpinski, who is the art director for
Gnu snowboards
up in Portland, another new designer from Sac, Jason Malmberg, and
Bob Kronbauer
slated. I have a list of people I would've asked to do issue one but wanted something to show first to prove its for real. Off the top of my head that list includes heavies like Jeremy Fish, Jesse Ledoux, Jay Ryan, Todd Bratrud and Bigfoot to more locals like Gracie Guardado and Adam Miller.
If I can sell out issue one I should be able to bump the page count and hopefully include the record I mentioned before. I'm hyped for number two. I just hope it happens soon.
Thank you for not including anything related to Shepard Fairey. Really, thank you.
Yeah, its one of those things where you know if he was in there I'd sell all 500 copies in a day to one kid in Tokyo -- and I still probably wouldn't do it. I can't say I wouldn't be stoked to get an email from him telling me he thought it was dope, but this isn't about blowing up people that are already huge. I'll leave that to the sneaker mags.
Shout outs to Mike Rafter, Skinner Davis, Kristie Harris, Chad Stockdale, John and Craig at The Toyroom, Adrienne Yan, Josh Tuttle and Nathan Cordero. Exit Strategy wouldn't have seen the light of day without their help. SEE ALSO:
www.exitstrategymagazine.com
SEE ALSO:
www.111minnagallery.com
--
Eric J Herboth
Eric J. Herboth is the founder, publisher and Managing Editor of LAS magazine. He is a magazine editor, freelance writer, bike mechanic, commercial pilot, graphic designer, International Scout enthusiast and giver of the benefit of the doubt. He currently lives in rural central Germany with his two best friends, dog Awahni and cat Scout.

See other articles by Eric J Herboth.
If you'd like to help spread the word about LAS, or simply want to outfit yourself with some adhesive coolness, our 4" circle LAS stickers are sure to hit the spot, and here is how to get them:
-->
Send an with $2 in PayPal funds to cover postage. Don't worry, we'll load you up with enough to cover your town. Then just be patient. They will arrive soon.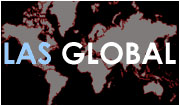 LAS has staff and freelance writers spread across North and South America, Europe, and a few in Southeast Asia as well. As such, we have no central mailing adress for unsolicited promotional material. If you are interested in having your project considered for coverage, please contact us before sending any promotional materials - save yourself time and postage!