LITERATURE
»
Full Dark, No Stars
- Stephen King's new novella questions mankind's ability to trust others.
[02.21.2011 by Bridget Doyle]
MUSIC
»
The Top 30 Albums of 2010
- Fashionably, fabulously late, our favorite music (and believe me, there was a LOT) of 2010, the year that some have called the best year for music ever. And only some of those fools work here. Plenty of usual suspects, lots of ties and a few surprises that I won't spoil, including our unexpected #1.
[12.24.2010 by The LAS Staff]
LOSTATSEA.NET
>
FEATURES
>
April 29, 2005
Owen Pallett Fun Facts
»
At age 19 started to take violin "serious".
»
Life has been fun playing with great Canadian bands Les Mouches, the Hidden Cameras, Picastro, and the Jim Guthrie Band.
»
A member of Blocks Recording Club, a Toronto group that pools resources to help fund friends' records.
»
Assisted in string arrangements for "Neighborhood #2 (Liaka)", "Crown of Love" and "In the Backseat," on the Arcade Fire's widely successful album
Funeral
.
»
His Final Fantasy debut
Has a Good Home
was recorded in under a week.
»
Favorite band is Xiu Xiu.
»
Has plans making serious attempt towards a Damien Rice style record.
»
Loves Americans.
»
Proud NDP supporter.
»
Plans for future duet with Death From Above 1979.
»
Currently on tour with CBC radio's Vinyl Café, his day job. In Halifax, Nova Scotia, he found some time to do the following interview for LAS.
---
LAS: With the song The Chronicles of Sarnia, I've been wondering how much inspiration you get from touring and visiting different small towns and cities?
Owen Pallett:
Sarnia is not a small town. There's a total difference. Like we played Pictou and Port Hawkesbury... any fascination I have with them comes more from my childhood than from touring, because I kind of grew up in a bunch of small towns. I think small towns are okay. I'd love to live in one now but they're not the best to grow up in.
In This is the dream of Win and Regine you say "Montreal may eat its young." Does that suggest that Montreal fosters and takes care of their musicians, or the opposite? How would you compare it to Toronto?
No... quite the opposite. Montreal is filled with sharks. The music scene there is unbelievable. It's like a little New York or something. This is just based on my very basic experience with Montréal, but it seems like it's filled with a lot of demanding cats. I mean regarding, specifically, the Arcade fire and how long they played in Montreal and people didn't give a shit about them... people would be like "I'm so over this band" but then when they played Toronto they'd be selling out everywhere. I think as songs go, it's one of the better songs I've written. I mean, sure, you have to understand the song was written before the album came out. It's really less about them and more about me seeing them having a hard time with...
Success?
Not success, but the Internet specifically. It's just kind of difficult, you know? I'm feeling it a little bit myself now. When you're serious about your music and you want people to like it, then all of a sudden everyone on the internet is writing about it, it's just kind of like... oh shit...
Does it take the fun out of it?
It doesn't take the fun out of it, but it definitely puts your mind at a different place.
Has a Good Home was recorded in under a week. I'm wondering if that was out of necessity or did everything just run smoothly from the start?
Well, it was actually kinda both a necessity and a desire. I spent all year trying to figure out how I was going to record it because, basically, what I was doing live was totally different than what I was going to be doing in the studio, and I didn't know what I wanted the record to sound like in the studio. So eventually me and Leon (Taheny) kind of figured out what we were going to make the record sound like, but at the same time we had like 2 or 3 weeks before I went on tour with the Arcade Fire. So we had to get it done really quickly. On one hand when I listen to the record I say 'oh man I could have done a better take here or a better mix here', but on the other hand that's what I like about it. Kind of like a Guided by Voices
Alien Lanes
type thing, with explosions of whatever I could come up with.
The songs themselves sound kinda impossible to play. How many from the record are played live?
There's maybe 4 or 5 songs, including unfortunately three pretty goods songs - "Furniture," "Please, Please, Please," and "Arrow in the side of Final Fantasy" that I can't play live, but other than that I can do the rest live... they were kind of built up around live songs.
It seems to me that you're a true song title wonder...
Well, you know, I just don't like stupid song titles. I don't think my song titles are great but I kind of wanted to swing the needle the other way from seeing Christine Evans'
Take Me Home
records everywhere and her posters all over Toronto. It's just kind of like... you know? I remember seeing this one record put out by Maren Ord, you know she's like an 18 year old Mormon from Alberta or something. Whatever. You can't fault her cause she's just doing her best, but at the same time all the song titles were "Waving," "Sleeping," and "Falling." I kind of like song titles that are evocative or something as opposed to just a title of what the song is about.
What are some of your favorite song titles?
Well, Xiu Xiu has awesome song titles. I think "Ian Curtis Wishlist" is a pretty great name for a song. Probably my favorite song title is by a band called Casiotone For The Painfully Alone, who has a song called "Calloused Fingers Won't Make You Strong, Edith Wong." It's a great song.
Speaking of Xiu Xiu, are you in the process of booking a show with him in Toronto?
Umm..maybe. It's kind of a sore spot. It just so happens that I booked a 7" release show in Toronto the same night that Xiu Xiu plays. Jamie and I are buddies and I'd love to take every opportunity to play shows with him because Xiu Xiu is my favorite band. But it just so happens that those two shows got booked on separate dates and neither of the promoters wanted to nudge an inch and move one person the other way or whatever.
Themes of imperfection seem to written all over the record. Would you say so too?
Well for sure. Alex Lukashevsky from the band Deep Dark United said something once to me. And Alex is full of amazing statements that resonate forever and every conversation with him is kind of like reading a quotation book or something. One of the things he said to me, what he explained to me while he was making music for Deep Dark United, was what he liked about making music was that it was just so dirty. I think I was talking to him, like, asking him why his records are so dirty, not that I was trying to convince him to make a slick record, and he's just like
"I like people who are kind of filthy,"
and I like that, you know? I kind of feel that's the case. It's perhaps my own personal taste, but when I put on a record and I hear a nice clean slick record, like an Outkast record or any record that's being played on the radio, I hear hours and hours of studio time and money. I don't hear passion or heart or anything like that. You know what I mean? Like, I think this is why people love old recordings so much, from the 50's or 60's, because they were all recorded with two mics and they sound like shit. It's kind of impossible for us to duplicate that sound now in this time, unless you have money, great studios and a hell a lot of singing talent and people working for you. But the same ideas carry forth in spontaneous productions of music. Like, just record a song in a day! Don't spend hours and hours and top of it. Oh man I could keep going for hours and hours. I just know so many musicians who I really love and are incredibly talented, who have just gotten so bogged down and so beaten up over small little things that their music... My friend Harmony Trowbridge has this entire record. It's such a great record. Every time I see her I just think oh man what a pity she didn't release this record. But she just thinks the lyrics are kinda juvenile because she wrote the songs three or four years ago. Can you believe that?
You should encourage her.
Yeah, well, I totally encourage her. But she's just like "No it's not who I am anymore, it's not who I am anymore". To me that comes from a place of self-absorption. Like, honestly, what lyrics are you gonna...I'm pretty proud of the lyrics I write. I feel pretty happy and sincere about the lyrics I've put out there. But I don't think that their so good that I'm going to spend hours and hours framing them in these meticulous, constructed studio arrangements. And, on top of that, who is talented in the studio? Nobody is Steely Dan, and even then, if you were Steely Dan, would you really be happy?
Probably not.
No. Those guys don't seem like happy dudes.
Do you think there are more people in Canada getting back to the ways of the 50's and 60's?
Well, no I mean there have always been people who are just, like, "No, you have to record to tape, and you have to record with these sorts of mics." Like especially with rock bands. How many times do I have to hear live off the floor? Like, it's this fascination with live off the floor. On top of it, oh I don't know. They're just tons and tons of things that I think are getting really tired about the relationship between live performance and recording material. So for one, they're not equal. If you're making a record, you're making a record. If you're putting together a live show, you're putting together a live show. You know? I've heard plenty of times, "Yeah, the Final Fantasy record isn't as good as the live show," and I'm just like,
fuck it!
Like, they are entirely different things. It's like baking and frying, they're totally two different activities, you know?
I keep hearing the production of the record is great in comparison to the live show.
No. That's not what I've been hearing. I've been hearing constantly that the record doesn't live up to the live show, and it's like, well, it's not like the live show is so great that no record is gonna live up to it, but there's no record that I can make, there's no record that Lein and I can make, that will live up to a live show. It'll have to be a record with live drums and a big studio, like a rock record, you know what I mean?
You shouldn't have to go into recording and have that weigh over your mind... should you?
No. Exactly, I don't think so either. I think making a record and putting together a live show are entirely different practices. A really good indication is if you get up and you see a band on stage, who doesn't know how to play their instruments, who are just farting around and not making a lot of sense, chances are you're not having a good time at that show. However, if you listen to a record and have the exact same sort of enthused people do it in the studio live, then you're going to have one of your favorite records. So many popular records are amateurishly performed, but then when it comes to playing them live, it has to be tight. Because there's nothing like seeing the Jackson 5 or Prince, or even Steely Dan for that matter, or The Who - bands that can play and then they get up there and they play and it's super tight, it's thrilling. You know what I mean? But in terms of listening to records, nobody wants a tight record. Dirty records sound better.
Like people are always talking about Cat Power, like how her live show can be disastrous...
Before you say anything, I love Cat Power.
It's filled with all these mistakes, and you know she can't sing. And it's like if she does this live, how can people enjoy it? It's so amateurish, but on record it's a magical experience.
I think the two practices go hand-in-hand too often There are a lot of bands out there that I know are struggling to make a record and I just wish they wouldn't. Just don't make a record!
Who would you tell not to make another record?
Not to make a record?
Yeah, you don't have to answer.
I can give you example. The Junior Boys made this amazing record. I've seen them live twice, but they've never played live before so they don't know how to put it into a show. It's kind of just like
Yeah, I think I'll go home
. In the meantime, they've made this amazing record you know? It's like, why bother? Or a good example would be Dan Snaith from Manitoba. His records in the past have been pretty much laptop records, even the second record,
Up in Flames
, was kinda laptop. He toured that record with a three piece band - two drummers. It was just improved and ripped up and turned it into a musical exploration. Which I think is great, you know?
When did you start to work with Montréal musicians and how are both cities similar if at all?
They're both different in all ways, in every possible way. There are two similar themes, you know the whole corporate
We Are Making Money To Make Music
sorta theme. I think those themes are pretty similar. Montréal has this similar but totally different aesthetics playing, you know kinda like the Shalabi Effect kinda group of people. And Toronto has this incredible DIY scene filled with all sorts of bands that form for a couple of days and disappears. Toronto also has like a history of really great math-rock, which is mostly fed out of the small cities around it. Math-rock to Toronto is what instrumental post-rock is to Montreal. And Montréal is like, you know, people might think "that whole Godspeed thing" is played out, but there's still some incredible instrumental post-rock bands that are making music in Montréal like Bell Orchestre and Torngat, who are like just absolutely brilliant and are far surpassing anything that Constellation Records has done so far in what they're doing.
But just from the scene that I kinda function in, and in the scene that people in Montréal seem to think exists, I don't know...it seems to me that Toronto is very much about Toronto, and Montréal is very much about the world. Like Montréal wants to make bands that are going to succeed elsewhere and they're pretty good at networking and there are good promoters and publicists, whereas in Toronto, all the people do there is play music.
Well, that's okay though?
I think both are okay, they're just kind of different facets. A lot of people, strictly on message boards, will be like, "What's better Toronto or Montréal?" And I'm like, well in my mind there's no question - Montréal is better city, the city overall is more attractive. But at the same time, I think the music that comes out of each city, well... I prefer Toronto music, but, you know, I think that it's equal.
What are the plans for Final Fantasy? I hear it's a project you kind of want to get done quickly and move onto Les Mouches and other projects again?
Basically, regardless of release schedules, I'm working with a label in Germany now, that's actually a label, who actually aren't going to actively release 3 Final Fantasy records in a year. But I'm going to record them and have them done and have those records on the shelf. Then they can release them however they want.
But my interests are, I don't know... I've been watching a lot of movies and I really... I know this is going to sound cheesy, but I really want to make like a not-fake but an entirely genuine attempt at a Damien Rice style record. It's going to sound like a cash grab, and it's totally not, but me and Patrick have been finding ourselves kind of succumbing to this incredibly, emotionally manipulative music. So I've figured that me and Leon would try to make a record by this band Tenderizer, which was just going to be all dual vocals, sad lyrics, and mantra-like patterns... you know, essentially music for movies or something.
But what I'm most interested in doing is this band with Alex Nichol called King Tut, which is going to be kind of an ultra-pop thrash band. Because, I mean, it's like all my life - and this is true with Les Mouches - most of the bands I've played in were rock bands or introspective sorta bands... and I just want to have fun playing some music, you know? I'm really excited just busting out some keyboards and doing some shouting
When will that happen?
Probably in the fall. We're starting rehearsals in July.
Touring?
I'm not into touring or recording. I like playing shows in Toronto. (Laughs)
And you like the music in Montreal?
Oh yeah, for sure. I like music from all over Canada. Like I love America, I'm kinda really unabashedly pro-America. Obviously not their policies or anything like that, but just the people down there. There's this fear of Americans and dislike of the American people, which I guess has been fading in the last little while, but there's still this kind of huge Canadian dislike for the American people and I just think that's the most ridiculous thing I ever heard. Americans are awesome. In fact, Americans I like better than Canadians! They are so together, so laid back and right on. I love it. I think they're amazing and I'd love to live down in the States.
And I think regarding the political climate down there, even though I guess it's kinda off the radar right now... and this is a good example of how much Canadians don't care about the political climate. It's been 4 months since the election and lots of people just stopped caring about it. But down there, basically if you're an activist or have any liberal thought whatsoever, you are mobilized and seeking out all sources of information all the time. Because here in Canada, you can just kind of pick up Toronto Now or even the Toronto Star is pretty un-biased to get your facts. But down in the States it's like actually really actively difficult to get written media that has a conservative slant to it. So, people down there, on a political standpoint, are far more committed and far more active in information gathering, as opposed to kind of like reading the weeklies everywhere, which is kind of the same boat I'm in so I shouldn't speak so harshly. But, you know what I mean, people down there have to work hard and they do work hard... and they party hard.
Do you think their attitude towards politics carry over into their music?
No, I don't like political music.
What do you think of talks of another Canadian election?
I haven't heard any talks of the policies. All I'm hearing is about polls, and polls are pretty dumb. I want to her about policies. Like, I'm a big NDP supporter, you know, and I've done work with the NDP [New Democratic Party of Canada] and I think they're awesome. The only thing I have to say is that I just wish Jack Layton would stop trying to win over stupid voters. If Jack Layton just got up there and was blindingly intelligent and didn't talk down to anybody then I think he would have a good chance at winning an election. I've been watching him and following him...
In terms of being a spokesperson leading the NDP party, do you think more hardcore NDP supporters would like to see a more in-your-face Jack Layton?
Well, I don't know. Jack Layton seems like a repeat of Alexa Mcdonagh. Jack knows that he's on a moral high ground where he's actually working for the people. Jack knows that, NDPers know that. The problem is that Jack is up there reiterating these truths in the most simplistic possible terms. He sounds essentially like a Conservative. He's simplifying the issue. I think the reason why conservative politics does so well is because it's so easy to sell. Like how much explanation do you need for fewer taxes? But when it comes to an NDP platform it requires quite a bit more intelligence and well worded thought. And lately Jack Layton hasn't been delivering that.
He got up there and the only thing he could talk about was equal rights, which were his words for gay marriage... and there you go, he's taking the moral high ground. If you want to start calling it equal rights - and I'm in support of gay marriage so of course I'm going to agree that it's equal rights, but at the same time you sanctimonious little shit - why don't you just get up there and say "Hey, this is what my party is going to do," as opposed of taking this moral high ground, and then instead of referring to gay marriage as what it is, refer to it as equal rights. That's like the most super silliest little thing I ever heard. Like, I want a fucking NDP government man like you have no idea...
Wouldn't it be amazing?
It would be so amazing. I think Jack Layton would be a good leader. He has to start tightening up his public image. He's an incredible man, he just has to stop being stupid with the people and get up there and blind them with the inestimable logic of NDP thinking.
Joanna Newsom! What's your infatuation with her?
I'm not so infatuated with her. I love her. There are lots of reasons why I love her. I actually got in trouble talking about this a few days ago. I was talking about it with two women... I don't know... I just really love it when women emancipate traditional stereotypes of what a female artist is supposed to do. It's like my favorite thing. It will actually, like... I love it. If a women can do something that is totally free of x-y chromosome medaling, and not only that but the music has very little to do with men, and entirely just comes from this position that is completely untouchable. From a guys perspective you can't even understand the level of femininity that this music is coming from. It really excites me, really makes me feel that it's something that's artistically really good.
The reason why it excites me mostly is also from a gay perspective too. Because so many fucking gay artists are just like "I'm just going to do this, except I'll replace girl with boy or vice versa."
Do you find you see that a lot these days?
Well, I don't think you see it anymore less than you did. Like, when homosexual artists had to be underground, then sure you'd see it a lot. I talked to my friend Mikey B about it, and I said that I didn't understand gay culture and that it didn't really exist. And he said, "Well, gay culture has a language, a location, a history and all sorts of political points that you can relate it to. Gay culture exists." And I'm like, yeah, you're right. At the same time, gay culture has these stereotypes that they kinda have to rely upon to make it successful… Successful like gay art, and I'm really not interested in gay artists who are going to conform to those stereotypes.
What's going on with Death From Above 1979? Do you have plans working out some kind of 7 inch with them?
Jesse Keeler is starting up a studio called Mastercraft in Toronto with Al-P. He's starting up this studio and they want me to come in and do some sample sorta stuff. Al-P, speaking of Steely Dan again, has a huge hard on for Steely Dan and this studio is kinda going to allow him to explore those tendencies.
But on top of that, I've proposed it to both Sebastian and Jesse that Final Fantasy and Death From Above do like a duet. I want it to be like this enormous song, this huge song with lots of chord changes that just make you feel like you're watching an IMAX film or something. But it's just a matter of scheduling and whether or not we can actually do it, but I think it'll get done.
How do you find Nova Scotia?
I walked around the town and visited a comic book and store and met this guy who was really nice. I was sitting and having this amazing Italian food yesterday and I was thinking, when you're in a city for too long, the friends and the people you see everyday stop feeling like other people and rather their images and their presence of their life becomes a signifier for behavior patterns. So just for example, when you see a friend and you sit and have beers with them, but you lose the sense that you're actually talking to somebody else... it's more like your body just assumes an attitude that it's going to behave, and it's just kinda symptomatic of having the same friends all the time, because I hang around mostly the same people when I'm in Toronto.
It's good to get away from that for a while?
Well, it's not even an interacting thing or about when you talk to other people. It's just sitting there, in a restaurant and just watching outside and seeing people walking by and everyone looks the same as they do in Toronto or Montréal, but at the same time, you don't know anybody. So it kind of makes you remember... you have to stay on your toes... you can't just make the same jokes.
After the Vinyl Café tour, you have some shows with the Arcade Fire at the end of April. Are you anxious to get back playing with them?
Yeah actually that would be a good way of putting it. I am anxious, I love those guys, I love playing with that band, and they're fun! SEE ALSO:
www.finalfantasyeternal.com
SEE ALSO:
www.blocksblocksblocks.com
--
Matt Elliott
A J-school student at the U of King's in Halifax, Nova Scotia, Matt Elliot is a contributor-at-large for LAS magazine.

See other articles by Matt Elliott.
If you'd like to help spread the word about LAS, or simply want to outfit yourself with some adhesive coolness, our 4" circle LAS stickers are sure to hit the spot, and here is how to get them:
-->
Send an with $2 in PayPal funds to cover postage. Don't worry, we'll load you up with enough to cover your town. Then just be patient. They will arrive soon.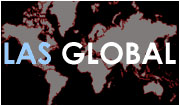 LAS has staff and freelance writers spread across North and South America, Europe, and a few in Southeast Asia as well. As such, we have no central mailing adress for unsolicited promotional material. If you are interested in having your project considered for coverage, please contact us before sending any promotional materials - save yourself time and postage!