LITERATURE
»
Full Dark, No Stars
- Stephen King's new novella questions mankind's ability to trust others.
[02.21.2011 by Bridget Doyle]
MUSIC
»
The Top 30 Albums of 2010
- Fashionably, fabulously late, our favorite music (and believe me, there was a LOT) of 2010, the year that some have called the best year for music ever. And only some of those fools work here. Plenty of usual suspects, lots of ties and a few surprises that I won't spoil, including our unexpected #1.
[12.24.2010 by The LAS Staff]
LOSTATSEA.NET
>
FEATURES
>
January 5, 2005
BEST PRINT
// 2004 has proven to be one of the most eventful years in recent memory and certainly one of the most meaningful in modern times. News was everywhere, happening all at once. To say the least, most of us were frazzled headed into the holidays.
At the tail end of the year, just as everyone was ready to leave the tumult behind, the tsunamis in Asia became the worst natural disaster in human history. Looking back on the year, there were
also the Madrid train bombings. The unending chaos in Iraq. Genocide in Sudan. Hijackings, bombings and the horrendous Beslan school siege in Russia. The United Nations scandals. Political chaos in Haiti, Venezuela, Ukraine, Afghanistan and yes, the United States. The death of Yassir Arafat. Indie rock reunion tours. The general 2004 American election.
Of course there was good news as well. Coloradoans rejected the idea of Pete Coors in their government. Ukrainians took to the streets and prompted Supreme Court intervention through civil
disobedience. The Fiery Furnaces released Blueberry Boat. Jon Stewart made a name for himself overnight by doing the one thing no one else on television does- calling people out. Heck, even
Saturday Night Live has been good as of late.
Through it all, the bad and the good, there is always the printed world to anchor us to a wider consciousness. The internet has set its sight on print material the way the DVD set its sights on the video cassette. But the web isn't quite there yet. For those fellow readers and admirers of printed matter, LAS presents you with some highlights from the year gone by. Enjoy.
---------------------
---------------------
.:
Kevin Alfoldy
1.
The dollar amount printed on my paycheck every other Friday.
From the "Wait, We Re-Elected Who? or I Don't Fucking Care About the Fate of Humanity, What Time is Newlyweds: Nick and Jessica on Anyway?" category
:
2.
The Nov. 2 Ballot.
3.
The photos taken at Abu Ghraib prison.
4.
The 9/11 Commission report.
5.
Transcripts from the three Presidential debates.
6. I'm sure it was published years ago but I only just read it this year-the poem
Bar Time
by Billy Collins.
7.
Every marriage license issued by Gavin Newsom to same sex couples
, no matter how long it lasted or the political repercussions it caused.
8.
The daily news section of LAS.
9. Anything my roommate has written for
Shout!
[magazine] this year.
10. Anything I've written for
LAS
[magazine] this year.
---------------------
---------------------
.:
Abbie Amadio
Because I am a loyal Onion [newspaper] reader, because I save my old issues, and because I retain such useless information, here is my best in print '04 contribution. Some of the most memorable and funny headlines from the afore mentioned publication (before the book comes out)...
10.
Relations Break Down Between U.S. And Them
9.
Experimental Band Theoretically Good
8.
Documents Reveal Gaps In Bush's Service As President
7. Matchbook Twenty Finally Finishes Watering Down Long-Awaited Album
6.
Ashcroft Loses Job To Mexican
5.
Pet Winterized
4.
Concert Ruined By Man Enjoying Himself
3.
Nation's Elderly Hit Hard By Closing Automatic Doors
2.
Hippie Will Tell You What The Real Crime Is
1.
Goth Kid Builds Scary Ass Birdhouse
---------------------
---------------------
.:
Dan Filowitz
Everything worthwhile requires some sacrifices. This year, as I focused heavily on running a theater company, several major writing projects, feeding my addiction to politics, professional football and basketball, not to mention a full-time career, the thing that I had to sacrifice was book reading. It is unfortunate, only because it seems as though there were many interesting new books that I would have enjoyed thoroughly, and even a couple that I have at home sitting in my guilt-inducing "to read" stack.
That said, there were many things I read in my endless pursuit of information about politics and sports, both in print and on the Internet, that deserve to be mentioned in this category:
Best Political Writing of 2004
1 -
The New Republic
[magazine] - This publication was essential reading all year long, with in depth analysis of policy, politics, and world affairs, and a generally top-notch Books & The Arts section. Granted, the official stance of the editorial staff tends to be centrist, and certainly more hawkish and pro-Israel than many of my colleagues here at LAS. However, the coverage here constantly challenges conventional wisdom, and actively encourages intelligent debate. For example, during the Democratic primaries, the editor-in-chief endorsed Joe Lieberman. Inside, though, since there was not consensus among the staff it allowed its contributing editors to also provide endorsements of other candidates. The editors assume that its readership wants to be presented with many sides to an argument, so that one can come to their own conclusions, as opposed to so many other publications that just want dittoheads. If only the rest of our discourse could have been this intellectually honest, things could be different in America.
2 -
The Atlantic Monthly
[magazine] - Another publication that cherishes ideas and in-depth analysis instead of partisan rants and ugly rhetoric. James Fallows' work alone made this must-read - "Blind into Baghdad" laid out the details of the Bush Administration's post-war planning failures plainly and brilliantly; "When George Meets John" was essential pre-debate reading about each candidate, without ever resorting to cheap shots and easy targets; "Bush's Lost Year" should have been reason enough to kick him out of office. That's just mentioning one of their superb writers - William Langewiesche, Mark Bowden, P.J O'Rourke, and Christopher Hitchens all write memorably and forcefully. For those of us out there that prize intelligence over anything, this is required reading.
3 -
Paul Krugman and Thomas Friedman in the New York Times
[magazine] - This may seem like a rather obvious choice, but the importance of their work cannot be overstated. There is no one in popular journalism right now that lays out the case against Bush's domestic policies better than Paul Krugman. The fact is, if he wasn't doing it, no one else seems to have the balls. We'd all be in the dark, wondering if Bush was going to put another one by us, or worse, thinking we were being told the truth. With Friedman, while his optimism can be maddening at times, he understands the Middle East situation better than just about anyone. He can explain Bush's foreign policy, and the likely impact, with clarity and precision. Without these two, we'd have very little chance of there being real, calm, rational analysis of the domestic and foreign policy of this dangerously deceptive administration in any of the most widely-read forums. Their work in 2004 was excellent - and we'll need it to stay that way for the next four years if we're to have any hope.
4 -
The Daily Howler
- Bob Somersby's web site is full of scathing media criticism. In this age of spin, deception, and outright partisan hackery, it is essential to have a way to hold the media accountable. While he can be a bit Al-Gore-obsessed, Somersby lays bare all of the tricks used by the media to confuse us and take focus away from the truly important issues of the day. You read this and get angry, frustrated, and motivated to action - which is what the best kind of writing is supposed to do.
Best Sports Columns of 2004
*
1 -
The Sports Guy
(ESPN.com) - Bill Simmons is the funniest and most engaging sports writer anywhere, print or Internet. He blends popular culture and sports in a way that is a mirror image of real life for so many of us in my generation. His readers ravenously and passionately follow his obsessions, the things that make him mad, and all of the things he loves. A new column can be the highlight of anyone's day. It is the highest compliment I can pay anyone when I say I truly look forward to every new piece.
2 -
Tuesday Morning Quarterback
(NFL.com) - Gregg Easterbrook is the author of this weekly column. He's also a visiting fellow at the Brookings Institute, a senior editor at The New Republic and a contributing editor to the Atlantic Monthly. So, needless to say, this is the most intelligent column about football you're going to find. That it's also fun to read is a testament to Easterbrook's skill in writing and analysis. A weekly celebration of all that is positive about the NFL and American culture.
3 -
King Kaufman's Sports Daily
(Salon.com) - Witty, intelligent, and an easy read. His style is almost deceptively simple, so that his always original and honest analysis seems so obvious it's amazing no one else is saying it the same way. Except that no one else is.
* Yes, these can be printed off the web.
---------------------
---------------------
.:
Clifton Gates
=
The Plot Against America
[book] - I wish Philip Roth's new book would wake Americans up to the possibility of disaster when mixing celebrity (not to mention bigotry) with politics.
=
The Americanization of Ben Franklin
[book] - I was fascinated with Ben Franklin before this book and I'm even more fascinated now.
=
Birds Without Wings
[book] - War and honor, love and death, all set seaside in Turkey during WWI. Ten years is too long to wait for another book from Louis de Bernièrs.
=
Dirty Found
[magazine] - Just turn to pages 70/71 for a supreme feeling of uneasiness.
=
The Daily Show with Jon Stewart Presents America (the book)
[book] - Refreshing, to say the least.
=
McSweeney's Quarterly Concern Issue 13
[book] - All comics, all styles, all good.
=
Loud Paper
Volume 4, Issue 3 [magazine] - As always, great articles, interviews and reviews dedicated to increasing the volume of architectural discourse.
=
Media Reader
ISSUE 5 [book] - An issue dedicated exclusively to Michael Rhoades' photography from four locations: East Timor, Mexico City, Washington, D.C. and Chicago.
---------------------
---------------------
.:
Helder Gomes
September's cover of
The Wire
[magazine] featuring Derek Bailey, a jazz impressionist with a free improvisation kick.
---------------------
---------------------
.:
Eric J Herboth
Adbusters
Issue #55 ";No Future"; Sept/Oct 2004 [magazine] - Quite possibly the single greatest cultural asset in the form of a magazine.
Negatron
[book] by Jay Howell- Sometimes the most inspiring and provocative art is the kind that blurs the lines between genius and junk.
Dwell
[magazine] - An interesting architecture/design/culture magazine that is beautiful to look at.
Found
[book] by Found Magazine - Anthology of some of the best moments from Found magazine's illustrious career. Excellent.
VICE
Issue 11 [magazine] - Combining the smart-ass of articles like ";WHAT HAPPENED? And Why Does Everything Look Like Shit?"; and ";ASSBLASTER- From 'Taint to Crack and Back"; with coverage of design and roach removal.
The Dog Fighter
[book] by Marc Bojanowski - A book about a guy who actually fights dogs (not a bi-plane pilot) set in 1940's Mexico and written with a rambling, un-punctuated poetic consciousness that rivals a young Hemingway.
Dirty Found
[magazine] - Who would think that discarded photos of blow jobs, old ladies in Santa Clause outfits holding dildos, and obscene illustrations would be so fascinating?
Between a Rock and a Hard Place
[book] by Aron Ralston - Being an avid outdoorsman prone to ill-advised solo adventures, this book is nothing short of gripping. I think most anyone with
an appreciation of self-determination can enjoy this.
'Sup
Issue 13 [magazine] - Always keeping it fresh with interesting artist interviews, profiles and articles. Good stuff with a nice simple name.
---------------------
---------------------
.:
Tim Smith
1.
The Dark Tower VII: The Dark Tower
[book] by Stephen King
2.
Mojo
[magazine]
3.
The System of the World
[book] by Neal Stephenson
4.
Wired
[magazine]
5.
The Libertines
";The Libertines"; [album artwork]
6.
The Daily Show with Jon Stewart Presents America (the book)
[book] by The Daily Show Cast
7.
In Focus: National Geographic Greatest Portraits
[photography book] by National Geographic
8.
My Life
[book] by Bill Clinton
9.
Supergrass
";Supergrass Is 10"; [album artwork]
10.
Spin
[magazine]
---------------------
---------------------
.:
Mike Wright
here's my best print list. i could only think of eight though, hope that's ok.
1. Artwork to
Animal Collective
"Who Could Win a Rabbit" 7-inch [album artwork] - Horrific, although I'm not sure why.
2. Dave Eggers'
You Shall Know Our Velocity
[book] - A great read, he has an original, quite quirky style.
3. Artwork to
Growing
[album artwork] - "The Soul of the Rainbow and the Harmony of Light" LP - Living in a city, it's easy to forget how beautiful nature can be.
4.
World Development Movement
[pamphlet] - Simple, accessible and bang on!
5. Artwork to
Black Dice
"Creature Comforts" [album artwork] - Like Animal Collective, scary, but why?
6.
Tortoise
"Turtle" [shirt design] - My current favourite shirt.
7. New
Carling
[beer can] - Honestly!
8.
Sound on Sound
[magazine] - Perhaps not new, but helpful and reliable nonetheless.
--
The LAS Staff
A number of the Lost At Sea staff have worked and continue to work for various publications, both independent and commercial. Often very stifling in their narrow focus, conventional media outlets left our writers hungry for something bigger, more diverse, more communal. More active, because this is the twenty-first century and it makes sense. During it's short life LAS has accomplished many of its goals (but not all) and has in turn set new ones. Everything that we accomplish is through teamwork and cooperation, both with our regular staff writers and with our contributing writers. LAS is nothing short of a collective. Another contrasting point to some of the magazines out there is that we've checked our egos and scene ethics at the door. We welcome anyone and everyone to contribute and cover a wide range of topics. LAS does not follow your guide lines.

See other articles by The LAS Staff.
If you'd like to help spread the word about LAS, or simply want to outfit yourself with some adhesive coolness, our 4" circle LAS stickers are sure to hit the spot, and here is how to get them:
-->
Send an with $2 in PayPal funds to cover postage. Don't worry, we'll load you up with enough to cover your town. Then just be patient. They will arrive soon.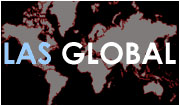 LAS has staff and freelance writers spread across North and South America, Europe, and a few in Southeast Asia as well. As such, we have no central mailing adress for unsolicited promotional material. If you are interested in having your project considered for coverage, please contact us before sending any promotional materials - save yourself time and postage!