LITERATURE
»
Full Dark, No Stars
- Stephen King's new novella questions mankind's ability to trust others.
[02.21.2011 by Bridget Doyle]
MUSIC
»
The Top 30 Albums of 2010
- Fashionably, fabulously late, our favorite music (and believe me, there was a LOT) of 2010, the year that some have called the best year for music ever. And only some of those fools work here. Plenty of usual suspects, lots of ties and a few surprises that I won't spoil, including our unexpected #1.
[12.24.2010 by The LAS Staff]
LOSTATSEA.NET
>
FEATURES
>
December 24, 2010
Fashionably, fabulously late, our favorite music (and believe me, there was a LOT) of 2010, the year that some have called the best year for music ever. And only some of those fools work here. Plenty of usual suspects, lots of ties and a few surprises that I won't spoil, including our unexpected #1.
29. tie:

Frightened Rabbit - The Winter of Mixed Drinks (Fat Cat)
What is it about bands from west and north of Britain that makes them trade-in the brooding melancholy for earnest bombast? If U2 is Ireland's answer to Joy Division, than Scotland's Frightened Rabbit is Coldplay - with Chris Martin's fretful prose replaced by Scott Hutchison's call to arms. Formulaic and anthemic as their previous two full-lengths,
The Winter of Mixed Drinks
works because that recipe is so damn simple and solid: personal tales spun tightly, unwound with the band's raw and raucous kineticism. The whole affair feels like its fueled by a rainy winter and healthy dose of single malt. ARI SHAPIRO
The Walkmen - Lisbon (Fat Possum) (Fat Cat)
These stellar stalwarts are underrated. That's not contradicting the heaps of praise, they're just
even better
than they are touted to be. The Walkmen should be selling out ampitheaters, not dive bars in Tempe, where I saw them in support of
Lisbon
, their fifth consecutive pillar of greatness wholly unique to themselves. If
You and Me
and
A Hundred Miles Off
weren't as locked and loaded as their first two,
Lisbon
is a resolute return. Radiant writing, meticulous arrangements, pristine production and masterful musicianship all accompany Hamilton Leithauser's howls of beautiful angst. How many bands get softer
and
sharper with age? ARI SHAPIRO
27. tie:
Marnie Stern - Marnie Stern (Kill Rock Stars)
"For Ash" kicks off Marnie Stern's third effort with her signature dolphin-eek guitar tapping and banshee wails. Like her other work, the track is blistering, chaotic and grounded in outer space by Hella's Zach Hill on drums. Then for her next trick she grows up. The seductiveness of "Building a Body" and atonal wreckage on "Nothing Left" make for a more varied, versatile product without surrendering her distinctive sound. Repeated lines like "It's not enough/ I'm not enough" reveal a newfound sadness, beneath the fun she's still having. And those who previously dismissed this ebullience as one-dimensional should take note: maturity looks damn good on her. JJ LANG
Kate Nash - My Best Friend Is You (Geffen)
It's not difficult to imagine that for some people's world, the perfectly-capable-of-being-truly-nasty-but-always-nice Kate Nash has executed a perfect album her second time out, perfectly sequenced with rough shapes ("Mansion Song," "I Just Love You More") flitting about the sweetness ("Paris," "Do-Wah-Doo") and once in a while, a turn of poetry like "Don't You Want to Share the Guilt" or "I Hate Seagulls" so innocent and knowing simultaneously that it can be slightly hard to believe she's ever set herself up to "cry her stupid eyes out" at all. Her "clutch a piece of raw vegetable to your chest" variations on love deserve their own
Ally McBeal
-style sitcom in which for her to play Vonda Shepard--you can practically hear the soul sisters shooting in behind her on "Kiss That Grrrl," or at the very least Sebastian the Crab. Her hooks--now informed by Sleater-Kinney and Los Campesinos! as much as Lily Allen or Regina Spektor--deserve their own radio frequency. DAN WEISS
26. Flying Lotus - Cosmogramma (Warp)
As opposed to stepping his game 'up', the original Adult Swim bumpmaster Fly Lo made a horizontal move with
Cosmogramma
, opting to access his Coltrane genes and creating a celestial jazz-hip hop surrealist showcase. While the previous
Los Angeles
snaked between emotive Morse code and android sex party anthems, this time around producer Steve Ellison went organic, with virtuoso bassist Thundercat on hand and teaming up with relative Ravi Coltrane, harpist Rebekah Raff, and Thom Yorke for tonal eccentricity. The result of this divergence is a record that isn't as accessible as his prior output. It isn't as immediately gratifying either, however the diminished emphasis on his trademark arrhythmic beats and midrange synths opens up room for experimentation that yields the kind of free form expression rarely found in the static world of electronic music, where the temptation to use the loop function seems to get the best of many producers. Flying Lotus leaves such also-rans in the dust with this one, proving himself inimitable and a likely mainstay of genres that haven't even been created yet. ERIC WEDGEWOOD
24. tie:
The Body - All the Waters of the Earth Shall Turn to Blood (Aum War)
Horror movies will never be this terrifying: the very inclusion of a visual element limits the imagination too much. I have no idea what the otherworldly beings speaking in tongues on "Empty Hearth" look like, and all we know about the main havoc-wreakers in this doom-metal duo is they like shotguns. A lot. The shivers that will accompany your first listen are more a product of the drone-and-sludge aesthetic than anything unique to the Body, but frequent revisiting unearths deeper layers of terror that, at this point, I'm willing to call infinite. JJ LANG
The Samps - The Samps [EP] (Mexican Summer)
On what could be construed as a belated response to the Avalanches, the Samps offer up a deconstructed interpretation of pop. Not only was this record a surprise, given that it came from relative unknowns who have not and never will perform this stuff live, it was nothing less than an affirmation of the laptop musician's artistic viability.
The Samps
features intricate amalgamations of deep cuts from across the musical spectrum, chopped, blended and reassembled into a hybrid monster of funk and fun. Your move,
Magic Bullet
. If this record is any indication of what is possible for audiophile nerds with extensive music collections (and even more free time), geeks rejoice: your time is now. ERIC WEDGEWOOD
21. tie:
Games - That We Can Play [EP] (Hippos in Tanks)
A big, muscly handshake of a nostalgia trip that recalls chief contributing factors to the ADHD generation, Games' debut
That We Can Play
(get it?) skillfully divides corny kitsch from timeless cool. The six-track EP is a welcome surprise for those familiar with member Daniel Lopatin's work as drone maestro of his Oneohtrix Point Never project. With Games, he and musical partner Joel Ford deliver synthed-up jams straight out of an old school videogame that never was. Games transcends homage status and straight builds on a strain of synthesizer vocabulary that has laid dormant for over two decades. A welcome treat for 80s babies, baby boomers, and anyone who has ever hung out in basement eating pizza and playing arcade games. ERIC WEDGEWOOD
The Love Language - Libraries (Merge)
Why is this not more popular? Labelmates Arcade Fire put out a great record this year too, but this one is so chock full of lush melodies and exuberant vocals that I can't imagine why there wasn't at least some healthy competition from where the Love Language is standing. I'd make the (bold, I know) statement that "Britney's Back," "Heart to Tell" and "Summer Dust" out-Arcade Fire even the Arcade Fire. Sometimes the good stuff just slips through. CORY TENDERING
Waka Flocka Flame - Flockaveli (1017 Brick Squad)
To the untrained ear,
Flockaveli
sounds like bad hip-hop, and those unfamiliar with Four Loko won't appreciate the subtleties of Flocka's typical A-A-A-Ayyyy! rhyme scheme ("Bitch I'm drunk/Bitch I'm drunk/Bitch I'm drunk/Bitch I'm DRUNK").
Oh, was that not serious enough? Hear me out: 2k10 saw trends and buzz bands collide, evaporating into a haze of pot smoke off the coast of California. Interesting albums instead came from unexpected places, and even if lines like "we gon' turn the parking lot into Columbine" leave the unsuspecting listener torn between a guffaw and a gasp, either option beats a yawn. JJ LANG
20. Killing Joke - Absolute Dissent (Spinefarm)
It took a conversation at the funeral of bassist Paul Raven to bring back the original lineup of seminal U.K. postpunks Killing Joke after nearly 30 years with the end result their best album in 20. Singer/keyboardist Jaz Coleman shows off his range, unleashing his patented razorblade growl on the thrashing "Depthcharge" then shifting to a more melodic lilt on "European Super State." So much for shaking the rust off as Coleman and his bandmates effortlessly juggle KJ's post-punk beginnings, new-wave midpoint and surprisingly metal-tinged present. KIRAN ADITHAM
18. tie:
Women - Public Strain (Jagjaguwar)
United only by self-devouring guitar hiss and murky vocals, the Calgary four-piece out-spooks Liars ("Drag Open") and evokes richer nostalgia than Ariel Pink (everything else). Starting with echoes of "Ruby Tuesday" in the bass of "Can't You See," Women embark on a poorly-ventilated yet four-dimensional journey, jumping from angular rigidity to sunny melodies with no respect for genre lines. If not for the alarmingly mature balance of songwriting and scuzzy distraction, this could have been Deerhunter's
Cryptograms Revisited
. Instead, Women's second full-length gives the "lo-fi exploration through time and space" album a meticulously detailed, hallucinogens-optional renovation. JJ LANG
Robyn - Body Talk (Interscope)
No one poured their heart into the eternal flame of the three-minute pop song like Robyn did over three EPs this year, which is saying a lot for an admitted android who dallies with Max Martin and the Knife in equal measure. Of course there's filler-she's a pop star. Count the seven classics, "Fembot," "Dancing on My Own," "Hang With Me," "Call Your Girlfriend," "Get Myself Together," "Don't Fucking Tell Me What to Do," "Dancehall Queen," and you find yourself rooting even harder for almosts like "Indestructible" and "U Should Know Better." The filler you stop counting altogether. DAN WEISS
17. Broken Social Scene - Forgiveness Rock Record (Arts & Crafts)
Fascinating that the indie stratosphere has stopped clamoring so hard for BSS; perhaps it was the two less-than-brilliant solo albums in the interim.
Forgiveness
is evenly keeled but also sublimely fragrant, and held together with their well-traveled communal ingenuity. "Texico Bitches" gave a whole new meaning to the BP oil spill, while tracks such as "All to All," "Art House Director" and "Meet Me in the Basement" shimmer as towers of sound alone. However, my favourite is still "Ungrateful Little Father", the one thing here that sounds like the earlier records. BRIAN CHRISTOPHER JONES
15. tie:
Happy Birthday - Happy Birthday (Sub Pop)
In a musical landscape where the pop whims of nearly every Brooklyn-based indie band or every gurgle from L.A.'s half-hearted beach-pop scene goes chronicled (anyone catch Bethany Cosentino getting baked with Freddie Gibbs? Best web video of the year, man!), how is it that the inventive genius of Happy Birthday got overlooked? A favorite (of both mine and Ms. Coast) after just thirty seconds into "Girls FM," Happy Birthday goes on to toy with pop conventions and insert their own wit and personality into ten more miniature should-be classics like "Fun" and "Subliminal Message." CORY TENDERING
LCD Soundsystem - This Is Happening (DFA)
Just because he recorded his third, and supposedly final record in L.A. doesn't mean James Murphy's toned down his New York self-deprecation and cynicism. But ramble as he may with usual bemusement on the disco-funk "Pow Wow," the DFA don's musical prowess is never in doubt. Whether he builds up opener "Dance Yrself Clean" with a lo-fi tease before blasting you with synth-pop payoff, blazes through party punk on "Drunk Girls" or sings (intones?) the digital blues on "Someone's Calling Me," Murphy teaches us all about the sweaty dancing fool in all of us. KIRAN ADITHAM
14. Trent Reznor & Atticus Ross - The Social Network OST (The Null Corporation)
Though Trent Reznor was essentially hounded by director David Fincher to lay down this astonishing film score, it's now paid off in spades for all parties involved. While the film in its own right captured critics and audiences with its unimpeachable savvy, Reznor and collaborator Atticus Ross earned a Golden Globe nod for this 19-track companion that's essentially a long, monolithic sound effect. Though borrowing stylistically from their NIN experiments over the past few years, the pair can just as easily throw you off with sudden patches and jolts of orchestration, like the manic arrangement of Grieg's "In the Hall of the Mountain King." KIRAN ADITHAM
13. Kanye West - My Beautiful Dark Twisted Fantasy (Roc-a-Fella)
Yeezy's a talented dickhole in a time when the dominant force in rock fandom is modesty; you might speculate if Win Butler or Jeff Tweedy or Matt Berninger is an asshole but every one of them is selling Regular Guy. 20, 30, 40 years ago Kanye would be Mick Jagger, Johnny Rotten, Chuck D. Instead, snappy with Twitter and loud with his Beyonce video rankings, he makes up for his public image by amplifying his music to electrocuting, subterranean dubstep levels of distortion and lo-fi. Knowing the "Gorgeous" loop had five minutes in it and "Blame Game" could live for ten. Balancing the nearly-tired meditations on infamy and "lights" with "For those who tried to blackball me/ Y'all forgot about two things: my black balls" and relationship politics wise beyond his genre ("How can you say what we do is wrong/ When you don't even fuck with the lights on?"). It works because it's carrying a ton and doesn't let a thing drop. Which is not to say the Jay-Z-, Bon Iver- and Elton John-laden mess doesn't veer incredibly close and often. It ends right when you're about to gasp for air. DAN WEISS
12. Vampire Weekend - Contra (XL)
Vampire Weekend's debut upset people who thought it improper to sing about the vicissitudes of upper-middle-class East Coast life atop rhythms and harmonies imported from Africa. But the songs were never that clueless, and
Contra
never stops acknowledging imperialism -- its oddness and sadness, its emotional contours like mountains thrown up by the frottage of continental plates. These are songs about the vague friction between undeveloped and developed, desperate and comfortable, serious and frivolous. Its characters include sheltered vegetarians, trust-funded fugitives, louche diplomat's sons, and a hippie who avoids organic toothpaste for fear it'll make his teeth worse and destroy his worldview. And then there's the music, which is on the same curious mission to see what ugly or poignant or sublime detritus comes from collision: a jittery punk song with a giddily complex melody; a wistful ballad about old sexual adventures draped atop a hiccupping M.I.A. sample. The lazy comparison is to
Graceland
(white boy writes well over African tunes), but as good as Simon's album was, it simply ignored the contradictions that are
Contra
's whole subject. The proof's in the title, which by the way refers simultaneously to Williamsburg and Nicaragua. Which are only really alike in one way: they're both affected by sharing a planet. THEON WEBER
11. Ariel Pink's Haunted Graffiti - Before Today (4AD)
In 2010, Ariel Pink became such a force to be reckoned with that even publications that shortchanged his genius over the years felt obligated to make an abrupt about-face and give him the respect he deserved. If that required the guise of dubbing him the 'Godfather of Chillwave', so be it, irrelevant as that may be. Ariel Pink's longevity and eventual redemption can be attributed to his dedication to songcraft and prolific output more so than his image or quirks, regardless of whom he's influenced, probably unintentionally.
Before Today
sees the DIY originals of Haunted Graffiti jump from lo-fi to hi-fi to properly excute the dynamic shifts of Pink's best work to date. ERIC WEDGEWOOD
10. The National - High Violet (4AD)
Brooklyn transplants The National finally pulled off their mix of brooding and beautiful on this consistently engaging fifth record. Matt Berninger's baritone drawl hovers between elegant and soused, but his four bandmates ably anchor whatever his world-weary tale, instilling black-as-night post-punk on "Anyone's Ghost" then waxing Springsteen-esque as their frontman helplessly croons about getting carried away "in a swarm of bees" in "Bloodbuzz, Ohio." From the vampiric side A to the more anthemic B (horns on "England," brain-eating fears on "Conversation 16"), the Cincinnati natives' latest delivered what its mumblier predecessor
Boxer
could not. Interpol deserves to get mad about it. KIRAN ADITHAM
9. Taylor Swift - Speak Now (Big Machine)
In which an extremely rich and successful member of the world's least troubled percentile sings songs about being abused, abandoned, and interrupted. And has every right to, because the songs on
Speak Now
are so disciplined and curious that they actually stand a chance of making you feel more largely about being abused/abandoned/interrupted. On this album, a girl fiddles with her clothes at a party with an impending ex; another loves her boyfriend because he's the opposite of her father; another thinks you're "mean" because you hit her. One just wants to make out. Taylor Swift is not necessarily all of these girls, but if she chooses the right words and the right pauses and giggles in the right places, she might as well be. So might you. THEON WEBER
8. Warpaint - The Fool (Rough Trade)
In an extremely competitive year to garner acclaim (
Pitchfork
awarded no fewer than 55 Best New Music certifications, averaging more than one per week),
The Fool
fell slightly between the cracks. But at year's end the thoughtful basslines and architectural song structures couldn't be more apparent. Although there is no "Elephants" on this disc (highlight of their debut EP), the wealth of vivid placemarks ("Warpaint," "Undertow" and "Shadows," just to name a few) certainly make up for it. BRIAN CHRISTOPHER JONES
7. Big Boi - Sir Lucious Left Foot: The Son of Chico Dusty (Def Jam)
"This ain't what you want, let's be clear from the bungee/ I write knockout songs, you spit punch lines for money." Normally, this set-up is used to assert superiority. Here, Big Boi nonchalantly drops it in as an oh-by-the-way premise. And if you don't think he's earned this distinction as much as, say, Kanye, you need to play
Speakerboxxx
again. When 'Ye nods at his own abilities like this, he instantly comes off self-absorbed, asking why he's declaring this and if he should be and so on. In this game, the vocoder's honest funk beats AutoTune's frostbitten self-pity, and Big Boi's no-questions-asked lyrical assault reigns supreme. JJ LANG
6. No Age - Everything in Between (Sub Pop)
This supposedly basic duo continues to explode the imagination of what you thought possible in a two-piece. Packaged in stark black-and-white after the full-spectrum photo blitz that was
Nouns
,
Everything in Between
almost seems like a response to 2009's garage-rock du jour, Japandroids' excellent
Post-Nothing
. Tell me the smoldering "Glitter" doesn't up the ante in an imaginary war of attrition between the two? Japandroids still win live, but no matter: Dean Spunt and Randy Randall's great gift is the studio. CORY TENDERING
5. Arcade Fire - The Suburbs (Merge)
When Arcade Fire dropped the LAS-certified album of the decade in 2004, it unleashed a torrent of expectations upon them. They have dealt with it by becoming a moving target, yet remaining on course to their own true north.
Neon Bible
was a 45-degree departure from
Funeral
, and the more surprising
Suburbs
is a 180. By focusing the metaphorical lens, they're able to scale the large-scale themes they find so dear (youth, alienation, community) with proficiency that almost resembles ease. That a band with so many arrows in their quiver can do stripped down and straightforward so well is just one of their tricks. ARI SHAPIRO
4. Deerhunter - Halcyon Digest (4AD)
Halcyon Digest
doesn't have the darkness of
Cryptograms
, or the light air of
Microcastle
, yet the tracks are consistently more engaging than those on both previous records. The beauty of "Helicopter", "Revival" and "Desire Lines" alone would have solidified this album in the top ten, but the spiraling dreaminess and unfinished humor of album-closing Jay Reatard epitaph "He Would Have Laughed" likely catapulted it into our top five.
Halcyon Digest
is proof that Bradford Cox's ear for studio mastery puts his vision and the expert band behind it head and shoulders above their peers. BRIAN CHRISTOPHER JONES
3. Sleigh Bells - Treats (Mom + Pop)
What surprised me about this record was how sexy it was. It's a gimmick: Alexis Krauss, who used to be in a teenpop group, chants invented jump-rope rhymes while Derek Miller, who used to be in a hardcore band, makes sure nothing in the mix drops out of the red. I'm not here to tell you "cutesy/aggressive" is a brilliant or original dichotomy, but I am here to suggest that in a time when being a rock star is somewhere just above Senator on the cultural respectability scale, flauting every technocratic law about sonic taste while chanting peppily about cowboys and indians might be the only way you can get the old rock and roll shiver: all that sweetness, backed by all that offense. THEON WEBER
2. Beach House - Teen Dream (Mom + Pop)
It's very rare that a band has made the leap from 'dreamy possibilities' to 'cinematographic actualization' as quickly as Beach House did with
Teen Dream
. A mini-masterpiece of sorts finds Alex Scaly and Victoria Legrand flexing their increasingly confident songwriting with a singular work that can be enjoyed in pieces or as one delicious whole. If
Devotion
and
Beach House
were Kansas,
Teen Dream
is the emerald-spackled moment we step into Oz and get overwhelmed by all the colors. CORY TENDERING
1. Against Me! - White Crosses (Sire)
So the decidedly un-blockbuster sales and tepid reception from current teenage anarchists made clear that this wasn't the next
American Idiot
. If it's hard to imagine why a Butch Vig-helmed power-ballad called "We're Breaking Up" could miss every demographic it was flung at, well, you try telling a teenager it doesn't
matter
if his next girlfriend "has all the same friends" or goodness, "likes all the same bands." So these ten concrete bricks for riffsongs don't exactly sneak Robert Strange McNamara into any prom themes. Not only is this band doing everything right and making it sound butt-easy, but there's an added urgency because right now simply no one else cares to do it. Great singing, great lyrics, great
concerns
even--I'm sure some Tea Party boor will turn "What God doesn't give to you/ You've got to go and get for yourself" into some tax-panic bullshit theme, but they can't take away those harmonies. And if you're one of the thousands of indie-rockers who hasn't heard it, admit it: you're curious to know how some big-eared Florida punks made off with the Hold Steady's keyboardist. DAN WEISS
--
The LAS Staff
A number of the Lost At Sea staff have worked and continue to work for various publications, both independent and commercial. Often very stifling in their narrow focus, conventional media outlets left our writers hungry for something bigger, more diverse, more communal. More active, because this is the twenty-first century and it makes sense. During it's short life LAS has accomplished many of its goals (but not all) and has in turn set new ones. Everything that we accomplish is through teamwork and cooperation, both with our regular staff writers and with our contributing writers. LAS is nothing short of a collective. Another contrasting point to some of the magazines out there is that we've checked our egos and scene ethics at the door. We welcome anyone and everyone to contribute and cover a wide range of topics. LAS does not follow your guide lines.

See other articles by The LAS Staff.
If you'd like to help spread the word about LAS, or simply want to outfit yourself with some adhesive coolness, our 4" circle LAS stickers are sure to hit the spot, and here is how to get them:
-->
Send an with $2 in PayPal funds to cover postage. Don't worry, we'll load you up with enough to cover your town. Then just be patient. They will arrive soon.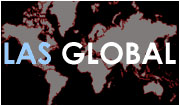 LAS has staff and freelance writers spread across North and South America, Europe, and a few in Southeast Asia as well. As such, we have no central mailing adress for unsolicited promotional material. If you are interested in having your project considered for coverage, please contact us before sending any promotional materials - save yourself time and postage!