LITERATURE
»
Full Dark, No Stars
- Stephen King's new novella questions mankind's ability to trust others.
[02.21.2011 by Bridget Doyle]
MUSIC
»
The Top 30 Albums of 2010
- Fashionably, fabulously late, our favorite music (and believe me, there was a LOT) of 2010, the year that some have called the best year for music ever. And only some of those fools work here. Plenty of usual suspects, lots of ties and a few surprises that I won't spoil, including our unexpected #1.
[12.24.2010 by The LAS Staff]
LOSTATSEA.NET
>
FEATURES
>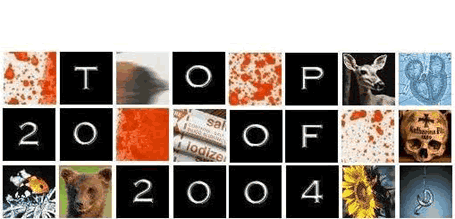 December 17, 2004
2004 Composite Top 20
|
Kevin Alfoldy
|
Abbie Amadio
|
Erick Bieritz
|
Andy Brown
|
Phillip Buchan
|
Natalie B. David
|
Dan Filowitz
|
Jonah Flicker
|
Randy Gaudreau
|
Helder Gomes
|
Eric J Herboth
|
Abi Huynh
|
Bob Ladewig
|
Peter Lindblad
|
Josh Zanger
|
Individual Lists M-Z
---
Kevin Alfoldy
01 Isis -
Panopticon
I apologize, I know this spot is reseved for Arcade Fire.
02 Arcade Fire -
Funeral
An album deserving of the hype, unlike The Fiery Furnaces.
03 Madvillian -
Madvilliany
The best hip-hop album since The Notorious B.I.G. died.
04 The Thermals -
Fuckin' A
Nothing crazy going on here, it's just a really good time.
05 Blood Brothers -
Crimes
I just read an article in Spin about "Noise Rock." Spin fucking sucks.
06 Pidgeon -
From Gutter With Love
Sounds like Hello Kitty being periodically tortured by Kurt Cobain.
07 Br. Danielson -
Brother Is To Son
This one is for Neil. And besides, who doesn't like a giant, singing tree?
08 Sufjan Stevens -
Seven Swans
He sings real pretty like.
09 Converge -
You Fail Me
Kind of like the worst black eye you've ever seen. Horrific, but that weird blue-yellow color is oddly fascinating.
10 Pinback -
Summer In Abaddon
Holy shit! I just realized it's not "Abandon".
Bonus
11 Folklore -
The Sidewalk Development EP
The best rapper living in my house.
---
Abbie Amadio
01 Sonic Youth -
Sonic Nurse
02 Elliott Smith -
From A Basement On A Hill
03 TV on the Radio -
Desperate Youth, Blood Thirsty Babes
04 Arcade Fire -
Funeral
05 The Like Young -
So Serious
06 The Casual Dots -
The Casual Dots
07 Q and Not U -
Power
08 Modest Mouse -
Good News for People Who Love Bad News
09 Liars -
They Were Wrong So We Drowned
10 The Walkmen -
Bows + Arrows
---
Erick Bieritz
01 Girls Aloud -
What Will the Neighbours Say?
02 Lansing-Dreiden -
The Incomplete Triangle
03 Madvillain -
Madvillainy
04 Your Team Ring -
In Service of the Villain
05 Annie -
Anniemal
06 Swayzak -
Loops From the Bergerie
07 Lil' Scrappy and Trillville -
The King of Crunk and BME Recordings Present
08 Bark Psychosis -
Codename: Dustsucker
09 Michael Mayer -
Touch
10 Clinic -
Winchester Cathedral
11 Cut Copy -
Bright Like Neon Love
12 Todd Rundgren -
Liars
13 Trick Daddy -
Thug Matrimony - Married to the Streets
14 Jens Lekman -
When I Said I Wanted to Be Your Dog
15 Felix Da Housecat -
Devin Dazzle and the Neon Fever
16 Lucien-N-Luciano -
Blind Behaviour
17 Dykehouse -
Midrange
18 Ludacris -
Red Light District
19 Boredoms -
Seadrum/House of Sun
20 Mark Lanegan Band -
Bubblegum
---
Andy Brown
01 Joanna Newsom -
The Milk Eyed Mender
Back in June I challenged anyone to make a stranger, more interesting album in 2004 knowing that this would be a tall order. Nobody did, and there were several great releases. This year will be remembered for the psycho-folk movement, and Ms. Newsom is their proud queen.
02 Wilco -
A Ghost is Born
People who whine that
A Ghost is Born
is no
Yankee Hotel Foxtrot
don't get the point of this record - it's consciously different from anything else Wilco has done and it is incredible. When they aren't working on the
Spongebob
Movie, Jeff Tweedy and co. will be busy changing American pop music.
03 Modest Mouse -
Good News for People Who Love Bad News
This record makes me think of Isaac Brock as a reformed bully trying to make right with the world. Not that he ever did anything wrong, but if he did, this album would make up for that.
04 TV on the Radio -
Desperate Youth, Blood Thirsty Babes
There is so much noise on this album, it never stops. Saxophones, do-wop, falsetto, that chugging sound in the background - what is holding this album together!? It is as fast and hard-hitting as the electric current running across the album cover (there should be a separate award for that kind of parallelism).
05 Ghost -
Hypnotic Underworld
Hypnotic Underworld
started 2004 with an acid rock slash to the face. Like a masterless samurai, this album doesn't know if it wants to fight beside you or against you, so it does both. And also like samurais, this is really fucking cool.
06 Arcade Fire -
Funeral
A late-bloomer in 2004,
Funeral
is making up for lost time as indie kids across the country can't figure out how to remove it from their stereos. I think I've played this record straight through more than any other release this year.
07 Sonic Youth -
Sonic Nurse
So prolific it's frightening. I didn't listen to this album very much this year because I took it for granted - I knew it would be awesome so I put it at the bottom of my to-do list. I was right, but that is a terrible attitude to have.
08 Sons and Daughters -
Love the Cup
Sons and Daughters have developed the latest stage move: guitarist Scott Paterson plants himself in front and stares right through everybody. I don't think he blinked the whole set. This album is like that stare.
09 Franz Ferdinand -
Franz Ferdinand
Franz was omniscient this year. I first saw the video for "Take Me Out" on German MTV and predicted that they would be pretty big, but I never expected to hear them in movie trailers. In his history of hip, John Leland explains that a thing is no longer hip when it reaches a broad audience - it loses the outsider edge it requires to be counterculture. Hip or not, this album should be praised for its ability to unite arena rockers, indie kids, eurotrash wannabes and just about everyone else in the office with its infectious thud.
10 Deerhoof -
Milkman
Milkman
is exciting and enigmatic in its juxtaposition of Satomi Matsuzaki's syrupy vocals and syncopated guitar squawks. Oh, and a hearty "fuck you" to all the hipster pieces of shit who were too busy/too cool ordering gin and tonics at the Wilco show to catch Deerhoof open. Go back to Urban Outfitters, you poseurs!
11 Elliot Smith -
From a Basement on the Hill
The long awaited post-mortem album from a songwriting genius. I don't know if it's great because it's sad or if it's sad because it's great.
12 Madvillain -
Madvillainy
I'm all for collaboration, especially when it involves two of hip-hop's smartest acts, but I was a little disappointed by this one - I miss the days of "V. Vaughn the travellin' vaudeville villain." Nevertheless, MF Doom always entertains and his crafty rhymes are almost overshadowed by Madlib's understaded production. Almost.
13 Interpol -
Antics
These guys aren't even from Europe, and they do that whole "I wear black on the outside cause black is what I feel on the inside" thing so convincingly.
Antics
is just as strong as their debut, if not stronger. I dated a girl named Rosemary just because of "Evil." Tip: If you base relationships on music, you can blame the bands on your romantic shortcomings!
14 The Magnetic Fields -
I
A concept album on which "I" is the first letter/word/subject of every song-why didn't anyone think of this earlier? Stephin Merritt is lyrical gymnast - the opening line to "I Don't Believe You" is hilarious and a little sad, too. The balance of whimsy and sincerity on this album will keep it fresh for years to come.
15 Devendra Banhart -
Rejoicing in the Hands
Banhart did more photo shoots this year and appeared in more magazines than Jude Law and Lindsay Lohan combined. Psycho-folk's (what are we calling this genre?) patron saint did so much for music this year just by wearing muumuus and a beard. Though his androgynous image overshadowed this album, it is a fine example of the potential of this blossoming neo-hippie movement… or is it anti-hippie?
16 Dungen -
Ta Det Lugnt
After all that folksy warbling, it's nice to get back into the swing of psychedelic norse rock. The album starts with "Panda," which is a great name for a song that appears cuddly on the surface, but could really rip you to shreds. No one knows what Gustav Ejstes is saying (unless you speak Swedish), but I'm sure it is really badass. Yelling "Ta Det Luuuuuuuuuuugnt!" is the new "RAWK!"
17 Comets on Fire -
Blue Cathedral
Like Dungen, this release is based on psychedelic soundscapes, and like Dungen, the lyrics are incomprehensible. Where Banhart and the Drag City kids use their powers for good, Comets on Fire demonstrate what can happen when you use that same weirdo genius for evil. The chaos that follows through these eight tracks will have you selling your soul to the devil in no time.
18 A.C. Newman -
The Slow Wonder
I was worried that the solo album from the New Pornographers mastermind might be a little flat, but I was wrong.
The Slow Wonder
picks up where
Electric Version
left off, with just a hint of Newman's penchant for moderately-paced songs that pull you along.
19 White Magic -
Through the Sun Door EP
These six songs remind me of the cover of
A Wrinkle in Time
by Madeline L'Engle, though I hated that book. I imagine White Magic as a collective of time traveling gypsies and albino satyrs singing troubadour songs around the campfire, even if I've seen the press kit. "Apocalypse" is one of the coolest songs of 2004.
20 Pavement -
Crooked Rain, Crooked Rain: L.A.'s Desert Origins
This probably shouldn't be here since it is a re-release so I'm hiding it at the bottom in hopes that it slips by. Even if you don't count the original tracks, there is enough unreleased material here to constitute an entirely new Pavement album. Covering the fruitful time between
Crooked Rain, Crooked Rain
and
Wowee Zowee
, the extra stuff is a joy to anyone interested in how a band transitions from one album to another. The alternate version of "Grounded" is my equivalent to unearthing an ancient city below our own. I LOVE YOU, 2004!
---
Phillip Buchan
As much as I would like to put MF Doom's latest joint or Joanna Newsom on this list, I'm confining my selections to records that have actually become part of my collection in this last year. With that said, here's my completely subjective, decidedly non-definitive Top 10 Albums of 2004:
01 Xiu Xiu -
Fabulous Muscles
Countless nights have I spent in a futile attempt to apprehend just
what
this record does to me. It seems, all at once, to be grossly parodical and disarmingly sincere, conversational and friendly yet abstract and standoffish, wet and fragile but also numbingly dense. Hearing the tender midnight of the title track's guitar outro crumbling into "Brian the Vampire"'s jittery synth snowstorm upset every preconceived notion I held about the way pop music albums function and weave their way into my consciousness, and these beautifully offensive moments abound on what has grown to be, hands down, one of the most multi-tiered, ambitious, and fully-realized records I've had the joy of wrestling.
02 Dizzee Rascal -
Showtime
My review of this one pretty much said all that I believe I'm capable of saying. I'll be very glad to pass this record down to my kids one day.
03 Q and Not U -
Power
Let me begin by saying that I am absolutely outraged that this record has experienced such a lukewarm reception. Post-hardcore junkies bristled at the album's "dancey" elements and immediately lumped it in with the rest of the vapid DFA-engineered garabage that's pulling kids away from all ages venues and basement shows, average joe pop music fans couldn't get past the reactionary company that the band keeps or the derivative elements of the group's first two LPs, and neither group gave this album the honest, open-minded evaluation it deserves. What every myopic scene-clinger-oner missed out on was the record that actually delivered on the promise of The Rapture's good-in-theory dance/punk concoction, and easily the best thing to come out of our nation's capital since
Emergency and I
(not that it's really had much to compete with, but still...). Every punk-influenced act dreams of transcending their pigeonhole, and Q and Not U actually did it, genuinely incorporating elements of those Talking Heads, Clash, and Fela Kuti records that everyone namedrops but never actually takes the time to wrap their heads around.
Power
indeed.
04 Comets on Fire -
Blue Cathedral
For a decade that's supposedly marked the Return of Rock, relatively few albums have actually, you know,
rocked
. Sure, plenty of bands have been loud and craaaazy and shit, but very few of them have managed to convince me that their histrionics are an outgrowth of anything more than their desire to see their names in
Rolling Stone
and have fellatio administered to them by numerous women. This isn't the case with Comets on Fire --
Blue Cathedral
is utter trash down to its every nuance, giving me cause to believe that these men truly
know
the Rock 'N' Roll muse... Biblically.
05 A.C. Newman -
The Slow Wonder
Remember how there were loads of great power-pop revival bands in the '90s? Well, I don't know what the hell Matthew Sweet is up to, and Ken Stringfellow is trying to weasel his way onto your local "at work station"'s playlist, so it looks like those days are officially behind us. At least Mr. Newman is still kicking melodic ass like post-punk never happened.
06 Bark Psychosis -
Codename: Dustsucker
After ten years of silence, these seminal British post-rockers crank out a phenomenal set of songs to remind us pantywaist Yanks how a
real
post-rock record sounds -- and it's far from GY!BE and their ilk's Spielberg-ready instrumental emo.
07 TV on the Radio -
Desperate Youth, Blood Thirsty Babes
Believe every single word of hype that you read about this band. Incredible stuff.
08 Paik -
Satin Black
My favorite instrumental record of the year, and I heard a great many of them. Deceptively simple and completely engaging down to its final second. Also, a vast expansion on the groundwork they laid on their last album.
09 Sonic Youth -
Sonic Nurse
As one of my friends noted after spending a couple of months with these songs, they're all superb, but they ultimately sound like
Murray Street
B-sides. I'll agree with this sentiment, but I'll also state, on record, that "Dripping Dream" and "I Love You Golden Blue" are among the band's finest compositions, and the rest ain't exactly slack. Da Youth's consistency never ceases to amaze me.
10 Tortoise -
It's All Around You
Nothing new for the band by any stretch, but still full of playful juxtapositions and the sort of pristine tonalities that only John McEntire can bring out. They may have settled down a bit, but I'd hesitate to call this "just another Tortoise album."
Other stuff I enjoyed getting acquainted with:
Hella -
The Devil Isn't Red
; Architecture in Helsinki -
Fingers Crossed
; The Avett Brothers -
Mignonette
; Blessed Light -
Let Love in
; The Blood Brothers -
Crimes
; Tom Carter -
Monument
; Cyann and Ben -
Happy Like an Autumn Tree
; Robert Deeble -
Thirteen Stories
; Jolie Holland -
Escondida
; Interpol -
Antics
; Modest Mouse -
Good News for People Who Love Bad News
; Molasses -
Trouble at Jinx Hotel
; Neurosis -
The Eye of Every Storm
; The One AM Radio -
A Name Writ in Water
; Pedro the Lion -
Achilles Heel
; RJD2 -
Since We Last Spoke
; Sluts of Trust -
We Are All Sluts of Trust
; Sparta -
Porcelain
; The Wannadies -
Before and After
; Wolf Eyes -
Burned Mind
; The Anomoanon -
Joji
Great Reissues:
Asobi Seksu -
Asobi Seksu
; Coalesce -
Give Them Rope, She Said
; The Comsat Angels -
It's History
Box Set (technically a bootleg, I know, but Insound and Aquarius sold them, so it's quasi-legit in my book); The Constantines -
The Constantines
; all of the early Brian Eno stuff; For Against -
For Against
; The Homosexuals -
The Homosexuals Record
; Jawbreaker -
Dear You
---
Natalie B. David
01 Reuben's Accomplice -
The Bull, The Balloon and The Family
After some deliberation, Reuben's Accomplice somehow made it to the top of my list. It certainly wasn't my most played record of the year, and it definitely isn't without flaw. Indeed, much like this year, it has its ups and downs. "All Chorus" and it's triumphant bombast of "Our love could surely destroy the earth" is just as honest and striking as the wake up call of "Life is Easy." Both simple and elaborate, this duality makes for a well-rounded listen, if not an altogether enchanting one.
02 Music from the Motion Picture -
Garden State
It's rare these days when a soundtrack comes along that actually compiles music from the movie, but with
Garden State
, not only is every song on the disc in the film, they're also presented here in the order in which they appeared. An even greater strength though is that even when separated from their attached images, each and every song stands well on its own. This disc blends indie rock, folk, and electronic pop for the perfect amount of substance and intrigue.
03 Brandtson -
Send Us a Signal
The Deep Elm veterans turned Militia Group mainstays take a departure from their typical sound on their latest release,
Send Us a Signal
. While most of the disc perfects their brand of pop-rock, their greatest stretch is "Mercy Medical." This much more melodic and musically interesting track is highly unexpected with any knowledge of the band's back catalogue. Some of it may be predictable but the surprises outweigh the costs.
04 Matthew Good -
White Light Rock and Roll Review
After releasing
Avalanche
, the most ambitious and extravagant record of his career, Mr. Good returned with WLRRR, the best sort-of-protest-record of the year. The stripped down, back to basics effort touches on both personal and political subjects and blurs the boundary between then, which makes for a touching and intelligent listen.
05 Drive-by Truckers -
The Dirty South
Besides being one of the best live bands I've seen, the Drive-by Truckers craft southern-rock tales founded in the past, the present and the deepest, darkest parts of the enigma known as the Deep South. On their follow up to
Decoration Day
, the three-prong team of Patterson Hood, Jason Isbell and Mike Cooley offer up 14 dark, dirty tracks that rock, roll and pass on stories that won't leave you behind any time soon.
06 Action Action -
Don't Cut Your Fabric to Last Year's Fashion
07 Modest Mouse -
Good News for People who Love Bad News
08 Anadivine -
Zoo
09 Lovedrug -
Pretend You're Alive
10 Jimmy Eat World -
Futures
---
Dan Filowitz
01 Madvillan -
Madvillainy
Rarely does a highly anticipated collaboration work out, let alone become the album of the year. Leave it to MF Doom and Madlib to pull it off, since they've been doing some of the most consistently creative work in all music, let alone hip-hop. What we've got here is understated and unusual production, sampling things like accordions and old jazz piano, and some of the funniest, wittiest rhyming anywhere. It is a rare hip-hop album that you can listen to over and over and keep making new discoveries - little nuances in the production, or a new turn of phrase you didn't catch the first time through. Believe the hype on this one.
02 De La Soul -
The Grind Date
By all rights, this latest release by De La Soul shouldn't be any good. They were jettisoned by their label this year, and have been in the game for 15 years -
The Grind Date
should have had "washed up" written all over it. Instead, De La Soul releases their best record since
Buhloone Mind State.
This is probably the most focused, tightest release in their long career - there's no filler, no skits, nothing but twelve highly enjoyable, highly listenable songs sure to get anyone's head nodding and brain synapses firing. An album this good by anyone would have made my top 10 list - that it comes this late in the career of these hip-hop legends makes it truly remarkable.
03 MF Doom -
Mm.. Food?
MF Doom had something to do with each of my top three albums of 2004 (he has a guest appearance on
The Grind Date
) which amply illustrates what a mind-bogglingly prolific year he's had. This is the most creative rapper and producer out there right now, mainstream or underground. Samples range from Whodini, old Fantastic Four read-along records, and the theme from The Price Is Right. The rhyme flow is as tight as ever, without ever resorting to hoary clichés and recycled themes.
Mm..Food?
is yet another MF Doom project that not only rewards but
requires
multiple listens. What more can I say other than if you haven't yet, get up on this right away.
04 Califone -
Heron King Blues
Califone is a band at the height of their powers, and
Heron King Blues
is another sterling entry into their body of work. Summoning bits and pieces from all over the American music landscape - blues, country, rock, soul, funk, electronic dissonance - they have create haunting and affecting songs that seep right into your subconscious. This is the album Wilco (and Wilco fans) wished they released this year.
05 Raising the Fawn -
The North Sea
There is so much going on here, and going on so well, that it is difficult to write about it all (or write about it all well, anyway.) John Crossingham and company use a lot of different instruments besides the standard guitar-bass-drums (e-bows, organs, cornets, etc.) and yet aren't afraid of letting there be space between the notes. The singing can be alternatively plaintive, haunting, and joyful. Depending on where you are, how you feel, and what else is going on around you, this album will be different every time, given just how many different layers each recording has. This succeeds on so many levels it defies description and begs instead to just be heard.
06 Pan American -
Quiet City
It's the end of a long and stressful day, and I need to just come home, sit on my couch, and put something on that will cause my brain waves to flatten and that will allow me to engage it in a way that suits me, without being as demanding as everything else going on. Simply put, this is it, and damn if it doesn't do exactly what I need it to.
07 Deerhoof -
Milk Man
This is the most accessible Deerhoof record to date, but without sacrificing the angular guitars, odd percussion, non-standard time signatures, and strangely childish lyrics that made me love Deerhoof in the first place. It is always a major accomplishment if, after releasing several acclaimed albums, a band can keep delivering what the fans want without sounding repetitive and creatively barren. Deerhoof does that here and then some.
08 The Fiery Furnaces -
Blueberry Boat
Challenging, difficult, complicated, and yet a lot of fun at the same time. This is a major statement from a really interesting band, and puts them in the Pantheon of bands we'll be expecting great things from for years to come.
09 Interpol -
Antics
They may as well have called this one "take your sophomore slump and stick it in your ear." It may not be as galvanizing as their debut, but it is as solid and enjoyable a follow-up as anyone could have expected.
10 El-P the Blue Series Continuum -
High Water
Another phenomenal entry into the Blue Series, the Thirsty Ear project overseen by Matthew Shipp. The mixture of downtown jazz and underground hip-hop yields many surprises and many pleasures.
Noteworthy
: Air -
Talkie Walkie
; Askeleton -
Angry Albums or Psychic Songs
; Blonde Redhead -
Misery is a Butterfly
; Frog Eyes -
The Folded Palm
; Ghost -
Hypnotic Underworld
; John Vanderslice -
Cellar Door
; Mission of Burma -
OnOffOn
; Modest Mouse -
Good News For People Who Love Bad News
; RJD2 -
Since We Last Spoke
; Sonic Youth -
Sonic Nurse
; Telefon Tel Aviv -
Map of What is Effortless
; The Black Keys -
Rubber Factory
; The Like Young -
So Serious
; The New Year -
The End Is Near
; TV on the Radio -
Desperate Youth, Blood Thirsty Babes
; Vast Aire -
Look Ma, No Hands
; Viktor Vaughn -
Venomous Villain
---
Jonah Flicker
01 Smoke and Smoke -
Love Suffers Long
Smoke and Smoke don't give a fuck. That's why this record deserves best of 2004 status. Balls out rock, no irony (right? right!!?) and Spencer Moody in finer form than he ever was with MCD.
02 Madvillan -
Madvillainy
Doom and Madlib made an incredible record. Otis Jackson's beats and Daniel Dumile's battered voice complement each other just perfectly. Far surpassing the Jaylib collaboration,
Madvillany
should be inserted into your brain and put on eternal repeat.
03 Arcade Fire -
Funeral
One of the most original albums to come out this year, the critics are salivating (including this one) and rightly so.
04 Ghostface -
Pretty Toney
Ghost came back with his best record since
Ironman
. Possibly the only member of Wu-Tang to never make a bad song.
05 Wrangler Brutes -
Zulu
Blistering punk rock from Sam McPheeters who blazed the way with hardcore grandaddies Born Against and experimental wingnuts Men's Recovery Project. Wrangler Brutes are political and chock full of rock all at once.
06 Bjork -
Medulla
Her most experimental, this record takes a couple of listens to get into, but it's amazing. Who else could deliver this to Elektra and not have to worry about getting dropped...?
07 MF Doom -
Mm..Food?
Doom is the best MC on the planet. While
Mm..Food?
may be his weakest album to date, it's still better than every other album ever made. The Count Bass D and Mr. Fantastik collaborations alone make it well worth your while.
08 !!! -
Louden Up Now
Dancepunk that's way more dance than punk, everything good about !!! came to fruition here. Snotty, irreverent and completely made to affect your ass.
09 Modest Mouse -
Good News for People Who Love Bad News
Yeah, Clear Channel and your 13 year old niece love them now, but they're still the best band you ever heard.
10 Howard Hello -
Don't Drink His Blood
A sleeper, maybe? Underappreciated, perhaps? Howard Hello's pure gem of synth-pop experiments are way better than the new Blink-182.
---
Randy Gaudreau
01 Modest Mouse -
Good News For People Who Love Bad News
Man, what a tough time picking one to sit on top. But if for any reason whatsoever that I hoist
Good News For People Who Love Bad News
up above the rest - it's because this is my favorite album of the year and it's not so much that my favorite song of the year happens to be on here. From song to song, start to finish, I was completely intrigued and amazed at the solid, straightened out and more digestible Mouse. Usually viewed with negative eyes, the polished production on this disc was definitely well received by my ears - so much so, that I skipped buying the cd and went straight to vinyl. For me, that says enough.
02 The Walkmen -
Bows + Arrows
It's safe to say was kinda caught off guard with what was on this disc after track number two, The Rat threw me out the door to go and pick up the album. But after noticing it wasn't all herky-jerky uh-oh uh-oh dansey shit, I was elated rather than disappointed. Several of the tracks on this album fall under more of a folk category as vocalist Hamilton Leithauser is just as effective leading tracks that are stripped straight down to keyboards and melodies as he is belting out rocked-out numbers. And I might as well take care of some of the things that are commonly brought up at mention of the Walkmen while I'm at it. Yes, he does at times sound like Bob Dylan - and no, I never saw them on
the OC
. I threw out my TV three years ago.
03 !!! -
Louden Up Now
I'm not sure what justification I really could have for posting
Louden Up Now
as my number three disc of the year. It could be that "Hello? Is This Thing On?" might just be my favorite track of the year. It's also possible that I saw their show, and saw more dancing there than I've ever seen at a live show in Vancouver. It could also be that maybe, just maybe, once in a while, I don't have to take music so seriously, and I can respect a group that manages to hold an edge while they make a reluctant world shake their ass - regardless of the fact that some of the rhythms and guitar lines on this album are simplistic genius and their structured builds reach a perfectly timed climax. Can't I just simply say I like this album because it's fun? There. I feel better.
04 Of Montreal -
Satanic Panic in the Attic
Simply one of the strangest albums I have ever encountered -
Satanic Panic in the Attic
still makes me laugh when I see it on my CD rack. Why? I feel like I've been tricked. I never imagined I would ever listen to something that at first spin sounds so damned bubble-gummy. But upon further inspection, this 14 track album composed almost entirely of toe-tapping pop ditties is definitely one of the most engaging discs certainly of this year at least. Yet people still tilt their head and give me a strange glance when I decide to throw it on.
05 The Arcade Fire -
Funeral
Whoa. The only reason
Funeral
is down at number five is that I ran into this one late in the year and I'm reluctant to put it higher up on the list out of pure shock. I actually went out and picked up the disc to see if they could match the emotions and energy they poured into their live set. Even though during performances there are commonly up to around seven members enjoying some sort of musical freedom and running around stage rocking bike helmets swapping instruments and grabbing anything around that makes a sound, it is possible to get the same vibe from listening to the disc as you receive from seeing them live. Basically, their music sounds like a celebration of life that draws from musical influences such as Bowie or Modest Mouse or the Sugarcubes, or um... Talking Heads? Never mind. They're all over the musical map and it sounds damn good to me.
06 All State Champion -
Is It Nothing To You?
I've been following these guys for a while now, and in my eyes not many bands hold as much power as these guys pack. Although many seem to prefer the band's self-titled EP released in 2000, I find this album to a much better suit for them to wear. While the EP had some great anthems and might have been easier for people to digest,
Is It Nothing To You?
is based more on the tightly wound intricate rhythms that make me believe this is definitely smarter music that is always surprising and completely honest and powerful.
07 Sparta -
Porcelain
I won't mention At The Drive-In, I won't mention The Mars Volta. Whoops. But now that all that is off my chest, I must say that I absolutely loved 2002's
Wiretap Scars
from Sparta. It was the perfect example of thoughtful melodic and moody rock I was looking for at the time, and it remains a staple album in my collection. So there was little hope that there would be a decent follow up from a band that could very well suffer strong identity issues considering the constant comparisons to their fellow ATDI offspring and the parent band itself. But with
Porcelain
, Sparta has instilled me with the faith that are a fantastic straight forward rock band capable of longevity through their ability to write great song after great song.
08 Blonde Redhead -
Misery is a Butterfly
It's been said quite a bit that this album shows maturity and some healthy progression for Blonde Redhead, and it's an accurate statement to make. The title says a lot for what lies within - a collection of beautifully sad songs. And for those of us who like that sort of thing, this album certainly delivers. It's good news that Blonde Redhead continues to find inspiration and drive to keep it coming.
09 Tom Waits -
Real Gone
I still find it amazing. Tom Waits through all of his swagger, groaning, moaning and grunting manages to attract some of the world's finest musicians to record some of the most raw and abrasively beautiful records in existence.
Real Gone
is another wonderful glimpse of the messy garage that is the musical mind of Tom Waits.
10 Interpol -
Antics
Aside from all the standout tracks like "Slow Hands", "Take You on A Cruise" and "Evil", after listen upon listen there is way more to the other songs than I had first imagined. Even though it's a short ride, there's enough depth lurking in this one to keep me interested until their next.
---
Helder Gomes
01 Sixtoo -
Chewing on Glass & Other Miracle Cures
Packed with dusty beats and mighty breaks with a trailer-like dribble, Sixtoo's first release for Ninja Tune is what one would crave for a New Year's Eve after party. A dialog between nervous bass lines and a strong drum kit delivers a gripping record, made by a Canadian kid prone to challenge every hip hop law there is. Features Can vocalist Damo Suzuki and Godspeed You! Black Emperor members.
02 Will Oldham -
Seafarers Music
Oldham is a master of disguise: his records are somber walks in the dark, but always with a flashing light of hope serving as a lighthouse in the cluttered melancholy. This record is a four-piece, acoustic soundtrack to a documentary shot in Rotterdam. Each instrumental track is the background noise featured to address each of the four characters in the movie. A must especially if you own the vinyl version of the record.
03 Animal Collective -
Sung Tongs
If you never got the Brooklyn-based noise fuss of recent years, propelled by acts like Animal Collective and Black Dice,
Sung Tongs
may be the album for you. Cyclical if not nauseously repetitive, wobbly if not over caffeinated, this is a main stance to understand the noise scene, and prove that this whole thing is not simply artistic regurgitation to impress your geek friends. An obvious departure from last year's Here Comes the Indian - thankfully, many would argue.
04 Ghost -
Hypnotic Underworld
Augmented by exotic instruments like flute, marimba, tabla, Mellotron and sitar, the third release by Masaki Batoh's project is of an impressive taste. Mystic sounds coming from a Celtic harp fused with bilingual words build up a sonic document of sorts, which serves as a cultural bridge filling in the gap between English-speaking communities and Japan - that shining pearl lost in the Pacific. An instrumental Oriental tale penetrated by mesmerizing vocals and hesitant electronics.
05 Arto Lindsay -
Salt
Another cultural embrace occurs on Arto Lindsay's latest release, a very sexual work that arouses the flesh while entertaining the brain. The Brazilian, guitar-less style comes hand in hand with little washes of pop-oriented moves. Sexually charged poetry obliterates the beat-driven sound path, and invites the listener for a few smooth dance steps in a Portuguese-English tuneful dissertation.
06 Fursaxa -
Madrigals in Duos
Part of the new-folk movement, Tara Burke is a queen of her own kingdom, creating dissonant sounds, as well as childish lyrics. For those fed up with the free-folk newborns, Fursaxa's latest release is an exciting detour, one of psychedelic journeys and fairy tales-generated daydreaming.
07 cLOUDDEAD -
Ten
Masters of tape hiss and underrated sampled gloss, cLOUDDEAD are prolific without being obnoxious. Doseone and Why? are stream-of-consciousness/hip hop priests but they never sound encyclopaedic. They rhyme and rhyme well and go deeper with the Anticon legacy. Gems of spoken-word imagery mingled with cryptic social uprising with no big outcome.
08 Thavius Beck -
Decomposition
This is ambient hip hop for the lounge-engaged music fan. Lots of dirt and unpredictable guests to go with masturbatory tendencies. I Am That I Am, Subtitle, Longevity, and Cedric Bixler (of The Mars Volta fame) appear in one track each.
Decomposition
is like a pubescent wet dream with an industrial flavor, highly recommended if you like sonic debris and lyrical void in no particular order.
09 Alice Coltrane -
Translinear Light
This is what happens after a 26-year of pure silence. A jazzy incursion into the mind of the Coltrane clan that is ridiculously transcendent as well as overall inspiring. Adorned by beautiful strings and heavenly vocals,
Translinear Light
is a ground-breaking statement that will surprise both fans and new additions. Where Coltrane's Detroit roots meet up with a blues-infused jazz work. I could not stress more - this is compulsory listening experience.
10 X Plastaz -
Maasai Hip Hop
These guys are often regarded as the first hip hop crew to reflect on the Maasai culture and take it to their performance. The Maasai are a nomadic people known through the times for their cattle-herding duties. Some years ago, X Plastaz were invited into a Maasai settlement and became aware of the resemblances between rap and traditional Tanzanian music.
Maasai Hip Hop
is the result of the two becoming one.
---
Eric J Herboth
01 Fiery Furnaces -
Blueberry Boat
Just listen to it, try and wrap your head around it. It is inconceivable that an album this out there, this twisted, could be so accessible and - dare I say it? - popular.
Blueberry Boat
didn't break any molds, it was hand carved.
02 Of Montreal -
Satanic Panic in the Attic
Not by any means my favorite band or my favorite style of album, but the ambitiousness and competence of this album, propped up by the catchiness of it, really deserves a nod.
03 Modest Mouse -
Good News For People Who Love Bad News
I had this album pounded into my head and it stuck tight. As with such highly anticipated albums from such venerable outfits, it was a bit of a letdown but still a remarkable work of artistic personality.
04 John Vanderslice -
Cellar Door
This album was, more than any other, the soundtrack to my year. As I feared it might, Vanderslice's peppy geek-glitch indie pop platter nearly ingrained itself to the point of being timeless and, thus, forgotten by years end. Luckily I remembered it.
05 Iron & Wine -
Our Endless, Numbered Days
I drove about a thousand miles across America after purchasing another Scout this summer, and from the front range of the Rockies to the rolling great plains of Iowa, this disc fit every single landscape perfectly.
06 Franz Ferdinand -
Franz Ferdinand
Damn it all to hell, I actually listened to this disc a fair amount. Quite possibly my all time favorite record that I love to hate.
07 The Decemberists -
The Tain
If this were an album, it would be at the top of the list, but the translationary genius of Colin Meloy and his merry indie-folk vagabonds has succumbed slightly to brevity.
08 Q and Not U -
Power
Not quite the tour de force of the band's previous two albums, but a solid mix of both that is still leagues above most of the bedhead black pant crowd. Kudos to the principled power trio.
09 Brian Wilson -
Smile
Perhaps one of the biggest letdowns of my life, this still excellent album buckled slightly to the weight of its own legend before anyone could even hear it. I'd much prefer to hear what was actually in Wilson's head so long ago, rather than this later in life interpretation of it, but Smile is still a very enjoyable listen that deserves its due.
10 Unbunny -
Snow Tires
I've sort of lost touch with my inner Neil Young, but that's quite alright because Jared Del Deo is close at hand. Although his songs are rooted more in the back alleys of small towns than the desolation of open spaces, it would be hard to find another songwriter more in tune with the blue collar life of Americana.
11 Madvillain -
Madvillainy
Just darn good, and interesting.
12 Placebo -
Once More With Feeling
It is very nice to be surprised once and a while, and this best of compilation really warmed me up this winter.
13 Nitrada -
We Don't Know Why But We Do It
This album really gripped me initially, but its beauty has lost some lustre with distance. Still a moving listen, though.
14 Sonic Youth -
Sonic Nurse
Sonic Youth's level of respect is nearing the stage of Can Do No Wrong.
15 Deerhoof -
Milkman
Still strange, still interesting, still enjoyable. Deerhoof make me happy.
---
Abi Huynh
01 The Arcade Fire -
Funeral
When I popped this in for the first time I just was awestruck and as a testment to it's cohesiveness and challenging nature it hasn't yet left my rotation. The vocals, compositions, dynamics and lyrical content are all top notch and
Funeral
has appealed to a wide range of music lovers. Loads and loads of praise have been lavished upon this album and suffice to say that it deserves every bit of it.
02 Fiery Furnaces -
Blueberry Boat
Jumping on the Fiery Furnaces bandwagon? Perhaps, but jumping on bandwagons hasn't sounded so good since the Prague Leapings of 1956. With an experimental atmosphere and poptasm turned way way up the Fiery Furnaces blew the socks off of some music lovers...and incited hatred in others. Some can't bear it, others love it to bits (I'm aligning myself with the latter group) and tracks such as "Inspector Blancheflower" just make me gush and turn all pudding-like inside. Whether you call it "rock opera", "indie-pretentiouness", "horrible" or "indie rock pop epic razzle dazzle" I really don't care - I just love this album and I can't really pinpoint why (there's just so much!).
03 A.C. Newman -
The Slow Wonder
With the New Pornographers being one of my favourite bands I was quite excited for Carl Newman's own effort. Suffice to say,
The Slow Wonder
really exceeded all my expectations for what a pop rock oriented album should be. A large chunk of my year was spent listening to this release - and it was spurred onwards by having the chance to catch the last leg of their tour this year (which was dang good by the way). From the catchy catchiness of "Miracle Drug" to the instant gratification of "On The Table" Carl Newman comes through with something just shining with the sort of really bright glitter that makes you stand back in wonder and awe…or something.
04 Mirah -
C'mon Miracle
I tend to walk around town sporting my headphones and listening to music and this year some of my favourite songs to enjoy in this manner have been off of this album. "Jerusalum", "We're Both So Sorry", and "The Struggle" are just wonderfully beautiful and spin a wide tapestry of narrative goodness. Mirah presents soft and tender pop music and delivers the goods with loveliness and compassion that is hard to match.
05 The Go! Team -
Thunder, Lightning, Strike
My goodness how does one go about ranting and raving about this albums without using the words "smashing", "fun-filled" and "exuberant"? Well I guess you could describe the great complement of tracks throughout the album with a shift in delivery and tone that keeps the listener interested. Or even the sheer rambunctious nature of the whole ordeal that makes for a perfect fun album.
Thunder, Lighting, Strike
is not to be missed!
06 Architecture in Helsinki -
Fingers Crossed
Melody? Beautiful arrangement? Counterpoint? Unique timbre? Architecture in Helsinki! They may embody all of the above and although they are not genre defining or totally revolutionary
Fingers Crossed
sees a solid offering and a great addition to any collection. Gorgeous and serene - at points wonderfully poignant - one of this years best indie pop albums without a doubt.
07 Feist -
Let It Die
I heard "Mushaboom" just a bit before summer hit and damn I haven't gotten sick of it yet, I instantly fell in love with this disc from Leslie Fiest (as most astute rockers know - a member of Broken Social Scene) which offers her inimitable vocals and starkly absorbing musical arrangement. This has been a great year for female fronted groups and solo artists but Feist is certainly one of the cream of the crop.
08 Franz Ferdinand -
Franz Ferdinand
Another Generic choice on Abi's list? Maybe, but songs like "Dark of the Matinee" are still truly rocking yours truly. This definitely has proved to be quite the robust album despite not listening to it for a while near the tail end of the year (mostly attributed to the slew of other great releases) the tracks haven't yet gotten stale. My goodness this contribution from the Archduke surely is not the Second Coming - but you know we can't all write like Yeats.
09 Xiu Xiu -
Fabulous Muscles
It would be such a shame to use just words to describe this album so my recommendation would be to toss this into your portable music contraption and then go and enjoy the sights of your life - be it walking around town or just your home, go anywhere you please and marvel at how such discord could create such a stunningly lovely cacophony.
10 Interpol -
Antics
Who hasn't heard of Interpol? Ever since "Obstacle 1" was released they've been round the music circles twice over - and just when people began to stop listening to Turn on the Bright Lights *BAM!* they hit us with this darling (which, ladies and gentlemen, is not a sophomore slump). Songs like "Slow Hands", "Public Pervert" and "Evil" should turn any doubters into (at least) mild Interpol fans. A standout album in a year chock full of great great music.
---
Bob Ladewig
01 TV On the Radio -
Desperate Youth, Blood Thirsty Babes
This gets my number one spot because of its creativity. Though they sound simple, I can tell a lot of work went into creating these songs. And the mood of this album is very dreary… guess I've been in a bit of a dreary mood this year.
02 Arcade Fire -
Funeral
A stunning full length debut makes this band the talk of the town. If you've seen their live show, you know why they're on everyone's lips (and lists). This is as close to a perfect album as I've heard in a long time.
03 Q and Not U -
Power
This record marks a different step for Q and Not U, and this new path is lined with crazy, danceable fun. Politics don't really hit you in the face when you listen to
Power
, which is the reason I think I like it so much. It's fine to have a message, but it's also fine to enjoy yourself.
04 Les Savy Fav -
Inches
Frenchkiss Records is a powerhouse, and Les Savy Fav is their house band. A collection of songs made over the past 7 years,
Inches
is a perfect Les Savy Fav album. You can track their progress and get a feel for how truly wild their live show is. The album also includes a dramatic reading of a song… brilliant!
05 Blonde Redhead -
Misery is a Butterfly
A dear friend of mine kept pestering me to give this album more of a chance. I haven't been a strong fan of any single Blonde Redhead album. Generally, I feel their albums have three or four great songs, but the albums as a whole are sort of lackluster. After listening to the pestering and giving the album another chance, I've realized the band finally comes together on this album. This collection of songs all work together. How pretty…
06 Franz Ferdinand -
Franz Ferdinand
An art-rock party for the art fag in all of us. These disco grooves will get your rump shaking!
07 Modest Mouse -
Good News for People Who Love Bad News
I have been a fan of this band for more than six years, and will always stand by the statement that they are one of the most creative bands on the scene. Certainly, they have a specific, unique style, but they know how to use their strengths. It's nice to see them put a more positive spin on this album.
08 Iron & Wine -
Our Endless, Numbered Days
Simply put, this is the most beautiful album of 2004. Sam Beam has a way of writing songs with such emotion and delivering them perfectly. If you're not prepared, this album could make you cry.
09 Detachment Kit -
Of This Blood
I didn't pay much attention to this album the first time I got it. I think I was while I was stuck in Decemberists Land, listening to nothing else. Recently I've had the chance to see these boys and thoroughly enjoyed their live show, so I decided to give the album another chance. Wow. Color me stupid, I don't know why I didn't delve closer at first listen. This album ranges from quiet twinkles to full out rawk! The range is amazing, as is this band.
10 Call Me Lightning -
The Trouble We're In
Perhaps I was just in the right mood, but when I first listened to this album it struck me as something wonderful. A crazy party in a little package. This three-piece from Milwaukee makes spastic garage/party rock and obviously enjoys doing it. If they keep their train on these tracks, these boys will be an inspiration to everyone who wants to enjoy the work they do.
---
Peter Lindblad
01 Blonde Redhead -
Misery Is a Butterfly
Wheeling around the fountain to classically arranged strings and whirling clavinet,
Misery Is a Butterfly
is enveloped by mist and imbued with a sense of doomed romance and tragedy. Yet it's also a record of extraordinary beauty that will only get better with age. Every time I hear it, it makes me think of Nathaniel Hawthorne's bittersweet love story "Rappaccini's Daughter", a tale about a scientist's daughter whose lips are supposedly poisonous and the young man who loves her but can't bring himself to face that potentially fatal kiss. Don't make the same mistake he did. Succumb to
Misery Is a Butterfly's
charms, no matter what the consequences.
02 Xiu Xiu -
Fabulous Muscles
No longer hiding behind the scree of noise that made earlier works abrasive and impenetrable, Jamie Stewart steps out on his own and speaks to you softly about family dysfunction, war atrocities and dangerous liasons. The tension in his voice is almost unbearable.
03 Raising The Fawn -
The North Sea
There's something about records with a nautical theme that gets me every time. Raising The Fawn's
The North Sea
captures that feeling of being stranded alone on the water. A shut-in who never steps foot outside probably knows all too well what that's like. The atmosphere of
The North Sea
is cold and gray. The siren-song vocals lead your vessel into the rocks, but the guitars shine a beam of light through the fog and release you from their hold.
The North Sea
gently rocks you to sleep with lapping sonic water. Let it suck you under.
04 Doug Gillard -
Salamander
Lustrous, fine-spun 70s AM radio gold and crunchy, hook-filled guitar rock that aims for the heart; that's what
Salamander
is made of. Doug Gillard's vocal delivery lends so much humility and generosity of spirit to personal lyrics that deal with family, death and reconciliation that it makes you want to pick up the phone and call your parents. There is life after Guided By Voices for Doug Gillard.
05 Bjork -
Medulla
How Bjork kept this project from being one of the biggest disasters in pop music history is the real story here. Quirky pop singer teams up with choirs and human beatbox blasters to make a mostly a cappella album... that couldn't possibly work, could it? Well it does. Bjork's imagination runs wild on
Medulla
and she seems invigorated by the challenge of working with seemingly disparate voices. Medieval and futuristic, post-apocalyptic worlds collide in vocal collages that soar to the tops of monolithic skyscrapers, swoop down on unsuspecting villagers and then fall to the flaming pit of Hell.
06 TV On The Radio -
Desperate Youth, Blood Thirsty Babes
What a year for records that rely on the power of that most fragile of instruments, the human voice. Dark and bruised, yet full of hope and soul, TV On The Radio's inspired, indie doo-wop is salvation for the transgressions of boy bands who, it was thought, had killed the vocal genre. This is music with a lot of body and the lyrics reveal a full understanding of what it means to be human.
07 Dreamend -
As If by Ghosts...
Do you believe in ghosts? I do now. Dreamend's haunting post-rock sound goes from Low-style slow-core to sonic tornadoes inspired by Mogwai or God Speed You Black Emporer in a matter of seconds. As chilling as winter or a visitor from a dimension only known to those who have passed on,
As If by Ghosts
leaves you sleeping with one eye open.
08 Beta Band -
Heroes To Zeros
Wouldn't you know it? The Beta Band returns with a sunny pastiche of electronica, folk and joyous sixties pop that's elegant and fun and touching all at the same time, and then breaks up. Damn it. Whose bright idea was that?
09 !!! -
Louden Up Now
Dance-punk drill sergeants !!! order you to get down or give up the funk.
Louden Up Now
drops a New Wave bomb on you, with its echoing guitars and elastic, funk-powered bass.
10 Decahedron -
Disconnection_Imminent
Spitfire guitars, sinewy bass and precise drumming all come together to create an angry, agitated punk sound that's streamlined and modern. Decahedron eschews the sloppy play that made early punk inarticulate. Its rage is well-defined and focused like a laser. Revolution is in the air and Clear Channel's days are numbered, or at least Decahedron will make you believe it can happen.
---
CONTINUE TO
STAFF LISTS N-Z
--
The LAS Staff
A number of the Lost At Sea staff have worked and continue to work for various publications, both independent and commercial. Often very stifling in their narrow focus, conventional media outlets left our writers hungry for something bigger, more diverse, more communal. More active, because this is the twenty-first century and it makes sense. During it's short life LAS has accomplished many of its goals (but not all) and has in turn set new ones. Everything that we accomplish is through teamwork and cooperation, both with our regular staff writers and with our contributing writers. LAS is nothing short of a collective. Another contrasting point to some of the magazines out there is that we've checked our egos and scene ethics at the door. We welcome anyone and everyone to contribute and cover a wide range of topics. LAS does not follow your guide lines.

See other articles by The LAS Staff.
If you'd like to help spread the word about LAS, or simply want to outfit yourself with some adhesive coolness, our 4" circle LAS stickers are sure to hit the spot, and here is how to get them:
-->
Send an with $2 in PayPal funds to cover postage. Don't worry, we'll load you up with enough to cover your town. Then just be patient. They will arrive soon.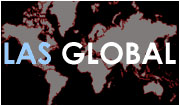 LAS has staff and freelance writers spread across North and South America, Europe, and a few in Southeast Asia as well. As such, we have no central mailing adress for unsolicited promotional material. If you are interested in having your project considered for coverage, please contact us before sending any promotional materials - save yourself time and postage!