LITERATURE
»
Full Dark, No Stars
- Stephen King's new novella questions mankind's ability to trust others.
[02.21.2011 by Bridget Doyle]
MUSIC
»
The Top 30 Albums of 2010
- Fashionably, fabulously late, our favorite music (and believe me, there was a LOT) of 2010, the year that some have called the best year for music ever. And only some of those fools work here. Plenty of usual suspects, lots of ties and a few surprises that I won't spoil, including our unexpected #1.
[12.24.2010 by The LAS Staff]
LOSTATSEA.NET
>
FEATURES
>
January 2, 2006
Kevin Alfoldy
|
Andy Brown
|
Phillip Buchan
|
Natalie David
|
Dan Filowitz
|
Jonah Flicker
|
Randy Gaudreau
|
Helder Gomes
|
Eric J Herboth
|
Bob Ladewig
|
Peter Lindblad
|
Sarah Peters
|
Mark Taylor
|
Dan Williams
|
Mike Wright
|
Josh Zanger
Kevin Alfoldy
--
01 Sufjan Stevens -
Illinois
(Asthmatic Kitty)
The only problem with this album is finding the time to listen to it in its entirety; like curling up with a good book, this was the best novel my ears read all year.
02 Wolf Parade -
Apologies to the Queen Mary
(Sub Pop)
"I would say it's in God's hands, but God doesn't always have the best God-damned plans."
03 Animal Collective -
Feels
(Fat Cat)
Kinetic and crazy splits time with the subdued and the enchanting. This featured two of the most beautiful songs this year.
04 The Mountain Goats -
Sunset Tree
(4AD/Beggars Banquet)
John Darnielle can do no wrong.
05 Broken Social Scene -
Broken Social Scene
(Arts & Crafts)
My dad's favorite album of the year. Based on his usual reaction to the music I listen to, I don't know if this should make it an automatic number one or drop it from the list entirely.
06 Darkest Hour -
Undoing Ruin
(Victory)
My favorite album this year to listen to on the way home from work, pissed-off that I wasted another day of my life trapped in an office.
07 Great Lake Swimmers -
Bodies & Minds
(Misra)
Canada's got this list on lockdown - not as wild as other Canadian bands, but no less enjoyable.
08 Spoon -
Gimme Fiction
(Merge Records)
Rock n' Roll.
09 Clap Your Hands Say Yeah! -
Clap Your Hands Say Yeah!
(self-released)
If I was ever going to dance this year, it would have been to this album.
10 Screeching Weasel -
Weasel Mania
(Fat Wreck Chords)
Even though it's a greatest hits album, old Screeching Weasel is still better than most of what was released this year.
Andy Brown
--
01 Sufjan Stevens -
Illinois
(Asthmatic Kitty)
This is more than I could ever want from an album.
02 Andrew Bird -
The Mysterious Production of Eggs
(Righteous Babe)
In a year that will be remembered for its over-the-top albums, this one is a quiet little secret. Bird's songs about snacks and zeros and ones are full of splendor, and
The Mysterious Production of Eggs
finds him at his most imaginative. Bird gets the award for greatest departure this year, and nothing stands in his way. Except Sufjan.
03 Wolf Parade -
Apologies to the Queen Mary
(Sub Pop)
I was skeptical about this band before I ever heard them; there was just so much hype surrounding this release. To my surprise,
Apologies to the Queen Mary
met and exceeded all the build-up that preceded it. Every song on this record is driven by a weird energy that can't be explained or duplicated.
04 The New Pornographers -
Twin Cinema
(Matador)
The title refers to some kind of duplicity, but
Twin Cinema
is the NP's finest album because they have never sounded more together. A.C. Newman's perfect pop sensibility, Neko Case's glassy voice and Dan Bejar's goofiness all mix and mingle atop layers of loveable orchestrations. Just when you think they are winding down, The New Pornographers take it up a notch until each song collapses out ,of breath. I still get goose bumps every time I hear "The Bleeding Heart Show."
05 Clap Your Hands Say Yeah! -
Clap Your Hands Say Yeah!
(self-released)
I guess this is one of those albums that you either love or hate because of the vocals. I happen to love it.
06 The Hold Steady -
Separation Sunday
(Frenchkiss)
Craig Finn thinks of things no one has ever thought of before, like writing an album-length story about a Catholic girl gone wild, only to be born again out of her pretty little messed up teenage life. More than the humor or the Twin Cities shout outs,
Separation Sunday
is a bunch of songs about wild parties that make you want to party wildly.
07 Broken Social Scene -
Broken Social Scene
(Arts & Crafts)
I imagine this album as 2 or 3 full albums laid on top of one another, like a musical palimpsest (but NOT a mash-up). An ecstasy of notes.
08 The Decemberists -
Picaresque
(Kill Rock Stars)
Who knew songs about rugby could be so popular? The secret lies in the well-crafted characters as much as it does in the band's catchiness. I'm not worried they'll sacrifice anything now that they're on a major label, as long as Meloy keeps writing day-dreamy ditties about pirates, suicides and urchins.
09 Animal Collective -
Feels
(Fat Cat)
I have been listening to this a lot lately, trying to make up for the little time I spent with it this year. Had this been released earlier in the year I'm sure it would be higher on my list.
10 Deerhoof -
The Runners Four
(Kill Rock Stars)
Deerhoof can't be stopped or pinned down because of their undying commitment to change, and yet, they've never struck me as a band that is different just to be different. I think
The Runners Four
is the record Deerhoof will remember as their favorite, and for good reason.
Phillip Buchan
--
01 Six Organs of Admittance -
School of the Flower
(Drag City)
It's been a long, long time since I've heard a band cover this much ground with just guitar and drums.
02 Keith Fullerton Whitman -
Multiples
(Kranky)
His most expansive, ambitious work to date, and each adventure pays off.
03 Xiu Xiu -
La Foręt
(5RC)
Fourth LP, fourth mind-blower.
04 Lau Nau -
Kuutarha
(Locust)
The most intoxicating set of drones this year.
05 Bonnie "Prince" Billy and Matt Sweeney -
Superwolf
(Drag City)
I'm not feelin' it quite like I did mid-year, but this is still inarguably one of both artists' best recordings.
Natalie David
--
01 Eels -
Blinking Lights And Other Revelations
(Vagrant)
Haunting, beautiful, elegant… What can't be said about
Blinking Lights
that hasn't already been said?
02 Against Me! -
Searching For A Former Clarity
(Fat Wreck Chords)
The acousti-punks have learned how to play with a bit more melody without relinquishing their throat-hold on heart.
03 Alkaline Trio -
Crimson
(Vagrant)
From the opening piano of "Time to Waste" to the subtle acoustic closer, "Smoke", Alkaline Trio have crafted a dynamic, raucous and punktastic endeavor ; one of the best albums of their career.
04 Jim Yoshii Pile-Up -
Picks Us Apart
(Absolutely Kosher)
The best not-quite-downer of the year,
Picks Us Apart
showcases stunning indie-pop that's as real as it in intense.
05 Broken Social Scene -
Broken Social Scene
(Arts & Crafts)
The unexpected party record of the year. Live it. Love it. Hold it close. It likes that.
06 Bright Eyes -
I'm Wide Awake It's Morning
(Saddle Creek)
Conor Oberst is the indie king of 2005. Although it's not one of the best Bright Eyes releases,
I'm Wide Awake
is the better of the two released this year.
07 Coheed & Cambria -
Good Apollo I'm Burning Star IV
(Equal Vision/Columbia)
What D&D is to Monopoly, Coheed is to modern rock. The unlikely mainstream radio band pulls from hardcore, emo and - most noticeably on
Good Apollo
, prog rock - to help illustrate singer Claudio Sanchez's comic book vision.
08 Constantines -
Tournament of Hearts
(Sub Pop)
My favorite winter album of the year,
Tournament of Hearts
, much like the weather of the season, is consistently different and upliftingly depressing.
09 Gorillaz -
Demon Days
(Virgin)
The sophomore set from music land's best animated band effortlessly combines Brit-pop, hip-hop beats and dark imagery for a surprisingly solid listen.
10 Cartel -
Chroma
(The Militia Group)
An unlikely candidate for any top-10 list, despite the pure power pop,
Chroma
is just an undeniable, youthful bounce through the city streets.
11 Feist -
Let It Die
(Arts & Crafts)
Leslie Feist amazes me. While
Let it Die
tones down her spirited live show, her versions of "When I was a Young Girl" and the original "Mushaboom" only begin to show off her one-of-a-kind voice.
12 Copeland -
In Motion
(The Militia Group)
A mild disappointment, the sophomore effort from Copeland finds the band attempting to distance the emo tag in favor of a more palatable pop sensation.
13 Fiona Apple -
Extraordinary Machine
(Sony)
Apple is one of the strongest women in rock, even if the best version of this record still remains unreleased.
Dan Filowitz
--
01 Antony and the Johnsons -
I Am A Bird Now
(Secretly Canadian)
The first second of "Hope There's Someone", the first song on this brilliant, haunting and uncomfortable yet compelling record should smack anyone who says "nothing interesting is going on in music these days" right in the ear hole. Antony's voice - that deep, trembling, aching voice - can crawl around inside my head for days, months, or maybe forever?
02 Sigur Rós -
Takk...
(Geffen)
They say Shaq could be NBA MVP every year, since he's the same dominant force every year, yet he's only won the award once. No one complains about what he's delivering time after time, it's just that they've come to expect him to be awesome all the time, so it's hard to be impressed again and again. Same deal for a Sigur Rós record - they keep delivering the same kind of music we've come to love from them, album after album. We should appreciate consistent excellence just as much as that flash of brilliance seemingly out of nowhere. It might just be even more notable.
03 LCD Soundsystem -
LCD Soundsystem
(DFA)
This was my #1 record at the halfway point of 2005. It hasn't gotten any worse since the summer. In fact, "Daft Punk Is Playing At My House" held up quite well over the course of the year, which says a lot about just how well-crafted these songs really are.
04 Wolf Parade -
Apologies to the Queen Mary
(Sub Pop)
2005 could be called the Year of the Compelling Vocalists, which while maybe not the catchiest of monikers, is nonetheless apt in a year where so many records were carried on the strength of the singer - Antony, Clap Your Hands Say Yeah, and this Montreal group. Spencer King and Dan Boeckner sing in that halting, yelping, brooding manner that can be so complex and yet so unexpectedly catchy that the songs stay with you for days. It doesn't hurt, of course, that they match so well to the driving guitars, propelling keyboards and deceptively simple drums.
05 Danger Doom -
The Mouse and the Mask
(Epitaph)
MF Doom + Danger Mouse +
Adult Swim
could have = lazy self indulgence or = throw-away novelty, but instead = rewarding collaboration between pop culture innovators. The beats were bouncy and fun, the rhymes fittingly absurd (especially on "Vats of Urine", easily the most bizarre topic for a hip-hop song ever) and the skits were funny and appropriately short. Sometimes the math just works out right.
06 Caribou -
The Milk of Human Kindness
(Domino)
If the best music is meant to excite us, then it should follow that the best records of the year should be filled with exciting moments. I'm hard-pressed to find a record with more of these moments than this one.
07 Quasimoto -
The Further Adventures of Lord Quas
(Stone's Throw)
For people who love hip-hop as much as they love jazz. For people who don't like to be able to figure out what might be coming next. For people who want to hear something that's just not like anything else, even a little bit.
08 Broken Social Scene -
Broken Social Scene
(Arts & Crafts)
This is the musical equivalent of listening to that super-genius friend of yours whose mouth can't move as fast as the ideas come into their brain. Everything comes at you fast, and it can change direction, sometimes several times in the same sentence - and yet, you're able to follow along and understand, because in the end it all makes perfect sense, even if you have to go home and think about it later.
09 Shipping News -
Flies the Fields
(Quarterstick)
After traveling in a foreign country and eating unusual foods for long periods of time, most people want to come back and get something comfortable and familiar. This Slint-influenced Louisville band's latest is like that first big, juicy hamburger and fries washed down with a chocolate milkshake. So familiar, and oh so satisfying.
10 M83 -
Before the Dawn Heals Us
(Mute)
Since I have nothing else to add, I may as well just quote myself from my mid-year best-of list: "If you're going to make an album dripping with emotion, this is how I'd like it to sound. There's no whining, no screaming, no tantrums. Instead, it is shimmering, sweeping, able to take the breath from your chest. It's so much more satisfying that way."
Jonah Flicker
--
01 Bonnie Prince Billy and Matt Sweeney -
Superwolf
(Drag City)
Wondering why you saw a resurgence of beards and trucker hats in the '05? This incredible album could be your answer. Blending the best elements of Will Oldham's cracked folk heartbreak with Sweeney's concisely sloppy guitar rock, every song on this effort begs emotion - whether it's a jubilant smile or a rending spiral downward. Looks like someone's found his soul mate...
02 Blood on the Wall -
Awesomer
(The Social Registry)
Remember why you first got into indie rock? You heard some songs and thought, "Hell, I could do that..." But you couldn't and you can't. NYC's Blood on the Wall make music that you think about but can't articulate - it's simple, it rocks, it repeats, and it's stoned. Your jealousy is well-founded.
03 Wolf Parade -
Apologies to the Queen Mary
(Sub Pop)
Sure, it's got Brock written all over it, and these Canadians and their awesome bands are starting to get irritating... but Wolf Parade have made Arcade Fire their bitch with their keyboard driven anti-pop, full of scrunched-up vocals and clever one-liners. This is an album that is strikingly different from many of the other albums you listened to this year, and for that, we thank you.
04 Kanye West -
Late Registration
(Roc-A-Fella/Def Jam)
Who can make that nerd from Maroon Five sound great? Who can employ Nas, The Game and Common on one album and make it all go together? Who has improved his rap-de-rap? Who still samples? Who charmingly repeats the same themes as he did on his break out debut? Who writes hip-hop songs that are actually about things? Who rocks a blazer? Who, dammit?
05 M.I.A. -
Arular
(XL/Beggars)
Worth the hype, M.I.A. runs this shit like it's '88. Exuberant even as she keeps it simple, son, her rhymes might not play out so well over run-of-the-mill beats - but thank Santa, that's not her style. With a great live show to boot,
Arular
stormed the trenches and you'd be smart to let this political party swoop over you.
06 Maximo Park -
A Certain Trigger
(Warp)
In a world of Ferdinands, Bloc Parties and Futureheads, Maximo Park really stood out this year. Granted, the aforementioned bands know how to employ Gang of Four and Cure stylings with great effect (discounting Franz's terrible sophomore effort), but the Park brings something fresh to the equation. Soaring vocals, ADD-ridden songs that jump from riff to riff, and a keen sense of hipster lyrics that don't make you feel dirty did wonders for the Warp roster.
07 Bear Vs. Shark -
Terrorhawk
(Equal Vision)
Remember why you first got into emo (Wait, this sounds familiar... but seriously, remember?)? If you're too embarrassed to raise your hand, it's OK - and for those of you who emo was too wuss but screamo was too guns, BVS blends the two together into a sweetly satisfying mixture of purr and yelp. A top-10 band on Equal Vision? You heard it here first.
08 Danger Doom -
The Mouse and the Mask
(Epitaph)
And... a top-10 record from Epitaph. Doom is almost too prolific these days, and there's gotta be a shit album to come out of it in the near future. And DM, well, don't try and tell me how amazing
The Gray Album
was - it just wasn't. What, do you write for the LA Times or some shit? But this Adult Swim-centric album was funny, banging, smart and wild-stylin' all over your dome piece. That means head.
09 Cage -
Hell's Winter
(Def Jux)
Drugs, mental institutions, drugs, crazy women, familial abuse, drugs... but this was just fodder for Cage's masterpiece and the Jux's return to form. Production that was technical but bouncing, spacey but not too weird, from the likes of El-P, Camu Tao, and Blockhead, anchored Cage's rhymes into place - "Walk like I'm from the hood, hair like an indie rock band" - 'bout says it all. Listen to this record, it's proof that there's still hope for indie rap (it doesn't have to be for nerds, fellas!).
10 Sleater-Kinney -
The Woods
(Sub Pop)
Probably the first S-K record that I really absolutely loved found the women reaching way back into '70s monster rock while still retaining their post-punk shrillness. A 7-minute guitar solo can't hide the fact that Corin and Carrie are still top-billers for punk, but the future leaves simplicity on the backburner. S-K are pushing their sound in new directions; this record was too refreshing.
Randy Gaudreau
--
01 The National -
Alligator
(4AD/Beggars Banquet)
Easily on top of the list for '05,
Alligator
is your best friend across the table when you've had far too much to drink. Medicinal brooding melodies break you down as the flowing supportive musicianship of the rhythm section consoles you. This album has absolutely been a staple for me in '05 - this year's best present to me. Everything I would never have thought to ask for,
Alligator
will keep a special spot on my disc rack for probably the rest of my life.
02 Bloc Party -
Silent Alarm
(Wichita/V2)
Pounding rhythms laced with irresistible hooks,
Silent Alarm
hit me as though The Police were reborn, modernized and fronted by Robert Smith. I initially was hesitant to give this disc a good listen and pretty much wrote them off as being yet another instillation of the thump thump pop-punk movement, but the successful blend of heartfelt songwriting and driving rhythms on their debut effort gave a glimpse of a band that will be much more than a flash in the pan. There are many amazing things yet to come from Bloc Party.
03 Wolf Parade -
Apologies to the Queen Mary
(Sub Pop)
I'm not really all that concerned with who they sound like. Who don't they sound like? All I know is when I was first introduced to Wolf Parade via "Dinner Bells" I wanted more.
Apologies to the Queen Mary
delivered with the ability to be powerful and punchy, with plenty of delicate and heartfelt moments. Like I said, I don't think they re-invented the wheel, but they definitely put out a great album.
04 Of Montreal -
The Sunlandic Twins
(Polyvinyl)
Ah yes, my secret shame. Well not so secret any more I guess. There is something about Of Montreal that just drives me mad in a very, very good way. I know that the last three songs of this album are as useful and instrumental as a foot on your neck, but the ride leading up to the train wreck at the end is so damned sweet that I don't regret I went at all. Subjecting yourself to many of the eclectic foot-tapping ditties on this disc is hazardous to something.
05 Antony and the Johnsons -
I Am A Bird Now
(Secretly Canadian)
Arresting and immediately engrossing,
I Am a Bird Now
is one of the most painfully honest and vulnerable expressions of self I have ever come across. As soon as the disc starts with "Hope There's Someone" it's pretty clear that Antony's voice is immediately arresting and catches you clean off guard. Once you settle into it, it is realized that there is so much more in there to stop you dead in your tracks. Some of the most haunting and bone chilling sounds that have ever graced my ears.
Helder Gomes
--
01 A Hawk and a Hacksaw -
Darkness at Noon
(The Leaf Label)
Drummer for Neutral Milk Hotel's
In the Aeroplane Over the Sea
, Jeremy Barnes could have cashed in on the myth of one of the most influential and unorthodox bands of the 90s. He could but he doesn't, preferring to sound absurdly cool when playing accordion and shuffling through Eastern European flavors and the far from commonsensical rural America. Stating it's like Yann Tiersen on acid doesn't seem right, as he expands on the scroll-format, carrousel-driven casual oddities, and delivers a record more suited to a stuffy bar - but one that could be found in the Balkans as well as in Texas.
02 The Books -
Lost and Safe
(Tomlab Recordings)
Nick Zammuto and Paul de Jong are what one could call linguistic musicians, as they build some sort of language of counterpoint with the ordinary word-based sound works. The voice here is truly an instrument in its own right, a moving part that goes deep in the collages of sound and emerges even more emancipated, more detached from the sample galore that embodies the duo's third inception, second on Tomlab. This is indie electronics possibly compared to the likes of The Postal Service, but backstabbed by a savvy, inimitable
joie de vivre
with a love for words and semantics.
03 Jesu -
Jesu
(Hydra Head Records)
Far be it from me to pounce on the extreme fan's appreciation for anything industrial, but Justin Broadrick's new project is an untainted, slow blossoming of pop gems. Known for his career fronting the excellent Godflesh, the predacious anger of Napalm Death and the excruciating Techno Animal, Broadrick finds himself being compared to My Bloody Valentine for his auspicious debut album under the Jesu moniker. But stay calm, all shoegazers and party people out there, this record goes to a place, an antiseptic, dark-layered universe, where those guys never dared to go.
04 Mike Ladd -
Negrophilia - The Album
(Thirsty Ear Records)
In a record where not a note is wasted, Mike Ladd lets it all go downhill fast only to abruptly rearrange things and confuse matters further. Imbued with a jazzy verve but consciously penetrated by dusty beats,
Negrophilia
sets considerable store in the sub world of fusionist languages by addressing racial issues with a trumpet, an organ and a synthesizer. Yet another way to put the power back in the streets, but one where the MCing is delivered in cinematic detail.
05 Boards of Canada -
The Campfire Headphase
(Warp Records)
This is Boards of Canada's third record in seven years, a meager ratio for a band that has so much to give. Never before had the guitar mantras got their feet inside the studio door so dangerously; they used to prowl about in the corridor, waiting for the electronic parts to dig their claws into them. Now, Boards of Canada resemble a little ant who has collected so much food for the winter that there is no room left for their myths to blossom. And that's good news!
06 M.I.A. -
Arular
(XL Recordings)
Sometimes reminiscent of militiamen fighting for independence,
Arular
is Maya Arulpragasam's tribute to her father, a revolutionary supporting the Tamil Tigers in Sri Lanka, but absorbs such languages as electro, hip-hop, dancehall and world music along the way. However groovy the record may be, London-based M.I.A. crafts warfare-like chants that will make you wonder whether to dance or pick a weapon and fight. This joint feel places the record halfway between the London-esque slang delivery and the sound of grenades way back in the island, located off the south-eastern cost shores of India.
07 13 & God -
13 & God
(Anticon Records)
Having started as a good, old cassette-trading split project, the collaborative endeavour of Notwist and Themselves finally got some glorious time to record together. The result is this self-titled album, built around wise speech never devoid of detail, be it the glitcheria, coming all the way from Germany, or the tentatively rotten poetry of the Anticon's sons. This may have been dismissed by some as more empty sloganising, but those with an ear for good music have received this as a hammering silencing that still walks the streets.
08 Animal Collective & Vashti Bunyan -
Prospect Hummer
(Fat Cat Records)
Driven by detonating criticism, by the early 70s, Vashti Bunyan had hit bottom with no more than one record to speak for her,
Just Another Diamond Day
. While in dire straits, Bunyan seemed to have given up on music for good. But in 2005, she resurfaced augmented by the anti-folk/experimentalist ambassadors.
09 Spoon -
Gimme Fiction
(Merge Records)
Despite the three-year hiatus between this and their previous release,
Kill the Moonlight
, it's obvious that Spoon still govern the alt-rock throne. Highly anticipated,
Gimme Fiction
has percolated the degrading process of ageing, even before being put out. But, always moving in eccentric, transcending pop orbits, the band has answered the zapping melodic expectations around them, and this record can now supply people hanging out at the water cooler with some juicy conversation topics.
10 Seu Jorge -
Cru
(Wrasse Records)
The next singer/actor who takes advantage of the David Bowie's great legacy to co-star in a movie with Bill Murray (last year's
The Life Aquatic with Steve Zissou
) should be committed to a sanatorium and placed in a straight jacket. But until then, let us delve into the beautiful craftsmanship of this Brazilian artist with an accelerated tendency to revisit classics, while returning the washed-out colors of yesteryear to its original clarity.
Eric J Herboth
--
01 Four Tet -
Everything Ecstatic
(Domino Record Co.)
With the sheer diversity of music out there today, online and on shelves, a numerical Top Ten list is getting harder and harder to compile cleanly. Kieran Hebden's 2005 tour de force makes it to the pole position of my list by default, but that shouldn't take away from the audio oddity that he has spliced, wedged, merged, melded, blended and generally spackled together. I run the label that put out Oso's
48507
and hence am unable to nominate it for album of the year, but rest assured it is. I don't know that Kieran Hebden would even argue with me on that, considering his appreciation for sounds both monolithic and mundane. Anyone who knows me knows that I'm not a club/dance type of guy, but Four Tet has put together some of the most gritty, immediate and generally fantastic cuts I've rocked on the headphones over the past 12 months. I'm 100% positive that I listened to
Everything Ecstatic
more than any other single release that came out this year, so it gets the nod for #1.
02 Prefuse 73 - Surrounded by Silence (Warp)
When he released
One World Extinguisher
two years ago Scott Herren made a believer out of me, so much so that
Surrounded by Silence
found itself as easily one of my most anticipated new releases for this year. What
Surrounded by Silence
turned out to be is something somewhat unexpected, but it in no way is a letdown. This time out Herren has apparently traded in the deep-seated soloist nature of Prefuse 73 for a more communal approach to his craft, with his 2005 fusion bomb featuring collaborations with hip-hop mainstay Beans and Blonde Redhead's Kazu Makino, among others. And a blurb about this album would be pointless without mentioning the infectious banjo jam cut-up that Herren has crafted with the Books. Delicious!
03 Bloc Party -
Silent Alarm
(VICE Recordings)
After a year-long cycle that included stints of both non-stop play and dusty dormancy, I decided to break out
Silent Alarm
over the holiday weekend and take it for a long-distance test drive. A full 12 months after first feeling the magnetic pull of the UK's new
hottest shit
ev
-ar
, this
still
feels like Sonic Youth all over again.
04 Animal Collective -
Feels
(Fat Cat)
See everyone else's remarks about this band. And I mean everyone. Animal Collective certainly must be filed under "over-rated" but that doesn't change the fact that they put out a solid album that gets mucho bonus points and a bump onto my list for being more challenging than the average over-rated/hyped band. I'm sure these are some "real" dudes under their glossy new rock star exterior.
05 Caribou -
Milk of Human Kindness
I fell for this record slowly, so I can't even say for sure if I've completely settled in. Changing his name hasn't hindered the artistic expression of Dan Snaith, his flittering focus lapsing between psyched-out folkadelia, synthetic krautrock blends and guitar riffage with a gritty realism. This album is all over the place, but generally lands on target with each stylistic transition. It is probably the single album that I've listened to the most this year, and that isn't just because there's a copy stuck in the CD player at the bike shop.
06 Cloud Cult -
The Happy Hippopotamus
(Earthology)
You know how there is that intrinsic timelessness to Radiohead and Nirvana albums, even the very first time you hear them? This album is like that: immediately at home in its own skin and immunized against any "Oh my gawd, that shit is so lame" embarrassment a year from now, but it does so in a dramatically non-rock way - which isn't to say that this album doesn't rock, because it does, but in a very strange, very hard-to-pin-down way... like a bizarre mash-up between Neutral Milk Hotel and, I dunno, a more insane version of the Beatles? This is one of those crazy albums with a bad name and bad artwork that you're probably not going to check out, but if you do, I promise you'll remember it.
07 Dälek -
Absence
(Ipecac)
Hip-hop has pretty much taken over the modern musical environment, which I wouldn't have any issue at all with if producers, MCs and DJs had the skills, in general, that Dalek, Stil and Oktopus have. This album hits harder than anything in its class and, what's more - it actually says something that will resonate more than 15 minutes later.
08 The American Analog Set -
Set Free
(Arts & Crafts)
A few years back Grandaddy hit me pretty hard, and I got into them even deeper when I moved into their Stanislaus County stomping grounds at the peak of the
Sophtware Slump
buzz. But that band, like Earlimart and other like-minded narco-drone popsters, doesn't seem to have the staying power that their initial impact would suggest. The American Analog Set have been around for quite some time and have tuned/refined their sound throughout a respectable discography spread across several respectable labels, and right now they're occupying the "ethereal" slot in my regular rotation, providing the perfect soft soundtrack for long drives over rolling hills or just sitting around watching dust motes dance in the afternoon sunlight.
09 The Fiery Furnaces -
EP
(Rough Trade)
The Friedberger siblings' desire to release and album with their grandmother is admirable. The same cannot, unfortunately, be said for their un-spectacular pile of family tracks released as
Rehearsing My Choir
late in the year, and that release was so bad, so disappointing that it nearly knocked the Furnaces out of the running for the first time since, well, last year. The flexibility of being a duo, related by blood, has provided the Fiery Furnaces the great gift of prolificacy, and - up until the afore-mentioned monument to grandma - that had been an awesome thing. For all the joy that
Blueberry Boat
brought me in 2004, last year turned out to be a disappointment as far as the Furnaces are concerned. In truth this release shouldn't really even count, since it is essentially a B-sides compilation, but it has all of the bright, droney, sugary pulp of the Fiery Furnaces' trademark sound and that is enough to edge out the bulk of the musical chum out there. Even if you don't like pop music (I don't), you need to do yourselves a favor and check this duo out if you haven't already. Just steer clear of
Rehearsing My Choir
.
10 The Decemberists -
Picaresque
(Kill Rock Stars)
The line that rhymes "Miranda" with "veranda" in the song "We Both Go Down Together"
still
makes me cringe, but not nearly as much as Colin Meloy's decision that the only possible way to advance his band's career would be to sign on for a stint with the corporate music machine. I have serious doubts as to how long the Decemberists will last, on an indie label or otherwise (and Meloy's sub-par solo debut as Tarkio doesn't give his prospects much promise), and I feel kind of bad for secretly hoping they fall flat on their faces next year, or at least get a nasty case of food poisoning from the hospitality buffet when lining up to gorge themselves on the corpses of so many mom-and-pop indie record store owners... wait, what was I saying? Oh yeah,
Picaresque
is still probably one of the better albums this year and, if not landing in the Top Ten by artistic virtue alone, easily one of the most heard.
Bob Ladewig
--
01 Andrew Bird -
The Mysterious Production of Eggs
(Righteous Babe)
One of the most beautiful and creative albums released this year, Andrew Bird hit me at a perfect moment and stuck with me throughout 2005. Everything from the song structure singing to the complex whistling makes this album a masterpiece.
02 Wolf Parade -
Apologies to the Queen Mary
(Sub Pop)
Creativity oozes from this band of drunken geniuses. It must be really boring to live in Canada because it seems like the artists who live there have more than enough time to create the music of the next generation.
03 Sufjan Stevens -
Illinois
(Asthmatic Kitty)
With the number of instruments Sufjan Stevens plays on his album, it's a wonder he is able to get anything else done. This whole 'album for every state' project he's working on seems just enough to keep him contained. With beautiful songwriting, perfect instrumentation and a voice that makes hearts break; it's no surprise this album will top many a year-end list.
04 John Vanderslice -
Pixel Revolt
(Barsuk)
2005 has made me pleased as punch to see John Vanderslice get to where he's landed. With a catalogue of amazing albums,
Pixel Revolt
has finally pushed him outside of his usual boundaries (which are pretty far out there to begin with). As a fan (and myspace friend!) of Mr. Vanderslice, I feel this album is the most "grown up" release he has recorded and I can't wait to see what's next.
05 Iron & Wine -
Woman King EP
(Sub Pop)
With only five songs, Sam Beam steps it up with this amazing EP. Normally I try not to count EPs in my year-end lists, but this has been at the top of my play list for months. A bigger sound for Iron & Wine sees the songs transitioning from beautiful folksy rock to full on rock-blues. This EP buries the disaster Iron & Wine and Calexico tried to release this year.
06 Spoon -
Gimme Fiction
(Merge)
Every year Spoon gets a little bigger, and 2005 was no different. Pretty soon, these Austin boys will finally get the recognition they deserve. I wouldn't hesitate to call these guys innovators in the studio - Jim Eno likes to experiment in his home studio - I only wonder how many failed attempts they've made because they keep ending up with winners.
07 Okkervil River -
Black Sheep Boy
(Jagjaguwar)
With a little twang, the boys in Okkervil River create an emotional rollercoaster of depth and sloppy precision. The power in the voice and the perfect melodies scream out, while the soft, heartfelt whispers carry a heavy bag of meaning. I've been following this band for a few years and nothing has hit me as much as
Black Sheep Boy
has.
08 Wilderness -
Wilderness
(Jagjaguwar)
Within the genre-bending styles of music around today, Wilderness stay unique. They don't try to hide behind their influences, but the way they combine the sounds of their influences creates a path that has not been traveled by many bands today. Everything from the yelping vocals to the echoes in the guitar lines shows how intensely this band brings power.
09 Danger Doom -
The Mouse and the Mask
(Epitaph)
Before 2005, I totally thought I was done with hip-hop music. Nothing that I was hearing was enjoyable to me - then a friend of mine introduced me to MF Doom. In my high school years, I was a fan of 3rd Bass and KMD, so I know Doom's history, but I didn't realize how on top of his game he has become. Team that up with a great producer
and
Adult Swim characters? You've sold me. This is a great hip-hop album for the nerdy white boy in all of us.
10 Clap Your Hands Say Yeah! -
Clap Your Hands Say Yeah!
(Self-released)
Successfully mixing creativity while paying tribute to one's influences seems to be a strong theme in the collection 2005's best albums. Borrowing sounds from the Talking Heads, this group of Brooklyn boys took the indie work by storm and are not settling for anything but the top. It seems to me a lot of work went into the creation of this self-titled album, so holding out for the best deal seems like a wise decision.
Peter Lindblad
--
01 Sufjan Stevens -
Illinois
(Asthmatic Kitty)
An album for every state in the Union? Is he crazy? In my lifetime, I'll never even drive through them all. What is he going to do when he gets to North Dakota? I guess Stevens will cross that bridge when he comes to it. In the meantime, he gives us the triumphant folk-pop grandeur of
Illinois
. So many records are called jewels. This one really is. It's the goddamn Hope diamond of heartfelt, heavenly folk-pop. From the sheer majesty of Stevens' fully realized orchestral-pop arrangements to the understated poignancy of "Decatur,"
Illinois
is the year's biggest production. Someone ought to adapt it for Broadway, or at least community theatre.
02 Okkervil River -
Black Sheep Boy
(Jagjaguwar)
Will Scheff expands on Tim Hardin's folk classic song, "Black Sheep Boy", with a stately, alt-country song-cycle that's rich in instrumentation and wonderfully crafted stories stemming from Hardin's work. Imbued with human tragedy and folly, Scheff couches his affecting, Southern Gothic lyrics in lazy, swirling black pools of acoustic guitars, piano and electric keyboards, lap steel and layers of strings. That boy's going to be all. I'm talking about Scheff, of course. That black sheep kid's going to have it rough for a while.
03 Bloc Party -
Silent Alarm
(Wichita)
Can we get off the Gang Of Four comparisons for just a minute? Yes, Bloc Party traffics in tight, angular post-punk riffs and locked down dance rhythms. Yes, they wear their politics on their sleeves. But that suffocating tension that marks many a Gang Of Four release is missing here. Thank God. With more emphasis on melody and hooks,
Silent Alarm
is a free-flowing, infectious call to arms. That's Entertainment!
04 Shipping News -
Flies the Fields
(Quarterstick Records)
The war in Iraq goes on. The Shipping News stews and vents with this ominous, powerful recording of contemporary, post-punk protest music. More structured than past Shipping News efforts,
Flies The Fields
is the band's best release to date, with songs that seethe with black rage and slowly build to devastating conclusions. Their ruins should be studied for years to come so that history, and poorly constructed music, doesn't repeat itself.
05 Roue -
Upward Heroic Motive
(Exit Stencil Recordings)
Brace yourself for the furious post-punk karate of
Upward Heroic Motive
. More
Fists Of Fury
than
Crouching Tiger, Hidden Dragon
, this is one of the most visceral rock albums in recent years, like a grainy Bruce Lee film. The action is fast and furious, and yet the band plays with incredible precision. Sadly, it's gone mostly unheard. You don't know what you're missing.
06 Paul Duncan -
Be Careful What You Call Home
(Hometapes)
Measuring his words and his meticulously sculpted electro-folk very carefully, Paul Duncan seems obsessed with song craft. Every detail is agonized over, right down to the incidental interludes that dot the landscape of
Be Careful What You Call Home
, a lovely, hushed collection of mope-rock that trumps anything Hayden's ever done, and that includes
Everything I Long For
.
07 The Dead Science -
Frost Giant
(Absolutely Kosher)
Darkly sexual, unsettling art-pop isn't just the province of Xiu Xiu or Shudder To Think. The Dead Science does it as well or better than both of them. Violent and stormy instrumentation seems to catch the fainting, hysterical vocals of Sam Mickens and toss them about like rowboats caught out on the big water in a November gale. Rife with tension and harrowing imagery,
Frost Giant
is a dangerous, nightmarish listen, but it's also oddly beautiful in ways you'd never dream possible.
08 Innaway -
Innaway
(Some Records)
Here's where the strings come in, and then the stomping, 70s rock guitars enter the picture, trampling everything in sight. With Innaway's self-titled debut, you get variety. You get the swooning psychedelia of Pink Floyd and the arty drama of early Genesis or even contemporary Radiohead, and just when you're thinking, "Man, I could use some heavy guitars right about now," Innaway obliges. Innaway is nothing if not accommodating.
09 Isobell Campbell & Mark Lanegan -
Ramblin' Man EP
(V2 Records)
The title track is a fun, sexy romp through an old Hank Williams' tune. The rest of this little four-song teaser is parsed out into beautifully broken balladry that showcases the disparate vocals of these two indie heavyweights. Lanegan's sandpaper delivery and Campbell's angelic sensuality make for a delightfully sinful combination, and the sparse instrumentation frames their performances simply and without a hint of pretense.
10 Hopewell -
Hopewell And The Birds Of Appetite
(Teepee)
Mercury Rev refugees Jason and Justin Russo, and company, make a raucous, swaggering record that trumpets a new era in psychedelic rock. As ostentatious and colorful as the Flaming Lips' recent offerings,
Hopewell And The Birds Of Appetite
harkens back to the free experimentalism of
Sgt. Pepper
while found sounds, big riffs and orchestral arrangements march past, like a circus parade. Watch out for the elephant pop.
Sarah Peters
--
01 The National -
Alligator
(4AD/Beggars Banquet)
These are sepia toned portraits of unlikely heroes and villains, each with foul secrets and regrets to reveal; the depths seem never-ending.
Alligator
captures the longing for salvation despite one's blood-stained memory, searching for self-importance, redemption or just a lovely streak of luck.
02 Sigur Ros -
Takk…
(DGC)
This album is like a therapy session to me; between the unearthly stillness and the rush of emotion, unexpected tenderness and honesty are found. This is an album to feel your way through, made for surprising even yourself.
03 Calla -
Collisions
(4AD/Beggars Banquet)
Even I'm taken a little aback that this album sits so highly on my list, but its effect is inexplicable.
Collisions
is an album that, upon each listen, leaves you satisfied; it is Calla's beacon to the world and the evidence of their royal blood, in the very lines of Radiohead.
04 Sufjan Stevens -
Illinois
(Athsmatic Kitty)
A boundlessly creative man crafting boundlessly creative songs - what's not to love? Sufjan Stevens has a knack for outdoing our very fondest memories of him each time he crafts something new; somehow he just gets unbelievably better every time.
05 50 Foot Wave -
Golden Ocean
(4AD/Beggars Banquet)
With legendary energy and staying power, endless inspiration and a drive to rock, Kristin Hersh is a force to be reckoned with in all of her projects, and this is the loudest to date. Unafraid to tell it and play it just as it is, the artist who's made a career in being raw has found yet another way to do so.
06 Ponys -
Celebration Castle
(In the Red)
Guitars swell in familiar patterns, a voice cascades at just the right time; we may have heard bands like Ponys before, but rarely do they sound so perfectly crafted.
Celebration Castle
is music for and by those who simply love good music.
07 Spoon -
Gimme Fiction
(Merge)
Spoon have outdone themselves, finally, in a work that rises to their level of fandom.
Gimme Fiction
is far superior to the rest of their catalog, an important watermark as they continue to create some of the catchiest songs on the planet.
08 M.I.A. -
Arular
(XL/Beggars Banquet)
Living with a roommate my freshman year in college who would not shower because of fresh dreadlocks and was growing out her armpit hair for "justice", this is probably the first time I've heard an album claim "Pull Up the People" and felt solidarity over nausea. M.I.A. feels fresh and uncomplicated, inspired and inimitable. I want to believe.
09 Stephen Malkmus -
Face the Truth
(Matador)
To be honest, I didn't think he could do it. Post-Pavement, our fair Stephen's albums have been charming in their own right, but were cast far within the shadow of his previous work.
Face the Truth
not only proves he has it in him on his own, it actually outranks some of his contributions from a decade ago. When you can outrank your own legend, you done good.
10 Wolf Parade -
Apologies to the Queen Mary
(Sub Pop)
A record with perspective too slanted not to love,
Apologies to the Queen Mary
manages to take everything we already adore about the best of indie rock and make it sound wholly innovative again. Unbalanced and deranged like the unpredictable friend you love so well, Wolf Parade made an indelible impression not because of their proximity to others, but of themselves.
11 The Hold Steady -
Separation Sunday
(Frenchkiss)
Hope is always driven by fear, it seems, and
Separation Sunday
is all about a distant, pensive perspective, the likes of which makes the album's title all the more revealing. Growing up can be paralyzing when you've got nothing to hold on to, and the once invincible characters found in the chronology of Lifter Puller are now scrambling in desperation. It's powerful even if entertaining.
12 Okkervil River -
Black Sheep Boy
(Jagjaguar)
The magic of
Black Sheep Boy
is that it's as intensely personal for me as it is for Will Scheff himself. The themes are dark and too-real, yet undying hope floats upward as the spiral continues inevitably down; we've been through it all together.
Black Sheep Boy
is a turning point in many ways, literally and emotionally.
13 Thunderbirds Are Now! -
Justamustache
(Frenchkiss)
Equal doses precision and craziness, this album should have gotten
way
more buzz than it did.
14 Andrew Bird -
The Mysterious Production of Eggs
(Righteous Babe)
As a longtime supporter of Andrew Bird, I would feel wrong if I didn't share some of my love with him for yet another consistently brilliant record. While the lauded title of 'favorite' still goes to
The Swimming Hour
for me, Andrew Bird is the musical equivalent of Brett Favre for me - he still enjoys the game after all these years, and it's sure fun to watch him play.
15 Antony & the Johnsons -
I Am a Bird Now
(Sub Pop)
A new addition to my rotation, Antony's voice, while striking, took time to warm on me. However, the sheer ability he has to wash over me like a current cannot be denied; I move where he takes me and his stories become my own.
Mark Taylor
--
01 Pilotdrift -
Water Sphere
(Good Records)
Water Sphere
is an unsuspecting auroral masterpiece that radiates with warm, epic creations, cosmic Broadway numbers and movie score soundtracks.
Water Sphere
is a remarkable album that continues to blow me away even while I sleep.
02 …And You Will Know Us By The Trail of Dead -
Worlds Apart
(Interscope Records)
Much like the Constantines' new record, a mediocre Trail of Dead album is still a good one. More ambitious than
Source Tags and Codes
and more centered than anything else the band has done,
Worlds Apart
changed the band from bombastic punks to melodic artisans. Hardly a classic but a well crafted album none-the-less.
03 The Constantines -
Tournament of Hearts
(Sub Pop Records)
A more somber recording in comparison to their breakthrough
Shine A Light
, but with songs like "Draw us Lines" and "Working Full Time", The Constantines still show their edge in a more refined yet gritty rock n roll style.
04 My Morning Jacket -
Z
(Ato Records)
Z
is a breakthrough for the band. My Morning Jacket seem to love playing music just as much as they care to breath and it shows with a record that aspires to be more atmospheric than previous albums but is still as heart felt as music gets.
05 Sigur Ros -
Takk…
(Geffen Records)
Quite a departure for Sigur Ros,
Takk…
is the closest thing the band has gotten to "rocking out". Still as angelic as the first time I heard them and always powerful, Sigur Ros continue their shock and awe with their best release to date.
06 Goldrush -
Ozona
(Better Looking Records)
A surprise of an album that earns its nod as a countrified, blue collar, rock n' roll spectacle. This British five-piece plays some of the most beautiful and melodic American music I've heard in a long time.
07 Shipping News -
Flies the Fields
(Quarterstick Records)
An uneasy collection of edgy rockers and melodic prowess,
Flies the Fields
takes a minute to warm up to but once the listener does, the album radiates with clever ideas and strong song craft that takes twists and turns not likely foreseeable by an inexperienced ear.
08 Tarantula A.D. -
Book of San
d (Kemado Records)
Book of Sand
is an eclectic mix of classical music and heavy metal madness. The album is so well put together and musically accomplished by even the highest standards.
09 M83 -
Before the Dawn Heals Us
(Mute Records)
Anthony Gonzalez is a mad scientist. As the man behind the mayhem,
Before the Dawn Heals Us
is just that - a crippling album that uses its brute as much as its beauty to seize and assist.
10 Explosions in the Sky -
How Strange Innocence
(Temporary Residence Ltd.)
Although a re-issue, EITS's first record is still breathtaking. Before the boys were superstars there was
How Strange Innocence
; a less than glamorous album that showed the bands heart more than their good natured tolerance.
Dan Williams
--
01 Against Me! -
Searching For A Former Clarity
(Fat Wreck Chords)
Combining Billy Bragg, The Clash and a healthy dose of aggressive and anarchistic punk rock, this group is brilliant and original, and yet does not get its due within the indie rock community - an injustice I seek to correct with this appointment as album of the year.
02 Bloc Party -
Silent Alarm
(Wichita/V2)
Taut and jolting, an amazing collision of the uber-now dance punk, indie rock and original songwriting.
03 Ian Brown -
Solarized
(Koch)
Former Stone Roses front man makes good on post breakup potential, finally.
04 Lucero -
Nobody's Darlings
(Liberty and Lament)
Country/folk/punk songs so touching you'd be surprised to learn the singer was drunk.
05 Metric -
Live It Out
(Last Gang)
A second album that defies any slump. Canadian hipsters continue with some roaring synth laced rock.
06 Gorillaz -
Demon Days
(Virgin)
Yeah, I like it - and I don't even like cartoons. Says a lot for the music.
07 Sufjan Stevens -
Illinois
(Asthmatic Kitty)
Wierd and quiet; still interesting.
08 Spoon -
Gimme Fiction
(Merge Records)
09 LCD Soundsystem -
LCD Soundsystem
(DFA)
You might look back in 5 years and wonder why the hell you listened to bands like this and all those on DFA. Until the regret sets in, enjoy it; this is good (except for that lazy Beatles rip off song).
Mike Wright
--
01 Boards of Canada -
The Campfire Headphase
(Warp)
It's been a while since I anticipated an album so intensely. With such anticipation often resides some subconscious worry that an album will fall short of expectations. I can safely say, after two months of acquaintance, that
The Campfire Headphase
has met and surpassed every hope I had. Other than incorporating the odd guitar track, Boards of Canada have not veered far from their early mappings, but have reached every hypnotic and tranquil peak of their past.
02 Animal Collective -
Feels
(Fat Cat)
How a band can make music so freaky sound accessible I cannot comprehend. Animal Collective have got it all: catchy tunes, explosions, eerie meanderings, tribal croonings, and that epic roller-coaster element that all classic albums possess. Now utilizing a fully-fledged set-up,
Feels
sounds more direct than
Sung Tongs
, but that's not to ignore its tendency to drift on a tangent and explore new aural territory. One minute
Feels
sounds direct, layered and sure of itself, and another spooky and free - a feat only the most imaginative of artists are capable of.
03 Prefuse 73 -
Surrounded by Silenc
e (Warp)
I had very little time for hip-hop until I heard Prefuse 73's
One Word Extinguishe
r. With
Surrounded by Silence
, Scott Herren continues in a similar vein, largely venturing beyond vocal points of focus, and thus fleshing out found sounds and mashed up beats. The album has a remarkable sense of flow in spite of its multiplicity and the diversity of its contributing artists (The Books, Tyondai Braxton, Ghostface, etc), and should be checked out by anyone with an interest in genre-bending music.
04 Autechre -
Untilted
(Warp)
For the occasions requiring nothing more than auditory punishment,
Untilted
will undertake any challenge. Sean Booth and Rob Brown mastered their tools year ago, and with
Untilted
have focused their attention towards the limits of brutality in sound.
Untilted
will straddle timings and collapse, only to recollect itself and erode the senses in a tightly-knit cycle of subtronic waves. Even in stark contrast to Autechre's intermittent fragmentations, there are fewer things more nauseating than the intro to "Augmatic Disport." Fucking awesome.
05 The Books -
Lost and Safe
(Tomlab)
Since introducing us to "aleatoric" music with
Thought for Food
, The Books haven't looked back.
Lost and Safe
is sample-happy and full of activity without sounding overbearing or cluttered. With lyrics such as "Yes and no are just distinguished by distinction/so we choose the in-between," The Books convey an astute message regarding modern humanity, one that avoids over-indulgence, and
Lost and Safe
, in its entirety, emerges as a deeply insightful album.
06 Six Organs of Admittance -
School of the Flower
(Drag City)
Equally as effective when constructing deep, intense sound-structures as when riding atmospheric landscapes, Six Organs of Admittance's ability to maintain such an enigmatic charisma with so few resources is their most overwhelming asset.
School of the Flower
is dark, textured, and their best work to date. Surely, experimental folk music has reached a peak by now..?
07 Eluvium -
Talk Amongst the Trees
(Temporary Residence)
Matthew Cooper is of the breed of musicians that seek a new guise for the guitar. Eluvium is based on swells and frothy climaxes that are difficult to comprehend as derivatives of one instrument. From the surface,
Talk Amongst the Trees
is comforting and awe-inspiring in equal measures, and stretches the limits of what can be accomplished with a few strings and a microphone.
08 American Analog Set -
Set Free
(Arts & Crafts)
Set Free
is the perfect bedroom album: consistent, warm, bright - put it on and you'll wonder how your spirits had elated so subconsciously. Amanset have been doing this whole lo-fi indie thing for over a decade now, and with
Set Free
they simply do not put a foot wrong.
09 M83 -
Before the Dawn Heals Us
(Gooom/Mute)
Though
Before the Dawn Heals Us
may not be as panoramic as
Dead Cities
, it is far more focused. Anthony Gonzales has transformed M83 into a synth-orientated rock band, and, while ambitious, the course of
Before the Dawn Heals Us
presents fewer emotional climaxes and lingering scapes. Gonzales has instead got his vision fixed; though gazing into the horizon he is optimistic, and
Before the Dawn Heals Us
collects itself as a refined exercise in post-futuristic positivity.
10 Four Tet -
Everything Ecstatic
(Domino)
Everything Ecstatic
conveys such elation that it is easy to overlook Kieran Hebden's sheer ingenuity as a producer. He drops sounds in, draws them out, samples live instruments, cuts them up, and all the while
Everything Ecstatic
flows buoyantly. "Smile Around the Face" is still one of my favorite tracks of the year, suggesting that Hebden's artistic reachings are far from complete.
11 Vashti Bunyan -
Lookaftering
(Fat Cat)
While she may have taken 35 years out for reflection, Vashti Bunyan's
Lookaftering
sounds as timeless and pure as her 1970 debut,
Just Another Diamond Day
. While brushings with such revered modern day artists as Max Richter and Animal Collective may have given her a gentle push in the right direction, the substance of
Lookaftering
embraces the same utopian undertones of her early work. While she clearly has an ear for a tune, Bunyan's beauty lies in her sincerity - the very presence of an artist with her attitude is healthy for music in general.
12 Minotaur Shock -
Maritime
(4AD)
Like Four Tet and Caribou, Minotaur Shock (aka David Edwards) has blurred the lines between electronic and organic music. Sounds manipulated from synthesisers, samplers and electronic beats have never been expressed so naturally, and Maritime comes across as light, charming, and undeniably accessible.
13 Sufjan Stevens -
Illinois
(Asthmatic Kitty)
Whether or not Sufjan Stevens ever manages to complete the US map-correlating discography that he aspires to, few people will need to search beyond
Illinois
for such fruitful listening. Stevens manages to incorporate so much into what is essentially an indie pop record: instrumental dynamics, quirky song-titles, Steve Reich worship - let's hope he draws similar inspiration from the rest of the American states; although once completed, I'm somewhat looking forward to his European version -
West Yorkshire
would surely make an interesting concept.
14 Ida -
Heart Like a River
(Polyvinyl)
Hard as they may try, few indie-pop bands have managed to record an album so breathtakingly hypnotic since Slowdive's demise put shoegaze to rout. Ida keep things simple yet sensitive, and
Heart Like a River
is an easy album to identify with.
15 Bloc Party -
Silent Alarm
(Wichita)
Finally, a British indie band with some balls. This new wave of UK indie/post-punk kicks that Oasis/Stereophonics tripe to the gutter, and Bloc Party seem to be spearheading it.
Josh Zanger
--
01 Minotaur Shock -
Maritime
(4AD)
The fact that one guy - David Edwards - basically created this entire album is the most impressive detail of all.
Maritime
is an instrumental album that follows no specific operating guidelines except that of Edwards' excellent taste for electro programming, '80s synth, and orchestrated rock. Minotaur Shock uses electronics (sampled beats, synths, glitchy noises), clarinets, strings, live drums, and whatever it takes to make his psychedelic indie synth sound come across clearly.
02 Steve Spacek -
Space Shift
(Sound in Color)
Neo-Soul tends to get overlooked by the greater music population but this release is too good to ignore. Spacek reminds of a modern-day (here we go) Marvin Gaye and the production - with assistance from hot producers Jay Dee and Leon Ware - is smooth, electronically savvy, and yet bangin'.
03 Sufjan Stevens -
Illinois
(Asthmatic Kitty)
I lost a ton of respect for this guy when I saw him and his coterie of bible campers play the Metro in Chicago. It was probably the most lackluster, overblown bore of a show I have been to in my entire life. Still, the indie rock album houses a concept that is intriguing and the songwriting flow is focused and solid. His tunes are crafty and use a wide array of instruments, and I think this album was achieved rather than stumbled upon.
04 Brazilian Girls -
Brazilian Girls
(Verve)
Elements of dub, lounge electronic, punk, bossa nova. A release that is as sexy as it is sophisticated and groovin'. Was a mega cult classic earlier in the year.
05 Jaga Jazzist -
What We Must
(Smalltown Supersound/Ninja Tune)
Jaga is probably one of the most underappreciated groups out there. This year's release adds more consistency to their catalog (that's like adding
more
color to Jim Carey's schtick). I'd say if you like the experimental grandeur of Tortoise and the horn-mix-rock exposure of Broken Social Scene, you will love this album. In any case, the combination works well whether you like such a sliver of rock or not. Nearing the classical side of the spectrum.
06 Blockhead -
Downtown Science
(Ninja Tune)
Many compare Blockhead to DJ Shadow in the fact that he uses slower break beats, piano melodies, and sampled voices to form his style of indie hip-hop. But Blockhead has an edge all his own, and the comparison is really unnecessary and almost condescending.
Downtown Science
is a follow-up to the impressive
Music by Cavelight
and it plays to the NY producer's characteristic strengths once again, just a little less unexpected from the first time around.
07 Gorillaz -
Demon Days
(Virgin)
This choice is a nod to "pop" music. This one really didn't take many by storm but for those that kept listening to
Demon Days
, the album only got better. Appearances by Del Tha Funky Homosapien and MF Doom, give it some further cred.
08 Seu Jorge -
Cru
(Sony)
Mostly undiscovered before his appearance in "Life Aquatic", Jorge's cloud has certainly taken off. His voice is crooner-quality and his guitar work gentle, dancing Brazilian bossa rhythms.
09 LCD Soundsystem -
LCD Soundsystem
(DFA)
I thought this one would be buried after the NYC-DFA hype machine ran out of gas but the album holds up. James Murphy has that scruffy, pudgy, white-boy persona that makes his electro-clash/DJ jams all the more enjoyable. "Daft Punk is Playing At My House" is just a great song premise, and two discs (as this album is packaged) is always better than one.
10 Jose Gonzalez -
Veneer
(Hidden Agenda)
Just as the Swede was ignored by American music listeners when he was popping off the charts in his homeland, a good number of critics missed this one too. Props again, Hidden Agenda.
Veneer
- unlike the barrel of over-praised indie albums this year - will be appreciated more in future da
--
The LAS Staff
A number of the Lost At Sea staff have worked and continue to work for various publications, both independent and commercial. Often very stifling in their narrow focus, conventional media outlets left our writers hungry for something bigger, more diverse, more communal. More active, because this is the twenty-first century and it makes sense. During it's short life LAS has accomplished many of its goals (but not all) and has in turn set new ones. Everything that we accomplish is through teamwork and cooperation, both with our regular staff writers and with our contributing writers. LAS is nothing short of a collective. Another contrasting point to some of the magazines out there is that we've checked our egos and scene ethics at the door. We welcome anyone and everyone to contribute and cover a wide range of topics. LAS does not follow your guide lines.

See other articles by The LAS Staff.
If you'd like to help spread the word about LAS, or simply want to outfit yourself with some adhesive coolness, our 4" circle LAS stickers are sure to hit the spot, and here is how to get them:
-->
Send an with $2 in PayPal funds to cover postage. Don't worry, we'll load you up with enough to cover your town. Then just be patient. They will arrive soon.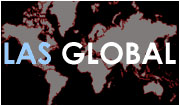 LAS has staff and freelance writers spread across North and South America, Europe, and a few in Southeast Asia as well. As such, we have no central mailing adress for unsolicited promotional material. If you are interested in having your project considered for coverage, please contact us before sending any promotional materials - save yourself time and postage!